Summary: Stellar Repair for Outlook is the best alternative to SCANPST.exe. You can download this Outlook repair tool for free to repair a corrupt or damaged PST file. The PST repair tool quickly scans damaged Outlook PST files and efficiently recovers all mailbox items, such as emails, attachments, contacts, calendars, tasks, notes, journals, etc.

Microsoft Outlook is the most widely used email client across the world. Personal Storage Table (PST) is one of the Outlook Data file formats that Outlook uses to store mailbox data, such as email folders, calendar, contacts, notes, etc. on the local machine. A PST file is also used to backup and restore Outlook data.
Sometimes, users face issues with the PST file due to various unexpected errors. For instance, a PST file may get corrupt when it becomes oversized or due to system crashes. While some issues can be easily resolved with Outlook's built-in Inbox Repair Tool called ScanPST.exe, others may seem complicated, leaving users with no clue as to how to fix them.
In this article, we have discussed how you can locate SCANPST.exe and use this free tool for repairing .PST files. Also, we have mentioned about an advanced PST repair solution that can fix severely corrupt PST file, when SCANPST.exe fails.
How to Use ScanPST.exe for PST File Repair?
Follow the given steps to repair .pst files by using Inbox Repair tool (SCANPST.exe):
Step 1: Locate SCANPST.EXE
SCANPST.exe is a part of Outlook installation and is located in the MS Outlook installation directory. However, the location of SCANPST.exe varies based on the Outlook version installed on your system.

SCANPST.exe location:
In Outlook 2016 and 2019
32-bit Outlook: C:\Program Files (x86)\Microsoft Office\Office16\
64-bit Outlook: C:\Program Files\Microsoft Office\Office16\
In Outlook 2013
32-bit Outlook: C:\Program Files (x86)\Microsoft Office\Office15\
64-bit Outlook: C:\Program Files\Microsoft Office\Office15\
In Outlook 2010
32-bit Outlook: C:\Program Files (x86)\Microsoft Office\Office14\
64-bit Outlook: C:\Program Files\Microsoft Office\Office14\
In Outlook 2007
32-bit Windows: C:\Program Files (x86)\Microsoft Office\Office12\
64-bit Windows: C:\Program Files\Microsoft Office\Office12\
Other Locations where SCANPST.exe can be found:
C:\Program Files\Common Files\System\Mapi\1033\
C:\Program Files\Common Files\System\MSMAPI\1033
Step 2: Run SCANPST.exe
After you have located the Inbox Repair tool, double-click on it to run. Then follow these steps to repair a corrupt .PST file:
Click 'Browse' to choose the corrupt PST file and click 'Start'. The SCANPST tool will scan the corrupt PST file
If the tool displays errors were found…, click the 'Make backup of scanned file before repairing' and then click 'Repair'
After successful repair, you can access the repaired PST file from its original location
In case you encounter errors, such as PST in use appear, close MS Outlook, etc., then try again.
If ScanPST.exe fails to Repair Corrupt PST File
Although ScanPST.exe is Microsoft's proprietary Inbox Repair tool, it is not fool-proof. The tool may fail to fix a damaged PST due to its limitations and under the following circumstances:
ScanPST.exe is missing or damaged due to unknown application bugs or virus infections (applies to ScanPST Outlook 2019, 2016, 2013, and ScanPST.exe 2010)
Unexpected errors in MS Outlook that ScanPST is not programmed to fix
Severely damaged or corrupt PST file
Limitations of SCANPST Tool
ScanPST.exe can't repair an encrypted PST file
It cannot repair large PST files
In such situations, you need a more reliable Outlook repair tool than SCANPST.exe to fix PST file corruption and errors.
What is the Best SCANPST.exe Alternative for Outlook users?
When it comes to choosing an alternative solution of the ScanPST.exe or Inbox Repair tool for PST file repair with accuracy, Stellar Repair for Outlook is a name that you can trust. This easy-to-use tool scans severely damaged or corrupt PST files and recovers all mailbox contents, such as emails, attachments, contacts, calendars, tasks, notes, and journals into a new usable PST, which can be directly imported into MS Outlook.

The product comes with an impressive Outlook data recovery feature to help you salvage all your seemingly lost mailbox data from damaged PST in just a few clicks. It's also equipped with many user-friendly features, such as an interactive GUI, mail item preview after repair, and option to 'Find' PST or save new PST at the desired location. These features make Stellar Repair for Outlook the best ScanPST alternative. It is a fast, secure, and reliable tool to fix PST errors with 100% integrity.
Steps to Scan and Repair Corrupt PST
To scan and recover data from damaged PST, download and install Stellar Repair for Outlook. Launch the software and then follow these steps:
Step 1: When Home Screen appears, you see two options: 'Browse' and 'Find' in the "Select PST File for Repair" dialog box.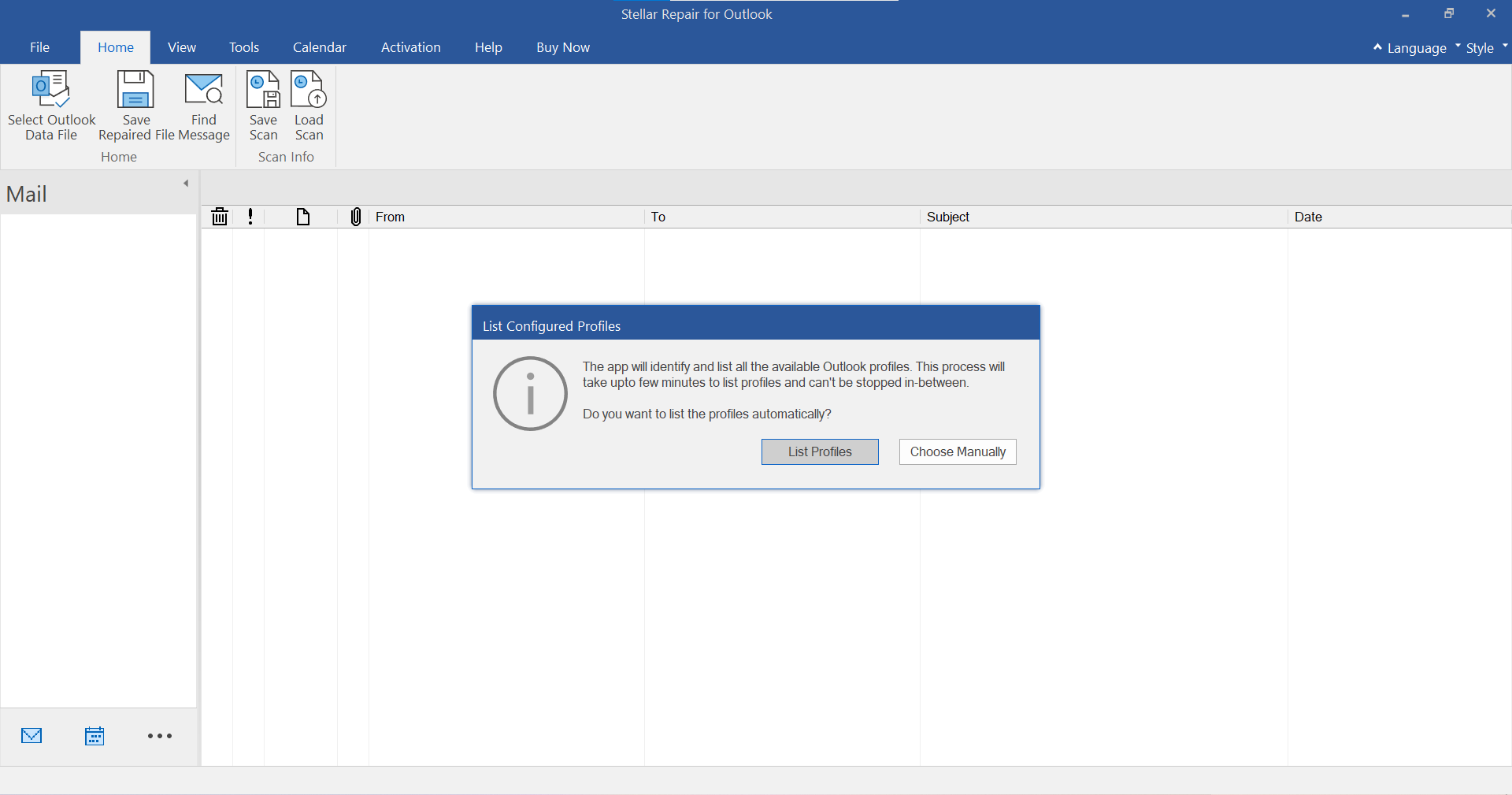 Step 2: If you know the exact location of the Personal Storage Table (PST), click on the 'Browse' option. After selecting the targeted PST file, click on the 'Repair' button to initiate the repair process.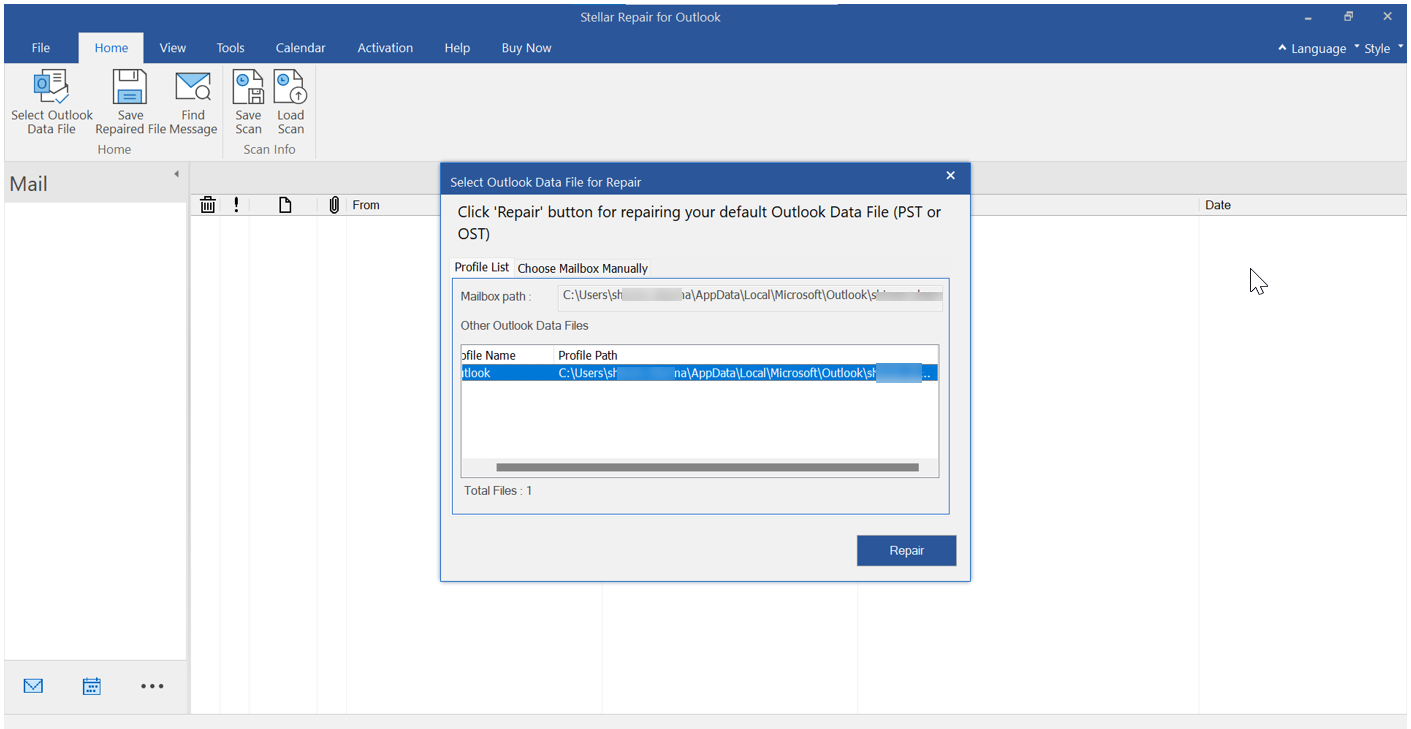 Step 3: If you're unaware of the PST file location, click on the 'Find' option to let the software locate the PST file. The software searches for PST files in each folder and subfolder of the selected drive and enlists all files with .pst extension in the 'Find PST File' section. Select the PST file you wish to rebuild and click on the 'Repair' button.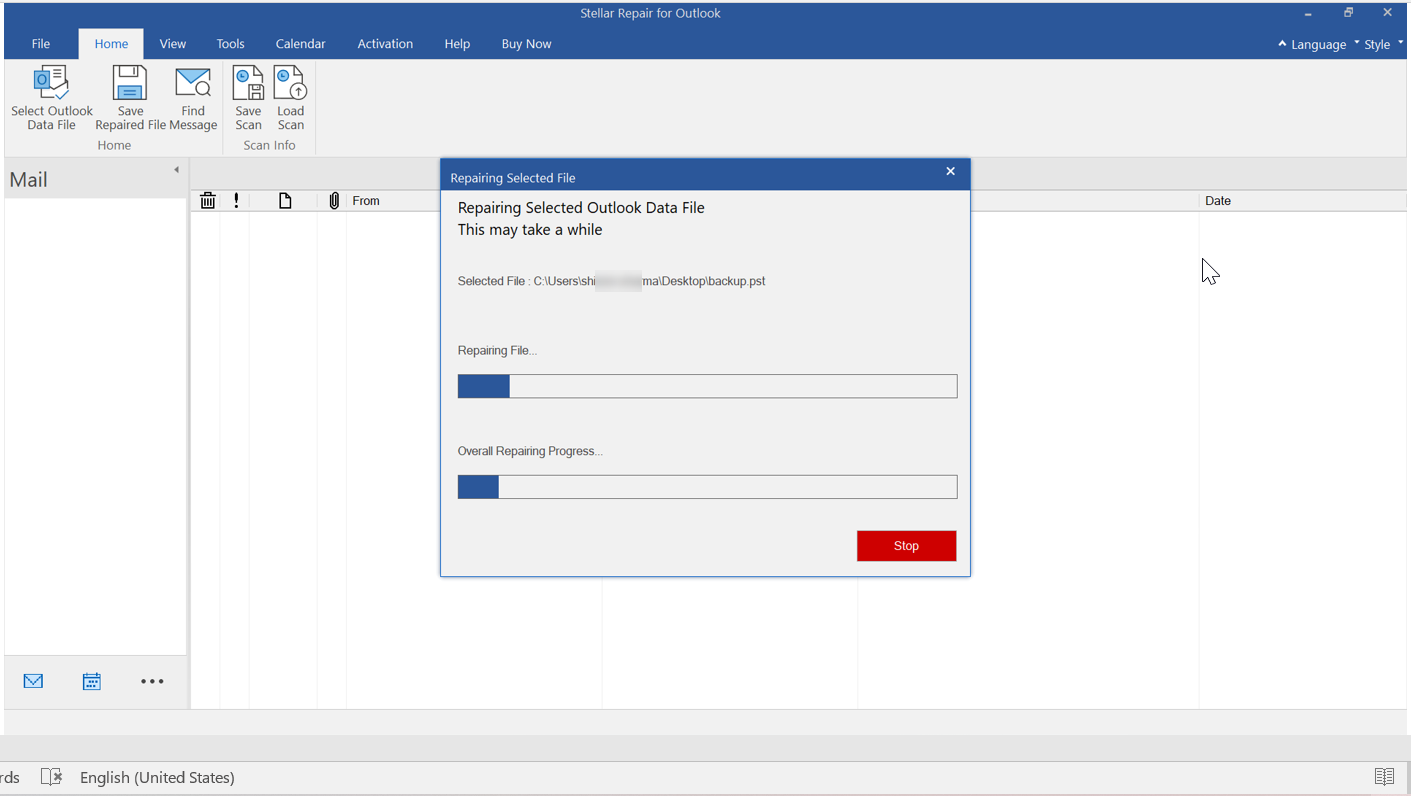 Step 4: Stellar Repair for Outlook tool scans through the corrupt PST file. The estimated time depends on the complexity and severity of corruption in the Outlook data file.
Step 5: Repaired items are displayed in the left panel of the 'Outlook mail preview' window. Click 'Browse' and check any of the mailbox items by selecting the right folder.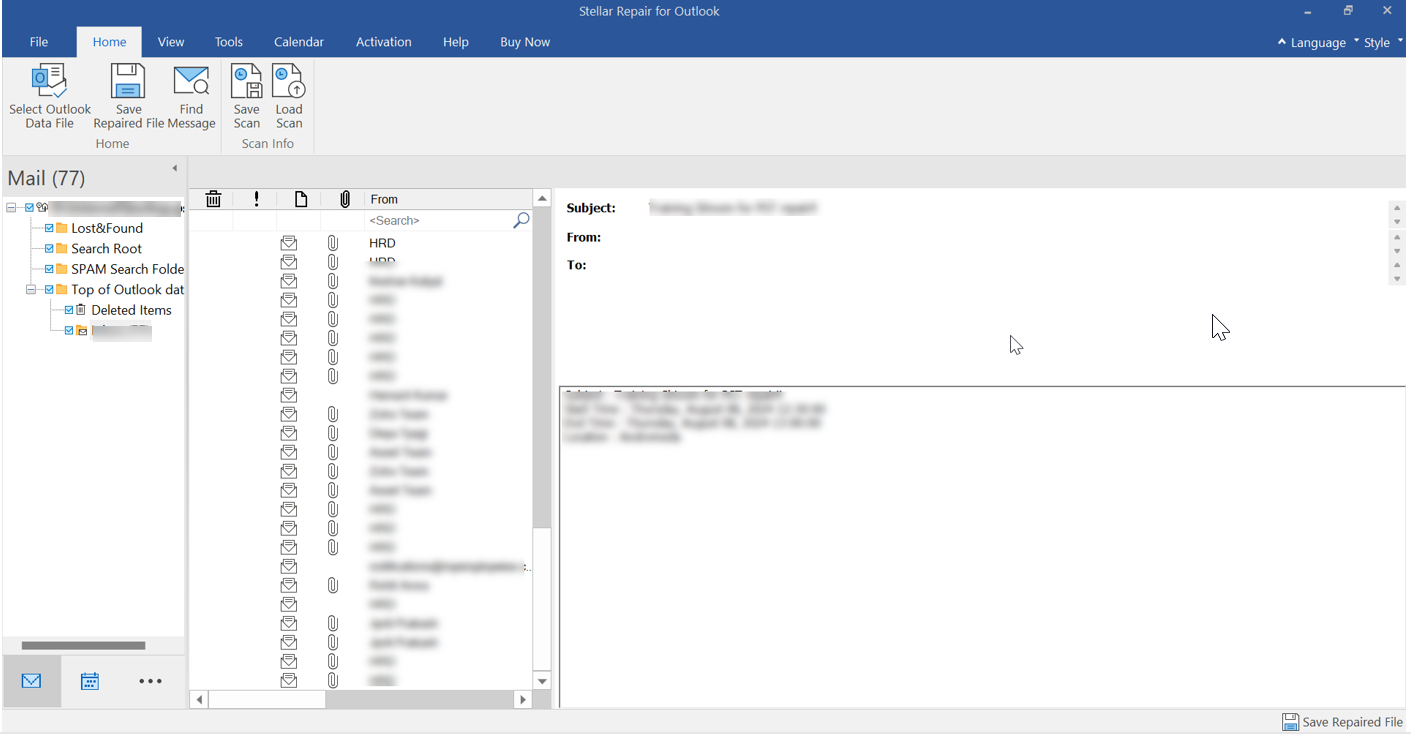 Step 6: You can save the scanned PST file information. Click on the 'Save Scan' button and save the scan information in DAT file at the preferred location. For later PST repair or recovery, you can use this file to load and analyze the PST file scan results directly.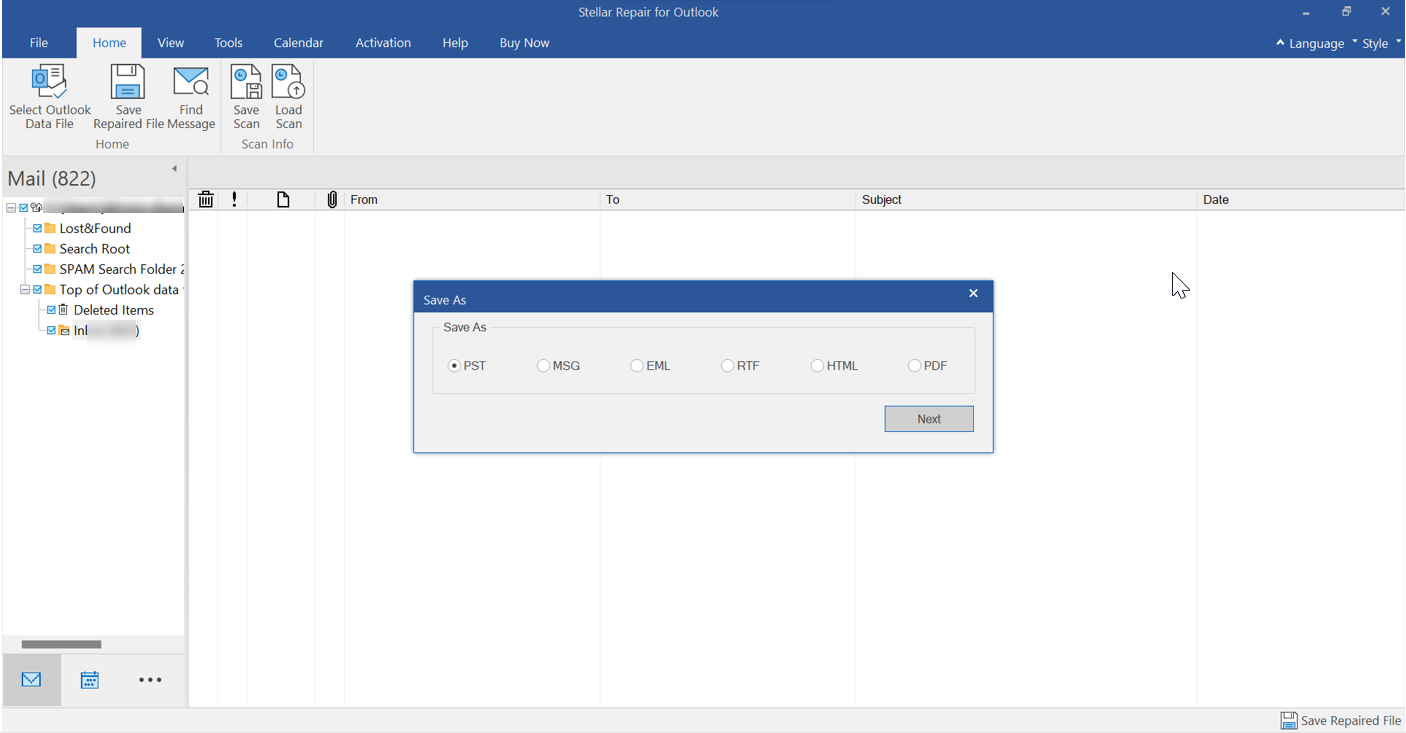 Step 7: To load scanned information of any corrupt PST file, click the 'Load Scan' button and choose the DAT file.
The Load Scan feature is useful when you want to scan and repair large PST files. This can take longer and you may need to stop the scanning process in between. The feature helps save the scanned part, which can be loaded back to resume PST repair and recovery process—from the point of saving scan.
Step 8: Select the folder you wish to recover and click the 'Save Repaired File' button from the 'File' menu. Select the saving file format as 'PST' from the multiple saving options and click on 'Browse' to select the right location where you want to save the recovered PST file.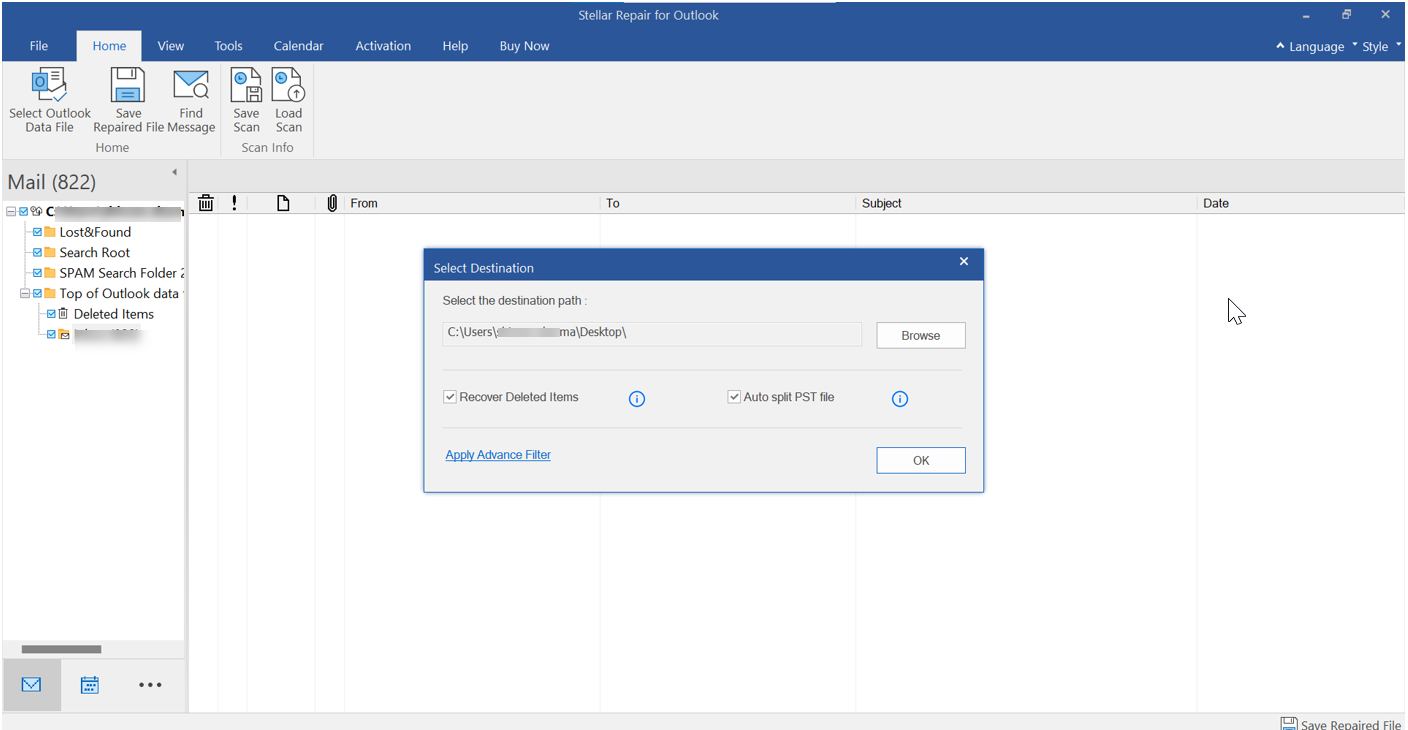 Step 9: Click 'OK' to initiate the process. A progress bar displays the status of the saving file.
Step 10: Once the new PST is saved, a 'pop-up' appears with appropriate notification. Click on 'OK' to complete the PST repair process.
Support & Software Specifications
One of the major strengths of this software is its wide compatibility. The software can work smoothly on:
Operating System: Windows 11, 10, 8, 7, Vista     
Microsoft Outlook: 2019, 2016, 2013, 2010, 2007, 2003, 2002 (XP), & 2000. It also supports MS Office 2019, 2016, 2013, 2010 (64-bit version), 2007 & 2003
Conclusion
We have discussed ScanPST.exe tool and the reasons for ScanPST tool failure, followed by the best ScanPST.exe alternative to repair and recover mailbox data from a severely corrupt or large PST file(s).
However, the most important aspect is to keep a backup copy of the PST file before performing any operations on it. Especially, if you are using ScanPST.exe utility. In case the scanPST.exe or Outlook Inbox Repair tool fails, you can always take the help of a professional PST repair tool, such as Stellar Repair for Outlook.
The tool comes with additional features like saving recovered mails in EML, MSG, RTF, HTML, PDF formats and can also help you repair the encrypted & password protected PST files.
Testimonials
"Ran Scanpst.exe several times but failed every time. And tried Stellar PST repair tool just once,
it recovered not only Inbox emails, calendars & attachments but also recovered a lot of emails which were accidentally deleted a few weeks ago which even I didn't know. Absolutely a top-notch software!!"
-- Posted by Sebastian Watkins on 08/05/2016
"I have used this software recently and want to say that it is a highly useful utility to repair
all types of corruption in PST file."
-- Posted by Constantine Artemiev on 24/03/2016
Frequently Asked Questions
Q. I used this software to repair my corrupted Outlook PST. Now how do I access the recovered data in Outlook?
A. Once all items have been recovered from a corrupted PST, you need to set the repaired PST file as the default Outlook PST. Here are the steps that you can follow:
Go to the 'Control Panel' of your system.
Click 'Mail' > 'Data Files'.
Locate the repaired PST file from the list. Select the file and click the option, 'Set as default'.
Close all windows and open your Outlook application.
After performing the above steps, you will be able to access all recovered mail items.
Q. I usually store a lot of sensitive data and emails in my Outlook profile. Thus, I encrypt my Outlook data files (.pst and .ost). Can this software help me out in case my encrypted PST file gets damaged?
A. Yes, the PST repair software from Stellar can overcome this hurdle with ease by recovering data even from password-protected files. The software prompts users to enter the password to decrypt the PST and then moves the repair process forward.
Q. Can I export the recovered Outlook data to my Office 365 account?
A. You can do that with the Technician version of Stellar Repair for Outlook.
Q. My Outlook PST file has been corrupted. Is there any way I can extract just a few critical emails from it? The other data is not that important.
A. Yes, Stellar Repair for Outlook allows you to recover individual mail messages in either EML or MSG format, which can be opened through Outlook Express and MS Outlook, respectively.
Q. I don't frequently buy software online. How can I be sure that my investment in this software will not be wasted and this software will recover the data I am looking for?
A. We completely understand your concern. That is why we allow users to preview recovered items before saving them with the demo version of the software. This free Outlook PST repair tool (demo version) can be downloaded directly to your machine, and it is completely free of cost. Once you are satisfied with the results, you can purchase the full version of the software to save the recovered PST mailbox files.