How to Convert MBOX to Outlook PST for Free?
Summary: In this post, we've explained free DIY methods to convert MBOX file into Outlook PST file. We've also shared insights into an automated solution to convert MBOX to PST, which is relatively faster and safer.

MBOX is a popular file format, used by multiple email clients such as Thunderbird, Apple Mail, Opera, Entourage, and Pocomail for storing email messages. However, in recent times, more and more businesses have started moving to Microsoft Outlook as it offers a wide range of impressive features. Since Outlook doesn't support MBOX format, a need for the conversion of MBOX to Outlook importable PST file has emerged amid SMBs and enterprises that want to switch from MBOX-based email clients to Outlook.
Tip: Create a backup of the MBOX file before conversion. This way, you will have a copy of your mailbox data to go back to if any issue arises.
How to Perform MBOX to PST Conversion for Free?
The MBOX to PST conversion process varies from one email client to another. So, for simplicity, we have covered the conversion methods for some popular email clients in this post.
Note: Converting an MBOX file to PST file format manually requires adequate technical knowledge to perform the conversion process correctly. Even a single mistake can lead to data loss, and the data integrity of your mailbox may also get impacted. Use Stellar Converter for MBOX software to convert an MBOX email client file to Outlook importable PST file without any technical expertise or assistance, maintaining data integrity.
Apple Mail
To convert Apple Mail MBOX to PST, follow these steps:
Step 1: Export Apple Mail to MBOX
Open Apple Mail and select the mailbox folders you want to convert to PST.
Select Mailbox and then Select Export Mailbox.
Select the folder where you want to save the MBOX file and then click Choose.
Step 2: Transfer MBOX File to Eudora
On your Windows system, install Eudora software, and copy the MBOX file on the system.
Rename .mbox extension to .mbx.
Move the renamed MBOX file (the .mbx file) to the following location:

C:\Documents and Settings\Application Data\Qualcomm\Eudora

Run Eudora and double-click the .mbx file to configure it for Eudora.
Close Eudora.
Step 3: Import .mbx File into Outlook
Run Outlook on your Windows system.
Open File tab. Select Open & Export, and then select Import and Export. This will open Import and Export Wizard.
Click Import Internet Mail and Addresses and click Next. This will open Outlook Import Tool window.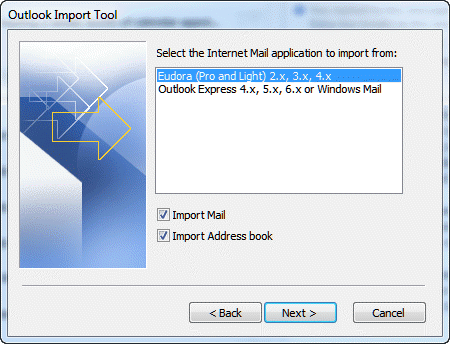 Click Eudora (Pro and Light) 2.x, 3.x, 4.x.
Check that Import Mail checkbox is marked, and then click Next.
Specify the location of Eudora mail folder and click OK to import the .mbx file.
Thunderbird
The conversion process of Thunderbird's MBOX data into Outlook's PST is a complex one. You need to manually "drag and drop" mail items, or move the mail items to Outlook via Gmail IMAP. Refer to this post for details: How to migrate Thunderbird to Outlook.
Entourage
In Entourage, there are two ways to extract the MBOX file. You can "drag and drop" the mailbox folders, or extract the items from archives. The remaining steps involve using an MBOX to PST converter. Refer to this post for details: Exporting mails from Entourage to MS Outlook are here.
Pocomail
In Pocomail, you have to extract the MBOX data (you can use the Backup and Restore feature for this) and then convert the MBOX file into PST.
Eudora
If you want to convert Eudora mailbox to PST, you have to install Outlook Express first. You can import Eudora data into Outlook Express directly. Then you can export the data into Microsoft Outlook. For the full process and an alternative method, refer to this post for details: Move Mails & Address book from Eudora to MS Outlook.
What's the Best Method for MBOX to PST Conversion?
The manual methods for MBOX to PST conversion are usually too complicated and risky. Therefore, for a safer and speedy conversion process, you can use a free MBOX to PST converter such as Stellar Converter for MBOX.

By using Stellar Converter for MBOX, you can easily move the mailboxes to the existing profile or a newly created PST in just three steps: Select, Convert, and Save.
To learn how to use Stellar MBOX converter, you can watch a short tutorial video:
Conclusion
For converting MBOX to PST for free, you can use manual methods mentioned in this post. However, to convert MBOX file to PST manually, you need to go through a series of technical steps, which are complex to perform and time consuming. On the other hand, you can use a specialized MBOX to Outlook PST converter software such as Stellar Converter for MBOX for safer and quicker conversion process.