Summary: In this post, we've shared stepwise instructions on how to import MBOX into Outlook. We've outlined different methods to convert MBOX to PST. We have also shared details of a specialized software that can ease the process of converting MBOX file into Outlook PST.
MBOX is a popular file format which is used for storing emails. It saves emails in text format, and attachments in encoded file format. It's used by popular mail clients such as Thunderbird, Apple Mail, Eudora, and Entourage.
MBOX format has many merits like wide support and easy message navigation due to its text-based nature. However, it is also a platform-dependent format. So, if you are migrating from an MBOX-based email client to Outlook, you need to convert the MBOX file to Outlook-compatible PST file format.
Quick Solution: Download a professional MBOX to PST Converter tool such as Stellar Converter for MBOX to directly export MBOX files to Outlook in a few simple clicks. Supports Outlook 2019 and Office 365.

How to Export MBOX to Outlook?
There are two methods to perform MBOX mailbox to Outlook migration: manual method and automated method. You can pick either option based on your preferences, although the automated method is usually recommended.
Manual Method to Import MBOX to Outlook
The actual steps for MBOX to PST conversion may vary from one MBOX client to another. For simplicity, we are sharing the steps to import MBOX into Outlook for Apple Mail.
Note: Before you go forward, know that it is a lengthy process and requires you to install Eudora and Outlook Express on your system, in addition to Apple Mail and Microsoft Outlook for Windows.
The manual process to Import MBOX to Outlook can be divided into 4 phases:
Exporting mailbox data to MBOX file through Apple Mail

Launch Apple Mail and select the mailbox you want to convert
Select Mailbox > Export Mailbox
Locate the folder where you want to save the MBOX file and select Choose

Transferring the file from Apple Mail to Eudora

Rename the exported .mbox file to .mbx file
Move the file to Eudora's default location for saving files: "C:\Documents and Settings\ Application Data\Qualcomm\Eudora"
Launch Eudora and double-click the renamed MBOX file (.mbx) to open it
Close Eudora

Transferring the file from Eudora to Outlook Express

Launch Outlook Express and under File tab, select Import, and then Messages
From the list that appears, select Eudora and then click Next
Navigate to the folder where you saved the .MBX file
Select OK > Next > Next > Finish

Importing the file from Outlook Express into Microsoft Outlook

Launch Outlook and open File
Select Open and then select Import

Import and Export Wizard will open.

Select Import Internet Mail and Addresses

Click Next and then select Outlook Express

Ensure that Import Mail option is checked and click Next, and then click Finish
After performing the above-mentioned steps, your Apple Mail data should be accessible in MS Outlook.
Using an MBOX to PST Converter (Recommended)
The manual method above can be used for free and you can implement it if you are technically adept. However, if you seek a simpler, safer, and straightforward solution, you can use an MBOX to PST converter such as Stellar Converter for MBOX. This MBOX to Outlook converter is created by a reputed brand Stellar, and it's both safe and user-friendly.
You can find the differences between the manual method and the converter software in the table below that can help you to choose the more suitable solution as per your needs.
| | |
| --- | --- |
| MANUAL METHOD | STELLAR CONVERTER FOR MBOX |
| Requires you to install multiple software for the conversion | You need to install only the software |
| Exports MBOX data into Outlook in multiple phases | Exports all data in a single session |
| Time-consuming | Time-saving |
| Requires technical precision (one mistake can ruin the process) | User-friendly and easy to implement |
| Poses data loss risk | No risk of data loss |
| Free | You need to purchase software for full conversion |
To convert MBOX into PST with Stellar MBOX converter, follow these steps:
1. Download and install the software

2. Launch the software and from Email Client menu, select AppleMail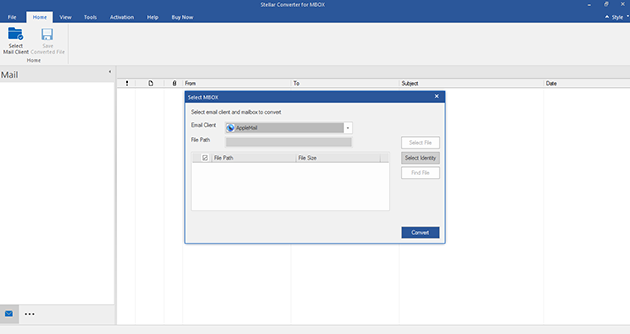 3. Click Select File and provide the location of the file that you need to convert. You can select either a single file or multiple files (the software supports batch conversion)
4. After selecting the files, click Convert to initiate the conversion process
After scanning is completed, it displays all the mailbox items. You can click on any item to preview it before conversion.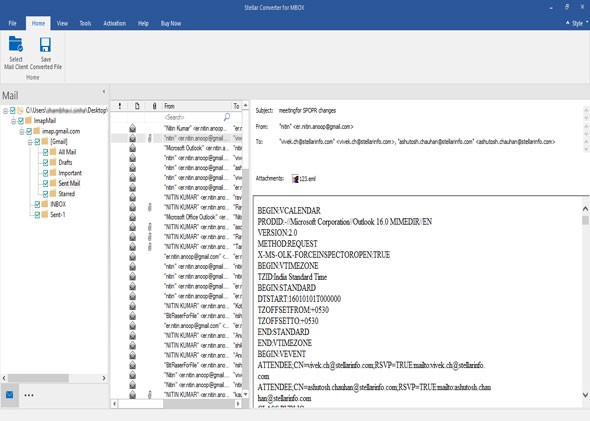 5. Select the items you wish to convert and click Save Converted File under File menu
The software will give you the option to save the converted emails to a new PST file or an existing PST file.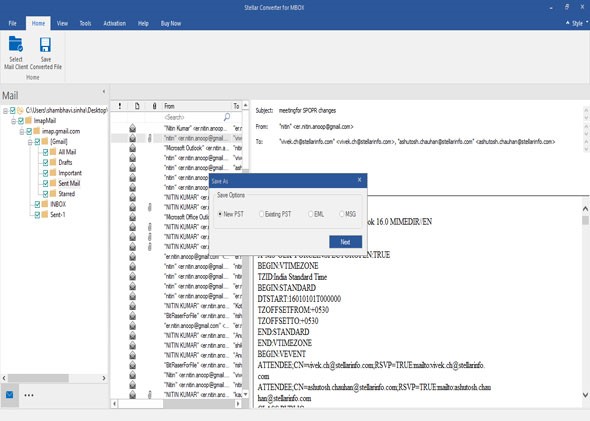 6. Make your selection and pick a destination folder to save the converted file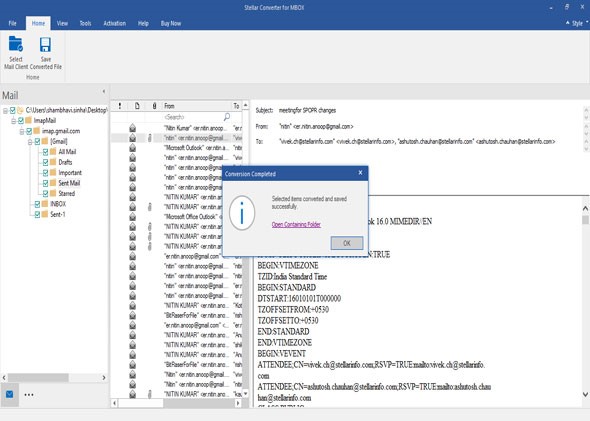 7. Click OK to begin the conversion. You will receive a notification once the process is completed
Stellar Converter for MBOX is well-equipped to convert emails, notes, contacts, journals, calendar items, etc. stored in an MBOX file into PST format, without any additional applications or lengthy procedures. It is, in fact, a DIY (Do-It-Yourself) software program with an interactive user interface that makes its operation simple and easy. All you need to do is enter the location of the MBOX file and pick a destination to save the converted data. The application will take care of the rest.
Read More: How to Save MBOX file to Office 365
Conclusion
If you want to import MBOX into Outlook, you may take the manual approach and convert the file in different phases on your own. However, it's not an efficient method and the technicalities involved pose a high risk of data loss. If your mailbox data is important, you shouldn't take any risk and use a third-party MBOX Converter to import MBOX to Outlook. This is because the software is carefully engineered to fulfill one purpose – to convert MBOX file to PST in the fastest way possible, without compromising with data integrity.