Free Methods to Convert GroupWise to Office 365
Summary: If you wish to export or migrate  user mailboxes from Novell GroupWise to Office 365, direct manual methods aren't available. To perform the migration you need to convert GroupWise's underlying data files to a format that is compatible with Office 365. Stellar Converter for GroupWise Technician is the ideal tool to perform this conversion.

Over the years, despite the popularity other emailing platforms have gained, Novell GroupWise has sustained its fair share of users owing to its reliability, uptime, ease of administration, and security. It is, in fact, one of the most deftly designed emailing platforms to ever be built. But that doesn't make it perfect.
Many better-emailing solutions have emerged which have a lot of potential and this has been driving loyalists of GroupWise to move away from it. Take the case of Office 365 for instance. Office/Microsoft 365 brings such attractive advantages to the table that organizations just can't resist switching to it.
Key benefits of GroupWise to Office 365 Migration – Why switching to it is a good idea
Here are some reasons businesses prefer GroupWise to Office 365 conversion:
No in-house setup so no headaches for maintenance or keeping the servers running. You're online 24×7 no matter what happens
With Office/Microsoft 365's inbuilt security features and continuous compliance, data security no longer stays an issue
The platform is omnipresent. You can work on it from any device, at any time, without the need for any special setup or configuration
With Office 365, emails, calendars, and contacts are all synchronized to work together
The platform is can be used under a flexible monthly billing process that includes the freedom to increase or cut down the number of users on a need basis
Every user mailbox is allotted at least 50GB of storage space which means no worries about cleaning up the mailbox anytime soon
Office/Microsoft 365 includes all licensing and it can be deployed company wide
If you're aware of the above-mentioned advantages and have already made the switch, good for you! If however, you wish to take the leap, let us inform you that there are no manual methods to do it. You'll have to use a professional tool. And when it comes to email migrations, we always trust the best. In this case, it is Stellar Converter for GroupWise Technician.
Easily migrate GroupWise to Office 365
GroupWise to Office 365 migration internally requires a conversion of the GroupWise data file into PST format. The best software to complete the job is Stellar Converter for GroupWise Technician. The comprehensive software application enables you to convert GroupWise mailbox data into PST file which can be directly imported into Office/Microsoft 365. In fact, the software shortens the process by offering a direct method to export all data from GroupWise mailboxes to PST format.
Here are the steps to convert GroupWise to Office 365:
1. Download, install and launch the software.

2. From the software's main screen, in the Connect to GroupWise Server dialog box choose whether you wish to connect to single or multiple GroupWise mailboxes. This will allow you to export single or multiple mailboxes to Office 365.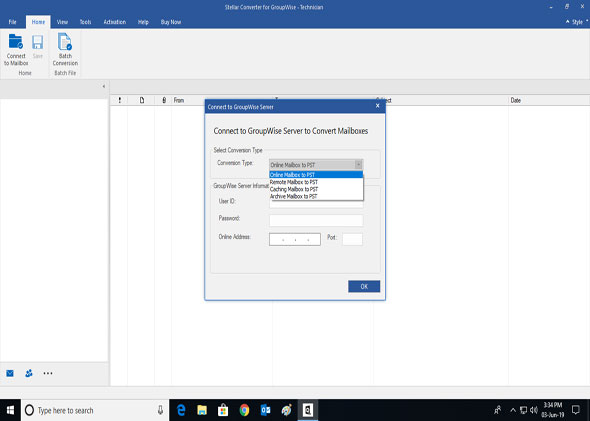 2(a): To connect single mailbox
 In the Connect to Single GroupWise mailbox section, make one of the following choices:
Choose Convert Online GroupWise mailbox (Online Mailbox) option if you want to convert the GroupWise mailbox into online mode.
Choose Convert Remote GroupWise mailbox (Remote Mailbox) option if you want to convert the GroupWise mailbox items in remote mode.
Choose Convert Caching GroupWise mailbox (Caching Mailbox) option if you want to convert the GroupWise mailbox items in cache mode.
Choose Convert Archive GroupWise mailbox (Archive Mailbox) option if you want to convert the GroupWise mailbox items in archive mode.
Fill in appropriate details like Proxy User Name, Password, Online Address, Port, Caching Mailbox Path, etc., in the GroupWise Server Information section depending upon the choice you have made in the Connect to Single GroupWise mailbox section.
Click on the OK button
2(b)To connect multiple mailboxes:
 After launching the software, Click 'Batch Conversion' button from the Home menu.
The Main user interface of Batch conversion module appears as shown below. From the Home of Batch Module, click 'Connect to Server' icon. It will display the dialogue box to fill server information. Click 'OK'.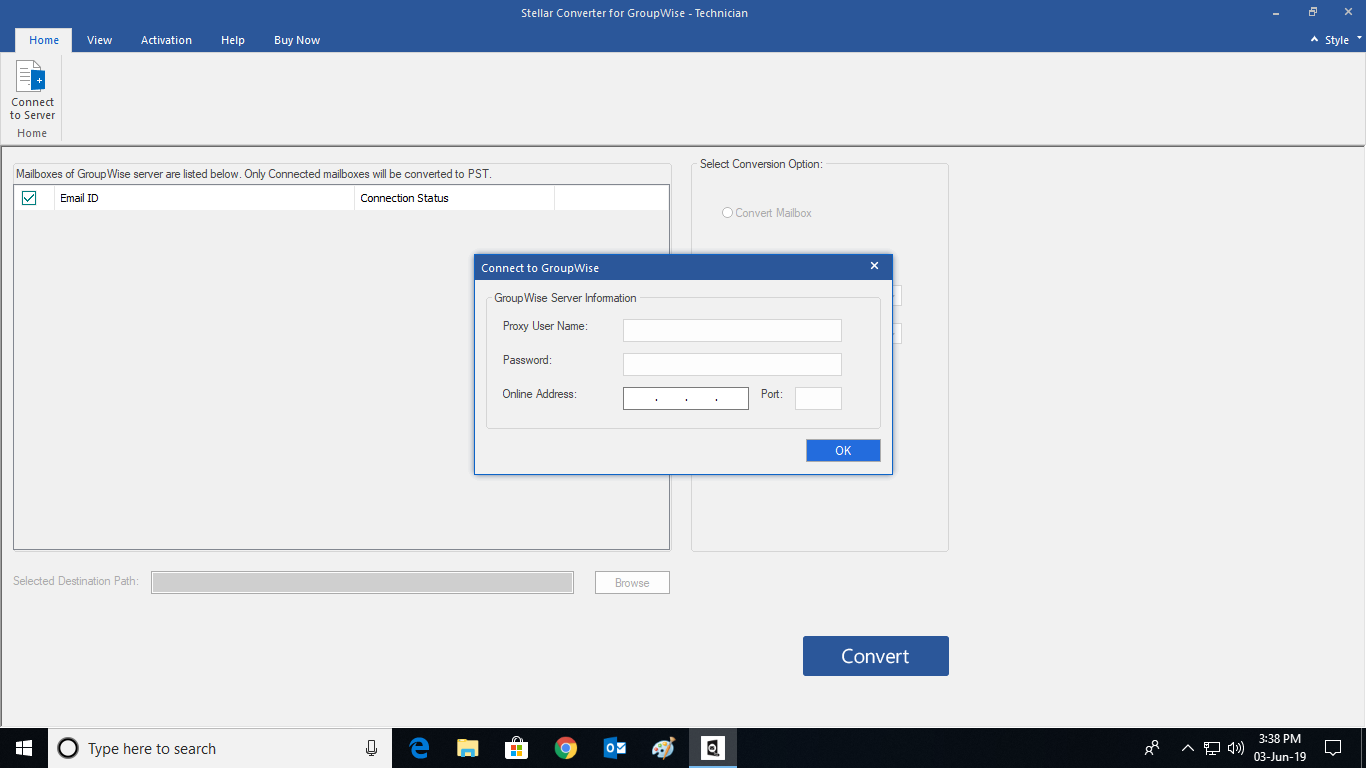 iii. The Batch module of the software will start scanning all connected mailboxes. Mailboxes of GroupWise will be listed below. Only connected mailboxes will be converted to PST. You can select or unselect the mailboxes as per your requirement. You can further filter and save data.
3. Once the GroupWise server is connected, the preview window is populated with the mailbox items. You can preview any item as follows:
Click on a required folder to display all the items in it within the top-right pane.
Click the desired item in the top-right pane. Preview is shown in the bottom-right pane.
Scroll in the bottom-right pane to preview the mail item.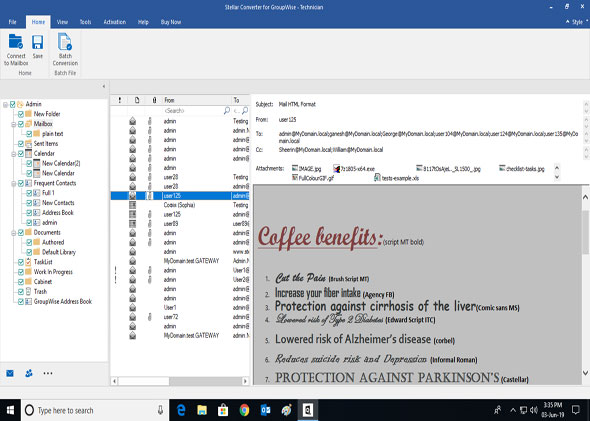 4. To export any item to Office 365 click on it in the left pane and then click on the Save button from the file menu
5. When prompted to pick an output format, select Office/Microsoft 365 radio button and click OK.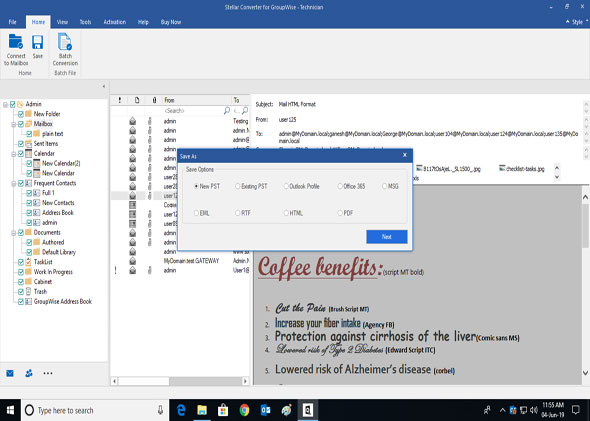 6. Login by entering the E-Mail ID and Password and click on the OK button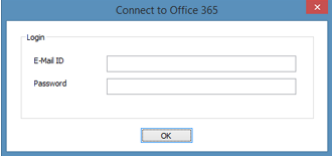 The software will take care of the remaining aspects of the export. Once it ends, all your GroupWise mailbox data should be successfully exported into Office 365.
Things you need to remember before performing this procedure
You need to have a Microsoft Office 365 user account for exporting data to Office 365 format.
To save mailbox data in office 365 format you need to install Office 2016, 2013 or Office 2010 with service pack2.
For Domain systems, you cannot export offline data to Office 365.
Online mailbox data cannot be exported to Office/Microsoft 365. You can only export your offline mailbox data to Office 365.
To conclude
Stellar Converter for GroupWise Technician is the most efficient and accurate method of exporting all mailbox data to Office 365. When you decide to make the switch, this is the easiest method you can take