Stellar Converter for GroupWise provides a foolproof solution to export mailboxes on your GroupWise server to MS Outlook. The fast mechanisms embedded in the software help you reduce considerable downtime while performing large mailbox migrations. Before you could initiate the process, the software requires you to connect to the GroupWise server or any individual mailbox on the server by specifying your authentication details. Using this GroupWise to Outlook PST converter, you can perform migration without the risk of losing data or any modifications to the mailbox structure.
Steps to Convert GroupWise mailboxes to Outlook PST files: 
Launch Stellar Converter for GroupWise on your system.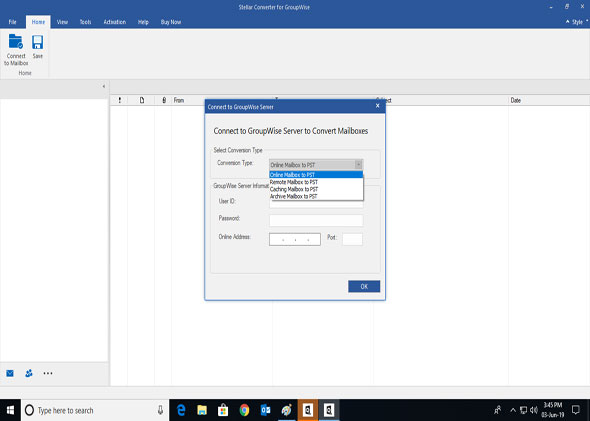 In the 'Connect to GroupWise Server' dialog box, select 'Convert single GroupWise mailbox to PST file', if you need to migrate a specific mailbox to Outlook PST. In the 'GroupWise Server Information' section, provide the GroupWise mailbox name and the required user password for login. Click 'OK'.
 
If you need to migrate more than one mailboxes, select the 'Convert all GroupWise mailboxes to PST files' option on the same dialog. Specify the GroupWise administrator name and the respective password for login. Click 'OK'.  
 
The software scans the selected mailboxes and displays all the convertible items in these mailboxes as a tree view within the left pane. You can select the desired items to see their preview in the main interface.   
Select the desired mailboxes, folders, or items within these folders that you need to convert and click 'Save' icon on the toolbar. A 'Save File Option' dialog box appears on your screen. Choose the desired output format for saving the converted mailboxes ('PST', 'MSG', or 'EML') and click 'OK'. If you select 'PST' as a save option while performing single mailbox conversion, you will get another dialog box asking you to save the converted items to a new PST or append them to an existing PST.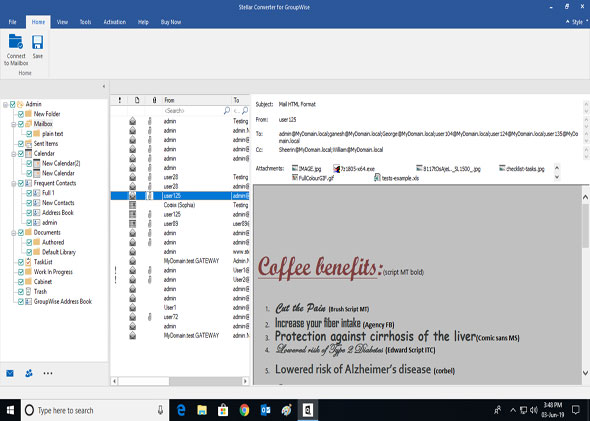 Once the process is finished, a message box appears displaying 'Selected Mailboxes Converted and Saved Successfully'.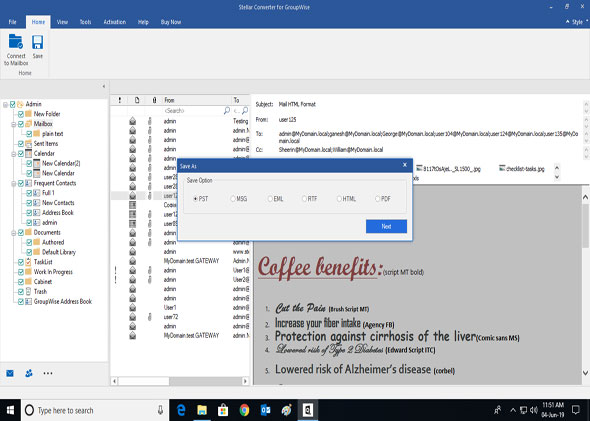 Note: Stellar Converter for GroupWise performs accurate and reliable mailbox conversion for GroupWise GW- 2018, 2014, 2012, 8.0, 7.0, 6.5, and 6.0.