Stellar Converter for GroupWise is one of the most often used tools to perform GroupWise to Outlook conversion. It helps transport all items of the GroupWise file like emails, contacts, sent items, calendars, task reminders, attachments, etc. to a PST file that can be directly opened in MS Outlook.
Transferring Product License
A unique feature of Stellar Converter for GroupWise is that it allows you to transfer the license of the registered software to another computer on which you want to run it with full functionality. This operation deactivates the product on your current computer so it can be reactivated on the new computer.
If you wish to transfer your product's license, please follow these steps:
On Target Computer:
1.    Run the demo version of the software.
2.    In the Registration Menu on Menu Bar, click Register. This opens a new dialog.
3.    From the Register window, select Offline Registration and then click OK.
4.   An Offline Registration dialog box will appear displaying the Registration ID in its respective field.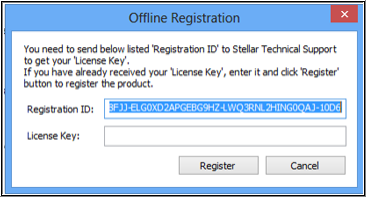 On Source Computer:
1. Run the registered version of Stellar Converter for GroupWise.
2. In the Registration Menu on Menu Bar, click Transfer License.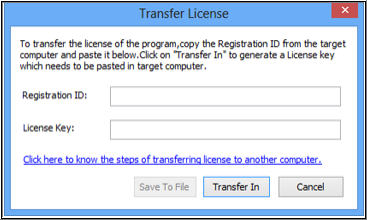 3. Copy the Registration ID displayed on the Target Computer in the field of Registration ID on the Source Computer.
4. To get your License Key, click Transfer In button on Source Computer. This will generate a License Key. You can also save the License Key generated on the source computer. Click the 'Save to File' button to save the Registration ID and the License Key.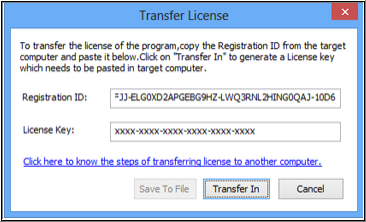 5. In the Browse for Folder dialog box, select the location where you want to save the details. Click OK.
6. The message 'License Key has been saved successfully' is displayed after the saving process is completed successfully. Click OK. This will deactivate the product on Source Computer and you will no longer be able to use the software on this computer.
Once the above steps have been completed, you can finish the transfer procedure by performing the following on the Target Computer:
1. Type the License Key which you have generated on the Source Computer in the License Key field.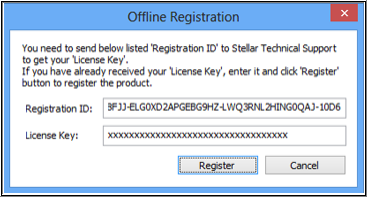 2. Click Register to complete the activation process.
3. The 'Activation Completed Successfully' message is displayed after the process is completed successfully. Click OK.
That's it!
If you follow the above-mentioned steps carefully, you should be able to transfer product license on a different computer easily. For more help regarding Stellar Converter for GroupWise, go through theproduct's knowledge base on the website.