Summary: Hard drive corruption occurs due to file system errors that turn a hard drive RAW. These errors are caused by bad sectors, sudden system shutdown (crash), software or hardware issues, and sometimes due to physical damage. To repair a corrupt hard disk, you can format it, which is the simplest way to repair a corrupt drive. But, it causes permanent data loss. However, you can recover your lost data with the help of Stellar Data Recovery software.

Thus, today we are going to discuss the steps that can fix hard drive corruption without formatting the drive. In other words, steps to repair a corrupt hard disk without losing the data.
CAUTION: Windows may display prompt to format the corrupt (RAW) drive volume when you connect it or turn on the system. Click 'Cancel'. DO NOT CLICK 'FORMAT' as it will result in permanent data loss.
What Causes Hard Drive Corruption?
When a drive is formatted with a file system such as NTFS, FAT16/32, exFAT, etc., it creates a table where file records are stored. NTFS creates Master File Table (MFT) while FAT file systems stores these records in File Allocation Table (FAT). After format, every file you cut/copy/paste enters a record in the table.
These file records contain the physical address of the file on the hard drive along with other file details such as file format, creation date, modification date, size, etc.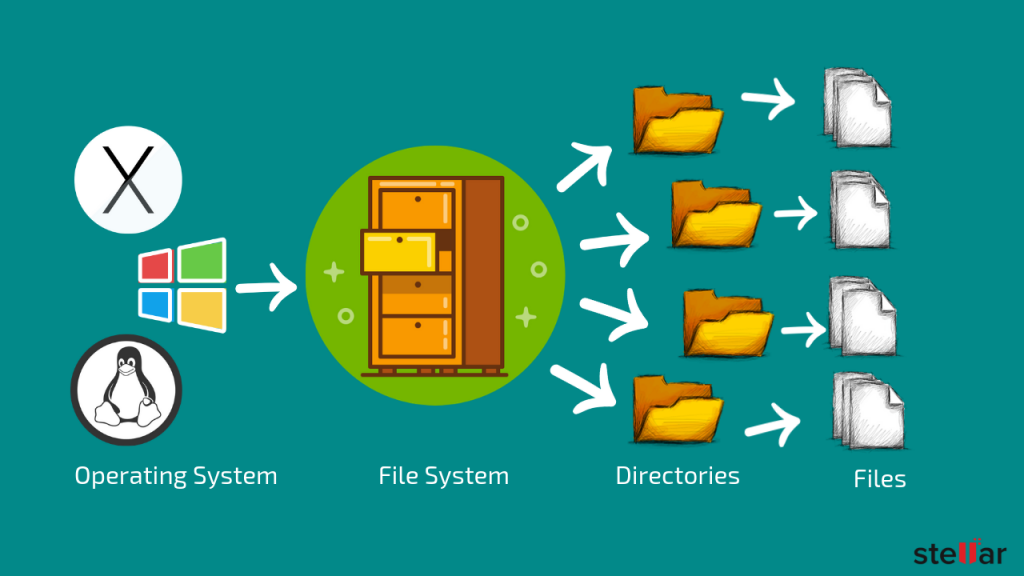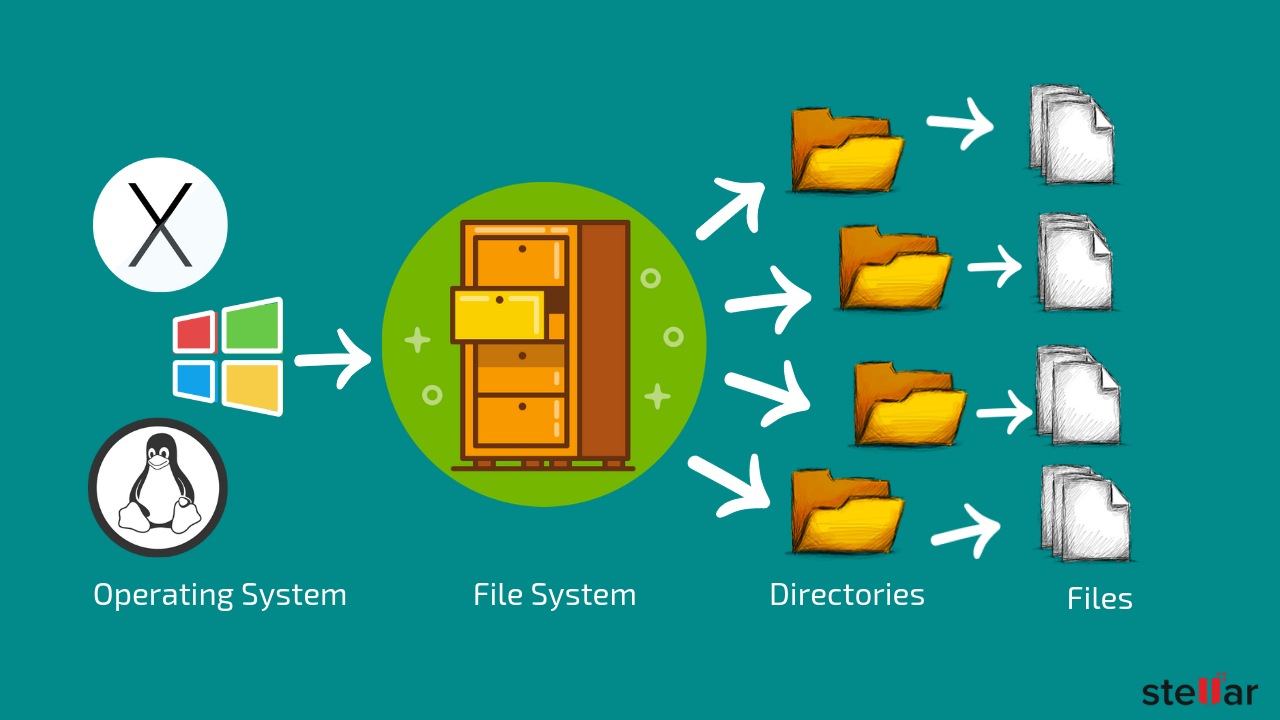 So when a drive is connected to the system, the OS reads the file system's table and displays the contained files and folders along with the details fetched from the table. When this table is damaged, the OS can't recognize the file system and thus, shows drive as RAW.
Did You Know: Your personal data can be recovered from corrupt or formatted drives and put you at risk of data theft. Wipe your hard disk for guaranteed safety. Learn how
Steps to Repair Corrupted Hard Disk without Formatting
Follow these steps to repair corrupt hard disk without formatting, and get back the data.
Step 1: Run Antivirus Scan
Connect the hard drive to a Windows PC and use a reliable antivirus/malware tool to scan the drive or the system. Sometimes, viruses and malware can cause such errors. Thus, an antivirus scan may repair corrupt hard drive and make the drive accessible.
Step 2: Run CHKDSK Scan
CHKDSK scan is good for the storage drive and you should run it every once in a while. The CHKDSK marks the bad sectors and prevents data corruption by fixing the file system errors.
Follow the instructions below to run CHKDSK scan and repair corrupt hard drive without formatting:
Open an elevated Command Prompt window
Make sure the corrupt drive is connected to the system
Assign a letter to the corrupt drive via Disk Management tool, if it doesn't have one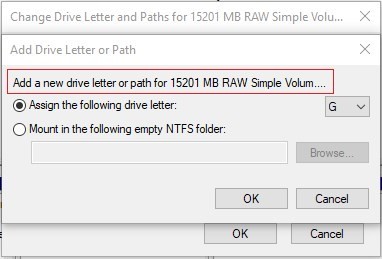 Then type chkdsk /r /f X: where X is the drive letter. Replace X with your corrupt drive letter and press 'Enter.'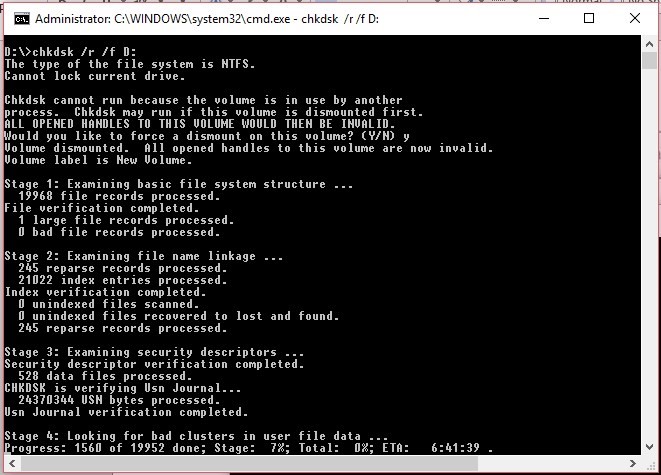 Wait for it to finish and then restart the system to check if the drive is accessible.
NOTE: If you see a warning message such as shown in the below screenshot, press 'Y' on keyboard and then the 'Enter' key.

IMPORTANT NOTE: Bad sectors can cause drive failure, and there is no way to repair bad sectors besides CHKDSK scan to prevent data corruption and drive errors.
Step 3: Run SFC Scan
SFC scan helps fix the damaged or missing Windows system files that may cause drive corruption. The scan checks system file integrity and replaces a corrupt or damaged system file with a cached copy stored within the system.
To run the SFC scan, open an elevated Command Prompt window and type sfc /scannow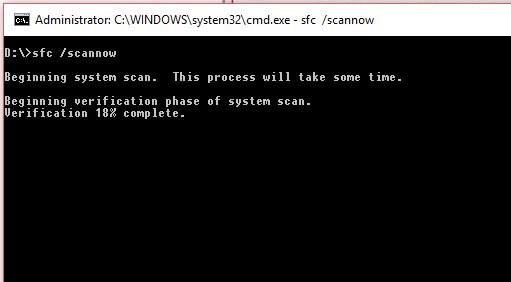 If the drive is external, type sfc /SCANNOW /OFFBOOTDIR=c:\ /OFFWINDIR=c:\windows
Replace letter c: with your hard drive letter.
That's it. Wait for the scan to finish and then restart the system. Check if you can access the drive now.
Step 4: Use a Data Recovery Tool
It's quite possible that the above steps fail to repair the corrupt hard drive. Sometimes, the corruption is severe, and the methods mentioned above can only fix a few minor drive corruption issues.
However, a data recovery software such as Stellar Data Recovery Standard can quickly restore files from severely corrupt and formatted hard drives or deleted partitions. While Windows may not recognize a corrupt hard drive as usable, this software natively supports recovery from a corrupt (RAW) hard drive.
Just follow the steps mentioned in the video to get back the data quickly.
Now that you have recovered data from the corrupt hard drive, format the drive to repair it.
Open Disk Management tool, format the RAW (corrupt) drive, and then transfer the recovered data.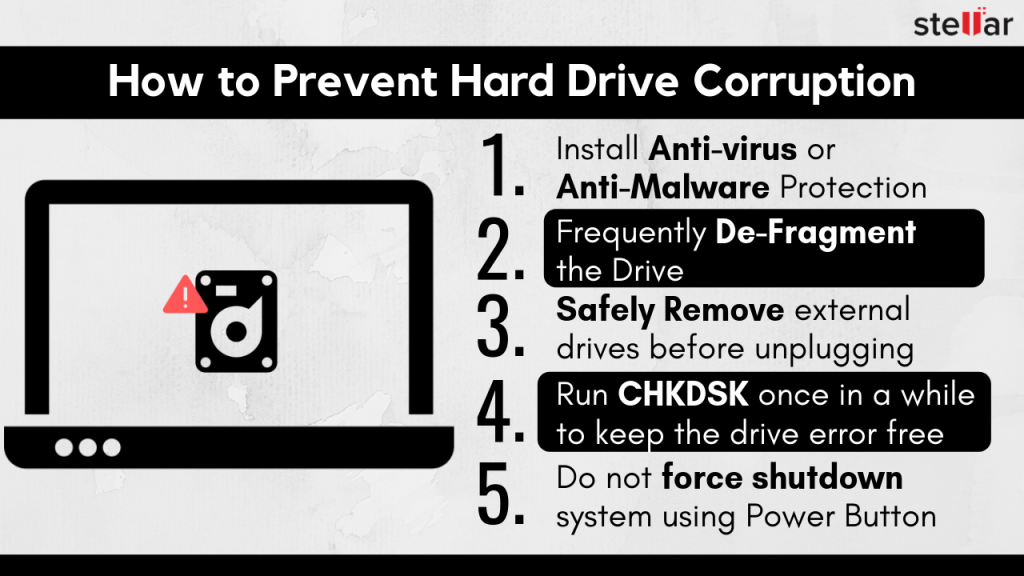 Conclusion
Hard drive corruption is a logical issue, which is one of the common reasons for data loss across the globe. However, you safeguard your hard drive safe from corruption by following the best practices we discussed in this post.
But if it happens, follow the steps we explained in this post to repair corrupt drive without formatting, and get back your crucial data.
Also Read: Fix corrupted external Mac hard drive without formatting