Hard Disk Making Clicking Noises and Inaccessible, How Do I Recover My Files?
Nowadays, with the increasing development of technology; hard drives are also improving, including their storage capacity, speed, compact size, etc. However, due to the higher frequency of usage, these storage drives show issues at times and clicking noise is included as one of those major issues.
Normally, these computer storage drives are quiet and steady, but in case of any physical damages or logical corruption, they can begin to make noise.
There are a number of different hard drive clicking sounds with different reasons. Usually, the older hard drives (whether they are external or internal) have the tendency to create clicking sounds, but when it comes to a new hard drive there could be different causes.
Some type of clicking noise are due to software or driver issues, some of them due to hardware issues, and sometimes due to mechanical faults of the hard drive. The users must be able to differentiate normal noises from detrimental or abnormal noises.
In case your hard drive is making noises, you should identify it immediately and try to recover data from this clicking hard drive. Usually, when a hard drive starts making a clicking noise and there is a logical reason behind it, and subsequently it will not be recognized by the operating system after system restart. At this time you should check whether your hard drive is in working state or dead due to any physical damages.
If there is any logical reason then it can surely be recovered with the help of a data recovery software.
Most of the times there are four probable causes for clicking noise of a hard drive:
The insufficient power supply is a very common cause of noise in the hard drive. It mostly happens when you have connected multiple devices (including the HDD) to a single port.
Physical depreciation of the hard drive which results from either simple issues or damage such as a physical shock or trauma.
A hard drive may be failed due to the faulty data cables, or incorrect drivers installed.
A crashed hard drive.
Subsequent fixes people have used to recover data from clicking hard drive
Check whether the hard drive is getting enough power or not. You can do it by plugging the power adapter directly into the power supply. In case it is engaged with multiple devices plugged into it, then you can connect the drive to a different power outlet.
Replace the data cable with the new one and turn on the drive. Now, if it does not make any noise, then the data cable might be faulty.
In case the drive still makes noises, then there is a high possibility the drive is failing and needs to be replaced.
If your hard drive is not dead and is recognized by the BIOS, but still inaccessible, then you should surely consider a reliable data recovery tool in order to recover your complete data.
There are plenty of data recovery software available which are capable to recover from noisy hard drives. However, all data recovery tools are not compatible with every type of hard drive, therefore you should be sure about the tool, else you can end up losing all of the data stored on your hard drive.
Here, we have mentioned about a reliable data recovery software that will surely work and retrieve your hard drive's data. Stellar Data Recovery Professional is a proficient utility in order to restore lost, deleted or formatted hard drive data in few clicks. This professional recovery software is capable of recovering inaccessible data from any type of external or internal storage media.
Detailed steps to recover data from noisy hard drive using Stellar Data Recovery Professional for Windows

Run the software on the Windows based system and connect the problem hard drive (you can use the second slot of the PC to connect internal hard drive).
Check the box for required data from the software interface and click Next.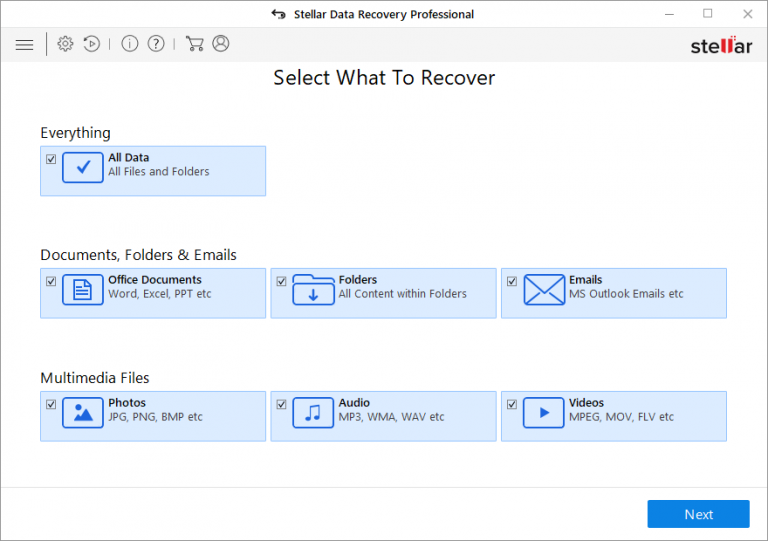 You'll reach to the Select Location interface where you can choose a location, from which, data can be retrieved.
Press Scan.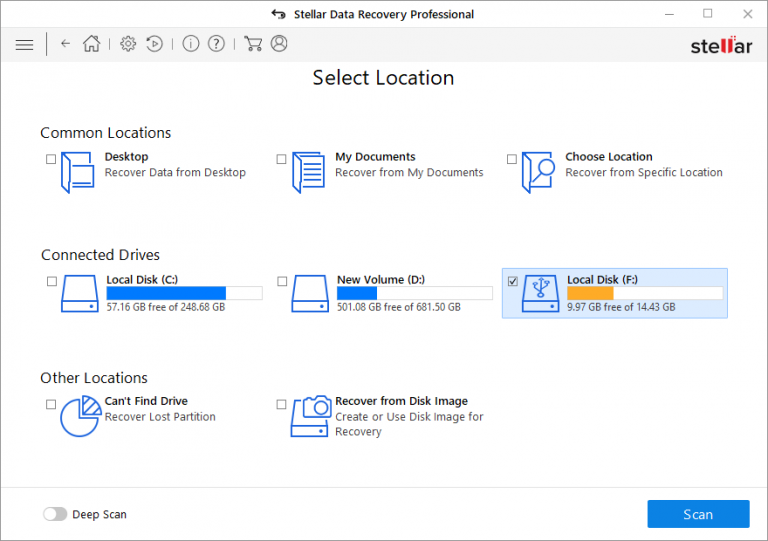 On the completion of the scanning progress, the resultant file/folders will appear in the software interface.
Note: You can switch the Preview tab ON/OFF.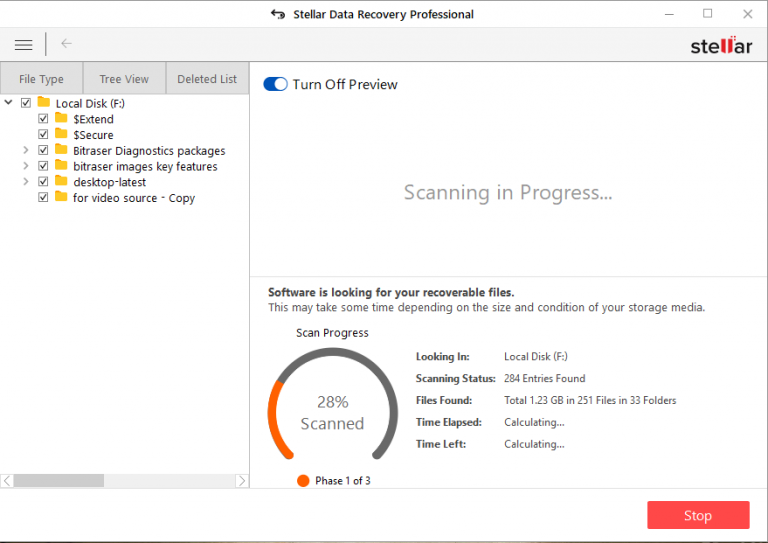 Select a required file you want to recover and click on the Recover Tab at the right bottom of the software interface.
A pop-up window will appear asking you for selecting a location for saving your recovered files.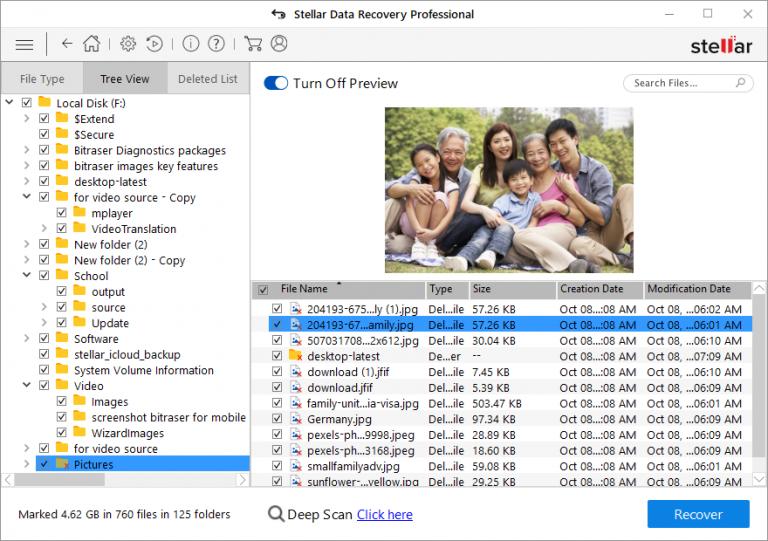 Choose your destination location and enjoy your recovered data.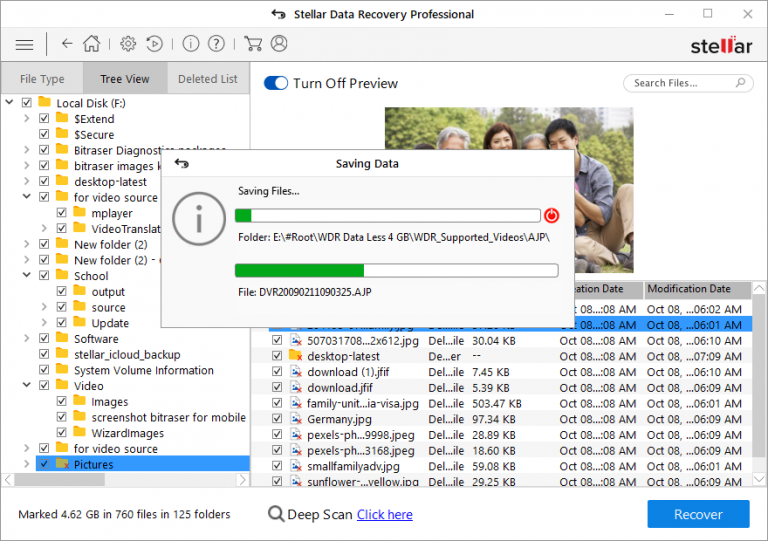 This tool has the capability to provide you 100% recovery of your lost, inaccessible and deleted files. If your hard disk is making clicking noises but showing in BIOS, then this software could be your best choice to recover the stored data.