PowerShell Command: How to Export Exchange 2010 Public folder to PST
Summary: In this technical guide, We are going to have an overview on how to deal with the job requirement when an Exchange Admin has to export Exchange 2010 Public folders to pst with help of Powershell Command or any alternative method. Read on to know all possible methods.
As we know, The most widely used mail server by most businesses is the MS Exchange Server to encourage collaborative capabilities. It is a great way to organize and store emails and shared data in the Exchange database (EDB) file. An Exchange Server Database is composed of both Private and Public folders. Private folders are mailboxes that contain system and user mailboxes. On the other hand, Public folders are used for sharing data between users of the organization through shared access to the Exchange data. Public folders are critical for an organization when it comes to effectively storing, organizing, structuring and sharing Exchange data between organizational users. Public folder and mailbox data are stored in the Exchange Database files as pub.edb and priv.edb.
Benefits of exporting an Exchange 2010 Public folder to PST
Considering the fact that the format of Exchange Database (EDB) files and PST files differs from one another, the Public folder can't be accessed through MS Outlook. To make the data of EDB files accessible and portable, the public folder has to be exported to a PST file. Furthermore, the continuous build-up of organizational emails and mailbox data may lead to an oversized Exchange server Mailbox pushing it into an inaccessible state. Therefore, transferring or exporting these emails in the PST format helps to access the Exchange Server mailbox data in MS Outlook, resulting in a less burdened exchange server. The export of the Public folder not only leads to improved server response time, but also organized and minimalized Public folders on the Exchange Server.
How to export exchange 2010 Public folders to PST
If you're looking to Export Exchange 2010 Public folders to pst, the process is different from how you usually export mailboxes. The PowerShell cmdlets are very helpful in importing as well as exporting mailboxes to PST. However, you can't expect the script to work for something that is not even a mailbox. As discussed earlier in the article, Public folders are not mailboxes. Therefore, the New-MailboxExportRequest command does not support public folders as it only supports in exporting mailboxes. One of the most popular work around is exporting Public folders through MS Outlook's import/export feature. In fact, you can avoid all the hassle and simply use the Third party tool EDB to PST Converter to export exchange 2010 public folders to PST as it automatically creates a separate PST for each public folder. You can give Stellar Converter for EDB a go for free by downloading it here:

In order to export your Public folder, MS Outlook needs to be connected to the source environment with appropriate Public folder permissions. Just follow the below steps:
Step 1: Open the Outlook 2010 application while being connected to the source email environment
Step 2: Click on File>Open>Import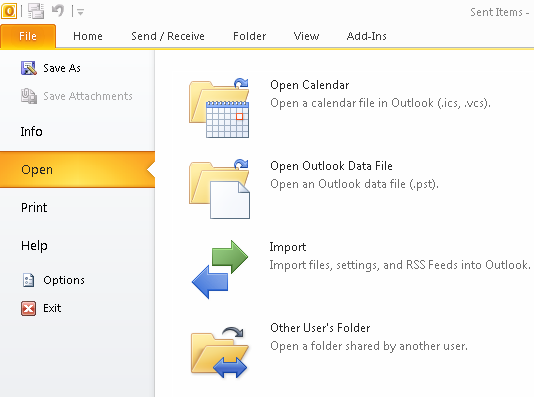 Step 3: From the new dialog screen, select and click the option "Export to a file" followed by clicking on "Next"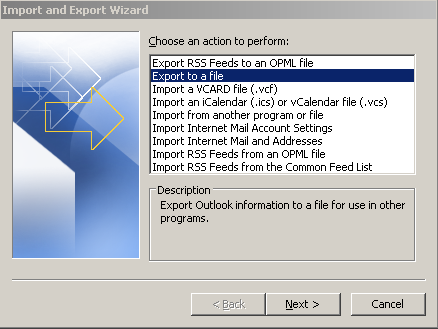 Step 4: In the next screen click on Outlook Data File (.PST) and click on "Next"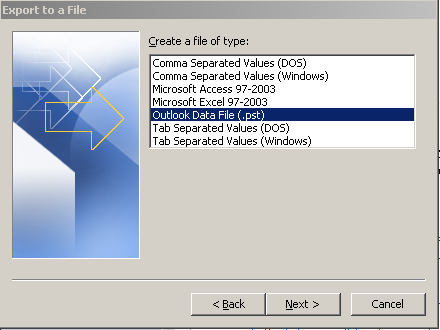 Step 5: From the "Export Outlook Data File" screen and select the Public folder you want to export from
Step 6: Choose the location where you want to save the export .PST file and click "Finish"
Step 7: Leave the password fields blank and clock on "OK"
That's it! You're all set with your Public folder to .PST export
A final look at both export methods – Outlook or Third party tool?
Exporting public folders to .PST files is crucial and critical for data-centric companies to facilitate archiving and collaboration. It's pretty evident from the article, that using PowerShell commands to export mailboxes is a great option for administrators. But when it comes to exporting Exchange public folder to PST, cmdlets commands don't prove to be useful at all since public folders are in fact not mailboxes. MS Outlook will do the job for you but why get into the handiwork when you have a completely automated and effective option? We recommend to use Stellar Converter for EDB as the best way to export public folders without any hassle.
Recommended by Spiceworks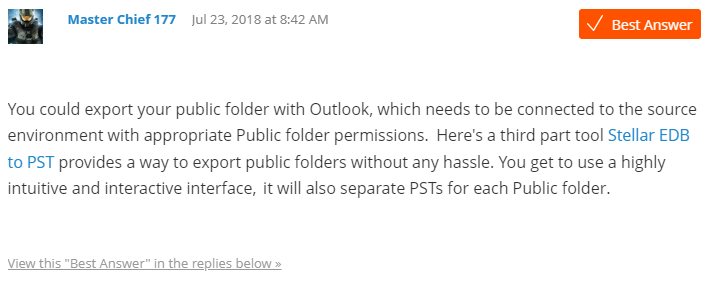 Reference: https://community.spiceworks.com/topic/2149796-improve-performance-of-exporting-public-folders-to-psts
You can avoid even the slightest manual effort required by Exchnage public folder to PST, by opting for Stellar Converter for EDB. Not only do you get to use a highly intuitive and interactive interface, but you can get the export done in no time with the automated tool – That too while making separate PSTs for each Public folder.