It is a normal routine to export Exchange mailboxes to PST for archiving purposes or to export other items in Exchange server like Public Folder to PST. Exporting could also be required for migration purposes or to restore from a backup of a decommissioned Exchange Server.
A user mailbox in Exchange server can be easily exported by using the PowerShell cmdlet New-MailboxExportRequest or from the Exchange Admin Center (EAC). Unfortunately, there are no native tools in Exchange Server to export a public folder to PST file. So, we need to see the alternative methods such as using the Outlook or a third-party tool application.
Let's explore both methods, along with their pros and cons.
Export Public Folder to PST by Using Outlook
For this, you need to have a computer or a virtual machine with Outlook 2013, 2016 or 2019 installed. Apart from that, depending on the size of your public folders, you must have enough space to store them. Suppose, if the public folder in the Exchange is shown as 50 GB, you need to have about 80-90 GB of free space. This is because it is stored in a compressed database in Exchange and when you export it to PST, it will be bigger.
Therefore, the bigger the size of public folder/s, the larger the size of the PST and the longer it takes to export. Most of the users, who don't know what is happening in the server room, think that a public folder and other storage in the infrastructure is a bottomless pit to throw everything in it. So, when exporting public folders to PST, it would be suggested to spring-clean these folders in order to avoid exporting expired or irrelevant data.
Let's start by opening Outlook and follow the given steps:
Note: Make sure that the user you are using to export public folders has full access on the ones you are exporting.
Click on File > Open & Export > Import/Export.
Select Export to file and click Next. Then Select Outlook Data File (.pst) and click Next.
The full structure of mailbox, along with all the account accessible folders will be shown. Now, expand the Public Folders and find the folder you wish to export and click on it. Make sure to tick the Include subfolders checkbox and click Next. If you would like to make some filtering options, click on the Filter button.
The export process will take time, depending on the size & complexity of your public folder and the resources you are using. 
Keep in mind the size limit of the PST file, which depends on the Outlook version you are using. The maximum out-of-the-box size of PST is 50 GB. But this can be increased through registry. 
This can be done by navigating to the registry User Configuration/ Administrative Templates/ Microsoft Outlook / Miscellaneous/ PST Settings and modifying the below entries.

The entries must be set in decimal and in MB. So, if you want to set the limit of 100 GB, you must enter 100000. If you want a warning at 95 GB, enter 95000 (see the below entries). If the DWORDs do not exist, you must create them.
Following are some pros and cons of this method:
Pros
All you need is Outlook to export a public folder
Ideal for small-sized public folders
Cons
For large public folders, it's a messy process
 If Outlook would crash, there is no way to continue the export
Large public folders can be easily corrupted
The process would take a lot of time
The public folder must be online to be able to export
Cannot export more than one public folder at a time
Export Public Folder to PST by Using a Third-Party Application
By using Best EDB to PST Converter such as Stellar Converter for EDB, you can easily export an EDB file. Once downloaded, the application can be installed in a few minutes. When you open it, you can attach the EDB file. After a quick scan, you will be able to see the whole structure of your Mailbox Database.
The application's interface is user-friendly as it resembles the Outlook. You will be able to easily navigate through the EDB file. You can also attach a file from an older offline Exchange server as it is compatible with any version of the Exchange.
The application can export multiple public folders to PST, at once. Apart from exporting, Stellar Converter for EDB can be used to directly import EDB files and public folders into a live Exchange Server database or an Office 365 tenant.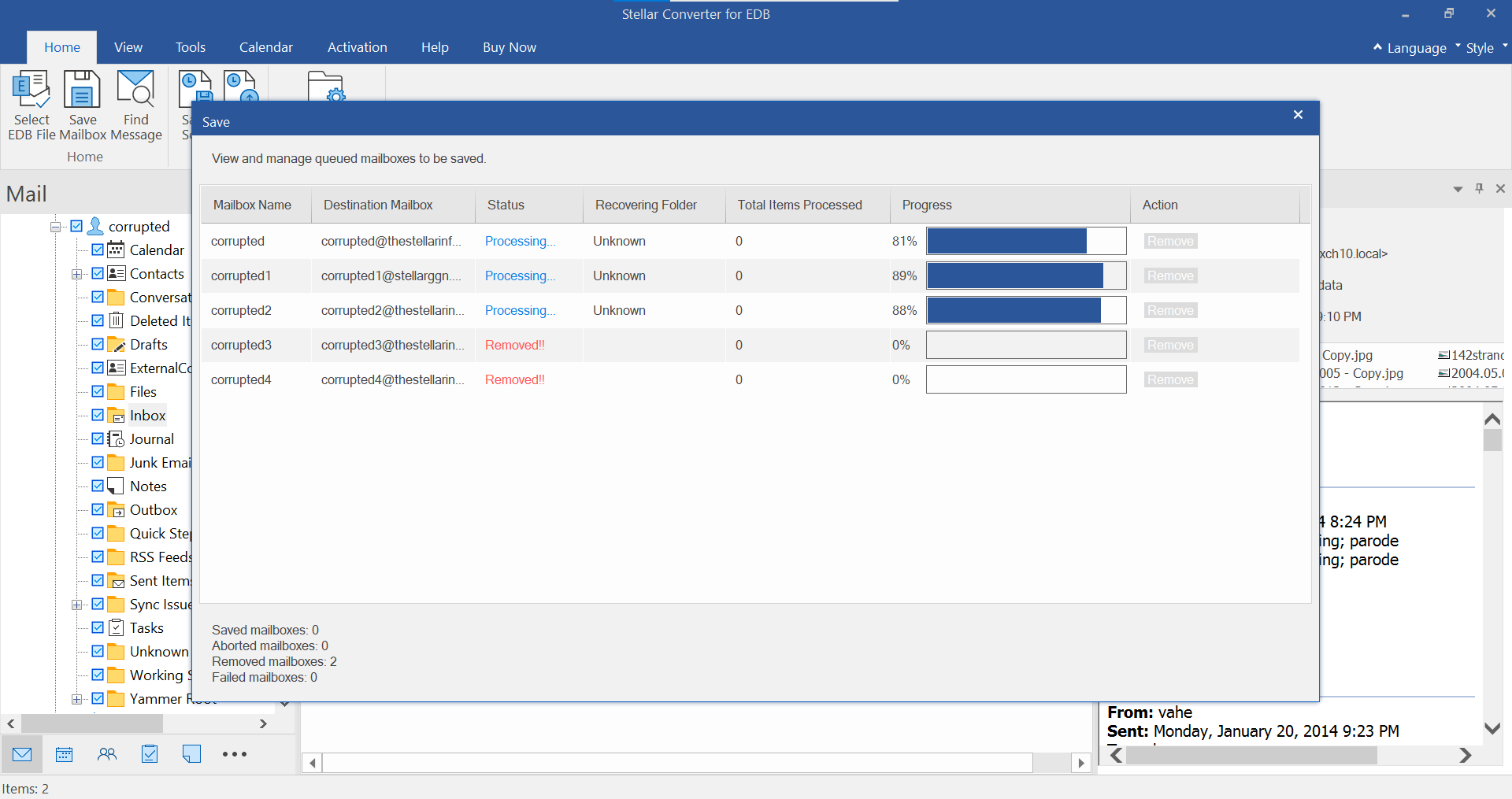 Following are some pros of using Stellar Converter for EDB:
 Installed in minutes
Export not just to PST but also to other formats such as HTML and EML
Can export directly to a live Exchange Server Database or Office 365
Easy-to-use and reliable
Not heavy like Outlook to export a public folder
Can support large-sized files
Less time to export
So, what about the cons? Well, nothing really as the application does the job well with minimal administrative effort and the peace of mind you would need.
Some other important resources:
Export exchange 2010 Public folder to PST