Steps to remove duplicated email messages in Outlook 2016
Summary: The guide highlights the common reasons that result in duplication of email messages in Outlook 2016 and describes the best ways to resolve an email replication issue without affecting the smooth functionality of the mailbox.
Have you ever noticed email duplication in your Outlook 2016 mailbox?
This is when more than one copy of mailbox data, specifically, email messages get accumulated in the mailbox and affects the overall performance and productivity of the application. If so, you must be looking for a reliable solution to remove Outlook 2016 duplicate emails from the Outlook PST file so that you can store data in a more organised way.
Easy Solution: Try

Stellar Toolkit for Outlook

 to fix all Outlook issues like Duplicate emails, missing emails, conversion of OST file, corrupt PST, lost Outlook password & many more.
Duplicated data not only consumes space on the drive but also makes the emailing application bulky. Due to a large volume of content, the PST size becomes outsized, and in severe cases, it leads to file corruption. Several reasons cause PST replication, and it is essential to detect the exact cause behind the replication.
Key Reasons that Result to Duplicate Emails in Outlook 2016/2013/2010/2007
Some common reasons that lead to PST data duplication are mentioned below:
Incorrectly configured Rules
Sometimes, the rules might be inappropriately configured by mistake; this creates confusion while you receive an email message. This builds up data duplication in the Outlook mailbox.
Short Send/ Receive Intervals
Due to the short frequency of Inbox updates, the email messages and other mailbox components might not be synchronized and this leads to data duplication.
Incorrect Account Setup
Multiple creations of the same email account can cause incoming data to synchronize repeatedly. Due to this, users encounter duplication in the Outlook mailbox.
Improper Mailbox Settings
Due to incorrect settings of the mailbox, while creating an account, you may receive the same email message, calendar entries, or contacts multiple times.
Using Third-Party Anti-Virus Scanner
When an anti-virus program is set on the same machine that runs Outlook, the possibilities are that it intercepts Send or Receive request in Outlook.
What Happens when Duplicate Emails Occur in Outlook 2016/2013/2010?
Duplicate items in your mailbox can cause severe issues such as slow performance of the PST or application, PST file corruption, and much more. Thus, it is important to clean duplicate emails in MS Outlook with the utmost consideration. Let's understand some common outcomes of the duplicate items in detail.
Duplicated items in Outlook affect the productivity of mailbox and causes errors sometimes
Each time the application starts, all the messages stored on the Server gets reloaded and this affects the performance of the machine
More than one copy of the email or other mailbox items makes the PST outsized and causes corruption in the file
Since business users have to deal with numerous email messages and reply to each message, duplication can be a major issue
Tips to Delete Duplicate Emails in Outlook 2016/2013/2010/2007
To remove duplicate emails from Outlook PST file, it is required to understand the actual cause of the problem. Once the cause is detected, apply the appropriate workaround. Listed below are the tips that you can use:
#1: Configure Rules Correctly
Check the Outlook Rules to ensure that they are not configured incorrectly as this creates confusion among various email folders
#2: Set Inbox Update Frequency
Increase Inbox update frequency by following the given procedure:
Open Outlook and click on Send or Receive button
Next, select Define Send or Receive Groups
Set 'Schedule an automatic send/receive every' value to anything between 15 and 30 minutes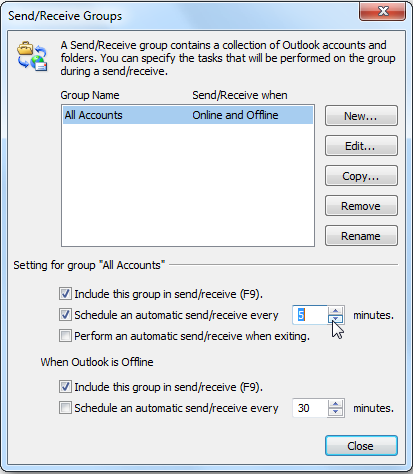 #3: Run Inbox Clean Up
MS Outlook integrates several utilities and add-ins that help clean duplicate emails in MS Outlook effectively. One such built-in utility is Clean Up which can be executed manually from within the application. To run Clean Up for removing duplicated inbox email messages, follow the steps below:
Open MS Outlook 2016
Select the Inbox folder that contains duplicated emails
Go to the Home menu and click on the Clean Up option available on the ribbon. Next, select any one option as per the reason for the occurrence of duplicate items:

Select Clean Up Conversation from the drop-down options that appear. This will delete and move duplicate email messages existing in the conversation to Deleted Items folder
Clean Up Folder option will allow you to delete duplicate email messages from a particular folder
Clean Up Folder and Subfolders will clean up folders as well as subfolders
Next, right-click the Deleted Items folder and select the Empty folder option to delete the duplicate email messages permanently
#4: Anti- Virus Application
Antivirus app is somehow responsible for setting up and closing down Server connection and if the connection is not shut down properly the email message is not flag as received. Due to this, the user will see duplicates in its mailbox.
To resolve this, go through the anti-virus instruction manual to check the procedure to disable email protection. Once the email protection is disabled, let the Outlook encounter several Send or Receive cycles. Make sure that duplicated emails are no longer received and check if the anti-virus program is running as expected.
#5: Professional Outlook Toolkit
Stellar Toolkit for Outlook is a potential solution to remove Outlook duplicates. It not only removes the duplicate email messages but also removes junk files and makes Outlook more productive. No data is ever compromised as the tool is engineered using smart and powerful algorithms that detect duplicate emails and removes them efficiently.

The toolkit is actually a complete package to resolve multiple Outlook mailbox problems. It offers a number of functions such as repairing PST file, splitting PST into smaller proportions, compact or compressing the size of the PST file without compromising on a single bit of data, recover lost or deleted mailbox items from MS Outlook, merge PST files, recovery of lost or forgotten passwords, Conversion of OST to PST file, etc.
It can be downloaded and installed on Windows 10, 8, 7, Vista and XP. and lower versions and supports
MS Outlook Support: Outlook 2019/2016/ 2013/ 2010 /2007 /2003
The Bottom Line
MS Outlook email duplication is a common issue that can occur in any release of the application. Undoubtedly, it affects mailbox functionality, productivity, and performance to a considerable extent; due to this, it is important to remove duplicate emails using a reliable method.
Although it is not a complicated procedure, the integrity and importance of email messages are always at stake. Therefore, a reliable duplicate remover mechanism must be utilized to remove the replicated emails and to save the original messages.
Was this helpful?


About The Author
Eric Simson is an Email Platform Consultant and is associated with Stellar Data Recovery from last 6 years. He writes about the latest technology tips and provides custom solutions related to MS Outlook, MS Exchange Server, Office 365, and many other Email Clients & Servers.