Manual Steps to Merge PST Files | Find the Easy ways to Merge Outlook Data Files
Summary: An Outlook PST file contains all the data of your inbox & PST file sizes aren't bound by limitations. Thus, users who created multiple small PST files with older Outlook editions are looking for ways to merge them into larger files that can be used as a single entity with newer Outlook versions.
Despite being one of the most favored email clients, Microsoft Outlook has always been marred by some drawbacks. For example, one of the biggest shortcomings in old Outlook versions was that PST files which stored all mailbox data on local systems were bound by size-limit.
Quick Solution: Try Stellar Merge Mailbox for Outlook to Merge Outlook PST Files Easily. Compatible with latest MS Outlook version & multiple saving options (Outlook Profile, Office 365, and Exchange Server).
As long as the volume of data stored in them didn't exceed a certain limit, the files would work perfectly, but their size would be breached, they'd start facing issues like corruption, degraded performance, etc.
Thankfully, Microsoft has resolved this problem in recent Outlook versions like Outlook 2016, 2013, 2010, and 2007 in which there are apparently no size-related issues with PSTs. However, now a new kind of hurdle has emerged. Users who have old PST files created with older Outlook versions now need a way to import all their data into larger single PST files that can be used with newer Outlook versions. Thus, in essence, they need to merge multiple PST files. And that's exactly what we're covering in this post.
How to merge PST files manually?
If you need to Merge Outlook PST files to form a larger file that can be used with the latest Outlook versions, you can use the below mentioned manual steps:
Step 1: Create a new blank PST
To create a new blank PST, follow these steps:
In the Outlook window, click on New Items -> More Items -> Outlook Data File
Select a location to save the new blank PST and provide a name for it
Click on OK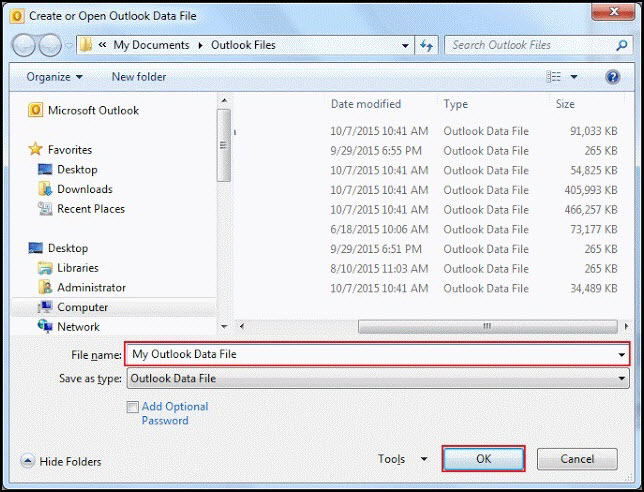 Step 2: Merge all existing PST files into the newly created blank PST
To merge PST files into the new file created above, follow these steps:
In the Outlook window, click on File -> Open -> Import
This will open the Import-Export Wizard. Select Import from another program or file
Click on Next
Select file type Outlook Data File (.pst) to import from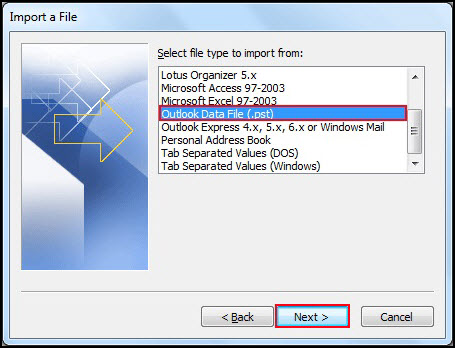 Click on Next
Click on Browse to locate the file to be imported
Check the Do not import duplicates box
Click on Next
Select which folder you wish to import
Check the Include subfolders and Import items into the same folder in boxes
Click on Finish
These steps will import the PST file to the folder you specified in step 8. To import other PSTs, repeat the same steps for each one. Once all files have been imported, their data can be combined into a single PST. The resultant larger PST can then be exported to any machine to access all mailbox data.
An Easy Alternative Way to Merge PST Files Or Combile PST Files
Though the above-mentioned method is quite simple if followed diligently, rarely, errors might occur owing to wrong selections or problem within the files being merged. Also, users who are not familiar with Outlook wizards or other technical terms may find these steps slightly difficult.

A simpler, quicker, and more efficient way to merge Outlook PST files is by using a professional PST merge tool Stellar Merge Mailbox for Outlook. This Do-It-Yourself software allows you to easily Combine.PST Files through a user-friendly interface. You can use it to combine all data items such as Emails, Contacts, Notes, Calendars, Tasks, and Journals without altering the data of the original PST files. Moreover, it automatically takes care to eliminate duplicate data while merging and remove deleted and junk folders. The tool supports password-protected Outlook PSTs and it offers several saving options for new and existing PST, Outlook Profile, Office 365, and Exchange Server.
With such an impressive feature set, this tool is one of the best PST merge tools available in the market.
The Final Word
Merge Outlook PST files into one isn't a tricky process if you're confident about what to do. If in doubt, avoid all hassles and use the secure and reliable Stellar Merge Mailbox for Outlook for accurate and satisfactory results.
People Also Search For:
How to Deal with Too Large PST File