Staged Migration- Migrate Exchange Mailboxes to Office 365
Summary: This blog explains how you can migrate user mailboxes and mailbox contents from Exchange 2003 or 2007 server to Office 365 over the time by using the Staged Migration. By following this guide, you can migrate your on-premises Exchange environment to online environment or Office 365.

Nowadays, more and more enterprises are either bidding or are planning to bid goodbye to their current On-premises Messaging Environment and looking forward to switching to the Exchange Online. The reason for this migration is simply to eliminate capital cost of running the server edition, improve management overhead, and last but not the least, easy manageability.
The execution of this migration process depends on several aspects such as number of users, organization-messaging environment, on-premises environment size, etc.
There are certain approaches using which this migration process can be executed. One such efficient manual approach is Staged Migration. In addition, you can also use a third-party migration tool, such as Stellar Converter for EDB for migrating Exchange mailboxes to Office 365 or Microsoft 365.
Office 365 Staged Migration: An Overview
Staged Migration is the migration approach where the mailboxes and user data are migrated to Office 365 in two or more stages. When it comes to Office 365 or Microsoft 365 staged migration, it is often achieved in two stages:
In the first stage, you migrate the user mailboxes and content of mailbox over a period. Post migration, the MX records are updated on the target server or domain is transferred. Also, in the first stage, newest or older data is transferred so that users can start working in new Office 365 environment while remaining data is being migrated.
In second stage, the remaining data is migrated to the target server.
You can use Office 365 Staged Migration to move from on-premises Exchange 2003 or 2007 Deployment to Office 365. For Exchange 2010, Staged Migration to Office 365 or Microsoft 365 is not available. You can use Hybrid Deployment for Exchange 2010, 2013, 2016, or 2019 environment.
The prime targets of the type of migration are the users who wish to create a permanent mail coexistence, along with on-premises environments as well as Exchange Online. To deploy Exchange Online, the users must deploy directory synchronization. The patrons with only Enterprise Exchange licenses can use it.
Who is the Primary Target of Staged Migration?
The medium-sized enterprises, who wants to migrate Exchange 2003 or 2007 mailboxes to Office 365 (Exchange Online) over a period, are the primary target of the Staged Migration.
When is Office 365 Staged Migration Recommended?
The Staged Migration is recommended under the following circumstances:
When there are more than 2,000 mailboxes
When the source email system is either Microsoft Exchange Server 2003 or Microsoft Exchange Server 2007
Things to Consider Prior to Staged Migration
There are a few pointers which an Exchange or IT admin should consider before executing the Staged Migration process.
To ensure smooth Staged Migration process, a customer should synchronize accounts by using Azure Active Directory sync. These accounts are synchronized between Office 365 or Microsoft 365 and on-premises Active Directory domain.
The primary domain for the on-premises Exchange organization should be in harmony with Office 365 organization.
Only user and resource mailboxes can be migrated. To enable migration of other recipient types, directory synchronization process is needed.
If there is any Out of Office message, it will not be migrated.
Connections to the Source Email System should not be limited.
Staged Migration of Emails from Exchange 2003 or 2007 to Office 365
The following 11 steps are required to be followed to ensure seamless migration of Exchange mailboxes to Office 365 or Microsoft 365.
Step 1. Staged Migration Preparation
It involves the following:
Outlook Anywhere Configuration on on-premises Exchange server
Checking whether you can connect to Exchange organization
Permission setting
Unified Messaging disabling
Step 2. Verification that On-Premises Domain is same as Office 365 Organization Domain
Verify that on-premises domain is same as the one that Office 365 organization owns, by using the domain wizard.
Step 3. Office 365 Users Creation by using Directory Synchronization
It involves synchronization as well as creation of on-premises users in Office 365. To execute this action, you can choose either Microsoft Azure Active Directory Sync Services or Microsoft Azure Active Directory Synchronization Tool. Upon successful migration, the user accounts are being managed.
Step 4. Mailbox List Creation for Migration
It involves identification of the users whose on-premises Exchange mailboxes are to be migrated to Office 365. To create a migration batch, Comma Separated Value (CSV) is being used. To run the flawless migration process, each CSV row file includes information about an on-premises mailbox.
Step 5. Office 365 Connection Establishment to the Email System
In this step, the customer is required to generate an Outlook Anywhere migration endpoint. This migration endpoint will be used by all the migration batches. It includes the credentials as well as setting that is required to connect host on-premises server.
Step 6. Mailboxes Migration
In this step, the customer needs to create an individual Staged Migration batch for each created CSV file.
Step 7. Staged Migration Batch Start
In this step, you need to ensure that the Staged Migration batch is in the process. In the Migration Dashboard, its process can easily be analyzed. In case you find any issue, then you can review its log file.
Step 8. On-Premises Mailboxes Conversion to Mail-Enabled Users
This conversion step is required to enable that the migrated users can easily get to their emails.
Step 9. Direct Email Routing to Office 365
Email system uses MX record to search the delivery location of email. Initially, it is set to the on-premises email system. But the moment the migration process is completed, it is to be directed to Office 365. Usually, MX record requires 72 hours to get adapt to the change.
Step 10. Staged Migration Batch Deletion
During this step, the customer needs to ensure that all the emails being routed are perfected to Office 365 mailboxes. Upon successful verification, Staged Migration batches can be deleted quickly by following certain simple steps.
Step 11. Post Migration Tasks Completion
Post migration, certain tasks need to be accomplished. These tasks are: Office 365 user migrated accounts activation via licenses assignment, Autodiscover DNS record creation to get to mailboxes effortlessly, and decommissioning the on-premises Exchange server.
Steps to Migrate Exchange Mailboxes to Office 365
1. Go to Exchange Admin Center
2. Navigate to Recipients and select Migration
3. Click on New+ icon and select Migrate to Exchange Online option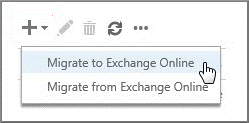 4. The Select a Migration Type screen will pop up. Here, select Staged Migration option
5. Click on Next
6. Now, on the Select the users screen, just browse and choose the desired CSV File that you want for the migration batch
7. Now, Office 365 Verification process will take place for CSV validation. It ensures the following—it is not empty, it is back by comma-separated format, it does not include more than 2,000 rows, it uses the required Email Address column, and all rows have same column number as the header row.
8. A screen with a number of CSV File listed users will be displayed.
9. Click on Next.
10. On the Confirm the Migration Endpoint screen, authenticate the migration endpoint information
11. Click on Next
12. When the Move Configuration screen pops up, type the name of the migration batch and click on Next.
13. On the Start the Batch screen, select the desired option — Auto Start or Manual Start
14. Now, click on New to create the migration batch
15. Now, go to Exchange Admin Center, select Recipients, and further select Migration
16. From the Migration dashboard, choose the desired batch and click on Start option
17. If the Migration Batch has started successfully, you will see a Syncing status on the dashboard.
Now, the Staged Migration process is complete.
An Easier Way to Migrate Mailboxes from Exchange to Office 365
Undoubtedly, this migration approach is remarkable. However, it is a bit lengthy and involves manual intervention. It implies that those who are technically skilled can easily use it to migrate mailboxes from Exchange to Office 365 to complete the Staged Migration process. Whereas those who are not skilled may encounter the risks, such as data loss. Therefore, to combat or avoid such a situation, you can use a third-party EDB to PST converter tool, such as Stellar Converter for EDB.
The software is not only easy, fast, and efficient but is also free from manual intervention. Thereby, there isn't any risk of errors associated with it.
Steps to Migrate Exchange Mailboxes to Office 365 by using Stellar Converter for EDB
Select Offline EDB option from the Home screen.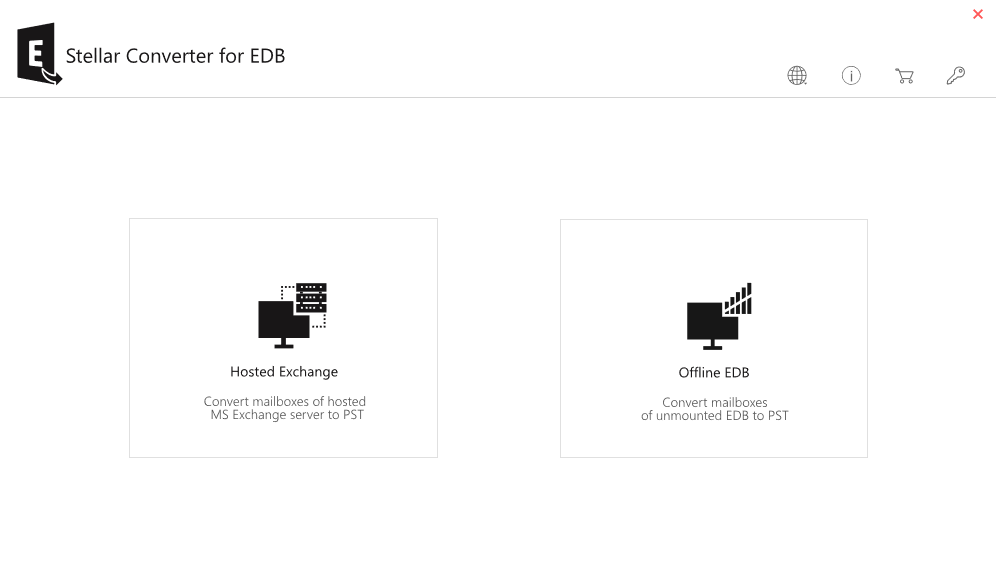 Select EDB file by clicking Browse button. Click on Start button to proceed further.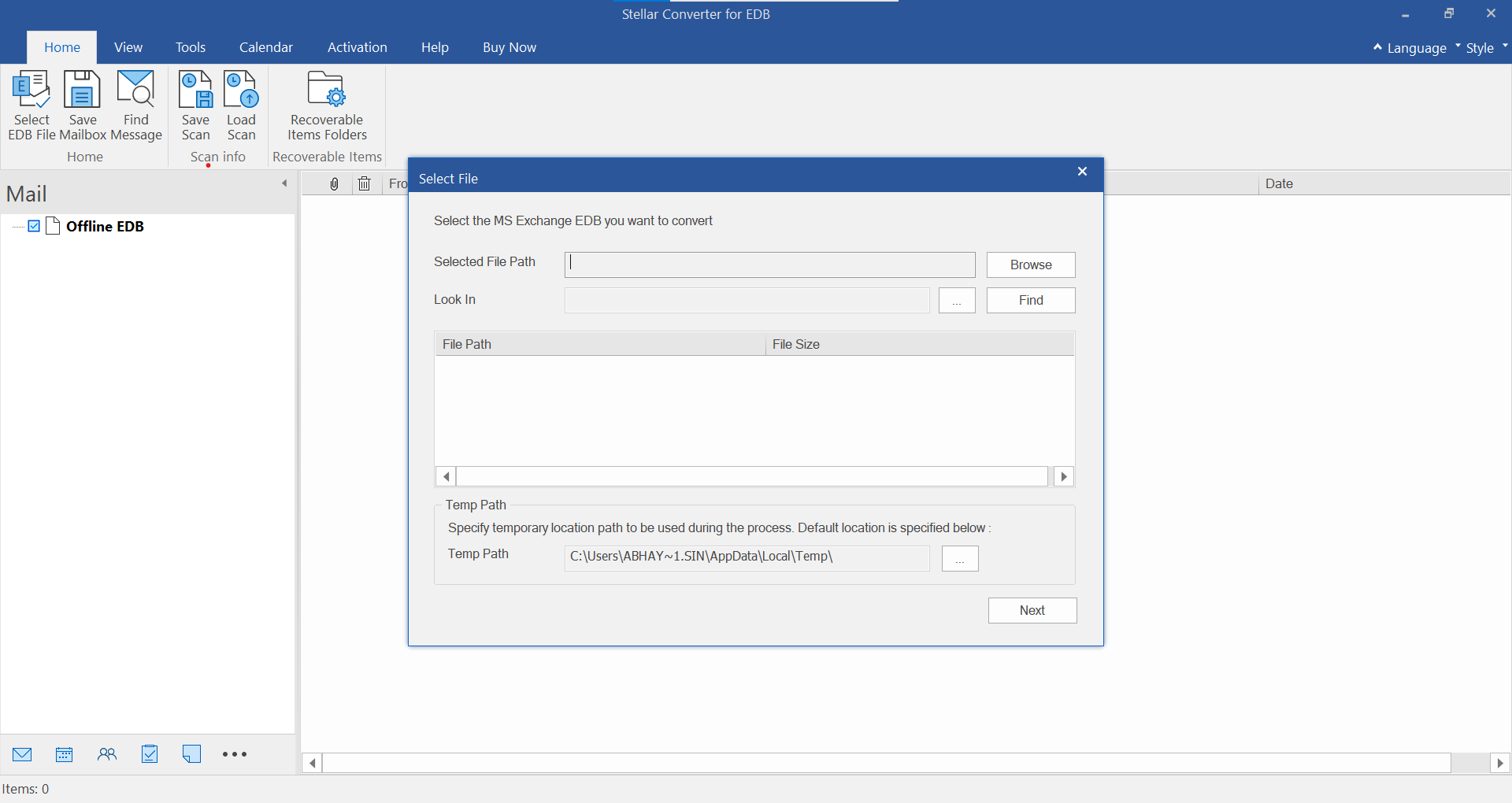 Check the Preview of Exchange mailboxes.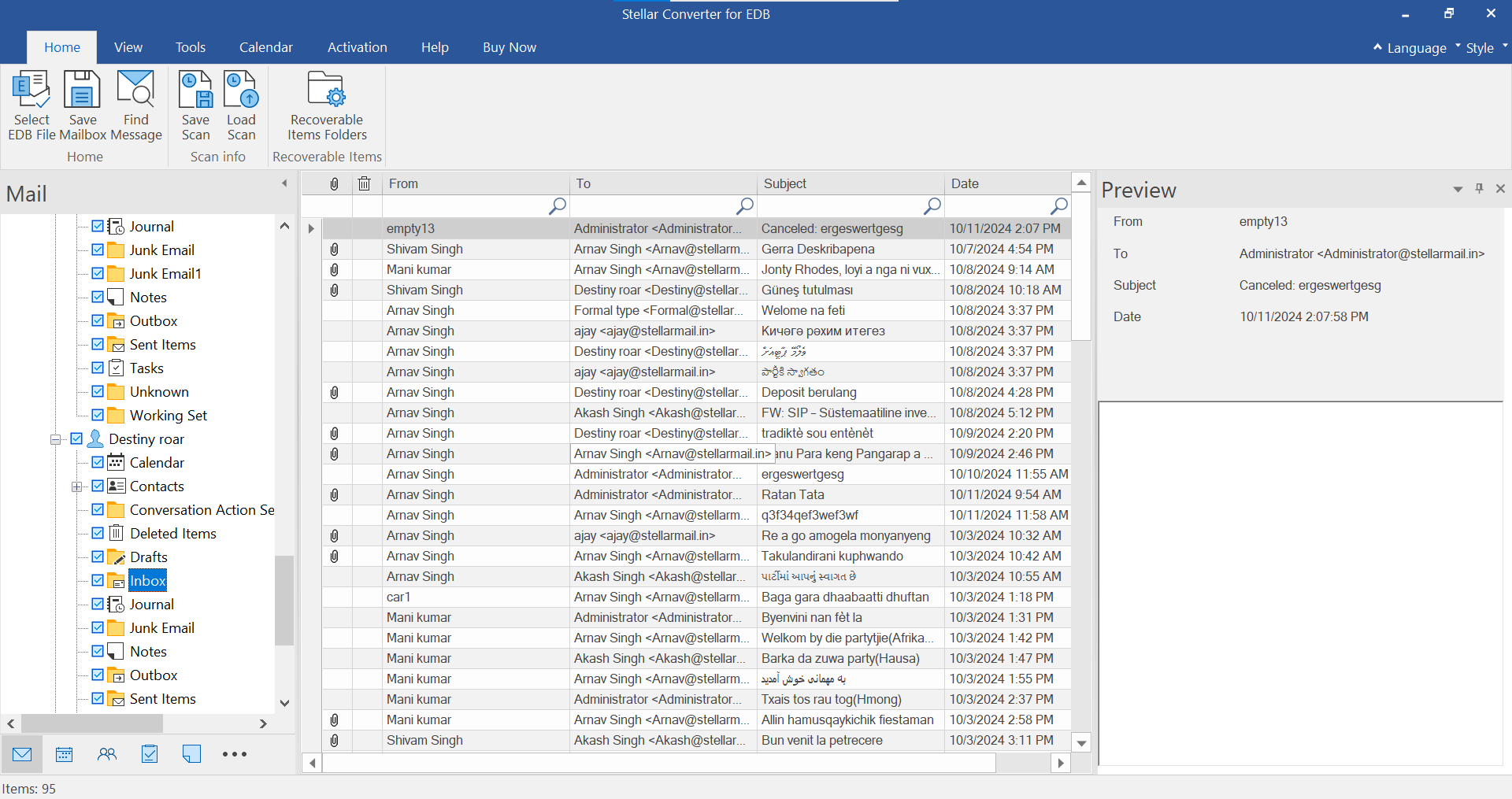 Click on Save, then select Office 365 option available, and click OK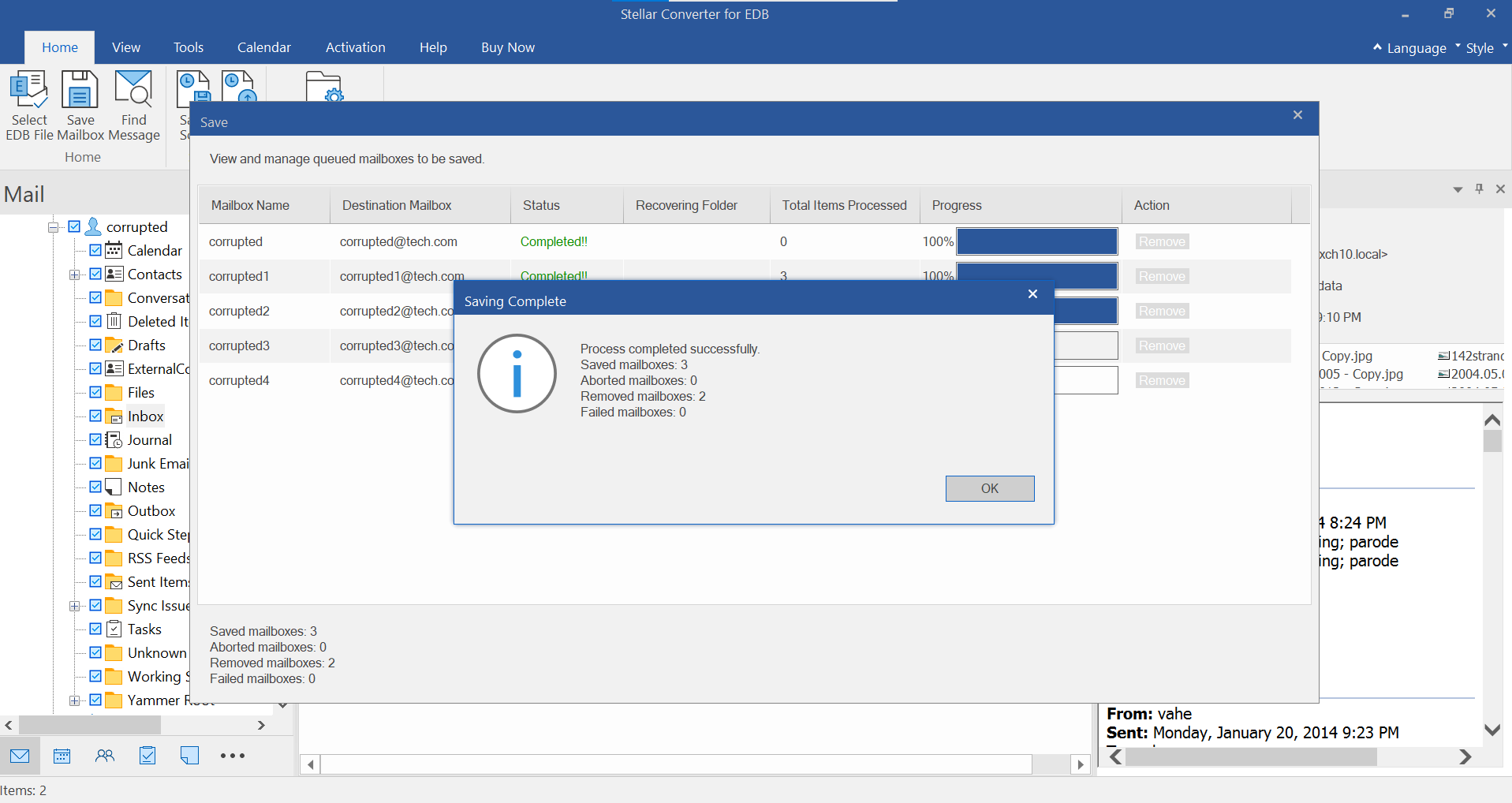 Provide Office 365 Email ID and Password and click on OK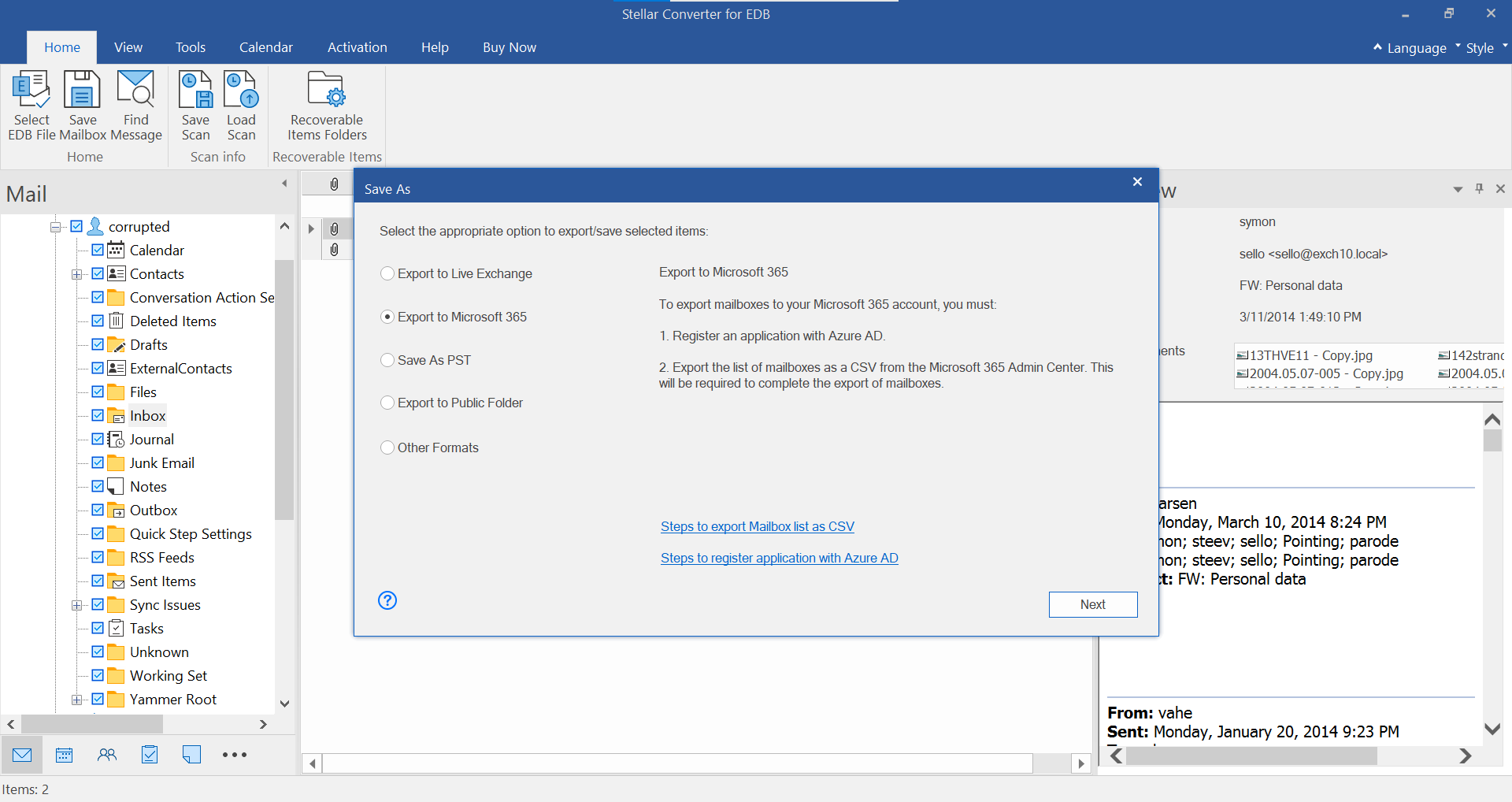 A new screen will appear to Map Mailboxes. Click on the mailbox which you need to export and click Export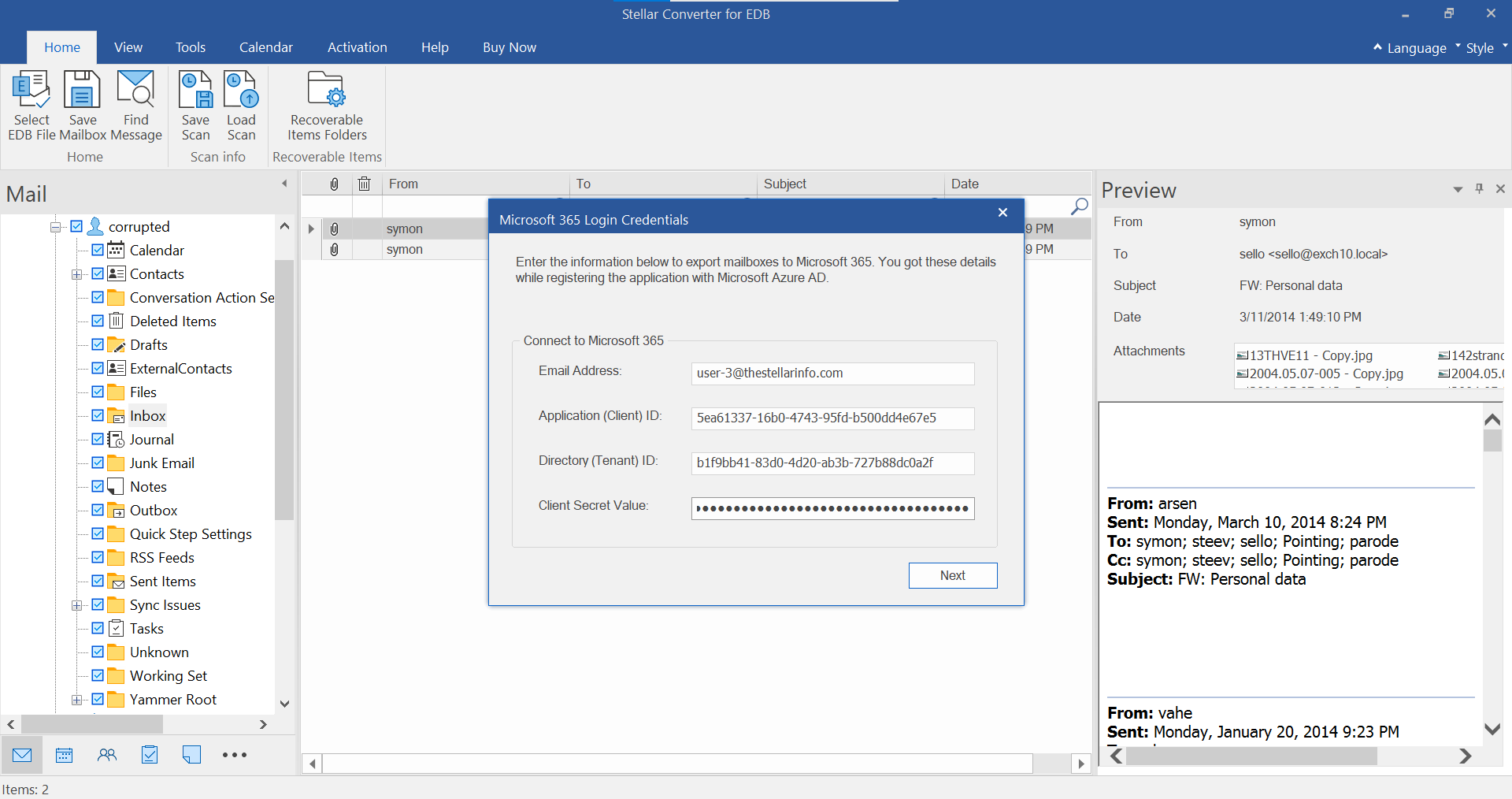 You can now view your Exchange Mailboxes data in Office 365 application.
Stellar Converter for EDB: An Outline
A true companion of all Exchange admins, IT admins, professionals, and organizations who wish to migrate their MS Exchange 5.5, 2000, 2003, 2007, 2010, 2013, 2016, or 2019 mailboxes to Office 365. This noteworthy software solution also converts both Online and Offline Exchange EDB files into PST files and exports to live Exchange. This do-it-yourself conversion tool assists in smooth extraction of all the essential Exchange mailbox data, including emails, attachments, contacts, journals, notes, etc.
This user-friendly tool is compatible with Office 2019, 2016, 2013, 2010, 2007, 2003, and MS Exchange Server 2019, 2016, 2013, 2010, 2007, 2003, 2000, & 5.5. The best thing about this software is its ability to save the converted files into multiple file formats, such as HTML, MSG, RTF, EML, and PDF.
The Way Forward
Office 365 Staged Migration is a migration process that is used to migrate Exchange 2003 and Exchange 2007 to Office 365 or Microsoft 365. As the migration process is performed in two or more stages, it is referred as Staged Migration. However, the procedure of Staged Migration is a bit complex and lengthy that can lead to downtime and issues, such as email delays. To avoid downtimes and migrate mailboxes from your current Exchange server to Office 365 or Microsoft 365 quickly, you may use a software, such as Stellar Converter for EDB. The software makes migration process faster, easier, and convenient. All you need to do is click on a few buttons.