As more and more organizations take the leap of migrating from on-premise emailing setup to a cloud based environment, the best way to do so has been an area of interest for experts. The fact however remains that there is no good or bad way. An organization needs to take the call depending upon its specific requirements that include the number of users to be migrated, the size of the on-premise environment, the base messaging environment as well as the expectations revolving around coexistence.
In this article we'll be highlighting one of the simplest ways in which all existing Exchange mailboxes can be migrated to Office 365. But before we go to that, let's quickly cast a glance over the types of migration available.

Ways to migrate multiple mailboxes from Exchange 2007 to Office 365
There are 4 ways in which email migration can be performed from an Exchange server:
Cutover Migration

This type of migration is used to move all mailboxes at once. It is most advisable to use this method if the total number of mailboxes to be migrated is less than 2000 and if the organization is using Exchange 2003, 2007, 2010, or 2013.

Staged Migration

Staged Migration is used to move mailboxes in batched. It is advisable to use this method if the total number of mailboxes to be migrated is more than 2000 and if the organization is using Exchange 2003 or 2007.

Hybrid Migration

By far, Hybrid Migration is the smoothest but it is also the most complex to achieve. This method allows an organization to maintain both on-premises and online mailboxes and gradually migrate users and email to Office 365. This technique should be used only if you're using Exchange 2010 or 2013 and the number of mailboxes to be moved is more than 2000. Plus, with this technique too, the migration is done in small batches over time.

IMAP based Migration

If your Exchange server supports IMAP (Internet Message Access Protocol), you can use this technique to complete the migration too. However, with this method, you'll only be able to move the items in the user's inbox. Contacts, calendar items, and tasks can't be migrated with IMAP. This method also doesn't create mailboxes in Office 365. You'll have to create a mailbox for each user before migrating their email.
Now that we're clear on the options available to us, let us see which of them suits our purpose best and how.
Useful Tip: Plan your migration with Exchange Server Deployment Assistant Tool.
The simplest way to perform Exchange 2007 to Office 365 migration
For our particular case here, we need a migration technique that's capable of working with Exchange 2007. So the Hybrid technique is out. The IMAP method also is out due to its limitations. So in effect both the cutover and the staged migration techniques should be optimum to migrate Exchange 2007 to Office 365. And that makes the choice of method really simple – for more than 2000 mailboxes, the staged migration and for less than that, the cutover migration.
Herein, we're discussing the steps to perform cutover migration. However, remember to plan and test the migration before the actual implementation.
Cutover Migration
Step 1: Plan
Microsoft's Exchange Deployment Assistant (EDA) is the best available guide for all migration scenarios to Office 365.
Open the EDA website

Click on the 'Cloud Only' option

Answer questions related to end state goals and existing setup

Click Next

The EDA will generate a step-wise guide. Read and understand it thoroughly
Step 2: Test the existing setup
For this process to work, the Exchange 2007 infrastructure should support Outlook Anywhere (RPC over HTTP) and Autodiscover. Use the guide generated in step 1 to verify that the existing setup is correct. Then use the MS Remote Connectivity Analyzer (RCA) to verify Outlook Anywhere (RPC over HTTP). Assign all required permissions to the mailboxes that are to be migrated (missing this step will cause the migration to fail)
Open the RCA website

Select the Outlook Anywhere (RPC over HTTP) test

Click Next

Enter all required information

Type in the Verification code and then click on Perform Test
If the process fails or gives warnings, refer the guide and correct any mistakes before attempting again.
Step 3: Configure and start the migration
Open a browser and login to Office 365 Admin Center

Open Exchange Admin Center (EAC)

Click Migration -> the + drop down menu -> Migrate to Exchange Online

Select Cutover Migration -> Next

Enter the on-premises account details

Click Next

Enter a name for the New Migration Batch

Click Next

Select a recipient for the migration report at the end of the process. You may select multiple accounts here.

Choose to 'Automatically start the batch' or 'Manually start the batch later' depending upon your readiness.

Click New
This will create the migration batch and set its state to synching. The time taken to complete the task will depend on the number of mailboxes and the amount of data to be migrated.
Step 4: Finish the migration
When the process completes and all accounts are moved from Exchange 2007 to Office 365, the selected recipient will get a report. Thereafter, the process can be completed.
Migrate Public Folders

Assign Office 365 licenses to all users

Ensure that all DNS records are updated and point towards Office 365 services
Note: There might be some DNS replication time involved. You should keep running the batch job for 72 hours to allow the replication to complete.
d. Configure the desktop machines to use Office 365 services.
e. When you're sure the DNS replication has completed and all emails are migrated, stop the migration batch job.
Alternative Recommended Solution: Stellar Converter for EDB
Though the above process seems simple, it might be quite a tedious job for beginners. Moreover, no migration technique is fool-proof; there is always a risk of losing some data during the process. In order to avoid all hassles and make the process easier, we recommend converting your Exchange 2007 database file (EDB) into Office 365 with the help of Stellar Converter for EDB. 
Here are all software steps to convert Exchange Mailboxes directly to Office 365: 
Step 1: Select Exchange Mailboxes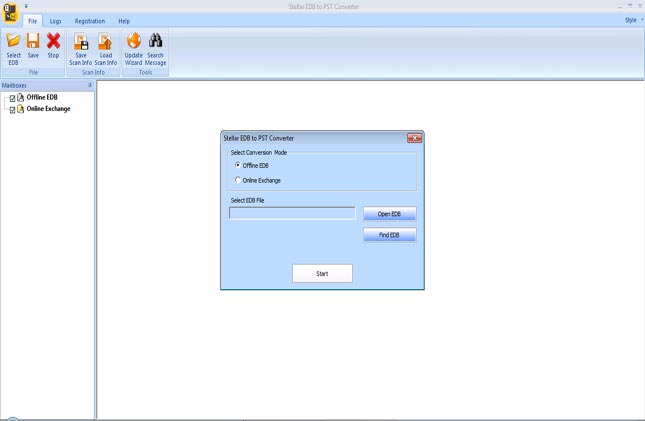 Step 2: Choose Office 365 Option
Step 3: Enter Office 365 Credentials
Step 4: Mailboxes Save to Office 365 Account
Stellar Converter for EDB Usage Benefits
Export multiple mailboxes to Office 365
Export all mailbox components
Exports Exchange Mailboxes to Live Exchange Server
Migrate from Exchange 2000/2003/2007 2010/2013 to Office 365
Export Exchange mailboxes without hindering Exchange Server Services.
You can also convert your Exchange 2007 database file (EDB) into PST format that can be directly imported into Office 365 with the help of Stellar Converter for EDB. This competent tool deftly converts all objects within the EDB file to PST format and also facilitates direct export of EDB to Office 365 as well as Live Exchange.