Are you about to start the process of implementing a new Exchange installation or migration from current Exchange Server to a new one? A lot comes to mind while preparing for Exchange migration. What are the pre-requisites to consider? What all is needed to start, migrate and finish the process? Are there guidelines to follow on what needs to be done and what is the suitable version to upgrade?
Recently, with end-of-life and support of Exchange 2010, we have seen that a lot of businesses had to migrate from Exchange 2010 to a newversion. However, a company cannot upgrade directly to Exchange 2019.It would need to migrate to Exchange 2013 or 2016, before upgrading to Exchange 2019.
Microsoft has released the Exchange Deployment Assistant Tool which will guide you and tell you what you need for upgrading the Exchange Server.
The first step in your journey is to visit https://assistants.microsoft.com.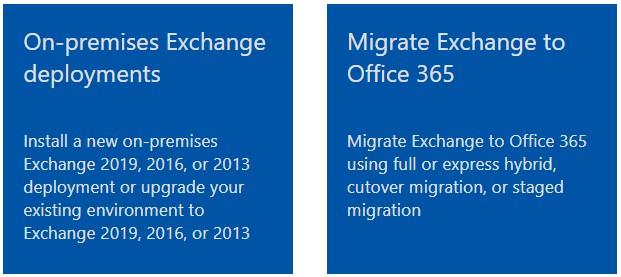 The Deployment Assistant Tool has been updated to include assistance and prerequisites for migrating Exchange Server to Office 365. When clicked, this will take you to the Microsoft Docs, with the number of migration options for Office 365.There are various ways to migrate to Office 365 -hybrid setup, cut-off migration or staged. Once you click on the link, you will be given a lot of information on the various options to migrate to Office 365.
Now, when you click on 'On-premises Exchange deployments' you will see the Deployment options to migrate or install new Exchange Server. The first thing you are being asked is which version of Exchange server you want to install-Exchange 2019, Exchange 2016 or Exchange 2013.
Note: Exchange 2019 has a red asterisk on it. This will be explained in case of an upgrade from Exchange 2010.

After this selection, you will be asked if this is an upgrade or a fresh installation.Here you can choose guidelines for a fresh installation, upgrade from Exchange 2016, 2013 or mixed setups.
Note: For Exchange 2010, you cannot make a direct upgrade to Exchange 2019 as these cannot co-exist. You will be shown a message that you need to stage the upgrade to Exchange 2013 or 2016 first.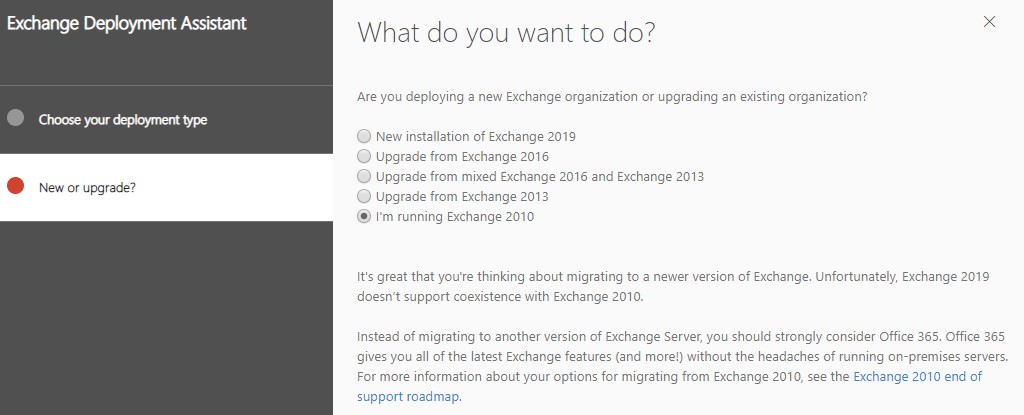 The next option is Unified Messaging. One thing to know about migrating to Exchange 2019 is that the Unified Messaging is not available in this release. For UM service, you would need to find an alternative solution. If you click on Yes, you will be guided to 'Plan for Skype for Business Server and Exchange Server migration' or to 'Plan Cloud Voicemail service for your on-premise users'.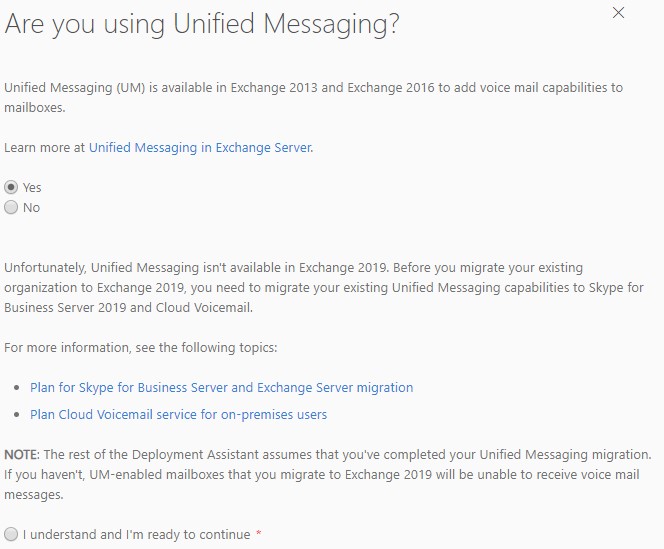 The next screen is the Disjoint Namespace. If you have one Active Directory, for example corp.com, this should be answered as 'No'. But if you have child domains with different DNS suffix due to mergers or acquisitions, you would need to answer 'Yes'.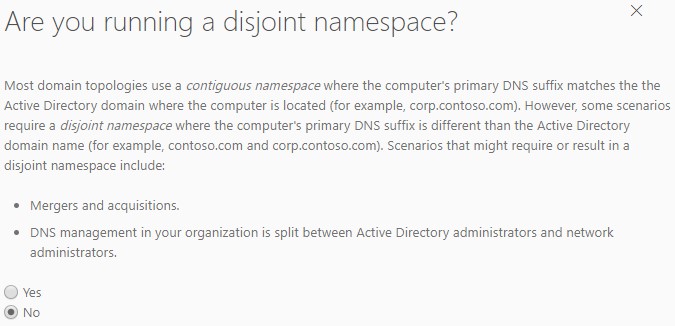 The next screen is Public Folder migration. This is if you've Public Folders and want to migrate them to your new setup. If you don't use Public Folders, you need to select 'No' in both cases of the selection, depending if you want to still create Public Folders in your new setup. If you have, of course, you need to click 'Yes'.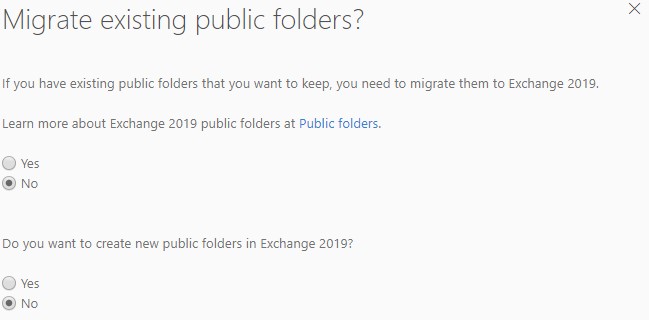 Edge servers are used to make your Exchange server available from outside, using Outlook directly, and to add another layer of protection to your mail server. If you have an existing Edge Transport server, you will be guided on how to migrate to an Edge Server 2019.If you don't want to set this up, your server will not be exposed to the internet. You can click on 'Yes' to install a new Server, even you don't have one.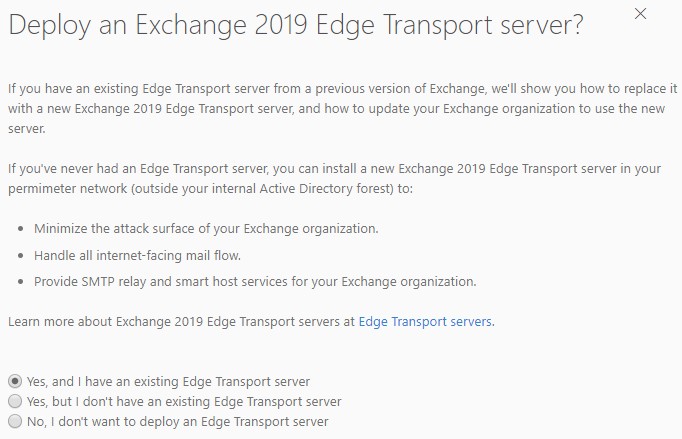 The next step, depending on the option you have chosen, will give you the guidelines to start migration or implementing anew Exchange Server. Before you tick the 'I'm ready to start' option, you will need to make sure to go through the 'things to consider before the migration' so that you don't get any surprises along the way.
The important thing, in my opinion, is to look at the 'Supported clients' as this would mean a re-investment in your Microsoft Office applications, if you are not using Office 365 subscriptions, certificates and Active Directory Schema. Although all items are important, those are the most critical.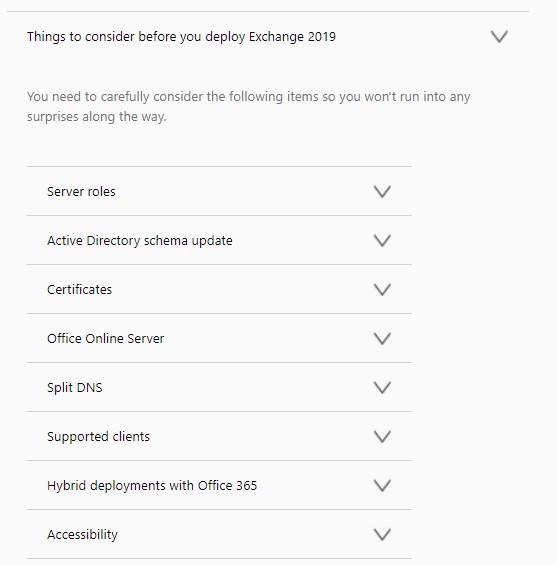 When you feel that you have all the requirements and changes in hand, tick the 'I'm ready to start!'option.

Once you move to the next setup, you will be presented with all the required stuff to begin your installation. This includes pre-requisites for the new server, permissions and system requirements where you can expand on each option with the guided recommendations and requirements.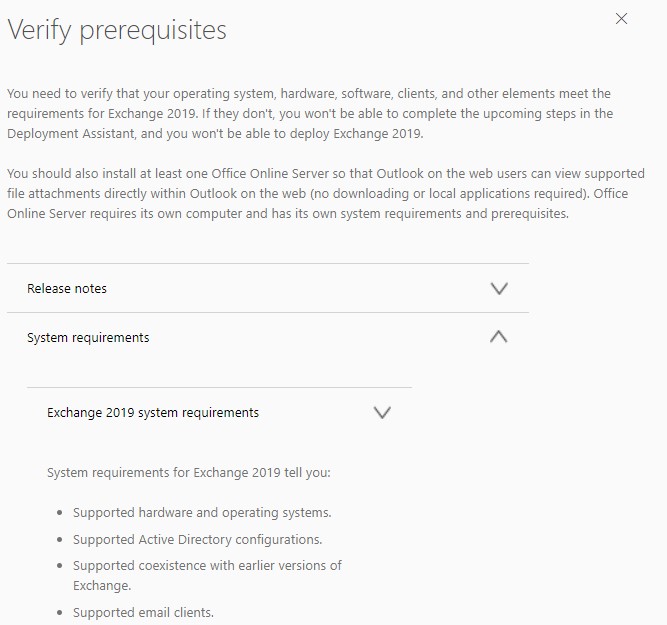 The next screen is a table which will come in handy during the migration. This will include information of your setup such as FQDNs, IPs, Names and URLs.
From the next screen onwards, you will have a detailed step-by-step guide on how to install and configure your Exchange Server, depending on the selections you have chosen in above screens. Such installation and configuration include:
Configuration of default Offline address book
Edge Transport server
Installation of mailbox and Edge transport role
Creation of admin mailbox
Configuration of external and internal URLs
These will be given to you with tools and knowledge on how to verify the configuration and basic troubleshooting.
In the end, you will be presented with a post-installation tasks you need to follow to ensure that the newly setup Exchange Server is running at its best and configured as it should be.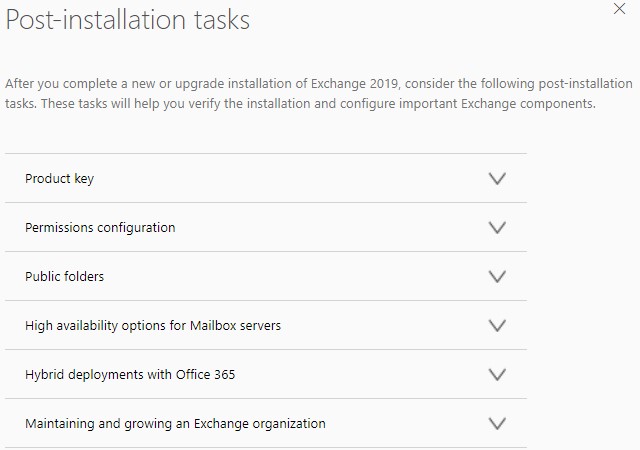 The Exchange Deployment Assistant is a great tool even for the experts in Microsoft Exchange implementation as it is the definitive guide in the path of migration or installation. There are manuals to be followed and the tool provides all the knowhow and guidance. It's an interactive guide without having a massive book to read and follow.
During the setup, all should go well. However, disasters can happen due to software, hardware or human error. In this case, you can use Stellar Converter for EDB software that can export mailbox or mailboxes from any version of Exchange Server database to a PST or other formats. You can also export EDB file directly to a live Exchange Server database or even migrate the mailbox directly to an Office 365 tenant with minimal effort or downtime.