Simple Ways to Open Corrupt Excel file Without any Backup
Summary: This blog describes simple ways to open a corrupt Excel file without any backup. It explains manual workarounds to access the file, including Excel built-in repair feature, disabling the protected view feature or using the automatically recovered copy of the corrupt workbook. Also, the blog mentions about an Excel file repair tool that can help you to quickly fix the corrupt file and salvage data from it.
Do you have an Excel file that does not open because of corruption issue? And every time you try to open it, an error message appears?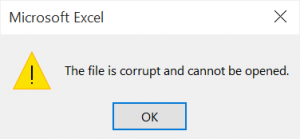 Above all, you don't have a healthy backup of the Excel file to restore the data? If so, you can try repairing the corrupt file by using a few simple yet effective manual workarounds.
TIP: Performing the manual workarounds can take time and increases data loss risk. But, you can easily and quickly fix a corrupt workbook by using a professional Excel repair software.
How to Open Corrupt Excel File without Backup
Following are some manual methods that can help you open a corrupt workbook:
Way 1: Repair the Corrupt Excel File
When attempting to open a corrupt file, Excel automatically starts File Recovery mode to repair the file. But, if the recovery mode doesn't start, try Microsoft Excel's built-in 'Open and Repair' feature to manually repair the file.
Perform the following steps:
Open a Blank workbook in Excel, and then click File > Open.
In the Open window, browse and select the corrupt file.
Click the arrow that is beside the Open tab, and select Open and Repair.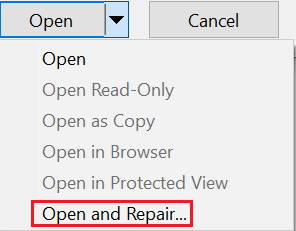 4. Implement one of the following:
Click Repair tab. (This is to recover as much data as possible.)
Click Extract Data tab. (This is to recover values and formulas from the Excel file if the repair process fails to recover the entire data.)

Way 2: Disable the Protected View Feature
Some Excel users have reported about turning off the 'protected view' feature in Excel to open a corrupt file. You can also try to disable this feature and open the file. To do so, follow these steps:
Step 1: Open a blank Excel file, click File > Options.
Step 2: In the Excel Options window, select Trust Center, and then click Trust Center Settings.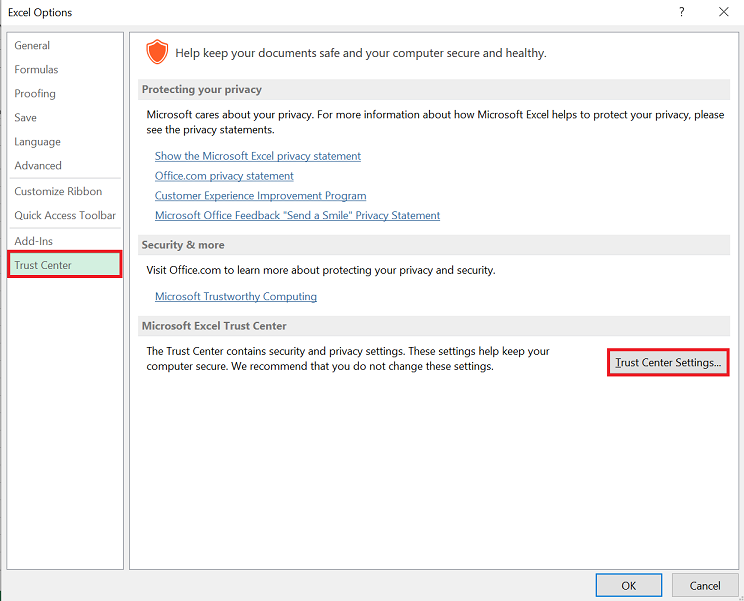 Step 3: Click OK.
Now check if you can open the corrupt file.
Way 3: Look For Automatically Recovered Excel File
If you have Excel's AutoRecover feature enabled, you'll have access to a copy of the Excel file corrupted or lost due to application crash, power outage, or accidental deletion.
The 'AutoRecover' feature saves Excel worksheets at a temporary location after a certain time interval. It saves the worksheets automatically and is turned on by default to reduce the chance of data loss.
Check if you can recover corrupted Excel file. For this, follow these steps:
Step 1: In Excel, open a Blank workbook.
Step 2: Go to File, and click Options.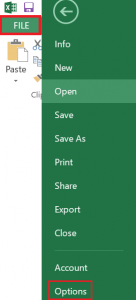 Step 3: In the Excel Options dialog box, click Save, and then copy the 'AutoRecover file location'.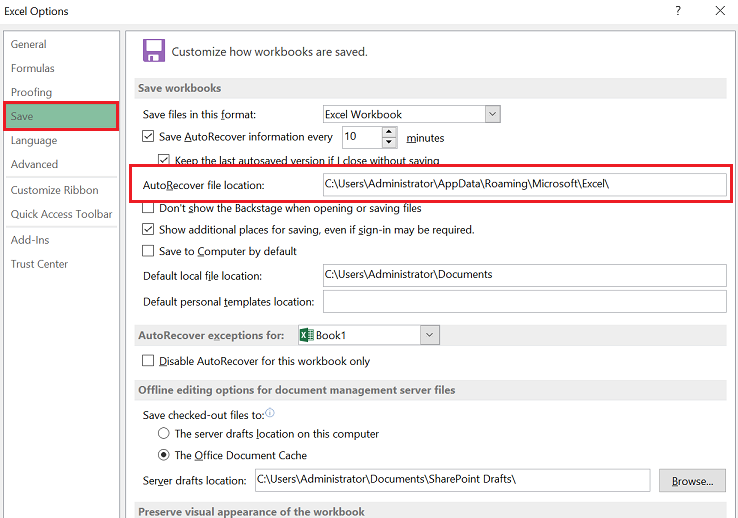 Step 4: Open File Explorer window and paste the copied AutoRecover file location, and press Enter.
Step 5: A list of saved Excel files will be displayed. Choose the file you want to recover.
Also read: Excel AutoRecover not working, what is next?
TIP: Use Excel AutoBackup feature to reduce chances of data loss, by saving a previous version of your spreadsheet automatically.
Use an Excel File Repair Software
If the above manual methods fail, repair the corrupt Excel file by using a third-party software solution such as Stellar Repair for Excel. The software helps repair Excel (XLS and XLSX) files easily and effectively.
Also read: How to repair corrupt Excel file using Stellar Repair for Excel?
Some key features of the software are as follows:
Fixes all errors in MS Excel file.
Repairs multiple damaged Excel files in a go.
Recovers chart, chart sheet, table, cell comment, image, formula, and sort & filter.
Preserves properties and cell formatting of Excel worksheets.
Recovers all data components from corrupt file and saves those in a new blank Excel file.
Compatible with Excel 2019, 2016, 2013, 2010, 2007, 2003, and 2000 version.
You can download the demo version of the software from here:

Conclusion
In this blog, we discussed some manual workarounds to open a corrupt Excel file without any backup. You can manually repair the corrupt file by using Excel's built-in Open and Repair feature. But the built-in repair utility may fail to fix severely corrupt workbook.
You can also try accessing the file by disabling the protected view feature. If this method does not work, look for an automatically recovered copy of the corrupt file. However, the major shortcoming of this feature is that the AutoRecover data is stored on the same hard drive as the original file. In this case, if the hard drive becomes faulty, all data is lost.
Implementing the manual workarounds can take time and may fail to deliver expected results. A better way is to use Stellar Repair for Excel software to repair and open corrupt Excel file without any backup.
In order to avoid such situations, it is recommended to create a backup copy of your workbook or enable the Excel AutoBackup feature. A good backup will save you from losing access to your Excel file data, if the file is accidentally deleted or corrupted.