[Solved] The Problem of Lotus Notes Quota Not Updating
Summary: Lotus Notes is a popular email and collaboration platform that offers various features, including quota management to control mailbox size. However, users may occasionally face an issue where their Lotus Notes quota fails to update accurately. This article explores the causes behind this problem and provides practical solutions to resolve the Lotus Notes quota not updating issue.

Every email server offers a limit on storage. This means you can store emails, objects, attachments, etc. until you reach the offered storage limit. Some email services offer additional storage for a fee. But if you don't want to pay, you will have to delete certain unimportant emails and stay within the quota. Another option to circumvent this quota limitation is to archive your emails. When you do this, the email server stores your emails in a different place and they don't come under the quota. Typically, these archived emails are those that will be rarely used, and this is why they are not counted towards the storage limit.
But sometimes, in Lotus Notes, the quota will not update immediately after your archive emails. Even after a refresh, the archived emails are mistaken for database quota. This is a critical error because it can prevent you from sending and receiving emails.
In this article, we will explore some solutions to address this problem.
Configuration Settings
A primary cause of this error is the configuration settings of your Lotus Notes. When the option called quotas enforcement is set to its default value of "Check file size when extending the file", Notes can prevent the quota from getting refreshed.
The solution is to change the configuration setting. To do this,
Head to the admin panel of your Lotus Notes.
Navigate to a tab called Transactional Logging.
Under that, look for a heading called Quotas.
In that, you will see an option called "Quotas enforcement." Set its value to check the space used in the file when adding a note.
This should fix the error in most cases.
Keep the Database Size to Optimal Levels
Another possible cause is if your database contains many duplicate emails or unnecessary attachments that clog up the space. In other words, poor database management can be the cause of this error. It's always a good rule to check the size of your database to ensure that it's at optimal levels. Some possible actions include:
Check if your inbox has many duplicate emails and remove them.
Avoid storing emails with large attachments. Consider downloading and saving the attachments to your local device or cloud storage, and delete the email.
Check your trash and make sure it doesn't contain large emails that were deleted from your inbox.
Look at the drafts folder to see if you can send or discard them.
Staying on top of your emails and the storage space they occupy is essential to ensure that you never reach the quota.
Move to Microsoft Outlook
Many organizations today are increasingly migrating to Outlook because of the advanced features available in it. However, one impediment in migrating from Notes to Outlook is the difference in data formats. To elaborate, Notes stores all your emails, attachments, and other data in a format called NSF. On the other hand, Outlook uses a format called Outlook data file (OST or PST) to store all your content. Unfortunately, both these formats are not compatible with each other, so you can't directly move the contents of your NSF to the PST.
Moving the files between the two formats can be done manually or through software. Here are the steps to move the data manually.
There are two stages involved in this migration. In the first stage, you convert data from NSF to CSV, and in the second stage, you import the CSV to Outlook.
The steps involved in the first stage are:
Open Lotus Notes
Navigate to File > Open > Lotus Notes Application.
Navigate to the NSF file you want to open and select it in the File dialog box.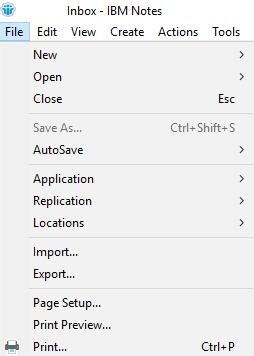 Next, navigate to File > Export. This will open the Export Dialog box.
In this box, select the place where you want to save the CSV file. Also, choose the "Save As" type as Comma Separated Value.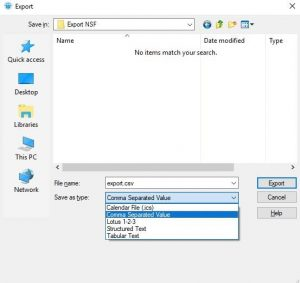 When you click the Export button, a dialog box will open. In this, you can select whether you want to export some or all the documents and the character set.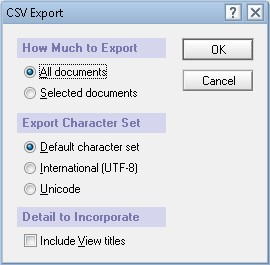 After making your choices, Notes will export your data to a CSV file and will save it in your chosen location.
Click on Finish
Now, you will have to import the CSV file to your Outlook profile. To that,
Open Outlook.
Navigate to File > Open & Export > Import/Export.
This opens the Import/Export dialog box. Select the "Import from another program or file" option.
Select Comma Separated Values and click Next.
Browse and select the CSV file stored earlier.
Click Finish.
Since this is cumbersome, consider using the Stellar Converter for NSF. Here are the steps to use this tool.
Download and install the Stellar Converter for NSF.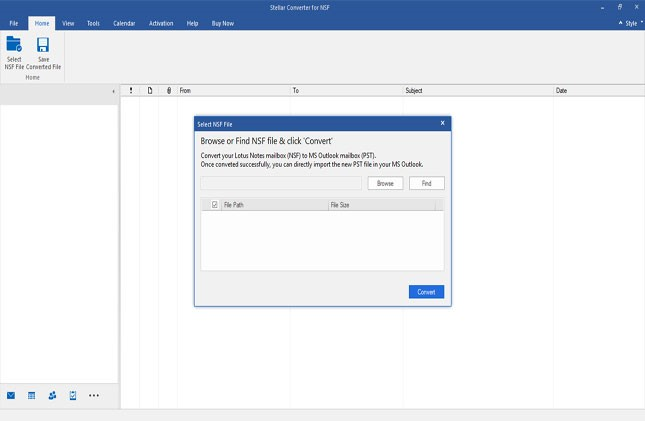 Open the tool and "Find" or "Browse" for the NSF file from which you want to export data.
The tool will extract the data and will display them for you.
Choose the data you want to migrate.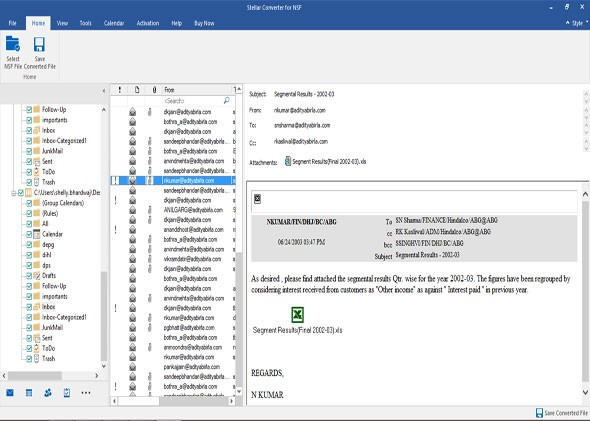 Click on "Save Converted file" to save the mailbox data
Provide the destination format and location. And you save the converted file in "PST, MSG, EML, RTF, PDF & HTML" formats.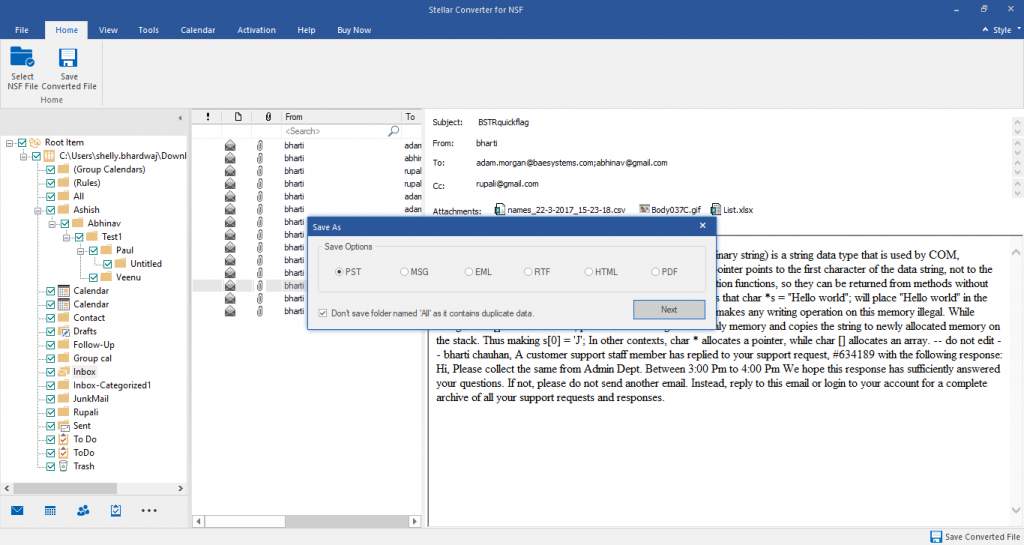 That's it! With this, you can get the data you want in the desired format.
With this, you can see all the data in Outlook. As you can see this process is complex and error-prone, even a single misstep can cause data corruption and loss. An easier option is to use third-party tools for converting data from NSF to PST.
Conclusion
To conclude, the key to solving the problem of Lotus Notes quota not updating is good database management. Alternatively, you can migrate your data to Outlook using a tool called Stellar Converter for NSF. This tool has an intuitive interface and enables you to convert NSF file data to PST within a few minutes.