Summary: The objective of this blog is to help Mac users remove a popular cloud-based application from their system – called the Dropbox. Follow the native method suggested in the blog to install and uninstall the application. Also, you can take the help of a free uninstaller provided by the SpeedUp Mac app to uninstall DropBox without leaving any leftovers and traces.

What is Dropbox? Why it is so popular amongst Mac users?
Dropbox is a cloud storage solution just like Google Drive, OneDrive, and iCloud. It is useful to sync all your important folders present on your MacBook Pro/Air, iMac, or Mac mini to Dropbox. The cloud storage solution is so popular amongst Mac users owing to its simplicity and an alternative way to backup files to the cloud without the fear of losing data due to accidental deletion, natural disaster, theft, or otherwise.
How to Install Dropbox on Mac?
To install the Dropbox folder on your Mac, you first need to have an account on Dropbox. The process to register for an account on Dropbox is simple:
a) Visit https://www.dropbox.com/ and sign up for a new account.
b) Or, if you already hold a Google account then just sign in with your Gmail account.
c) After a successful login, go to your profile section and click 'Install Dropbox app'.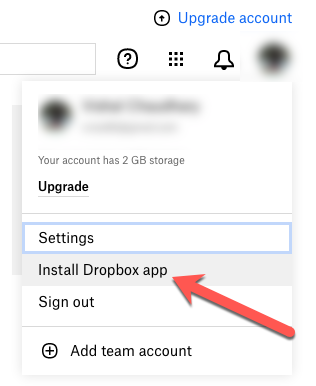 d) Press the Download Dropbox button. The dmg file will be downloaded on your Mac.
e) Double-click the DropboxInstaller.dmg and again double-click the Dropbox app icon. Allow the process to complete.

f) Sign in with your Apple or Google account.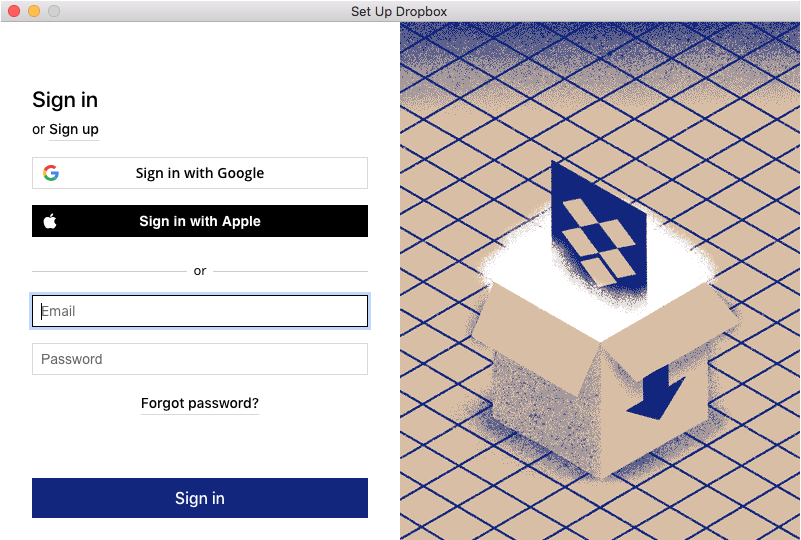 g) Dropbox gets installed in Applications. And, Dropbox folder is now available in the left pane of the Finder. Once installed, you can sync—add your files to the DropBox folder—and it will get uploaded to the cloud.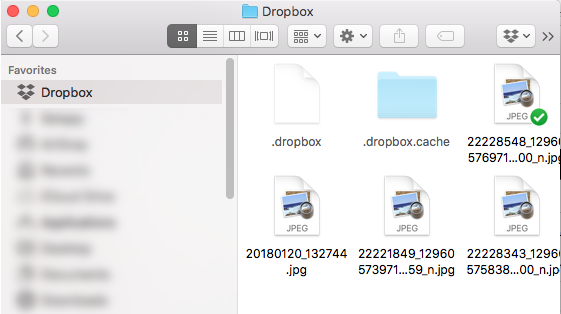 That's it! The installation process is so simple on your Mac. In case you want to remove the application and perform a fresh installation or wish to install it on another Mac, you need to uninstall Dropbox on the system. The next section describes a couple of methods.
How to Uninstall Dropbox on Mac?
You can uninstall Dropbox on Mac just like you uninstall any other applications.
1. Native Method
Secondary-click the Dropbox folder on the Finder and press 'Remove from Sidebar'. But this will only remove the DropBox folder icon from your sight; the application will remain on your storage drive.
The steps to uninstall Dropbox on your Mac are as follows:
a) Go to the Application folder and secondary-click the Dropbox icon.
b) Select the option – Move to Trash. Or else, drag the Dropbox icon and drop it in the Trash folder. [Make sure all Dropbox windows are closed before sending the app to trash].
c) Mac will ask you to enter the password to perform this action.
d) Empty the Trash once Dropbox is moved to the Trash folder.
Unable to Uninstall Dropbox?
Dropbox could refuse to move to trash because it's open (see the message shown below). Try closing the 'open' windows of Dropbox and also sign out of your Dropbox account online. Once done, try to uninstall Dropbox, as shared before.

2. SpeedUp Mac App Method
SpeedUp Mac is a free Mac disk cleaner software that can help you uninstall Dropbox easily with a click of a button. It is also useful to remove redundant data, junks, large and old files, apps, widgets, extensions, leftovers from a Mac system. Try cleaning your Mac with SpeedUp Mac software if you are running out of space on HDD, SSD, and external media.
To uninstall the Dropbox app with SpeedUp Mac, perform the following steps:
Step i) Install *SpeedUp Mac application on your Mac and launch the software.

Step ii) Click Uninstall tab from the top menu and select Dropbox app.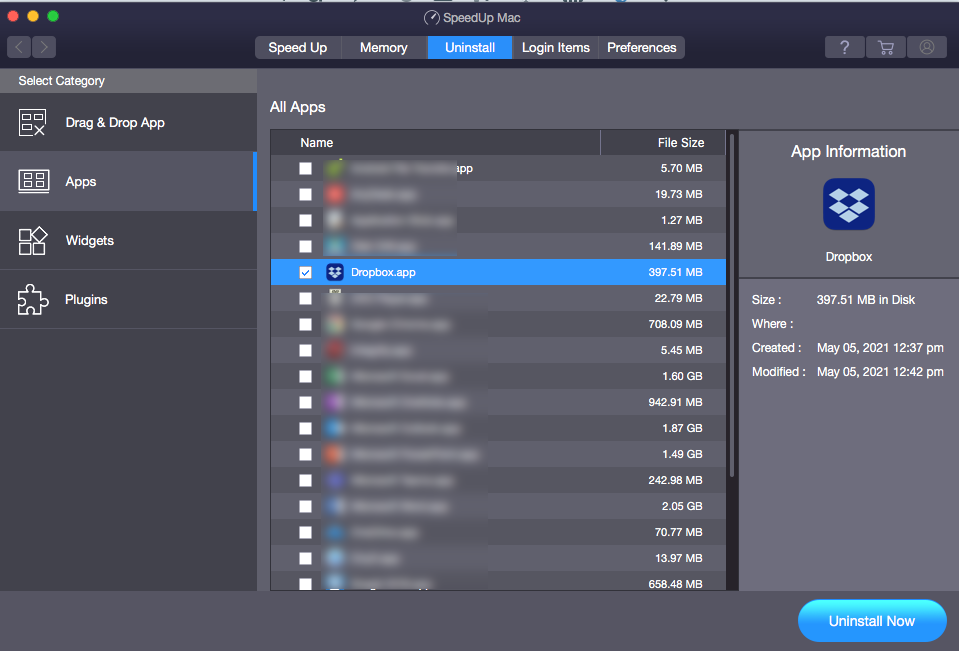 Step iii) Press the Uninstall Now button. A warning sign pops up. Proceed with caution.
Step iv) Dropbox uninstallation is successful. Click OK on the message box.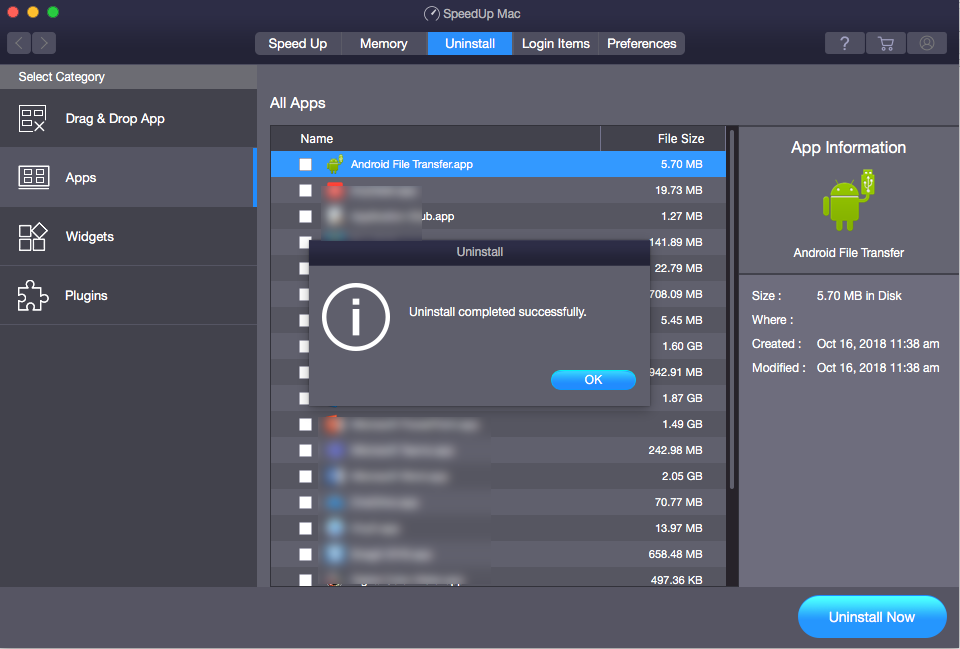 SpeedUp Mac software is free for 30 days. Once the trial period is over, you need to purchase a 1-year subscription plan to avail of the service without any restriction.
Conclusion
We hope the blog helped you uninstall Dropbox on your Mac easily. The native method is to trash the Dropbox icon and uninstall the application from your Mac. Then, you should empty Trash to remove the application permanently from Mac. There is an alternative software method that can help you uninstall applications on your Mac safely without leaving any traces and leftovers. All you need is to launch SpeedUp Mac software and use the Uninstall feature. Select Dropbox.app and click Uninstall Now to remove the app permanently from your Mac.