Summary: In this blog post, we have explained how to view NSF file in Microsoft Outlook. We have provided two methods - a manual method that involves a series of technical steps and an automation method, which you can use to convert NSF to PST directly. You can also download the software for the automation method below.

HCL Notes, formerly known as IBM Lotus Notes is an advanced information management system that allows you to manage emails and other mailbox items. It saves your mailbox in multiple NSF files for different types of data (contacts, emails, etc.). Microsoft Outlook is also an information management platform that offers a wide range of features for fulfilling the same requirements. However, it's more refined, complex, and resourceful.
Essentially, Lotus Notes isn't a messaging platform but rather an application/development platform that offers support for email management. Outlook, on the other hand, is a comprehensive messaging platform that offers much better support for emails, contacts, meetings, etc. It also offers unmatched performance when used with Exchange.
Many Lotus Notes users migrate to Outlook for a better experience. Some common reasons for this migration are:
Outlook offers the best support for Exchange Server
You can install a wide range of add-ins in Outlook to customize it as per your requirements
Finding technical support is easier for Outlook
Outlook offers a more polished and refined UI
In the process, they search for answers to how to view NSF file in Microsoft Outlook or how to convert multiple NSF files to PST. Below, you will find two viable solutions.
How to View NSF File in Outlook?
Since Microsoft Outlook doesn't support the Notes Storage Facility (NSF) format, you need to convert your NSF files into PST or CSV format. There are two methods to convert NSF:
1. Manual Method
In the manual method, you need to export the NSF data to a CSV file and then import the CSV file into Outlook. To apply this method, follow these steps:
Open IBM Lotus Notes and open the NSF file you want to view in Outlook.
Open the File menu and click the Export option.
In the Export window that opens, provide a location for saving the CSV file, and assign a name to the CSV file.
In the Save as type menu, select the Comma Separated Value option and click Export.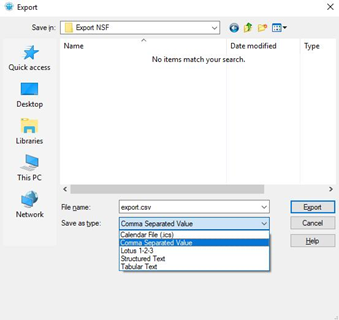 In the CSV Export window that opens, select the appropriate options and click OK. The NSF data will be saved in a CSV file in the provided location.
Open Outlook and go to File > Open & Export > Import/Export.
In the Import and Export Wizard that opens, select the option Import from another program or file and click Next.
In the Import a File window, select the option Comma Separated Values and click Next.
Click the Browse button to provide the location of CSV file. Select appropriate option under Options and click Next.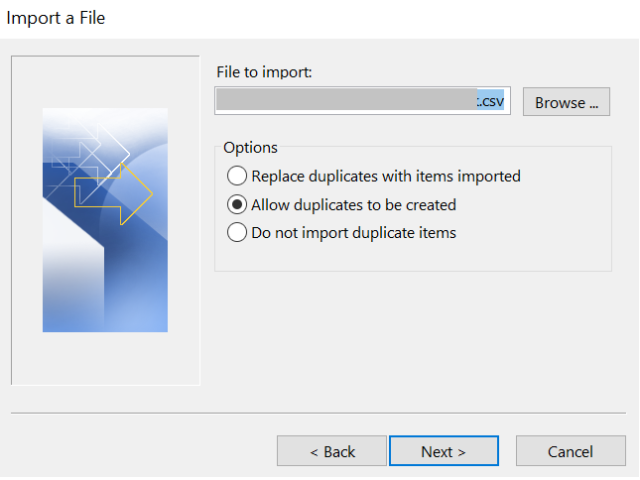 Select a folder in your Outlook mailbox where the CSV file will be saved and click Next.
Click Finish.
Limitations of Manual Method:
Consumes a lot of time
Cannot convert multiple NSF files at the same time
Not possible to extract entire email items into Outlook
You have to apply many technical steps
A mistake during the procedure can result in data loss
You can't convert multiple NSF files at the same time
Batch conversion and Office 365 Import is not possible
2. Automated Method
As mentioned above, in the manual method, you have to apply many technical steps to view NSF in Outlook. As an alternative, you can use a third-party application to open NSF in Outlook. For instance, you can use Stellar Converter for NSF to convert Lotus Notes NSF files into PST format directly and quickly.

Features of Stellar Converter for NSF
Converts all NSF items into PST, which include emails, tasks, notes, etc.
Previews NSF mailbox before saving the data to PST or another file format
Supports Lotus Notes version 10.0.0, 9.0.1, and even older versions
Saves NSF in PST and other file formats such as HTML, RTF, PDF, EML, and MSG
Converts multiple NSF files to PST in a single batch (Technician edition)
Directly exports NSF to an Office 365 account (Technician edition)
Free demo allows you to convert up to 10 items per NSF folder
Take the following steps to view NSF file in Outlook using Stellar Converter for NSF:
Launch the software. In the window that opens, click the Browse button to locate the NSF file you need to convert. Otherwise, you can click the Find button to locate the NSF file automatically.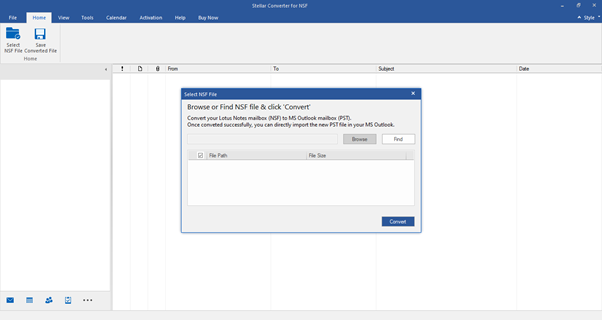 After providing the NSF file, click the Convert button to initiate the data conversion process. Once the application completes the conversion, it will display the NSF file's contents in a preview window.
Inspect the mailbox items in the NSF and select the folders that you want to convert to the PST file.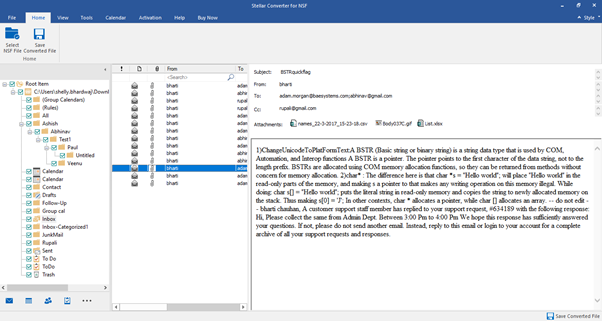 Click the Save Converted File button under the Home tab.
In the new window that opens, select the PST option and click Next.
Click the Browse button and provide the location for saving the PST file. Then click OK to complete the process.
Conclusion
Microsoft Outlook and Lotus Notes being two different email applications, don't support the interchangeability of mailbox data files (NSF and PST). To view NSF in Microsoft Outlook, you can either convert the mailbox to CSV manually or use a Lotus Notes NSF file viewer or converter tool, such as Stellar Converter for NSF.