Summary: Losing your collection of saved videos on YouTube can be heartbreaking. Here are 4 ways to restore your deleted or lost YouTube videos. Also, learn how to restore YouTube videos in case of no backup using Stellar Photo Recovery software.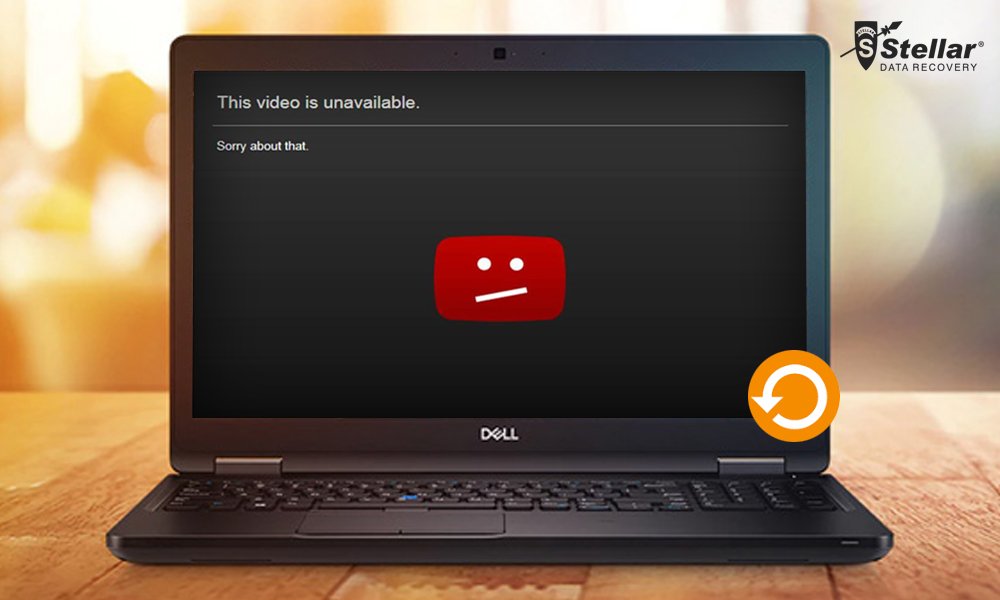 Youtube is a great video sharing platform for individuals, organizations as well as corporates to put forward their views, opinions, gags, products etc. The website has become a powerful money-making tool, since companies, musicians, film distributors, serial entrepreneurs skyrocket their business to connect with millions of users via this ideal communication platform. Don't feel hopeless if lost important YouTube Videos and try some free methods to recover deleted YouTube videos easily.
Be it Gary Vaynerchuk's channel, PewDiePie (YouTube sensation), Ryan ToysReview (the kid who is making millions), CNETTV, LinusTechTips, TechTomorrow, Android Authority, Justin Guitar, or Rockstar Games, all videos are quintessential.
Imagine a situation where a very crucial video is mistakenly deleted by you during the course of video editing, sharing or uploading from your Google Account, PC or let us say from your respective channels. Are you prepared for such an accident?
So, on that note, let's have a look at some methods to recover deleted Youtube videos
Method 1: Help Support

Send an email to the support team to restore lost or deleted YouTube videos from your channel. Further, your channel ought to have at least 10,000 views or are in the YouTube Partner Program. Follow these steps to contact the help support:
Sign into your channel and scroll down to the bottom of the page and click Help
Click Need more help < Get Creator Support
From the category, choose the required issue and click Email Support. Besides, you may need to click "contact the Creator Support team" link as well.
Method 2: Recover Deleted YouTube Videos from Internet Archive Way Back Machine

Follow these steps to recover deleted YouTube videos from archive.org (Way Back Machine):
Access your YouTube email account to fetch relevant information related to previously uploaded videos (including lost or deleted YouTube videos)
Find and click the video information to open the deleted YouTube video's URL. However, the video cannot be played via the URL
Once you get the relevant URL, go to the archive.org and paste the URL of the deleted YouTube's video on the search field and click on browse history
This brings up the YouTube video upload history where you can find videos with the respective uploaded date
After getting all the information about the deleted YouTube videos, download or upload it again (and of course back it up)
Sometimes, the above method fails. In that case, read on the below methods to retrieve your videos.
Method 3: Restore from Backup, if Any

This is the time when backup of your YouTube videos may come to your rescue. If you have any backup, then you do not need any helping hand as you can pull yourself out of the adverse situation. Simply locate the video files from the backup and upload them to your YouTube channel. Also, if you have been avoiding or procrastinating to back up your files, do it now.
If you do not have a backup, Photo recovery software has you covered! Since the videos are uploaded online from hard drive or any other device, so there are chances that Photo Recovery Software can find out your videos lost or deleted from PC or Mac system.
Method 4: Stellar Photo Recovery to recover deleted youtube videos.

Stellar Photo Recovery is the best method to recover lost or deleted YouTube video original files from PC. Even if the original files are deleted or lost from your PC, Stellar Photo Recovery will search for the originally created videos from your computer and restore all those videos, which you have uploaded on YouTube channel. After downloading and using this software you can again enjoy uploading or viewing your videos.
Try the free demo version of the software which can run on your MAC or PC/desktop and retrieve deleted videos
Let us see how to proceed while using the software to gain back those lost or deleted YouTube Videos.
Launch Stellar Photo Recovery Software. On the home screen of the software.
Select the location from where you want to recover. Click Scan to start the scanning process
A dialog box of 'Scanning Completed Successfully!' displays the scan results. In the left-pane of main window, all the recovered data is listed. You can preview them in the right pane.
Note: If you do not see the required videos in the list, opt for Deep Scan option at the bottom.
Click Recover. You can also choose to recover only the selective files – select videos that you need, right click, and click Recover.
In the dialog box, specify the location to save the image files. Click Save. All the files get saved at the specified location.
Other Methods:
Try to contact YouTube Support via phone and ask them if they can restore. Also, do not delay in contacting them once you deleted the video for a successful recovery chances.
Recover Your Videos

Deleting YouTube videos from your channel while editing/uploading them are some of the reasons that lead to losing them. This is when Video Recovery Software comes to your rescue. Whether you delete videos by accident or else format storage media, this tool recovers them back without any clutter. Follow the above-mentioned methods to regain your precious videos get your smile back !.