Summary: You may end up losing your data from a memory card due to accidental deletion, formatting, file corruption, etc. In this blog, we will discuss all the possible methods to recover photos from a SanDisk memory card. To recover your favorite pictures quickly, use a powerful photo recovery software, such as Stellar Photo Recovery. Download the trial version below!

SanDisk memory cards are quite popular among smartphone and camera users. So many people use a SanDisk memory card to store their favorite pictures, videos, audio files, etc. However, like other storage drives, these memory cards are also prone to data loss. There could be several reasons behind photo loss, such as accidental deletion, formatting, corruption, etc. Whatever the reason is, you may recover photos from SanDisk memory card.
Methods to Recover Photos from SanDisk Memory Card
You may lose photos from a memory card for different reasons. We have listed a few situations that may lead you to data loss, along with the methods to restore your lost photos and videos.
Situation 1: "I can't access my SanDisk memory card. My system is not detecting my memory card, showing no error message, no pop-up, nothing. I have so many photos and videos on it. How can I recover my data?"
Method 1: Re-insert memory card
When you insert your memory card in your PC or laptop, and your system doesn't detect it, try re-inserting it. Sometimes, re-inserting the memory card may fix the error. Reboot your system, re-inset the card, and check if the system can detect it now.
Method 2: Try a different port
If the above method doesn't work, try connecting the memory card to a different USB port. Insert your memory card in a card reader and connect it to your system. Changing the ports may also fix the problem.
Situation 2: "I put my SD memory card into my laptop, and it's showing the error 'the device is inaccessible.' I can't access my SD card and data on it. Is there any other way for me to access it and recover data?"
Method 3: Fix Inaccessible SD memory card
Your SD memory card may become inaccessible due to several reasons. You may encounter some error messages on your SD card whenever you want to access it, or it may not be detected by the system at all. Other than 'the device is inaccessible' there could be several errors, including:
Such errors make your SD card inaccessible. If you encounter any of these errors while connecting your SanDisk SD Card, fix the SD card errors and recover your data using an efficient SanDisk memory card recovery software.
Situation 3: "I accidentally formatted my SD card. Now, my all data on SD card is gone. How can I get my data back?"
Method 4: Use a powerful SanDisk Card Recovery Software
A. Use SanDisk RescuePRO®
Whether you deleted your photos due to accidental deletion or formatting your card, you may attempt SanDisk SD Card recovery software SanDisk RescuePRO® and RescuePRO® Deluxe. The software can recover lost images, video, documents, music, etc. However, it has certain limitations, like it only supports a few file formats and can recover data only up to 64GB.
Therefore, we suggest you go for the best memory card Recovery Software, i.e. Stellar Photo Recovery.
B. Use Stellar Photo Recovery
Stellar Photo Recovery software can recover multiple file-formats, including PNG, GIF, MP4, MOV, MP3, WAV, RPS, etc. The software can recover photos, videos, and audio lost due to deletion, corruption, formatting, virus, inaccessible drives, etc. It supports recovery from latest CFast, CompactFlash, microSDHC/XC cards.
You can also recover photos from DSLR, Mirrorless & Video cameras. You can recover unlimited photos, videos, and music files. Also, it comes with a vast file-type library along with a feature of 'Add Image', which lets you add even the files with unique extensions. All in all, it is the best solution to recover photos from a SanDisk memory card. Follow the given steps to recover photos:
a. Download, install, and run Stellar Photo Recovery software on your PC/laptop.

b. On the initial dashboard, i.e. 'Recover Photo, Audio & Video' screen, select the drive from which you lost the photos and click Next. (See Image 1)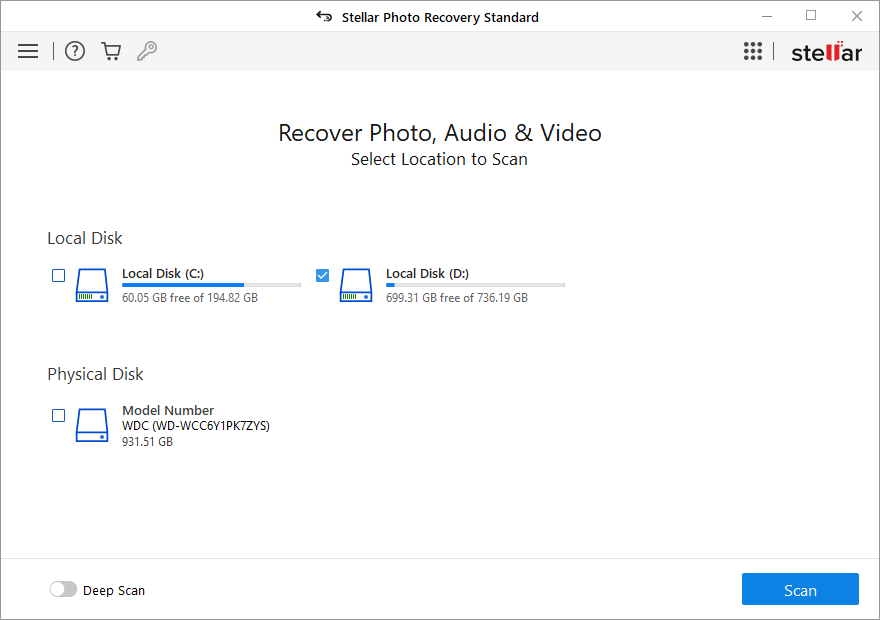 c. Let the software scan the drive. Once it is completed, the software will show the lost or deleted photos on the screen categorized in three panes– 'File Type', 'Tree View', and Deleted List'.
d. You may preview the files, select the ones that you want to retrieve, and click Recover. (See Image 2)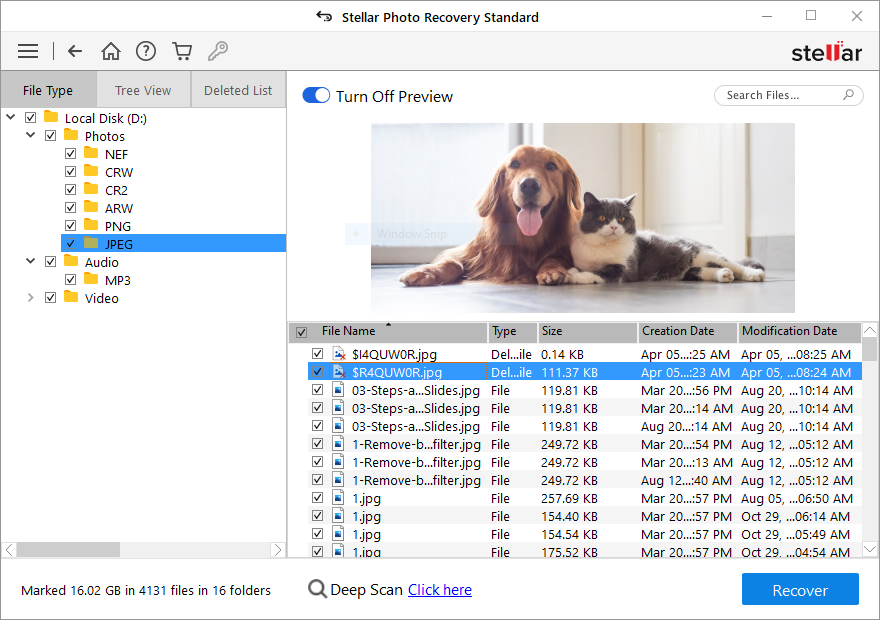 e. Click Browse to choose the desired location where you want to save the recovered pictures.
f. Next, click Start Saving to store the recovered photos. (See Image 3)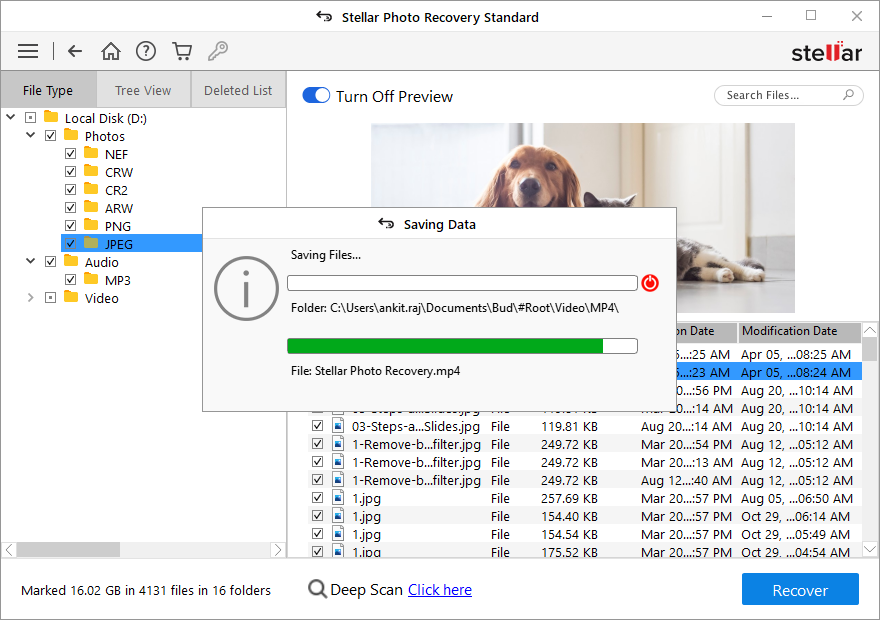 [Caution: Always use external storage media devices, such as HDDs, SSDs, USB drives to save the recovered files to avoid overwriting.]
Conclusion
You may end up losing your photos due to any reason, as discussed in this blog. If you are aware of the reason for photo loss, you may perform SanDisk Card recovery methods to get back your access to the lost images. If the DIY methods to recover photos from a SanDisk memory card fails, you may try using SanDisk RescuePRO® or RescuePRO® Deluxe. However, these tools have some limitations, as mentioned above. Therefore, we would recommend you to go for the best photo recovery software, Stellar Photo Recovery. This easy-to-use memory card recovery tool can recover unlimited images, videos and audio files from SanDisk memory card Card.
Let us know your suggestions/queries in the comment section below!