Summary: As a content creator, in addition to recording high-definition videos, you also need to be able to capture impeccable sound quality to deliver the perfect viewing experiencing. But if you usually rely on your Android smartphone for recording videos, you should be aware that for some files, the sound may become messed up or not play at all during playback. Why this happens, and more importantly, what you can do in such cases, is what we'll be covering in this post.
Thanks to the advent of technology, people no longer need to rely on high-end equipment to become photographers and videographers. Today, all one needs is the latest edition smartphone with a killer camera and recording capabilities to become a social media content creator. Simply click or record, and then hit upload. After that, let the content do its magic – it's as simple as that!
Well, it's a bit more complicated.
Even though it may sound like the easiest thing to do, capturing a truly high-definition video with crystal clear sound can often get challenging with an Android smartphone. Agreed it's not impossible, but unexpected errors can make it very difficult to complete the task without bottlenecks. One such error is the "no sound on Android video" error.
Join us as we dive deeper into what this error is, why it occurs, and how you can resolve it.
What is the "no sound on Android video" error, and why does it occur?
Some of our readers approached us with the problem of hearing no sound when playing videos on their Android phones. Ironically, they were facing the error not just with random videos they downloaded or the ones they tried to watch on YouTube or Facebook, but also with the videos they captured using the very same phones.
They explained that they had tried simple fixes like adjusting the phone's volume and un-muting the videos on the respective platforms, but nothing seemed to work. Restarting the phone too was futile.
On conducting an investigation, we found that this issue is actually a pretty common one with Android devices. Thousands of users have asked this on a number of public technical forums.
Before we proceed with the fixes to this error, let's try to understand why it crops up in the first place:
1. Your Android OS might be outdated
Outdated version of your phone's operating system (OS) might result in no sound when playing videos on Android. Update the OS to the latest version to replace outdated system patches with new ones, improve your phone's security, and fix hardware bugs as well as compatibility issues automatically.
To update your Android phone's OS manually, go to Settings > About Phone > System Updates (this navigation may differ slightly depending on your phone's make and current version).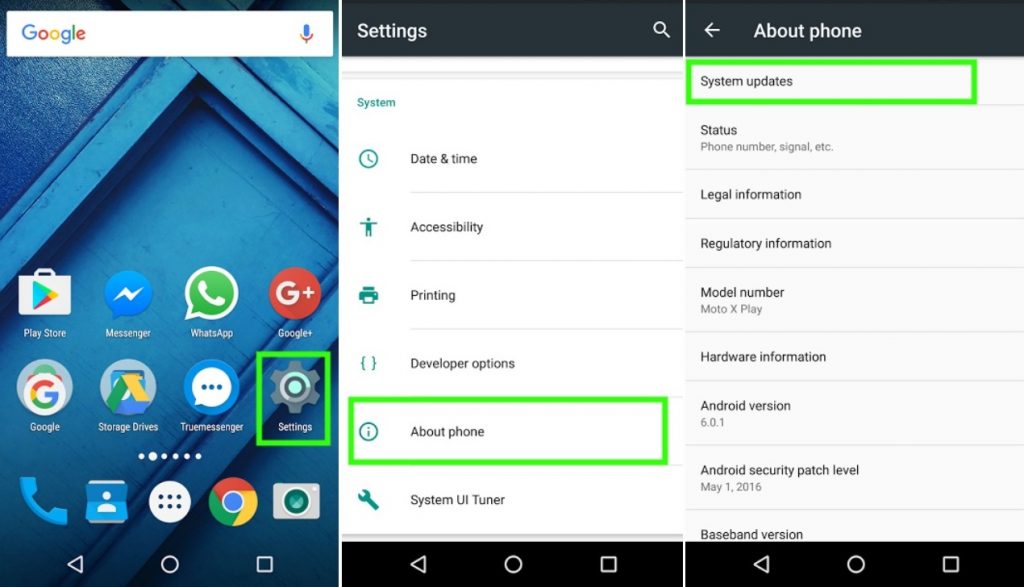 2. You might be experiencing network or connectivity issues
If your phone isn't connected to the internet or your network service provider, then too, you might experience the no sound error. Move to a different location where you can receive better network/internet coverage and check if anything changes.
3. Your video player or YouTube/Facebook app might be corrupted
If you're facing the error while playing videos on YouTube or Facebook, a possible reason could be that the particular app is corrupted on your phone. Apps may get corrupted on Android phones because of:
Bad sectors – Cached app data might get damaged, leading to app corruption
Excessive internal storage hogging – The app might occupy too much of the internal storage, which could have led to slow data processing resulting in no sound on YouTube Android error.
Trying clearing app cache to free up some memory and see if you can hear the sound. If not, try uninstalling and reinstalling the app.
4. There's a server issue with the app itself
If the app on which you're trying to play the video isn't updated or is facing server issues, you can face this error. Running outdated apps on your Android device can lead to compatibility problems and faulty behavior of the apps. To overcome the no sound on Android video error on a particular app, make sure you're using the latest version of the app on your smartphone.
Now that we've discussed the reasons behind the error, let's proceed with fixing it.
How to fix 'no sound on recorded Android video' error?
Here are some solutions to the no sound error on Android.
1. Re-check basic settings
Though you might have already checked this, there's no harm in making sure your phone isn't on the 'silent' profile. Even though technically, the silent profile shouldn't mess with playback of a recorded video, it might affect the volume settings leading to low or no sound when playing videos. Go to the sound settings on your phone and check if you've put it on silent or vibrate mode. If yes, change it to normal mode, and then check if you have the 'Do Not Disturb' option turned on. If it is, turn it off.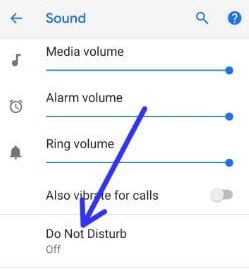 Now check if the issue is fixed. If not, proceed to the next fix.
2. Test your device's hardware
This may be a long shot since you're unable to hear any sound on recorded as well as downloaded videos, but try playing any internal system sounds on your device. For example, go to the ringtones section and play one of the tunes that come with your phone by default. If you hear them, your device's hardware is most likely fine, and you just need to use one of the other fixes on this list to make things work. If, however, you don't hear an internal sound too, your device's hardware may be damaged. In this case, you'll need to take it to the service center to get it repaired.
3. Use Stellar Repair for Video to fix corrupted video files
If you're able to hear sound on YouTube and Facebook videos but not on the ones you recorded, the problem might be with the videos themselves. They might have become damaged or corrupted, in which case, using a handy video repair application can do the trick. We recommend using Stellar Repair for Video.
Stellar Repair for Video is a leading application for performing remedial action on corrupted video files. With highly advanced algorithms powering its working, this application can help you repair videos of different formats like MP4, MKV, MOV, and many others. You can use the tool to repair multiple videos simultaneously, and that too, those belonging to varying codecs and resolutions. The application is extremely easy to use and runs smoothly on Windows as well as Mac systems to repair video errors like stuttering, blurry, and flickering playback.
Allow us to show you how to use this software to fix the "no sound on android video" error.
To get your copy of Stellar Repair for Video, head over to the product page for this video repair tool on its official website and click on the "Free Download" button. This will download the free demo of the application on your device (free demo provides preview of repaired files up to 20% of total video size).
Once the application has been downloaded, install it and then launch.
On the software's home screen, click on 'Add File' and then browse to select the video you wish to repair. You can add multiple videos to the software interface in this step.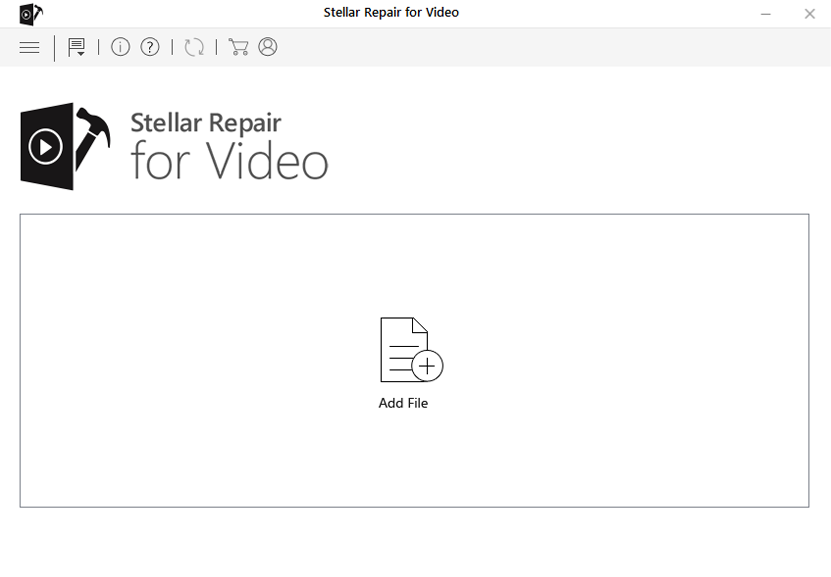 4. Once the videos have been added, click on the 'Repair' button to initiate the repair process. A progress bar will indicate how far the repair process has reached. To terminate the process mid-way, click on the 'Stop' button at the bottom.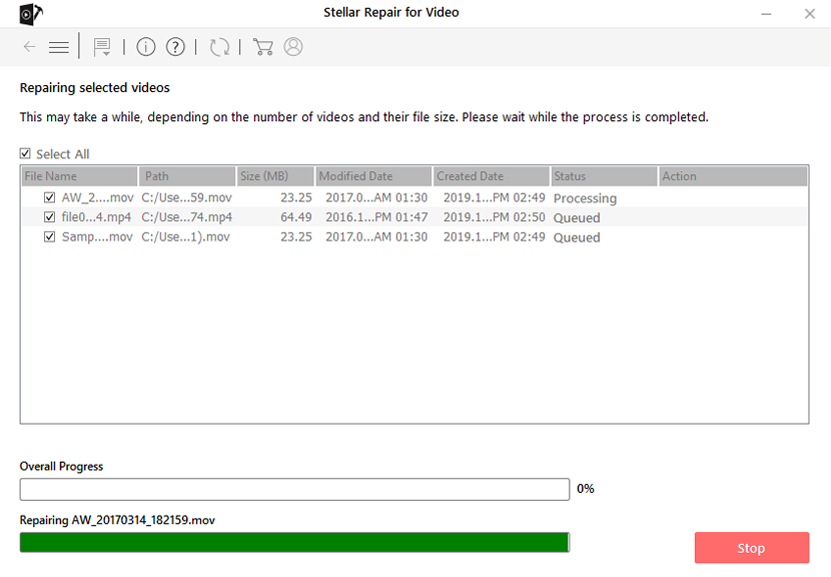 5. When the process completes, you'll be able to preview the repaired files and then save them to your device using the 'Save Repaired Files' button.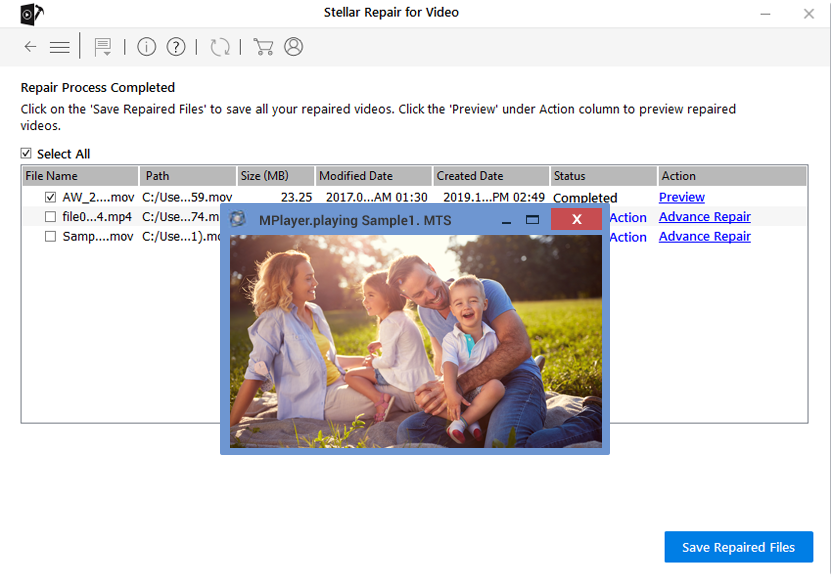 Once the video files have been repaired using this technique, you shouldn't face any more trouble playing them on your Android device. However, if you still face the same error, try performing a factory reset of your phone. This might help fix any system bugs your phone might be going through.
Note: Back up all the data on your phone before performing a factory reset. Resetting the phone to factory settings deletes all data on it.
Conclusion
While it's quite convenient to use your smartphone to record videos for social media, faulty playback issues and errors like 'no sound on android video' can ruin your efforts. Usually, fixing such errors is just a matter of a few simple steps, but if manual fixes don't work, repairing recorded videos with Stellar Repair for Video can do the trick.