How To Fix Folders That Have Become Shortcuts In The External Hard Drive
Picture a condition. You usually save your priceless memories such as videos or photos and business critical data like Spreadsheets, Presentation, or Word Document on the flash drive in separate folders. You follow this practice to access them from anywhere and at any instant of time. However, today, when you attempted to access them on another system, it shows all files as shortcuts. You tried to access the same from your laptop yet you still see your MBs or GBs files into KBs. These files are very important to you. Now, the only query you may have in your mind is how you can fix the folders that have turned into shortcuts.
Before wondering how to fix folders that have become shortcuts, let us have a quick overview of its causes.
How Does Folder Turn to a Shortcut?
Autorun.inf worm and Virus or Trojan turns your healthy folders into a shortcut. It happens when you connect your properly working removable storage device with an infected system. Generally, it makes them hidden.
How to Fix A Folder that has Become a Shortcut?
Solution 1: Unhide
As already stated, sometimes an infection turns the files or folders into a hidden state. Thereby, switching them to a non-hidden mode will make them visible. Steps are as follows:
Click My Computers
Click View Tab
Checkmark Show Hidden Items option
The above is a hit & trial approach and chances to regain inaccessible data from it is very less.
Solution 2: Anti-virus Scan Program
As the root cause of Shortcut creation is malware, thus removing them can help in resolving the issue. For this, you need to run anti-malware or antivirus into the Full Scan mode and remove the malware or virus to access the files or folders.
Steps are as follows:
Click and Open Anti-virus or Anti-malware Program
Click Scan and practice Full Scan
Click Ok
Next, attempt to access Folders
Limitation: Since virus alters the names of files, therefore, attempts to access files after virus removal is a bit tedious.
Solution 3: CMD Command
Another way to recover the shortcut files.

Steps are as follows:
Go to Start
Click on Run
Type cmd
Select your device (Memory Card, Pen Drive, etc.)
Type del *.lnk
Type attrib -h -r -s /s /d Drive Letter:*.*
Hit Enter
Limitation: Flash Drives should not be formatted unless you have basic technical knowledge
Since all the above solutions are manual methods, chances of entire recovery are less and that of further aggravation is more. Therefore, resorting to software approach is ideal as it will not only help you in recovering the data entirely but also promises Data Integrity.
Which software should you opt for?
Below is a recommendation on the basis of expert analysis of professionals—Stellar Data Recovery- Standard. This tried, tested, and approved software is an ideal solution to bid goodbye to your Data loss, Deletion, or Inaccessibility issues.
How Does Stellar Data Recovery- Standard Help in Recovering Data?
The overall functioning of this software is sub-divided into three steps —Select, Scan, and Recover. Once you are through with Download, Install, and Registration, simply launches the software and follow the below-stated steps to recover your lost or deleted data.
Step 1: Selection
In this step, you have to select the type of data from the available options to recover followed by the location from where recovery is to be made. ( In this case, you need to select the Folders)
Data Type Selection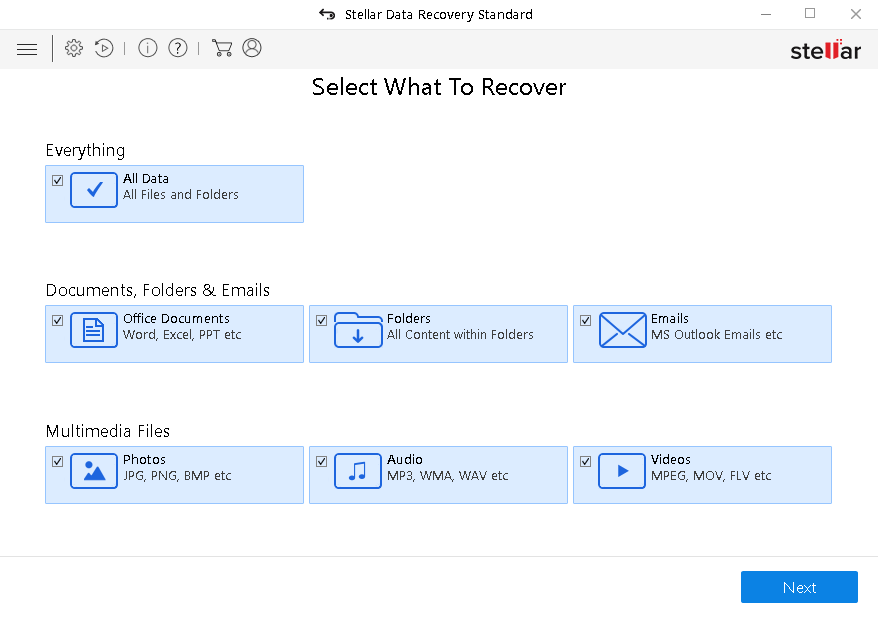 Location Selection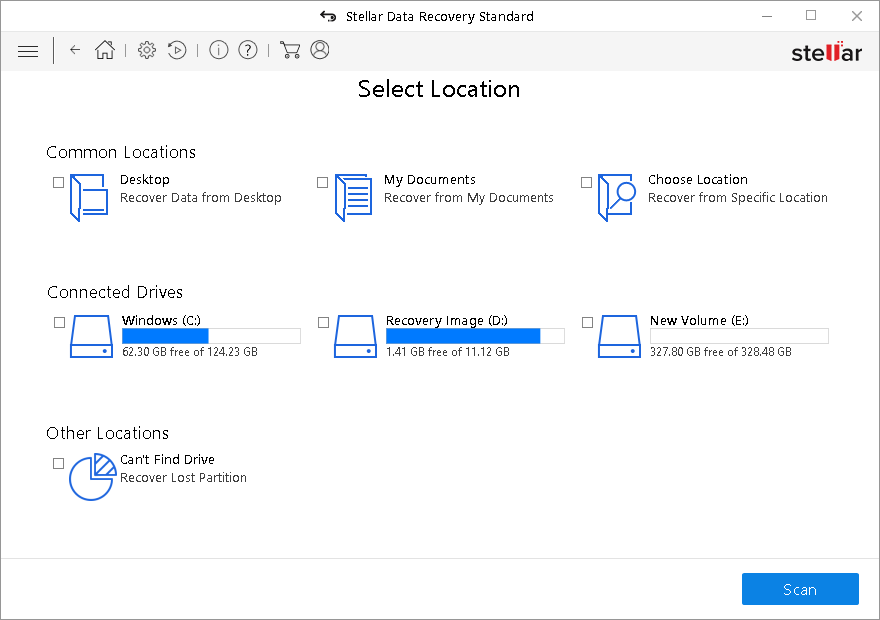 Step 2: Scan & Preview
In this step, you need to scan the storage unit for desired data recovery. On successful completion of the scan, you simply have to select the specific file and Preview them.
Scanning Progress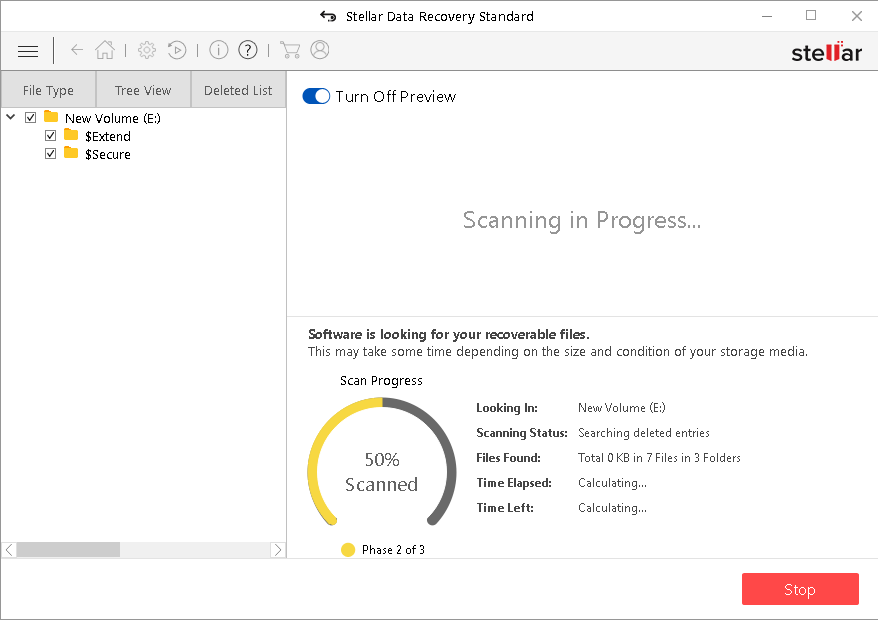 Preview Recoverable Files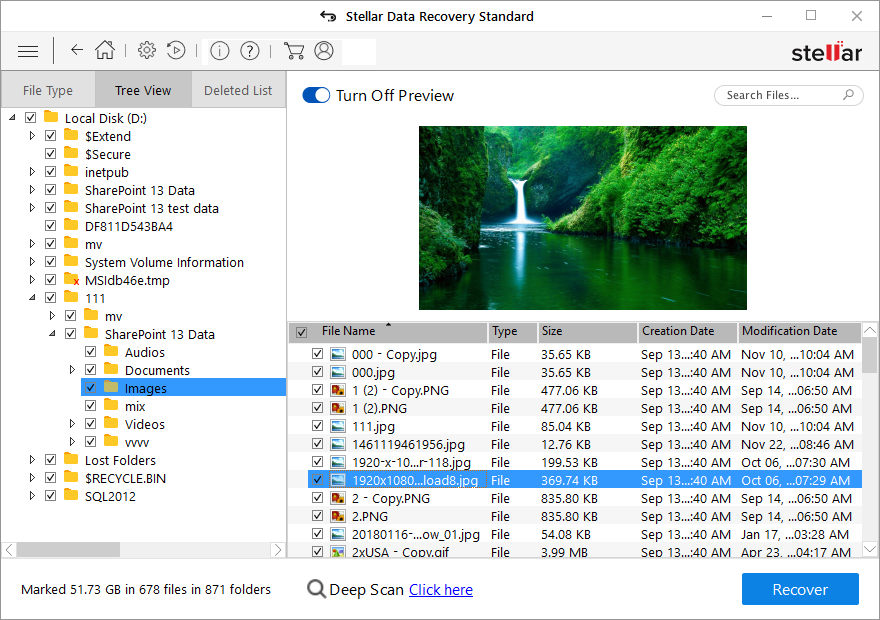 Step 3: Recover
In this step, you have to check mark the desired files for recovery and save them by specifying the user-defined location followed by clicking on Start Saving.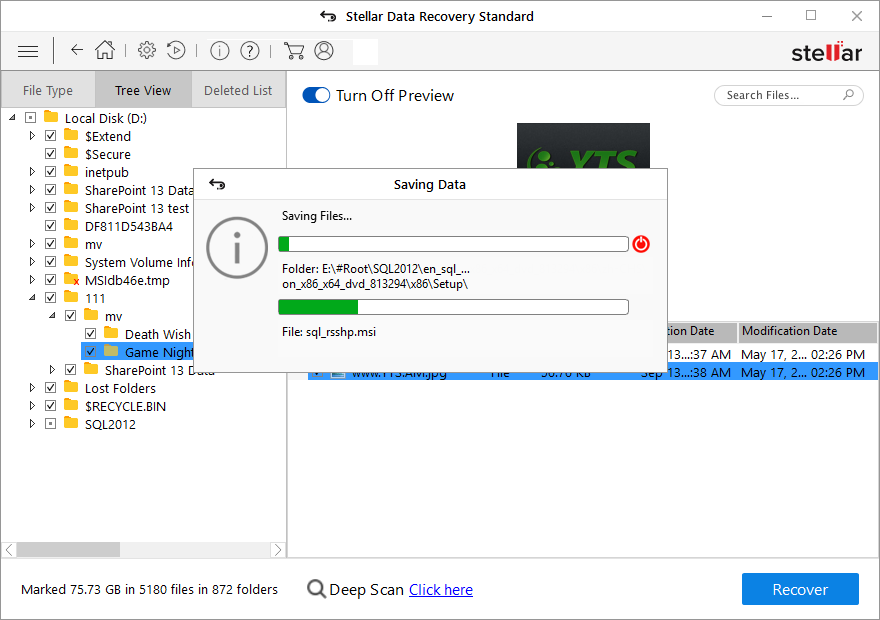 The Recovery Process is Complete!
Note: Make sure to format the system to remove all the virus.
The Final Word
You are now familiar with how to recover files or folders infected by a virus and turns into a shortcut in the external hard drive. Depending on your requirements, you can choose any of the specific solution stated above and recover your lost data.
However, if a recommendation is to be made, then opting for a third-party solution such as Stellar Data Recovery- Standard is a sure-shot solution. The reason being, this Do-It-Yourself solution is completely safe, secure & reliable.