How to fix QuickBooks Enterprise Error 3371?
Despite being a feature-rich (and fairly stable) professional accounting software, QuickBooks faces errors which are reported and discussed on user forums. QuickBooks error 3371 is one such error.
What is QuickBooks Enterprise Error 3371?
You may receive QuickBooks Error 3371 along with the message text "QuickBooks could not load the license data," in the following scenarios:
When you're attempting to load QuickBooks Desktop Enterprise software
While reconfiguring your desktop
The error usually occurs in case of damaged or missing QuickBooks file. You may receive QuickBooks Error 3371 with any of the following status codes:
QuickBooks Error 3371 with Status Code – 11103
QuickBooks Error 3371 with Status Code – 11104
QuickBooks Error 3371 with Status Code – 11118
QuickBooks Error 3371 with Status Code – 1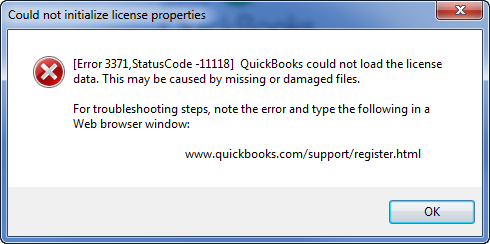 QuickBooks Enterprise Error 3371: Causes and Solutions
The following are some of the causes of QuickBooks Error Code 3371, along with the solutions:
Cause 1 – Licensing and registration issue
QuickBooks Entitlement file (EntitlementDataStore.ecml), contains the encrypted information of QuickBooks Desktop installation. Essentially, the file contains the license and product information needed to complete the QuickBooks validation process, during the installation of QuickBooks Desktop version.
If the 'EntitlementDataStore.ecml'file gets damaged or corrupt, then QuickBooks won't open or it may display "QuickBooks error 3371 with a status code 11104."
Solution – Delete and re-create damaged 'EntitlementDataStore.ecml' file
Deleting and re-creating the QuickBooks 'EntitlementDataStore.ecml' file may help resolve the QuickBooks error 3371. To do so, follow these steps:
Exit QuickBooks Desktop
Close all the QuickBooks processes. To do so:

Open Task Manager
From the Processes tab, locate QBW32.EXE. Select it and then click End Processes. Repeat this step for all instances of QBW32.EXE.
Open the QuickBooks Entitlement Data folder for your Windows OS by following these steps:

Run dialog box by pressing "Windows" and "R" keys together
In the Run window, enter C:\ProgramData\Intuit\Entitlement Client\v8 (or v6) and hit OK.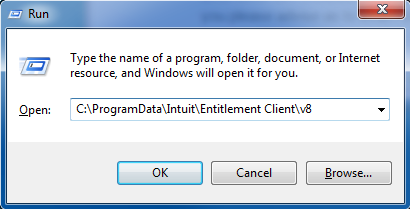 From the dialog box that pops-up, right-click the EntitlementDataStore.ecml file and click Delete.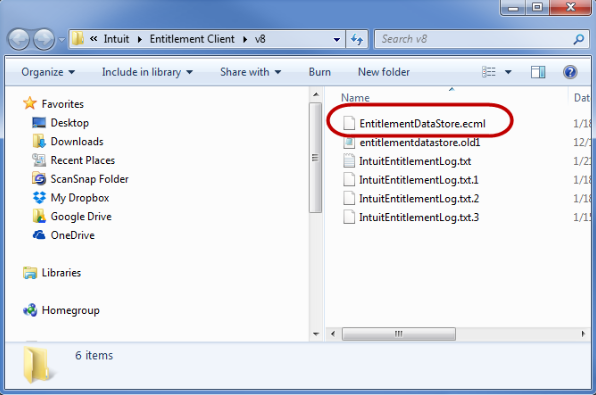 Run QuickBooks again and follow the instructions to register the QuickBooks application
NOTES:
The above steps should work with QuickBooks version 2013 through 2016
For some of the older versions of QuickBooks software, you can call Intuit to complete the registration process, as it can be a bit complicated.
Cause 2 – Accessing QuickBooks Desktop Enterprise File on a shared network
You may encounter 'QuickBooks Enterprise Error 3371' when attempting to access a QuickBooks Desktop Enterprise file on a shared network, without saving it on your local system. Since other users on the network can access the saved file, an incompletely saved file can go missing or become damaged.
Solution – Save the QuickBooks Desktop Enterprise file locally on your system, before accessing it from the shared network.
But, if the QuickBooks file goes missing or gets damaged, using Stellar Repair for QuickBooks software can be of great help. Here's how:
It can fix severely corrupt and damaged QuickBooks files
Recovers the file data in its original format.
Its rich, intuitive GUI facilitates smooth and easy recovery.
It can fix all types of errors in QuickBooks Data File
The free trial provides a free preview of the recoverable data, which is a great value.

Cause 3 – Damaged or missing Installation Component/File
A component or file that is needed to run QuickBooks Desktop Enterprise may be damaged or missing. It usually means these two things:
QBregistration.dat – It is a QuickBooks Desktop installation file that contains the license information for your QuickBooks account. The QuickBooks database won't open if the 'QBregistration.dat' file is damaged.
2. MSXML component – You need Microsoft XML Core Services (MSXML) component to run QuickBooks on the desktop. This component helps retrieve information from the 'Qbregistration.dat' file that is needed to open QuickBooks. Thus, you won't be able to open the QuickBooks Desktop version if the MSXML component is damaged or missing.
Solution – Use the QuickBooks Install Diagnostic Tool
The QuickBooks Install Diagnostic Tool helps resolve most of the QuickBooks Desktop installation errors. To use the tool, follow these steps:
NOTE: Make sure to close any open programs before you run the Diagnostic Tool.
Cause 4 – Outdated Windows OS
You may be running an outdated version of the Windows operating system, resulting in failed or damaged QuickBooks Desktop installation.
Solution – Install Latest Windows Updates
Follow these steps to make sure that your Windows OS is updated:
Click the Windows icon
Select All Programs, and then click Windows Update
Once the updates are installed, install QuickBooks again
NOTE: Follow the above steps or contact System Administrator for Windows update.
Cause 5 – Anti-virus program blocks QuickBooks file
The QuickBooks Error 3371 may happen if the anti-virus program installed on your computer such as AVG Anti-Virus, PC Internet Security, etc. quarantine (or isolate) some QuickBooks Desktop files.
Solution
Check for the quarantined QuickBooks files, and restore the necessary files.
Conclusion
Damaged or missing QuickBooks data files may result in 'QuickBooks Enterprise Error 3371'. This error usually occurs when there is a problem with your QuickBooks Entitlement Data File, you're accessing a network shared file without saving it on PC, or you're running an Outdated Windows OS, etc.
Intuit has recommended several solutions to resolve 'QuickBooks Error 3371', which range from re-creating Entitlement file to installing QuickBooks Install Diagnostic Tool and updating Windows OS. But, when it comes to fixing severely damaged (or corrupt) QuickBooks data files, you can easily and quickly repair the QuickBooks data files by using Stellar Repair for QuickBooks® software.