How to Recover Data from Scratched or Damaged CD or DVD Optical Media
Do you want to recover your inaccessible childhood pictures, business presentations, or important financial details from scratched Compact Disks (CD) or Digital Versatile Disks (DVD)? Here is the answer. Have a look at the top seven actionable ways to recover data from a scratched optical media (CD/DVD).
Looking at the growth of IT technology, this would not be erroneous to conclude that in comparison to USBs, external hard drives, flash drive, etc., the optical discs like CDs and DVDs have lost their significance. Still, a small section of users heavily relies on optical drives for installation, data backup, data transfer and much more. But the major problem faced by all of them is scratched CD or DVD with continuous usage.
Scratches turn healthy CD/DVD media into unreadable state and as a consequence data becomes inaccessible. The following post includes some methods to recover data from a damaged or scratched CD/DVD.
Methods to Recover Data from Scratched or Damaged Optical Drive
Disclaimer: Method 2 to 6 does not guarantee any kind of data recovery from your scratched CD/DVD, it may further harm your optical media. We recommend going with either method number 1 or 7 for safer data recovery.
Method 1: Data Recovery Software
A professional data recovery software ensures secure recovery of data from a scratched CD/DVD. Out of the several tools available online, one robust and secure software is Stellar Data Recovery Professional for Windows. Equipped with advanced scanning algorithms, this software promises to recover data from a damaged optical media by reading the bad sectors.
To evaluate and explore more, download the software's trial version.

Note: The recommended software does not do any modification to the data and is 100% safe.
Method 2: Wax Method
Place your CD or DVD in a clean area.
Apply a very thin layer of wax (Vaseline, lip-balm, neutral shoe polish, furniture wax) on its shiny playing surface.
Wipe off extra wax in a radial motion using a lint-free cloth.
Let it dry.
Now, test the scratched or damaged disc.
If CD or DVD plays, immediately back up the data.
Note: This approach is a temporary solution.
Method 3: Light-bulb Method
Switch on an incandescent filament bulb (60 Watt).
Using the Index finger, thread the damaged CD/DVD.
Hold shiny side of the storage media towards lamp (make sure to have a distance of 4 inches between both).
Hold this for next 20 seconds precisely (make sure you also rotate it slowly).
Play the optical media while it is still hot to recover its data.
Note: This method is a hit and trial technique.
Method 4: Disc Cleaning Method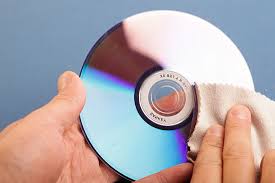 Warm the water in a container.
Wash the disc using this water.
If CD/DVD still features dust on the surface, gently rub it using fingers.
For more efficient cleaning, use liquid soap or mild detergent solution to clean. (Make sure to rub the surface only in radial motion).
Next, use a towel or cloth to dry it.
Shake the device to drip off excess water.
Allow it to air-dry (avoid placing under the sun).
Play the disc and immediately back up the data.
Note: As mentioned above, this method is also just an alternative. It may work or may not.
Method 5: Masking Tape Method
In bright light, hold the disc (make sure to have shiny side up).
Check for the holes.
Identify the holes and flip the disc.
Use a permanent marker to mark the holes area.
Now, mask this area using masking tape (2 small strips on each area).
Test the CD (it might make noise, no need to worry).
Note: Holes in the CD foil layer are even irreparable by professionals. The ideal choice to recover data from such CD is to skip them altogether and recover rest of the data. This process can help you retrieve some amount of the data.
Method 6: Polish Method
Apply toothpaste in little amount on a soft cloth.
Rub this cloth on damaged or scratched CD in a radial motion (make sure to rub gently).
Keep doing it continuously for next 10 to 12 minutes.
Wash CD using warm water.
Allow it to air-dry.
Insert the CD to test. If it plays, instantaneously copy the files.
Note: One caveat, this process may damage the CD/DVD further.
Method 7: Data Recovery Service Provider
As a final call, contact a Data Recovery Service Provider to recover data from damaged optical media. This is because there might be a physical failure.
Conclusion
Recovering files from a damaged or scratched CD/DVD is undoubtedly a tedious job, but not impossible. Use any of the viable option from the afore-stated go-getter's guide to execute efficient optical media recovery. The preferred and reliable options here are Data Recovery Software or else Data Recovery Service.