Seagate drives are popular among PC users, enthusiasts, and laptop manufacturers. They are affordable, easily available, and known to be reliable.
However, a recent hard drive reliability report by Backblaze—a cloud backup provider—revealed that despite being a preferred choice at Backblaze too, Seagate hard drives were among the drives with highest failure rates.
Since Seagate drives are widely used, and stats indicate a high failure rate, here's what you can do in case you've lost data from Seagate hard drive.
Possible Causes of Data Loss From Seagate Hard Drives
There may be several reasons, which can lead to data loss from a Seagate hard drive or any other storage media. Mainly they are divided into three categories as follows:
1. Logical Failure
Virus or Malware attack.
Human error.
Corrupt files on hard drive.
Increase in number of bad sectors on the hard drive.
A sudden power surge or power failure.
2. Physical Damage
Drop (shock damage).
Overheating.
Water damage.
Improper handling.
3. Mechanical Failure
When you start hearing strange noises from a hard disk such as clicking, grinding or screeching under normal usage, it means that there is a mechanical failure. Due to mechanical issues in the drive, you may face problems similar to logical failures such as frequent system freezing and OS crash.
Seagate Hard Drive Recovery
While physical damage and mechanical failure issues need a professional data recovery service, data loss due to logical faults in a Seagate hard drive can be solved with the help of a professional data recovery software such as Stellar Data Recovery Professional for Windows from the ease of your home or office.
This software comes with advanced data recovery features that make it a reliable and secure choice for Seagate hard drive recovery. Moreover, it comes from the house of Stellar Data Recovery, a data care product and services company that's recovering data since 1993 and trusted by more than 2 million users.
Seagate Hard Drive Recovery by Using Steller Data Recovery Professional
Stellar Data Recovery Professional can help recover data from any Seagate hard drive—no matter if it's corrupt or formatted. With its intuitive and user-friendly interface, the software also lets you recover data from deleted or missing drive partitions in just a few simple clicks.
Before your Proceed!
Immediately stop using your Seagate hard disk to avoid overwriting as it can permanently erase the lost data, beyond recovery.
Make sure to use a different storage device to store the recovered data. Never save recovered data on the same hard drive.
Use an HDD enclosure or SATA to USB 2.0/3.0 converter to connect internal Seagate hard disk with another PC via USB port for data recovery.
Follow the steps to safely recover data from a logically damaged or failed Seagate hard drive.
Download and install Stellar Data Recovery Professional software for Windows.

Connect your external Seagate drive to your PC via the USB port. For the internal hard drive, remove it from your PC or laptop and then insert it into a HDD enclosure. Connect it to a different PC where the Stellar Data Recovery software is installed, and if prompted to 'Format hard Drive' option box, click 'No'.
Launch the Stellar Data Recovery Professional for Windows software.
Check 'All Data' checkbox to select and recover all types of files, folders and other deleted data from the hard drive.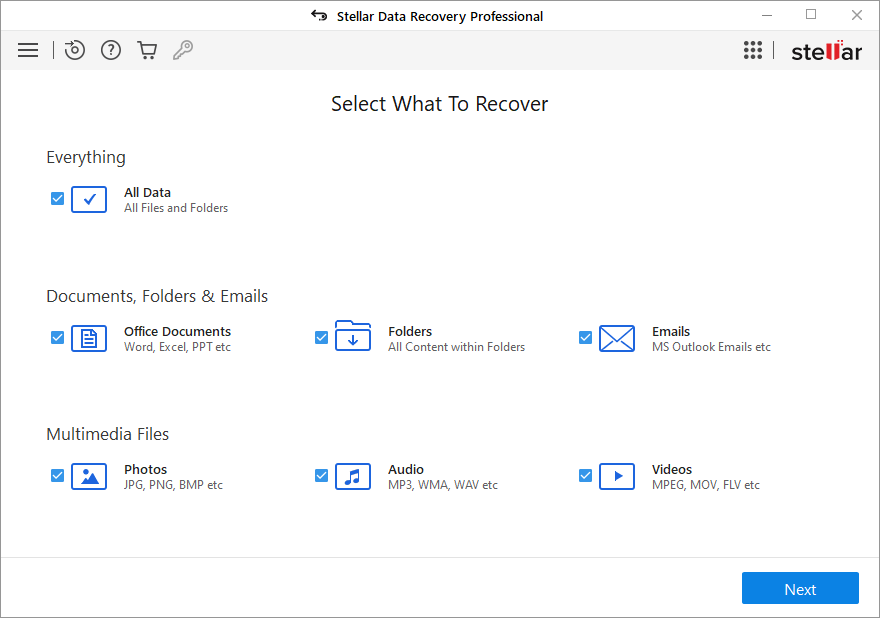 Click 'Next' button. Select the Seagate Hard drive from the Select Location window and turn on the 'Deep Scan' toggle that appears at the bottom-left corner.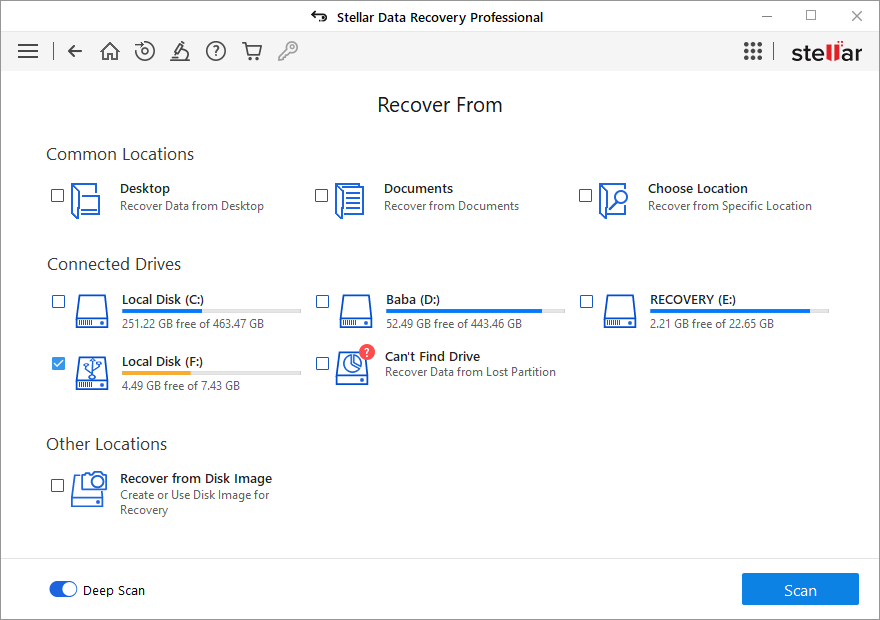 NOTE: The Deep Scan function takes more time but recovers most data and is highly effective as it thoroughly searches for the deleted data deep inside each sector on the hard drive based on file signatures, which also facilitates RAW data recovery.
If you want to recover drive data from hard drive's deleted partition or unallocated partition, select 'Can't Find Drive' under Other Locations and click the 'Scan' button.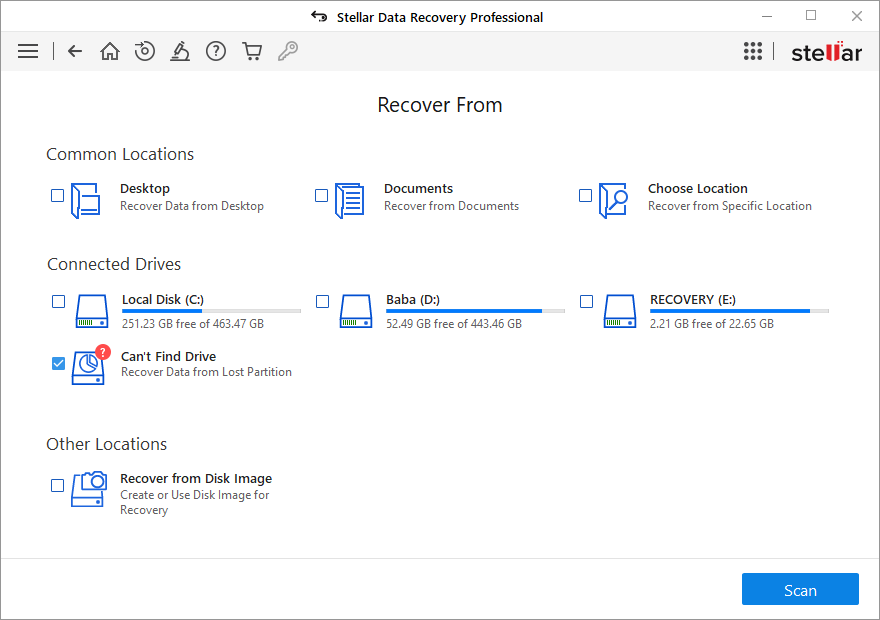 On the next screen, select your Seagate hard drive and click 'Search'. All deleted partitions will be listed under the 'Searching Partition' box.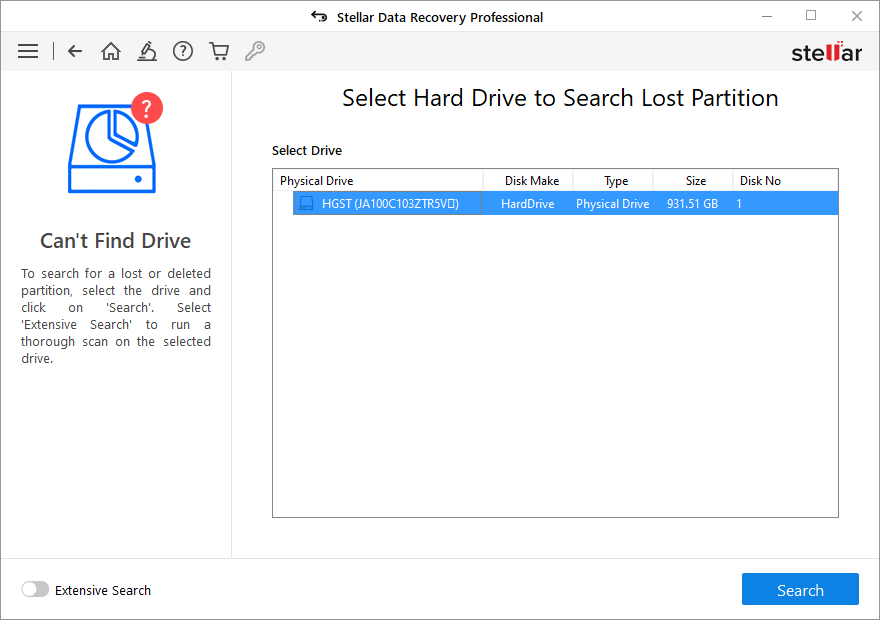 Select the hard drive partition and click 'Scan' to start scanning. If nothing is found, click on 'Click Here' link at the bottom to start 'Deep Scan.'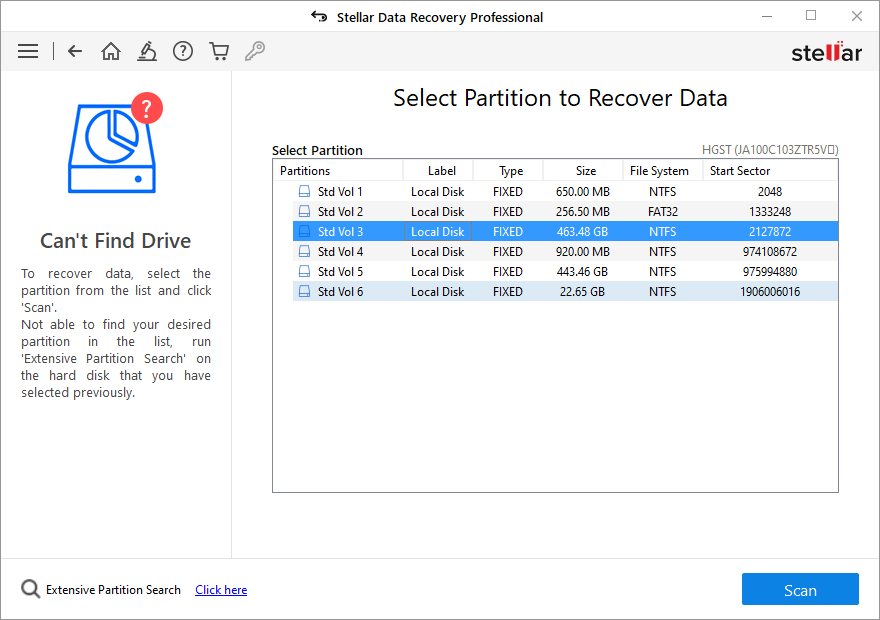 In the left Tree View pane, you can see all your recovered folders and files. Click on the 'File Type' tab to easily recover the required data. You can also click on a file to preview it before you begin recovery.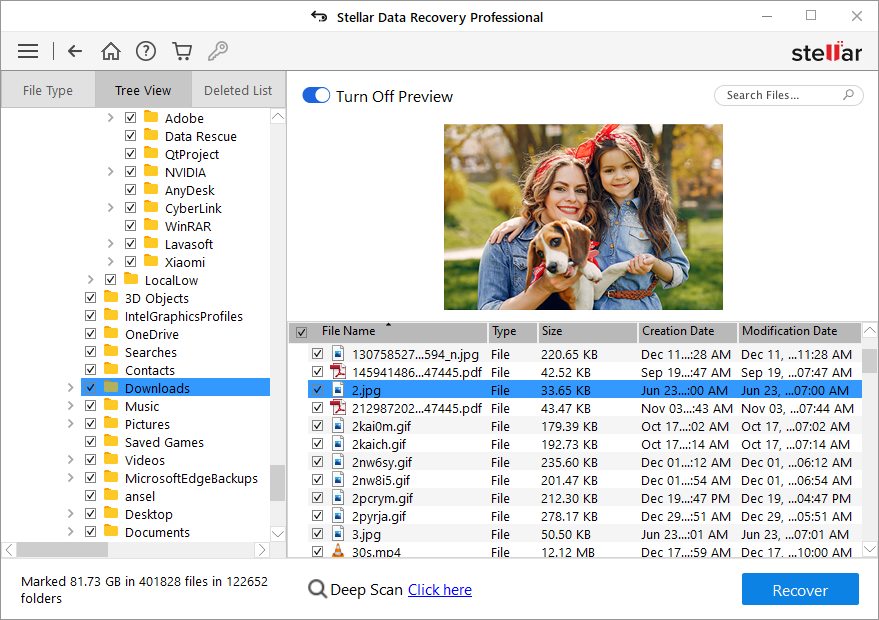 Next, check checkboxes of the files and folders you want to recover and then, click 'Recover' button.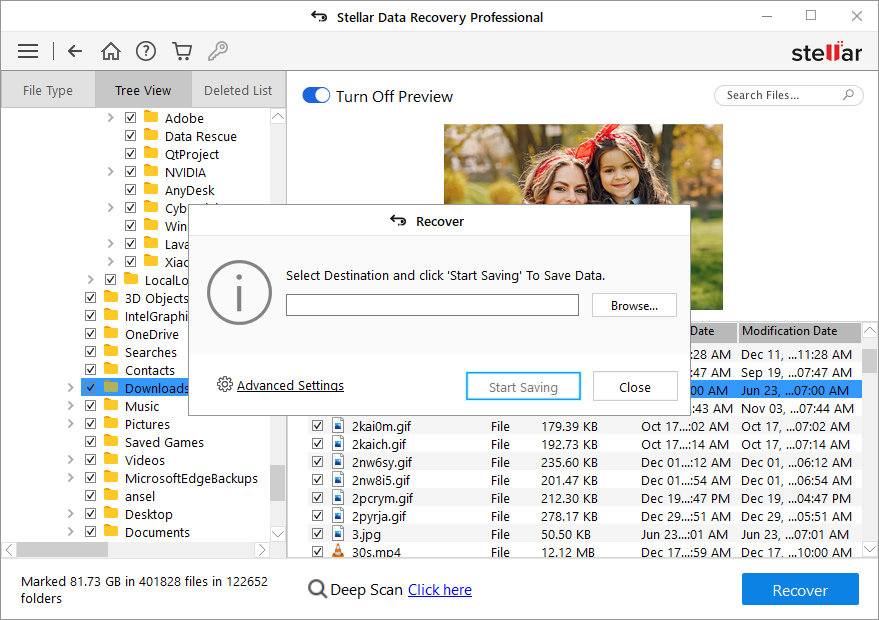 Click 'Browse' button to select the location where you want to save the recovered data. Make sure not to select the same drive. Finally, click 'Start Saving' button.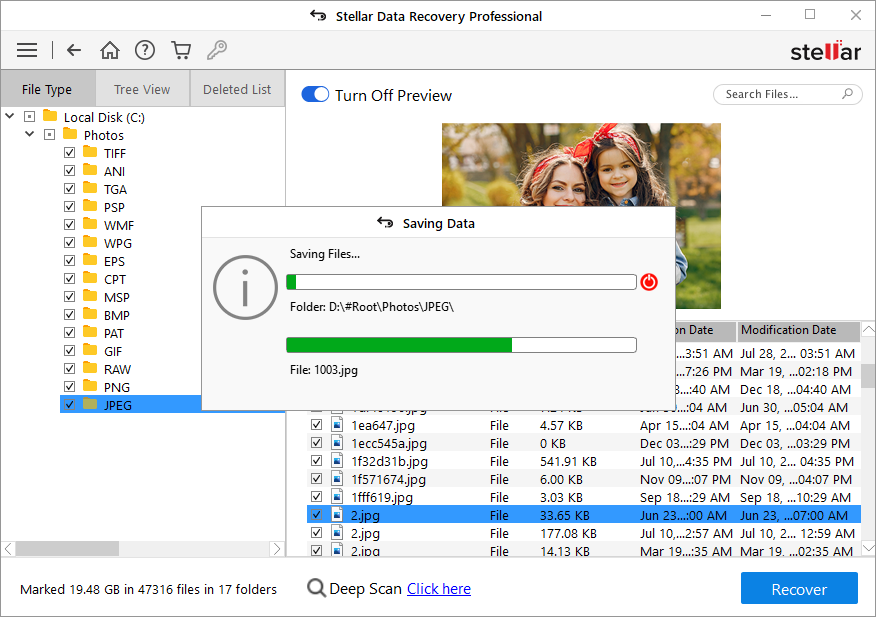 The selected recovered files and folders from the hard drive are saved at the desired location.
Conclusion
Backup, Backup, Backup! Start creating backups on either cloud or external HDD or SSD from today. A regular backup will keep your data safe and help you resume your work within a few minutes or hours after any data disaster.
However, you can always rely on a professional data recovery tool such as the Stellar Data Recovery Professional any time and from anywhere in the world to recover your lost data from any type of Windows or macOS storage media.