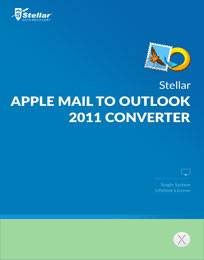 Stellar Apple Mail to Outlook 2011 Converter
Converts Apple Mail into MS Outlook for Mac 2011
Tool to convert Apple Mail files to '.RGE' file that can be imported into MS Outlook for Mac 2011.
Converts Apple Mail (.EMLX) to importable Outlook 2011 (.RGE) format
Advanced options to convert the individual folders selectively
Preview the converted emails before saving
Saves the converted .rge file at user-specified location
Preserves folders hierarchy and formatting of user's mailboxes
The Apple Mail to Outlook 2011 Converter allows moving all your Apple Mail data to Mac Outlook 2011 by safely converting Apple Mail to '.RGE' file.

Import Apple Mail to Outlook 2011
The software efficiently imports messages in the 'Inbox', 'Drafts', 'Sent', and 'Notes' folders of Apple Mail and restores them to a new '.rge' file in their original format. You can easily import the '.rge' file into Mac Outlook 2011 and access your mail data.

Search Apple Mail Files Automatically
If you have forgotten the exact location of EMLX file to be converted, you can easily search for the file in folders, subfolders by using find option. The software allows you to transfer Apple Mail to Outlook 2011 and save the converted file at a user-specified location.

Flawless Conversion of Emails along with Attachments
Stellar Apple Mail to Outlook 2011 Converter transfers your complete contents of every single mail with attachments. In Demo version, you can only preview body and subject of emails but you cannot view attachments. To view/ save all emails and attachments, you need to register the full version of the software.

Preserve Folders Hierarchy after Conversion
The software converts/migrates all messages without disturbing the original folder organization and email formatting. You can conveniently view and access your messages as before. The software doesn't put any limitations on e-mails structure in mailboxes while their mails are converted from Apple Mail to Outlook for Mac.
Option to Convert Folders Selectively
This utility facilitates you filter the folder from the scanned list to perform selective conversion. The module is useful when you don't require converting the complete Apple Mail Mailbox.

Complete Preview of Email Items
This powerful software lets you have a complete preview of all the converted email items of Apple Mail. This option is very useful for the users who want to have a quick look into the actual converted file result.

User Friendly GUI
The software is specially designed to offer a lucid interface with detailed instructions for performing the conversion. It also displays the steps required to import the converted file into MS Outlook 2011, which contributes to a good user experience.

Safe & Easy to Use Software
The tool is easy to use and best fit for every level of user. You only need to follow three simple steps Select, Convert and Save. The software automatically prompts if an update is available for the currently installed version of the application.

Compatible with Multiple Mac OS X Versions
The software is a self-service application that transfers any of Apple mail items to Outlook 2011 on Mac versions such as Mac OS Yosemite, Mavericks, Mountain Lion and Lion.
* Free Trial version shows preview of the converted mails without 'To', 'CC', & 'BCC' fields
FAQ's
Previous
Next
What are the advantages of using Stellar Apple Mail to Outlook 2011 Converter?

Answer:

Stellar Apple Mail to Outlook 2011 Converter can easily export your Apple Mail data to a '.rge' file. You can view this file by importing it into MS Outlook for Mac 2011.

Is it necessary to install MS Outlook for Mac 2011 before converting Apple Mail to '.rge' file?

Answer:

No, it is not necessary to install MS Outlook for Mac 2011 prior to converting your Apple Mail files.

Can I choose a particular Apple mail to migrate?

Answer:

No, the software can not convert selected mails. The software selects whole Apple mail .emlx file and converts it to an equivalent Mac Outlook rge file.

How long does it take to migrate my Apple mail data to Outlook 2011?

Answer:

The length of time totally depends on total number of messages, and Internet connectivity.

Does the software also convert mail attachments?

Answer:

Yes; this tool also converts email attachments and all email items as well.

What is the procedure to import converted Apple Mail file to MS Outlook for Mac 2011?

Answer:

You should follow the given steps to import '.rge' file into MS Outlook for Mac 2011:

Open MS Outlook for Mac.

Go to 'File' and click 'Import'. The 'Import' dialog box will appear on your screen.

Choose 'Entourage information from an archive or earlier version' and then click on the right arrow.

Select 'Entourage archive (.rge)' and click on the 'Right' arrow.

Select the '.rge' file you want to import and click on 'Import' button.
You May Be Interested in These Items