Microsoft Windows, not actually a single but a series of operating systems, has been the first priority of every computer user. In fact, Windows based computers are preferred even in corporate to carry out different tasks. In order to make user experience better and pleasant, Microsoft periodically releases various system updates, but we often ignore them as if they are worthless. Well, taking the discussion to an upper level lands me to the Windows platform that has been serving us for many decades, and it now is available in its most recent version, namely Windows 8.1 that is a successor to Windows 8 (released in October 2012).

Microsoft release Windows 8 to take user experience to a brand new level by introducing so many new features, including a brand new Metro Style tile-based Start screen. Unfortunately, Microsoft failed to get positive response from its users across the world. Consequently, a need for a user-friendly and better interface did arise.
Windows 8.1 looks far better than Windows 7, Vista, and XP as far as the desktop is concerned. However, the brand new Start screen will surely take an unspecified time to get used to. In case, you think it is difficult to work with this version of Windows, allow me to introduce you to some tweaks in Windows 8.1 that can make you work in a more familiar environment alike that in prior versions of Windows.
The Desktop
Unlike the prior versions, Windows 8.1 lands you up to the Start screen when you turn on your PC. Well, it looks really nice though; however, if you want it to land you up to the desktop alike all of its prior versions do, it allows you do this, no matter if you have no technical knowledge or expertise in Windows inbuilt utilities. In other words, you can skip the Start screen and land straight to the Windows 8.1 desktop.
To apply these settings, follow the steps that I have mentioned below:
On the Start screen, simply type taskbar and click 'Taskbar and Navigation' in the search result
In the 'Taskbar and Navigation' dialog, click the Navigation tab and check the 'When I sign in or close all apps on a screen, go to the desktop instead of Start.' checkbox
With the required changes done, click OK to save and apply modified settings
To verify if the changes done are applied, you can restart your PC and see where it lands you up – Start or Desktop. With the correct settings applied, it will land you straight to the desktop instead of Start.
Pin Apps to the Taskbar
You must be familiar with the taskbar on your desktop, aren't you? Well, taskbar in Windows is a bar that you can see on the lower end of your desktop screen, which displays the running apps. You must have seen some Windows inbuilt apps pinned to the taskbar that you can launch with just one click. You can pin more apps to the taskbar in simple steps in order make them easily accessible:
Right-click an app's icon in the Taskbar, which you are using while in the desktop
Choose 'Pin this program to taskbar' to pin it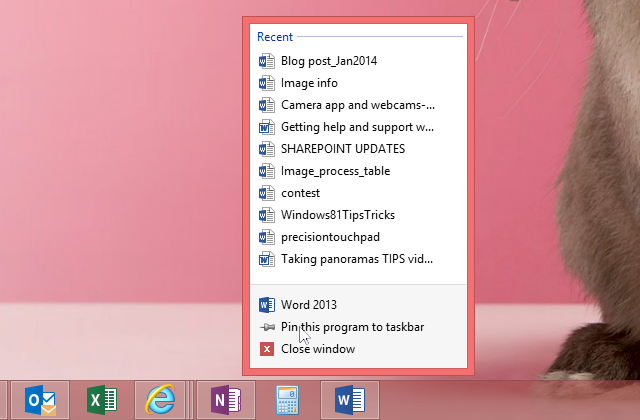 With still supporting to the desktop instead of Start, I would recommend choosing a better option to launch the apps that you use most often. For instance, if you use MS Word, PowerPoint, Paint, and your favorite web browser (e.g. Chrome), pin them to the taskbar so that they are accessible in just one click. No matter how many apps you use most frequently, you can pin them to the taskbar and create a long list of apps.
Set desktop background as that of Start
As you know, Windows 8 allows you set different backgrounds for both Start screen and desktop, and it looks so cool as well as attractive. Since the feature is provided, many users apply different backgrounds for both. However, for a smoother and easier transition between Desktop and Start Screen, I do not recommend doing this as it may slow down the overall PC performance. In order to alter these settings, follow the steps mentioned below:
On the Start screen, drag the cursor to the bottom right corner and choose Settings, and then click 'Personalization'.
On the Personalize Window, a number of images are displayed in a grid view one of which is the desktop background
Click the same image that is set as the Start screen to set it as the desktop background
Choose a picture password or pin for faster login
Alike many new features added up, the security system in Microsoft Windows 8.1 is also new. Now, you have two completely different options to set password. In prior versions of Windows, you could set an alphanumeric password. However, Windows 8.1 features settings password in a brand new way, i.e. Picture Password in addition to the classic one – the PIN.
Picture Password
Setting a picture password not only allows you sign it to your PC quickly, but it also makes your PC look more yours because you can set any picture as the password. In fact, a picture password is more secure in comparison with a typical alphanumeric password. You can set a combination of multiple objects in the picture, e.g. draw a circle around an object in the picture, a straight line of a definite length in the picture.
Mentioned below are the steps you need to follow to set a picture password to your PC running on Windows 8.1:
Move the mouse to or swipe in from the bottom right corner of the desktop and click Settings, and then choose Change PC settings
Choose Accounts, and then click/tap Sign-in options
Click/tap Add button beneath Picture password and proceed with the given instructions
Note: Click here to see a video tutorial to set Picture password on a Windows 8.1 based PC.
PIN
Windows 8.1 still has the option to create a PIN password alike a mobile phone or an ATM password. On your Windows 8.1 based PC, you can choose a combination of 4-digits to set the password in a way as discussed below:
Move the mouse to or swipe in from the bottom right corner of the desktop and click Settings, and then choose Change PC settings
Choose Accounts, and then click/tap Sign-in options
Under PIN, click Add and proceed with the given instructions
Set Internet Explorer as Default to open links
When you launch Internet Explorer 11, it opens in a full-screen, allowing you view the maximum content on the webpage opened. However, this hides the controls added to the browser. In case you want them to be visible, you can alter the default settings in the following easy steps:
Being on the desktop, launch Internet Explorer or click Internet Explorer icon on the taskbar
In Tools menu, click Internet Options, and then click the Program tab
Click 'Choose how you open links' drop down menu and select 'Always in Internet Explorer on Desktop'
Click OK to apply new settings
With the aforementioned tweaks, you can make your Windows 8.1 based PC less strange and more like the one you have been using earlier.