The day Microsoft announced Windows 8 be the successor in the series of Windows operating systems and given a product demo, consumers across the world got thrilled and had been waiting for it desperately. Well, its Tiled-based Start menu (not the Start button) was spotlighted as the major achievement of Microsoft and the same was introduced as the heart of this version of Windows.
As per the company official lain McDonald, Microsoft Windows Program Manager, over 100 million copies of Windows 8 were sold across the world, 70,000 plus apps are available in Windows store along with a download record of hundreds of millions (as reported), and a lot of feedback mails. Well, these statistics do show that Windows 8 has been successful as per Microsoft's expectations. However, the feedback messages enlightened Microsoft about the way consumers look and use the product, and the word "feedback" was turned into "criticism".
Well, Microsoft – the software giant – was not supposed to sit down and accept its defeat. Thus, it brought out Windows 8.1, a free upgrade that features a lot of renovations, including in its interface, especially with a brand new Start button that was stripped cruelly in Windows 8. As reported, Windows 8.1 upgrade is already available in Windows store for free download in both Consumer and Enterprise editions. Let us take a glance at what changes this update brings into Windows 8.
NFC Tap-to-pair Printing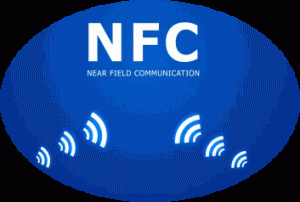 NFC is the term (acronym for Near Field Communication), which is used to refer to a set of certain standards that perform a key role in establishment of radio connections between two smartphones or like devices, by either touching them simultaneously or bringing them close to one another, for a purpose like data sharing, or Wi-Fi (in a complex way).
Windows 8.1 brings the NFC technology to establish connection between your PC and a NFC-ready Enterprise Printer. The overall connectivity is just one tap far from being established which as a result executes the print command immediately. Moreover, you do not have to locate the active printer on the network. Simply tap a Windows 8.1 device against an NFC-ready enterprise printer to start printing.
Real-time Virtual Connectivity between Laptop and Projector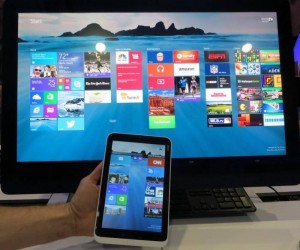 Windows 8.1 upgrade offers a real-time virtual connectivity between a Windows 8.1 device and another smart device, like a HDTV. Well, Miracast technology employed for this enables you to send live streaming videos from your Windows 8 device to another via Wi-Fi Direct, which not only reduces the number of wires connecting both the devices to another one.
Along with this, you achieve a hassle free streaming of videos without using both DisplayPort and HDMI cables. Since Miracast technology has business and educational applications as well, sharing laptop screen with a projector is no longer an issue, and with a less bothering.
Broadband Tethering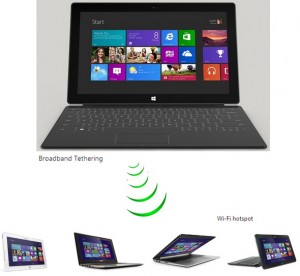 The term 'Tethering' refers to connecting one device to another, usually two mobile phones or tablets with Wi-Fi enabled. Windows 8.1 upgrade brings 'Broadband Tethering' as a brand new feature in Laptops (or PC) and Tablets that turn them into a Wi-Fi Hotspot, and then you can provide Wi-Fi connectivity to multiple Wi-Fi enabled devices. This potentially saves the cost of remote connectivity, as multiple users can share single network connectivity. However, this technology has already been introduced in smartphones, and is working perfectly fine.
Improved Biometric Utilities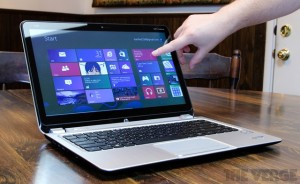 Biometric devices, such as fingerprint reader, retina scanner, and more have been introduced long back; however, fake fingerprints often fool them as if they are original ones. As per the liveliness detection test, these biometric devices check body temperature, blood pressure, pulse rate, pores, and some more traits to consider a person living and breathing.
Important: It is not like what you watch in movie that a chopped finger of someone also works.
Windows 8.1 upgrade features improved biometric features, such as scanning fingerprints for system login. The same also works for Windows' touch and swipe based features. You can now keep your data and system settings protected, as system login, user access control, and remote computer access are secure enough.
Auto-triggered VPN
VPN – Virtual Private Network – is an extended private network that is used to interconnect, let us say, multiple branches of a company situated at different locations on a large geographical area, such as a city. Thus, in case you are a professional, and have been sharing crucial information of your organization over a public network, you must switch to a VPN so as to avoid data unwanted access to your data. Besides, upgrade to Windows 8.1 lets you perform worry-free data transactions, as Windows 8.1 offers support for a number of VPN connections. When an app requires Internet access, it pops up for your permission. In this regard, you need to sign in with an authorized username and password.
Apart from this, the addition of auto-triggered VPN technique in both Windows 8.1 and Windows RT enhances their support for business purposes, as they have not been able to gain much interest from this field.
Wi-Fi Direct
Wi-Fi Direct is a service or a feature added to Windows 8.1 upgrade, which allows two Wi-Fi enabled devices to connect and share data without establishing a conventional connectivity through a Wi-Fi Hotspot or a typical Wi-Fi network.
After upgrading to Widows 8.1, users do not have to install additional drivers for printer and they can establish a peer-to-peer connectivity between their PC and a Wi-Fi Direct printer. This makes documents printing much easy and hassle free, as it eliminates the need for connecting wires.
Highly Secure Enterprise Access
When it comes to business, the operating system as well as the communication channel must be secured enough to avoid external hazards that cause adverse effects. In this regard, Windows 8.1 upgrade ensures you for overall security, especially in Enterprise edition. For this, it has inbuilt Windows Defender antivirus to supervise and impede malware infections. Besides, Internet Explorer (generally called as IE) implements Windows 8.1's inbuilt anti-malware security mechanisms to have a check on binary extensions, viz. ActiveX. The additional security feature added to this Windows upgrade is inherited from both Windows Phone 8 and Windows RT. On the other hand, both Pro and Enterprise users can use BitLocker to keep their data secure.
Assigned Access
Assigned Access is the brand new feature added to Windows 8.1 upgrade, which facilitates running your computer or tablet with single Windows Store application installed. This feature is one of the most desired ones, especially for schools and for the parents who do not want their children to access everything that a computer is capable to play. For instance, they can bind their children to use installed application only. Moreover, this technique is very much useful at exam centers to forbid the Internet access during exams.