Summary: Coronavirus has bitterly impacted photographers and the industry as a whole. The photography community is affected both socially and economically. This post shares the overall plight of the photography industry after the virus outbreak. It also shares what photographers can do to overcome the effects of COVID-19.
Coronavirus has already hugely impacted the photography industry. Weddings, parties, advertising campaigns, travel, etc., all avenues that used to drive the photography business are now considered a threat to health and human life. Since the pandemic, people have started avoiding any kind of gatherings and are maintaining social distancing. Large scale events such as the
Tokyo Olympics, Wimbledon, Mobile World Congress
, and others that could have boosted the photography business are canceled. According to a survey for
petapixel.com
conducted by Christopher James Hall, a professional photographer, customers withdrew 90% of photography bookings during April and May 2020. Even camera sales have seen a sharp decline during this period. Brands like Canon and Nikon have postponed their new product launches. The overall recession due to COVID-19 has forced people to delay investment in cameras or paid photography. This means a big jolt to the photographers and other professionals associated with the photography domain.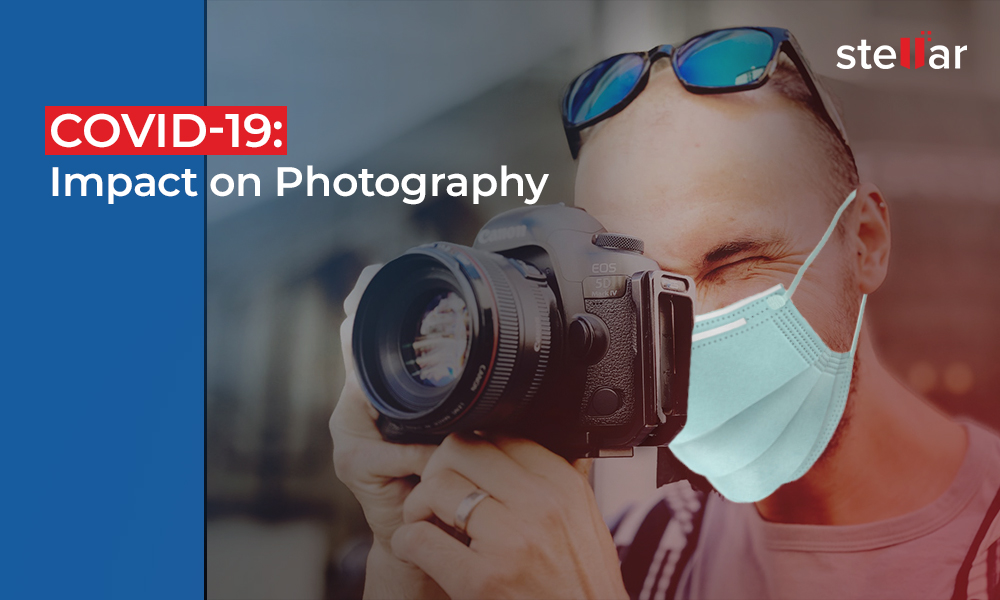 How Coronavirus affected photographers?
The shut down due to COVID-19 has severely affected the photography industry. Not only photographers but people associated with the industry are equally affected. Video editors, camera persons, technicians, gaffers, production designers, makeup artists, stylists, etc., are suddenly left out of jobs or with less work. Bookings cancellations and no new assignments even, in the near future have raised fear for livelihood for many around the world. Photography agencies and corporate clients may not hire photographers or prefer services at lower pay. Many photography studios have shut down due to a lack of work. Events and wedding photographers are directly feeling the heat due to a large number of cancellations.
Indrannil Bhaduri,
a professional outdoor photographer shares, '
Due to ongoing Coronavirus pandemic, a lot of wedding and event photographers have lost their business in my city.
' He adds, 'COVID has also brought the travel industry to a standstill given the sudden halt in nature and outdoor photography.' Other domains impacted due to COVID-19 are family photography, newborn photography, sports photography, etc. Although big photography agencies, stock photographers, and photojournalists, could survive, there are freelancers, mid-level photographers, and beginners in the industry who are having a tough time.
A Double Whammy 
Photographers suffer a two-fold blow or a double whammy from the Coronavirus – financial chaos, plus creative setback. Less or no work, slow or no payments to layoffs, have turned the situation bleaker. Photography is more about engaging with the subject, nature, people, and articles. Photographers have to move out, meet, and collaborate with people to do their job but the pandemic has limited this movement and social contact.
How photographers can cope up during the Coronavirus pandemic?
After COVID outbreak, business is not as usual, but it has to go on. The economy is opening slowly around the world amid the rise in the number of COVID-19 cases. So, you have to resume your profession but with caution. It's important to keep yourself and others safe from the virus while you get back to photography.
Jim Slusher
, Deputy Managing Editor, Daily Herald, writes in his editorial, '
Coronavirus has affected photography in two ways – how we take pictures and videos and how we publish them. Photo journalists though, can partially work from home by processing and submitting their work electronically. But to chronicle most events and people, they have to be there in person, which requires wearing masks for every assignment, keeping conditions and equipment clean and maintaining 6 feet of distance from their subjects.
' It's visible that the pandemic has taught us to work differently by taking extra measures. So we must make constructive use of this period.
Here's what photographers can do during Corona pandemic
Work on your online portfolio
When was the last time you opened your portfolio or improvised it? There could be no better time than now. Build a photography portfolio that shows your skills and the best work you did. Showcase your style and unique attributes as a photographer.
Increase social media engagement
You have enough time to focus and build your social media pages, which you ignored earlier. Increase activity and engagement on Instagram, Facebook, Twitter, and others. Share your work, photography tips, experiences, join photo communities, and so on. Basically, you need to increase your network and advertise your work to the world. You can also set up Facebook and Instagram Ads for your photography services for weddings, events, fashion & lifestyle, etc.
Learn new photography skills
It's the best time to take your photography, videography, and video editing skills to the next level. Learn the best ways to feature people, product, nature, cities, wildlife, etc. Several photography courses for beginners and advanced photographers are available online. You can find both free and paid courses on camera tricks, lens usage, camera settings, storytelling, vlogging, portrait photography, architectural photography, and more. You can also learn online marketing strategies for your photography business.
Explore creative ideas
Use your craft to show life during the pandemic. Explore new ideas, capture various aspects of the pandemic situation. You can create a digital archive to share with stock agencies or potential clients. COVID-19 lockdown has also given rise to indoor photography. You can use the resources at home to showcase your creativity, style, and art.
Get back to work, but stay safe too
Photography is one of the most engaging and connecting experience. But while maintaining social distancing is the key to fight the Coronavirus, safety is the first thing to take care of whenever you plan a photo shoot, whether solo or with a team.
Must follow Photography Safety Tips during COVID-19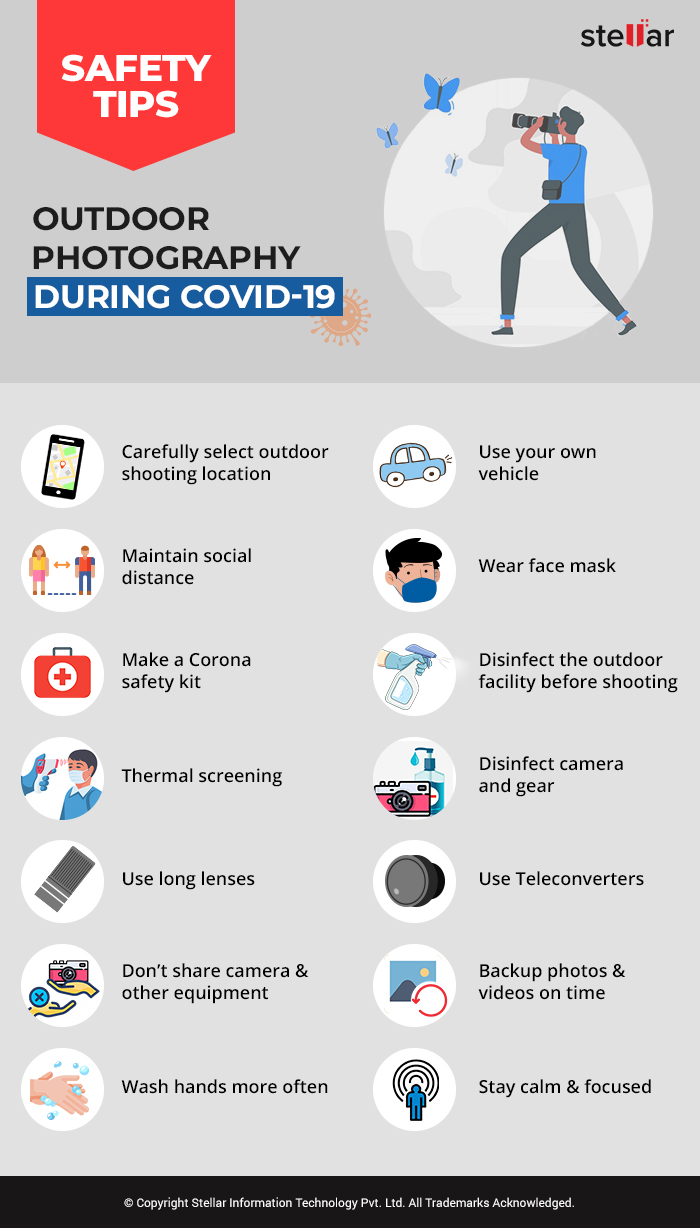 Read More:
Safety Tips for Outdoor Photography During COVID-19
Plan to match clients' expectations in COVID-19
Super Important. There's a profound impact on digital photography due to the Coronavirus. Clients are eager to know how you take photos and videos while adhering to the safety norms. Create a COVID-19 photography safety plan. Try to set the services in accordance to your clients' changed expectations because of the pandemic.
Plan photo shoots well in advance
A well-planned photo shoot during COVID-19 ensures everyone's safety. Keep few things in mind such as social distancing, wearing a mask, disinfecting camera and equipment, sanitizing the studio/ outdoor shooting facility, washing hands regularly, and not sharing your camera or gear with others. It's important that you regularly back up camera files to avoid sudden catastrophic photos and video loss. It's wise to keep a photo and video recovery software –
Stellar Photo Recovery
, handy on your PC or Mac in an unfortunate loss situation.
Use long lens
The best way to draw your subjects closer in a photo is to use zoom or long lens. It's a simple photography trick that works efficiently while being safe during this pandemic. Prefer telephoto lens or teleconverters. These allow you to stand up to 30 feet away from the subject.
Don't upgrade technology for now
Photographers have this tendency to give in to the latest technology in the market. Be more vigilant in your spending. There will be new camera and gear launches and an urge to upgrade, but this is not the right time to invest.
Conclusion
COVID-19 impact on the photography industry is intense. But this is also true that the repercussions won't remain forever. It's important to turn the adversity into your favor. Extraordinary times like COVID -19 requires extraordinary measures. Utilize this period to enhance skills, use social media platforms to reach out to potential clients, create photography services that meet the safety norms of COVID. Finally, stay calm and positive to bring your creative best. Best of luck!