Are you thinking of an outdoor photo and video shoot? But feeling skeptical due to COVID-19?
Outdoor photography and shooting seem to be a distant dream, given the current pandemic situation. For photographers and filmmakers, this lockdown has become a nightmare. You are restricted from moving out, let alone traveling for shoots. Filming nature, landscape, city, people, pre-wedding shoots, etc., mean exposing yourself to the virus. No wonder, many photographers and their clients have decided to cancel their shoots altogether.
But as a photographer, not going out and resuming your shoots can take a toll on your profession. Moreover, with so much uncertainty, it's difficult to gauge how long the virus will continue to impact everyone adversely. So you must keep yourself safe from this infectious virus, but can begin the outdoor shoots at the same time without compromising on your well-being.
Must follow Outdoor Photography Safety Tips during COVID-19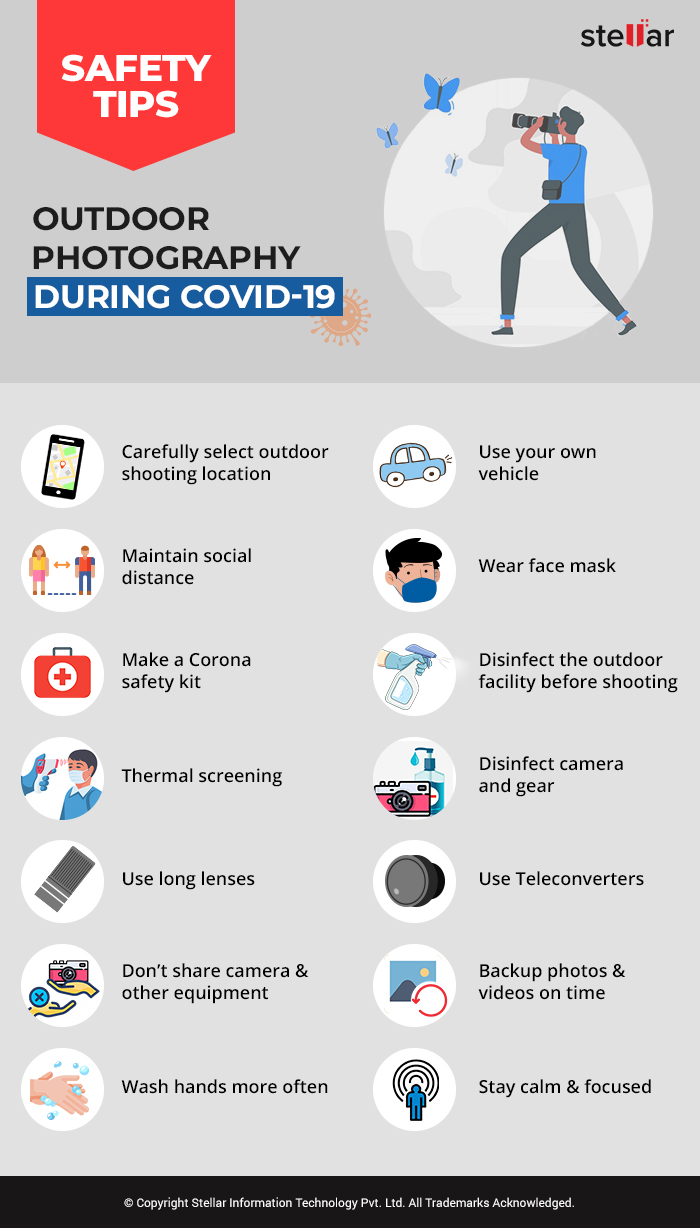 Outdoor photography during COVID-19 can be fun and safe too, as always. Simply follow the government guidelines and some necessary safety measures when planning an outdoor photography or filmmaking event. It won't be a hassle when you are well prepared in advance.
Tip 1: Carefully select outdoor shooting location
Ensure that the outdoor shoot location has plenty of space. It should have minimum public intervention and no crowd. You can secure a location with no unauthorized entry with the authorities' permission.
Also, check if the location falls under a containment zone and if there are any active Coronavirus cases nearby.
Tip 2: Use your own vehicle
Consider a personal vehicle when traveling to outdoor locations. Using a bicycle, bike, or car is viable. Avoid pool rides. If traveling with a crew, maintain appropriate distance with each other in the van or bus.
Tip 3: Maintain social distancing
Social distancing is the key to protect yourselves from the virus during outdoor shoots. Whenever possible, bypass face-to-face meetings with stakeholders during location scouting. Opt for video calls and virtual location tours to avoid coming in close contact with people.
Make sure you stay at least 6 feet or 2 meters away from the people around you. If required, create floor markings on the location.
Tip 4: Wear a face mask
Mask is the most important safety measure when going for outdoor photography in the Corona outbreak. Make sure you and your crew are using the tripe layer masks recommended by WHO.
Tip 5: Make a Corona safety kit
Figure: Corona safety kit for outdoor shoot
A handy Corona safety kit ensures your safety on the go. Carry a zip lock bag with hand sanitizer, extra face masks, disposable gloves, disinfectant wipes, liquid hand wash, and tissues while traveling for photography.
Tip 6: Disinfect the outdoor facility before shooting
Whichever location you choose, get it disinfected multiple times, especially before using the premises. Disinfect the frequently touched surfaces, such as chairs, tables, counters, stairs railings, doors handles, etc.
Tip 7: Thermal screening
If you are working with a staff or a production house, ensure thermal screening of all the members daily. Also, record for COVID symptoms in your team. If you find any similar symptoms, immediately send the person to isolation and contact the nearby COVID center.
Tip 8: Disinfect your camera and gear
Your camera and its gear are the most touched personal equipment when doing outdoor photography. Before and after every outdoor shoot, clean the camera, lenses, camera rubber, tripod, light stands, or other equipment. You can use soap and water, isopropyl alcohol, or disinfecting wipes. You can also use a negative ion machine to clean camera gear.
Once disinfected, leave your camera and other equipment for about two days before using it again.
Tip 9: Use long lens
Shoot from a distance when capturing people and articles in your camera. The best way is to use long lenses. You can zoom them to bring the subject closer to you. There are lenses available that can move up to 300 mm. Your DSLR lens kit may also have lenses that can extend out to 300 mm. They are great for shooting animals, sky, or buildings, etc. Some popular ones are Nikon AF-S NIKKOR 300mm f/4D IF-ED lens, Sigma 70-300mm F/4-5.6 DG Macro Telephoto Zoom Lens, Canon EF 100-400mm f/4.5-5.6L IS II USM lens, Tamron A011N SP 150-600mm F/5-6.3 Di VC USD Telephoto Zoom Lens and others.
Tip 10: Use Teleconverters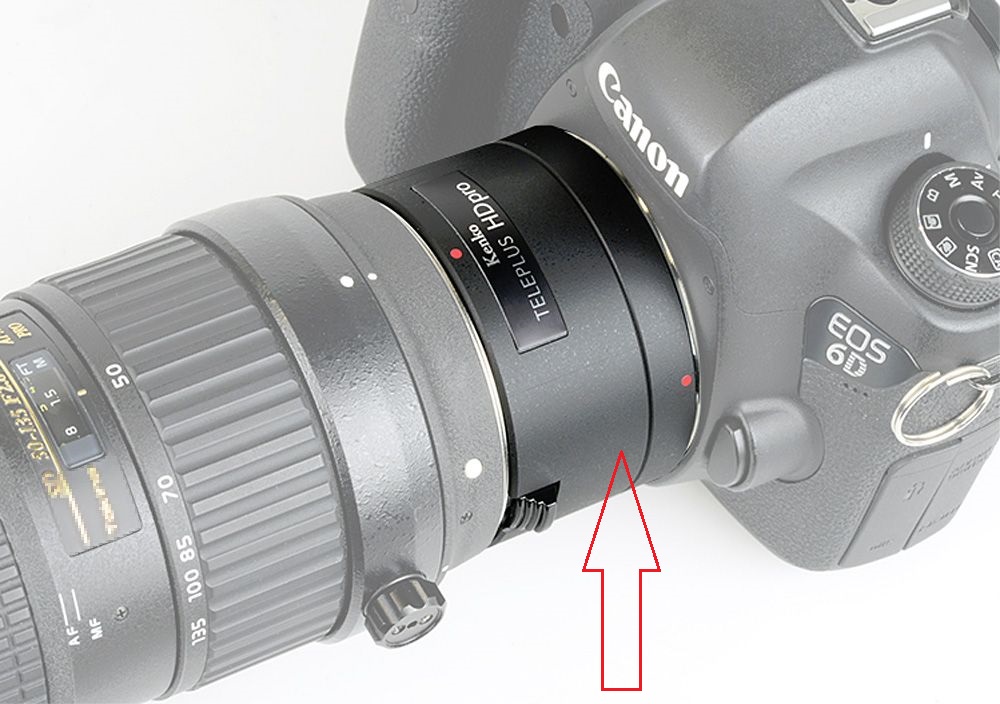 Figure: Teleconverter attached with camera

If you don't have a long lens and neither you want to invest in one, use a teleconverter — a magnifying lens that you can mount between the camera and lens. It gives an extended reach to the camera lens and helps to increase the focal length. This way objects appear closer than they actually are. Teleconverters are commonly used in wildlife photography.
Although teleconverters reduce exposure of your image and cause a bit quality loss, it's good to use them to maintain distance from the object or person you are filming.
Tip 11: Don't share your camera and other equipment
Videography can be extremely collaborative, especially when working with a team. But now after the Corona outbreak, restrain yourself from any kind exchange or sharing of camera or other equipment. The virus can live for a long duration on a surface, infecting whoever gets in touch with that person or object.
Tip 12: Backup photos and videos on time
It would be scary to lose a well-planned outdoor shoot's photos and videos, especially those done so guardedly. You cannot afford to waste such hard work due to technical glitches, accidental deletion, formatting etc. So take a timely backup of the camera SD cards. Transfer all the files to your computer carefully.
If, unfortunately, you lose any photo or video due to deletion or corruption, seek the help of Stellar Photo Recovery Premium software. Without physically sharing your SD card or hard drive to a data recovery center, you can recover the deleted photos, videos, and audio files. The software also repairs corrupt, distorted, and damaged photos and videos. Simply download the software on your Mac or Windows PC, and you are good to go.
Tip 13: Wash your hands more often
It's impossible that you won't touch any surfaces at all during an outdoor shoot. As the Coronavirus easily spreads through infected surfaces, it's better to wash hands regularly for at least 30-40 seconds. Some professionals are even carrying portable washbasins for their crew members during outdoor shoots.
Finally,
Precautions during outdoor shoots in the Coronavirus pandemic are of utmost importance. During such unprecedented times, it's all the more important to stay safe, calm, and focused. Bring out newer ways to outdo the limitations posed by the risk of getting infected, and return to your productive self.
Outdoor shoots during Coronavirus can also be fun if you take the shooting safety tips as seriously as possible. Remember, this is the new normal that you have to accept to keep yourself and your family safe during this tough time.