Hard Drive Recovery: Recover Lost or Deleted Data from Dell Laptop
The blog highlights the various data loss instances faced with Dell laptops. These include loss of data while re partitioning the hard drive, OS crash, software failure, hardware malfunctioning, and other human errors. We also suggest a data recovery solution to help you recover the lost data on Dell laptops.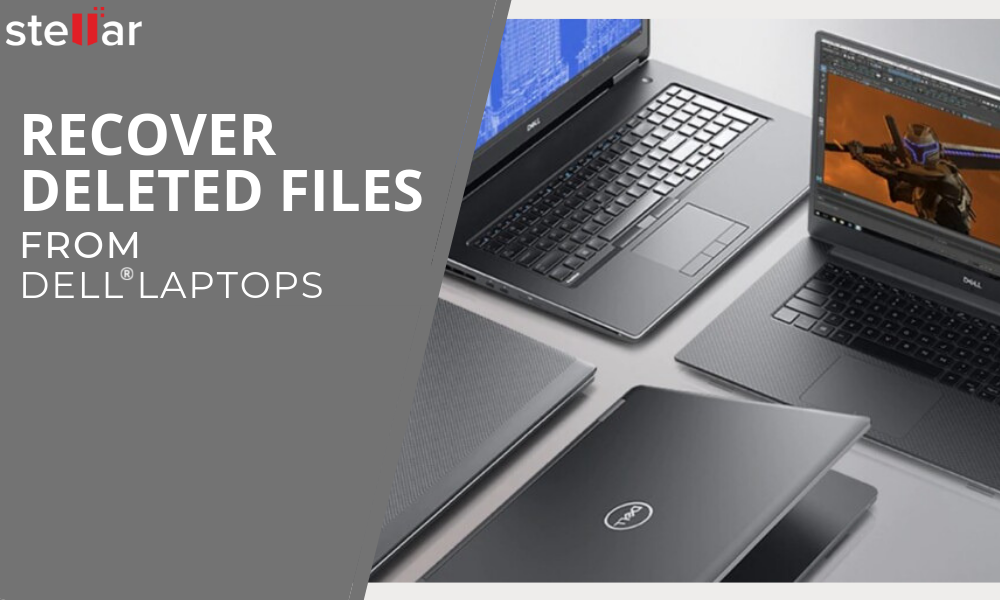 Hard drive partitioning is needed to store data in a more organized manner. The task seems straightforward, but it must be done carefully; any mistake can lead to a data loss situation.
Data loss due to accidental deletion or formatting, malware infection, improper system use, system crash, etc. is common and might require manual efforts. A data recovery software helps you recover the data in a quick, convenient, and effective way.
Software such as Stellar Data Recovery Professional come handy when backups are unavailable or obsolete. However, there are a few factors with definitive impact on the success rate of data recovery software.
Factors Affecting Data Recovery from Dell Laptop
Continued use of the affected system or storage drive.
Hit-and-trial attempts for data recovery and partition repair.
Reinstating deleted partition with Disk Management or third party tool.
Disk Fragmentation.
Corruption level (is it normal or severe).
Bad Sectors on the hard drive.
Suggested Read: 6 Worst Reasons for Hard Disk Failure and Data Recovery Solutions
Steps to Recover Lost and Deleted Files
Step 1: Run Stellar Data Recovery Professional for Windows

Step 2: Select 'All Data' or specific file types from the listed options and click 'Next.'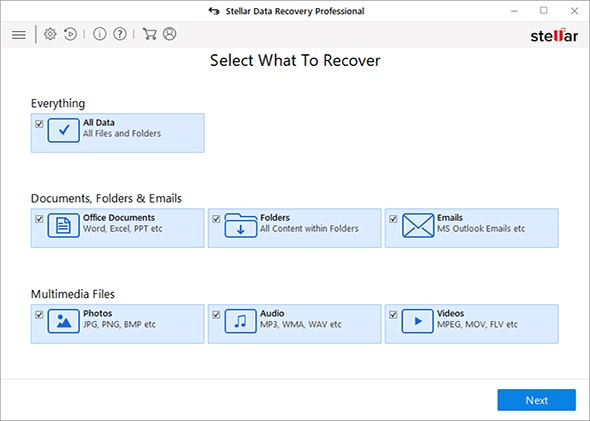 Step 3: Select the Dell laptop drive volume under 'Connected Drives' and turn on the 'Deep Scan' toggle switch at the bottom left.
Alternatively, you can select a specific folder from Common Locations such as Desktop, Documents or any other folder on a volume.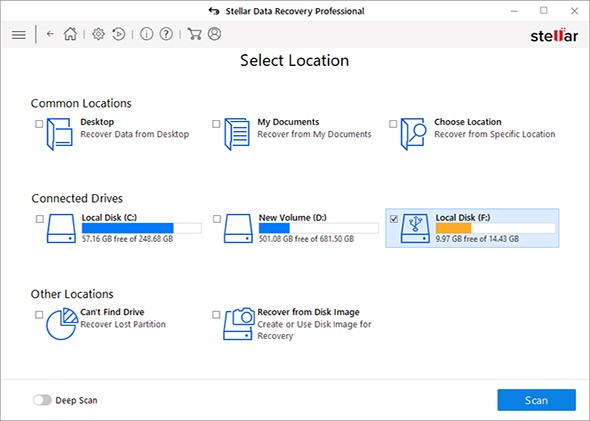 Step 4: Click 'Scan' and wait for it to finish.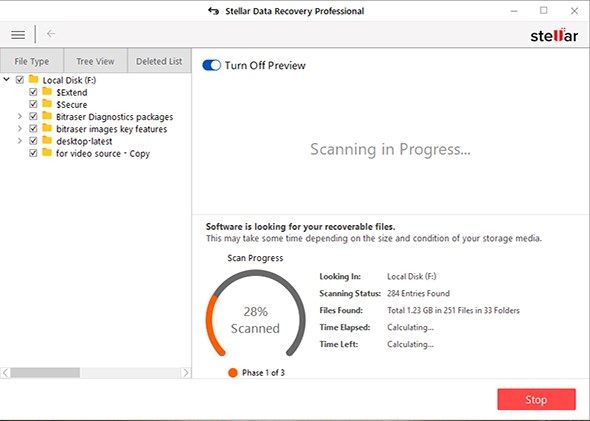 Step 5: After the scan, click on a file to see its preview.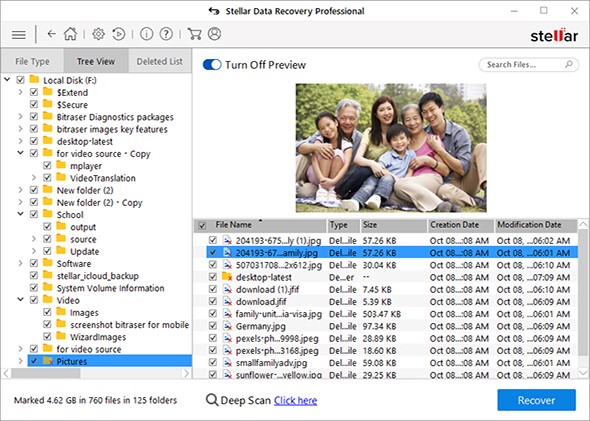 Step 6: Then choose the files you wish to recover and click the 'Recover' button.
Step 7: Click 'Browse' and select a save location on an external drive volume. Do not select Dell laptop drive volume or partition as save location.
Step 8: Click 'Start Saving'.
A Few Tips to Prevent Data Loss From Dell Laptops
Copy important files to an external disk or cloud storage. Data backup will help prevent common data loss situations.
Keep the Dell laptop drive optimized with the help of Windows inbuilt Defragmentation tool.
Run scheduled CHKDSK scans.
Run SFC scans to check system file integrity. Corrupt or damaged system files cause system crash, leading to drive corruption and data loss.
Use Dell SupportAssist (formerly Dell System Detect) to run scheduled system diagnostics, auto-update device drivers, and better system support.
Keep a check on the hard drive or SSD SMART information. Use tool like Drive Monitor (available with Professional version of Stellar Data Recovery software) or CrystalDiskInfo.
Regularly install OS and software Updates as they arrive.
Never install Beta version software or OS.
Monitor system temperature and keep it cool. Use laptop cooler, if necessary.
Install and update the Antivirus or Malware protection app.
The Bottom Line
Dell laptops are sturdy devices, loaded with high-quality hardware components such as RAM, hard drive, etc. They also come with many utilities such as DellAssist that makes working on the laptop safe and secure.
Modern Windows 10 laptops also have One Drive folder that looks just like any other folder on your OS. But the data you put in the One Drive folder syncs with the One Drive cloud storage automatically. This creates a copy of your data and safeguards against data loss.
However, only a few Dell users use the backup feature or even know about it. Thus, you need a data recovery software when the data is lost. Stellar Data recovery Professional is one of the best software to recover data from Dell Laptop hard drives. It's compatible with all kinds of storage media such as hard drives, SSDs and other flash drives.
The software recovers deleted or formatted data and files from severely corrupt drive volumes and lost partitions in just a few clicks. The software is also equipped with Drive Monitor tool that monitors your laptop hard drive and provides real-time protection from data loss due to drive errors.