Erase Confidential Word Document Permanently from Storage Device
Whether you are selling your laptop or storage drive, donating it to a church or charity, gifting it to your friends or family member, it's important that you wipe your drive to ensure that your sensitive data in it is prevented from getting leaked. Your storage drive most probably contains your personal data such as family photos, browsing history, chat messages, videos and confidential word document related to your work or business. So if you think that simply deleting files or formatting drive can help you protect your data, well, beware, this is not true!
Deleted files and data from a formatted drive can be easily recovered with the help of a basic data recovery software. Therefore, to ensure complete data sanitization, you need to wipe the drive with the help of a reliable data erasure algorithm such as DOD 5220.22-M or NATO that makes data recovery impossible.
Erase Private Document Permanently from Hard Drive
You can use SDelete, a free command-line based secure-delete utility from Microsoft, or other third party data eraser tools that support DOD 5220.22-M data erasure standard or better. However, most tools that are available online are unreliable, have compatibility issues with the system (rarely updated), and some don't work as intended or involve a complex process that isn't practical for most users such as 'DBAN'.
Therefore, use an easy to use, reliable, data erasure tool such as BitRaser for File which is a comprehensive data destruction software that comes from a trusted source – Stellar Data Recovery. They know how data can be recovered and have provided data recovery solutions and services to over 2 million users worldwide since 1993. Therefore, when Stellar says data is gone, it's gone for good.
Using Bitraser for File to destroy Confidential Word Document
The BitRaser for File is a revolutionary tool that is equipped with 17 international data erasure algorithms to destroy data from storage devices. The tool is completely safe & secure to use and can be used by any person even who is not much familiar with the computers.
Here are the steps you can follow to erase confidential Word file permanently beyond the scope of recovery
Download, install and run the BitRaser for File program on PC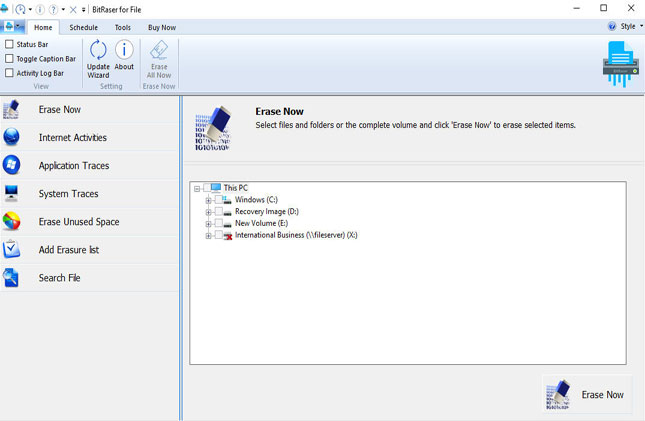 Click 'Tools' and choose the desired 'Erasure Algorithm' & 'Verification' method from the respective drop-downs and click 'Apply'
Click 'Home' and then click 'Erase Now'
In the right panel, expand the drive and locate the folders where your confidential word files are located. If files are in an external drive, click to select it from the listed volumes
Click 'Erase Now' button at the bottom-right in the software window
Please Note: Don't select drive if it contains other required data too as it wipes entire volume. Expand the drive and choose the folder or directory where confidential files are located. In case you are not able to find the documents, use the Search File option to find and erase confidential documents.
After erasure, it asks you to reboot the system. Click 'NO'. Close the program
At this stage, you have successfully destroyed your confidential word documents from your storage drive.
Conclusion
There are several tools available online that can help you erase your confidential data. However, most of them come from untrusted sources and thus, are unreliable. Therefore, relying on such software tools to destroy your confidential word documents or any other file format isn't a wise decision. Use a trusted and reliable data erasure tool such as BitRaser for File, which is safe to use and is equipped with 17 International erasure standards that ensure your confidential documents can't be recovered using any data recovery tool or services including data forensics.
To back this, the tool generates a certificate of erasure also that guarantees data is sanitized. Being a product of Stellar Data Recovery, this tool indeed destroys data beyond recovery.
Was this helpful?