How to Export Mac Outlook 2011 to Outlook PST?
Summary: Outlook for Mac does not export PST file. Instead, it exports mailbox items in OLM file format, which is not supported by Outlook for Windows or Office 365. Hence, to export data from Mac Outlook 2011 to PST, you need an OLM to PST converter software or follow the workaround discussed in this post.

One of the most favorable aspects of Microsoft Outlook is its compatibility with different operating systems, such as macOS and Windows. Outlook for Mac works just as fine as Outlook for Windows.
However, problems may arise when exporting mailbox items such as emails, contacts, notes, calendar, etc. from Outlook for Mac to Outlook PST. Outlook for Mac uses OLM file format to save and export mailbox data. It does not support Outlook PST format. Thus, to export Mac Outlook mail items to PST, a conversion between OLM to PST formats is needed.
Quick Solution: Use Stellar Converter for OLM to easily export data from Mac Outlook (OLM) file to PST in a few simple steps. The software helps convert an OLM file to PST file format maintaining the original folder hierarchy.
However, in this guide, we have discussed some manual methods and workarounds that you can use to export Outlook Mac 2011 to Outlook PST format
Methods to Export Mac Outlook 2011 to PST
Method 1: Sync Outlook Mac Data from Exchange Server
This method requires Outlook to be installed on Mac and Windows system. Also, it works if your Mac Outlook data is in sync with the mailbox on Exchange server. The steps are as follows,
Sign in to Outlook for Windows using the same user account credentials
Once signed in, Outlook Windows will sync and store mailbox data from Exchange server to local storage
After mailbox is synced, go to File> Open & Export> Import/Export
Choose Export to a file and click 'Next'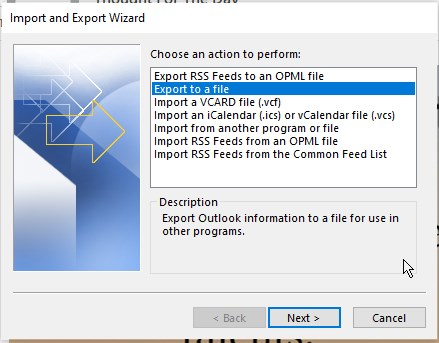 5.Next, select Outlook data file (.pst) and then choose the mailbox items that you want to export to Outlook PST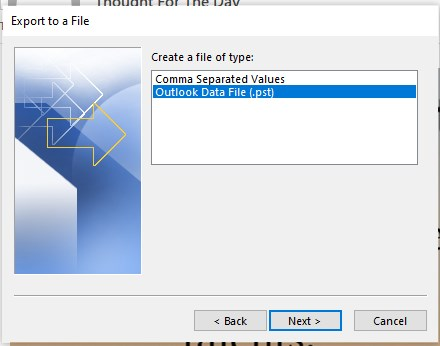 6. Click 'Include Subfolders' and click 'Next'
7. Choose a save location for PST file and click 'Finish'. You may enter a password or click 'OK' to export PST file
NOTE: If you don't have access to Outlook on Windows or mailbox is removed from the Exchange Server, this won't work.
Method 2: Use Gmail Account
You can use this method when Exchange is not connected to your Outlook Mac 2011 or if the account is deleted from the Exchange server.
Step 1: Enable IMAP Access in Gmail
Open web browser, go to Gmail.com and sign in to your Gmail account
Open 'Settings' and click on 'Forwarding and POP/IMAP'
Then 'Enable IMAP' access and 'Save Changes'

Step 2: Add Gmail Account to Mac Outlook
Open Outlook on your Mac and go to Outlook> Preferences
Open 'Accounts' and then click '+' icon
Choose 'New Account…', enter your Gmail ID, and click 'Continue'. This will open a web page on your web browser, sign in using the same Gmail ID and click 'Allow'
Then click 'Open Microsoft Outlook'

After a successful sign-in, right-click on the Gmail ID and choose 'New folder'. Name it 'Outlook Mac'
Now right-click on the email folder in your Outlook Exchange account, such as Inbox and choose 'Copy Folder…'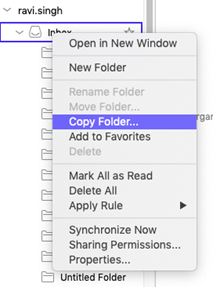 Enter 'Outlook Mac' in search and select the folder. Click 'Copy'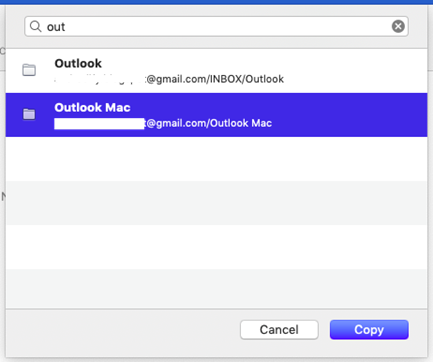 After copy task is finished, wait for Gmail server to sync all the copied email items. Once the sync is finished, go to your Windows Outlook and sign in using the same Gmail ID
Step 3: Export Outlook Mac Data to PST File
Now you can use the Outlook Import/Export wizard to export Gmail folder Outlook Mac data to PST file.
IMPORTANT NOTES:
This export process may take several hours or days, based on your internet connection.
You cannot copy mail items more than 15 GB (free Gmail space limit). If items are more than 15 GB, you will have to execute this entire process in stages.
The folder tree structure will be lost.
There are chances of missing emails and attachments.
Gmail limits attachments. Thus, you will have to download attachments manually from all emails, which is a challenging task.
Copied data may be inconsistence and not in the original format.

An Easier Way to Export Mac Outlook 2011 to PST
If you wish to avoid all the hassles, excruciating efforts and errors, download, install and use an OLM to PST converter software such as Stellar Converter for OLM.
The software doesn't require Exchange or internet connection. All you need to do is export an OLM file from your Mac Outlook 2011 and use this software in a Windows PC to export the OLM file to Outlook PST format.
The software maintains folder structure and data consistency. Also, it exports all mailbox items including attachments to PST file. Further, you can also export the mail items directly from OLM file to Office 365 and other formats such as PDF, HTML, & RTF (requires Technician version).