Summary: Voice recorders are convenient portable devices that are popular among students, musicians, podcasters, journalists, lawyers, and other professionals. There's so much you can do on the go with your audio recorder such as record lectures, meetings, interviews, songs, podcasts, etc.Sometimes, it happens that you lose your important audio recordings due to accidental deletion, formatting of storage card, or loss during the transfer from voice recorder device to computer, etc. This post shares some of the best and easiest ways to recover lost or deleted audio recordings from a voice recorder.
An efficient way to recover deleted audio recordings is by using a voice recording recovery software. Choose a software that can restore any type of audio file, be it MP3, RPS, MIDI, OGG, AU, WAV, M4R, RM, WMA, M4P, or M4A, etc.
However, before using audio recovery software, look for your deleted files in Recycle Bin and backup folders.
If you are stuck in a situation in which the SD card of your voice recorder is not detected by the computer or the audio recordings are inaccessible, either reinstall the driver or run Chkdsk command on your Windows PC.
Methods to Recover Deleted Audio Files
Restore deleted voice recordings from Recycle Bin
Restore voice recordings from Backup
Recover by using voice recorder recovery software
Reinstall driver
Perform Chkdsk
You can use these methods to recover:
Audio files from any brand or model of voice recorders such as Sony UX series, Olympus DS, TASCAM, and others
Deleted or lost voicemail messages saved in any audio file format
Lost/deleted music, podcasts, and call recordings from memory cards, SD cards, USB drive, or computer
Voice messages and call recordings from Android phones or iPhone using voice recorder applications
Method 1: Restore Deleted Voice Recordings from Recycle Bin
Unless you have not used Shift + Delete on your PC to permanently erase the audio files, look for your audio recordings in Recycle Bin. On Windows PC, go to Recycle Bin. Find your audio file and right-click on it, then select Restore.
If you use Mac, click on Trash in the Dock. Find your voice recording, select it and next choose File followed by Put Back. The audio recordings will be restored to their original location on your computer.
Method 2: Restore Voice Recordings from Backup
Do you take a backup of your voice recorder files on your computer or other storage media? If yes, retrieve the audio recordings from the backup drive.
Method 3: Recover by Using Voice Recorder Recovery Software
Stellar Photo Recovery is a voice recorder recovery software that restores deleted or missing audio recordings from the computer, SD card, memory card, and other storage media.
The software supports audio file formats of all the popular brands of voice recorders including Sony, Olympus, Samsung, Phillips, and others. The easy-to-use audio recovery software is fast and can recover all your audio recording files along with their original name, date, and timestamp.
You can recover hundreds of audio files in any format, be it MP3, WMV, OGG, MP3, RPS, AU, WAV, M4A, OGG, WMA, M4P, ACD, IFF or M4R, etc.
The voice recorder recovery software works in most lost cases such as accidental deletion, formatting, virus infection, etc.
In Steps: How to recover deleted voice recordings
Download the trial* version of Stellar Photo Recovery on your computer
Select the drive or media from which you want to recover audio files. Click Scan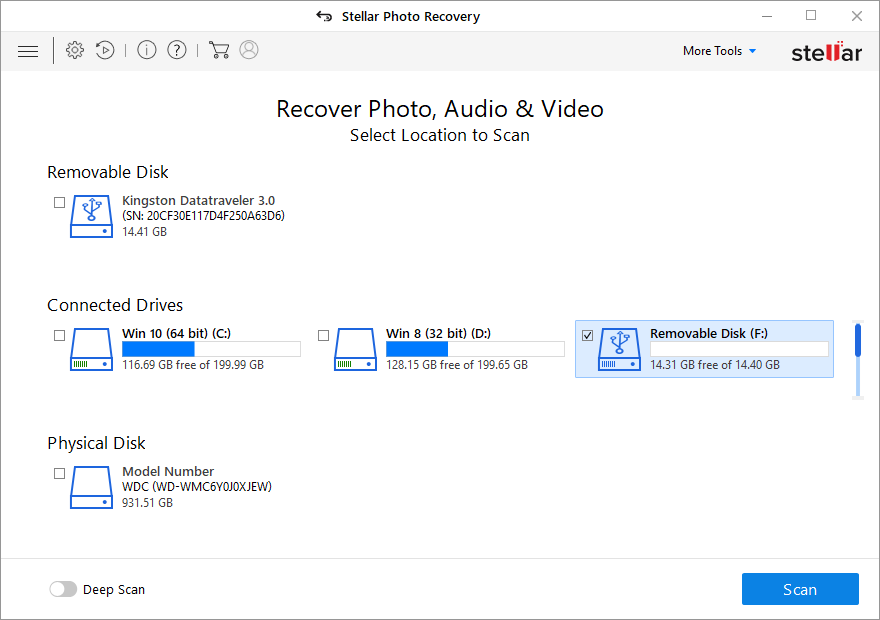 A list of lost audio files appears. Select and Preview your audio recording. You can preview up to 20 MB of files. To access the complete audio files, first, save them.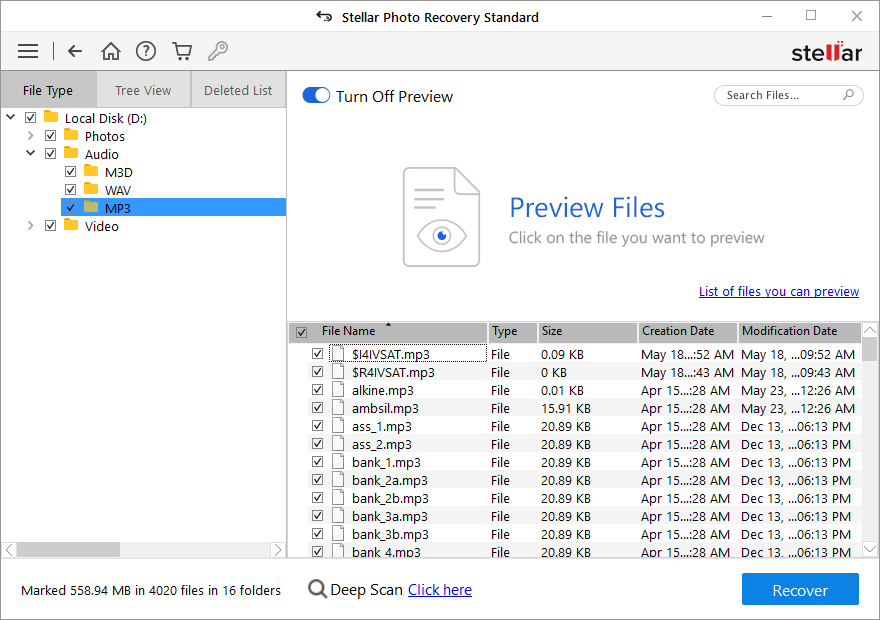 Click Recover and Save the audio files at your chosen location