Updated on January 27, 2020
Accidentally deleting, overwriting or formatting the drive containing your audio recordings, music collection, podcasts, or other audio files are the universal causes of audio file loss.
Sometimes, audio or music files are also lost from mobile phones, iPods, MP3 player etc while transferring to PC/Mac or synchronizing it using iTunes or other media tools.
This article shares about how you can recover lost audio files on your PC or Mac computer.
The methods shared here are applicable to:
MP3, RPS, AU, WAV, MIDI, OGG, AIFF, RM, WMA, RA, M4P, M4A, ACD, AMR, AT3, CAFF, DSS, IFF, M4R, NRA, SND and other audio formats.
Recovery of music, podcasts, karaoke, and other audio recordings
Audio files loss from Windows PC, Mac, SD card, SDXC, SDHC, pen drive, etc.
Loss due to deletion, formatting, virus, drive corruption, sudden power failure during transfer, or malware
How to recover Audio Files on PC and Mac
Deleted audio files, be it your songs or other recordings, can easily be retrieved from Recycle Bin unless you have used Shift + Delete key to permanently remove them. Besides, you may find your lost audio files from backup folder, if any.
Other than these, an efficient Audio file recovery software is the only solution to recoup your lost music or other audio recordings.
Restore audio recordings or files from Trash/ Recycle Bin
Restore from backup
Recover by using an audio recovery software
1. Restore Audio files from Trash/ Recycle Bin
Restore the deleted audio files from Recycle Bin on your Windows PC. If you are a Mac user, look for them in the Trash folder.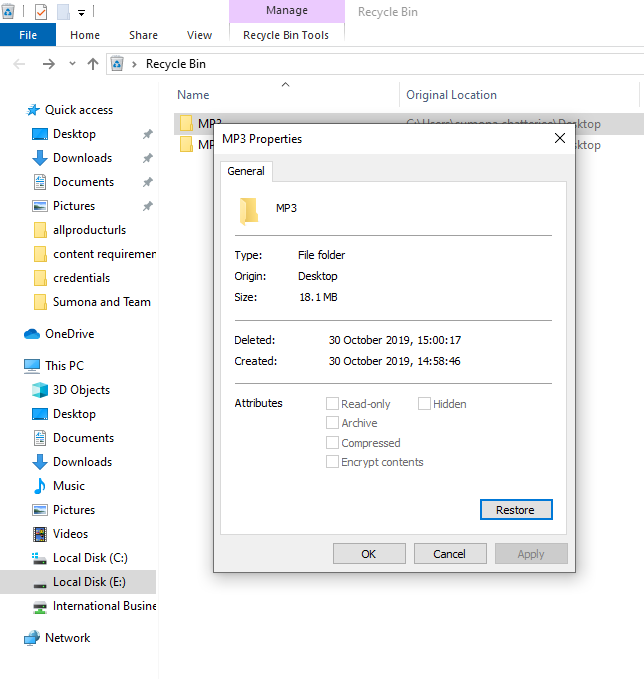 To recover on Windows PC

Go to Recycle Bin
Find your audio file
Right click and select Restore
To recover on Mac
Click on Trash in the Dock
Find and select your audio file
Choose File > Put Back 
2. Restore from Backup
Backups save you from data loss situations. If you have created backup of the deleted or lost podcasts, music collection and other audio recordings, recover from there.
If not, use an audio recovery software to get back the lost audio files on your computer.
TIP: Always create two to three backups for your audio files in different storage media, drive, or Cloud.
3. Recover by using an Audio Recovery software
A professional audio recovery tool — Stellar Photo Recovery can restore audio files as well of any format including ACD, AIFF, AMR, AT3, AU, CAFF, DSS, IFF, M4A, M4P, MIDI, MP3, NRA, OGG, RA, RM, RPS, SND, WAV, WMA
The software is helpful whether file loss is due to deletion, formatting, virus infection, or other reasons.
You can download Windows or Mac version as per your computer. Read more on how to recover deleted MP3 audio files from Mac
Key benefits:
Quickly recovers hundreds of audio files in few minutes
Easy to use
Doesn't hamper the original quality of your audio file
Restores audio files with original name, date, and timestamp
Step-by-step: How to recover permanently deleted audio files
Step 1: Download and launch the trial* version of Stellar Photo Recovery on your PC/ Mac
Step 2: Select Audio in the What to Recover screen.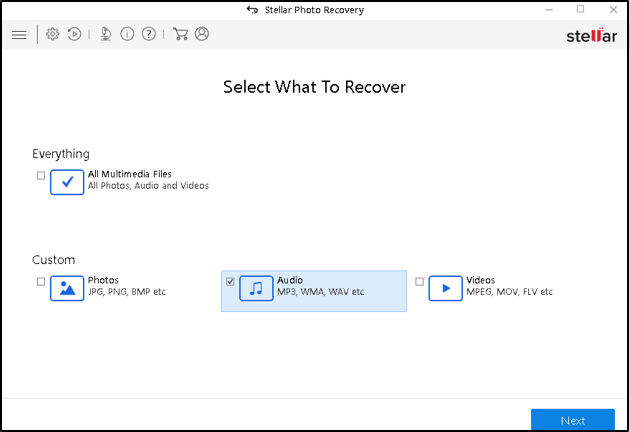 Step 3: Select the location from where you want to recover. Click Scan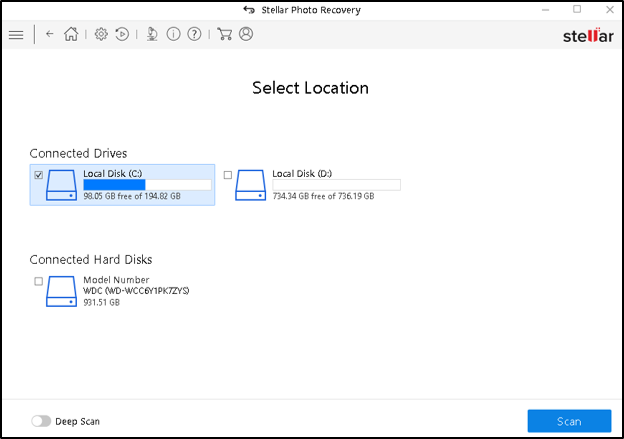 Step 4: List of lost audio files appear. Preview your audio.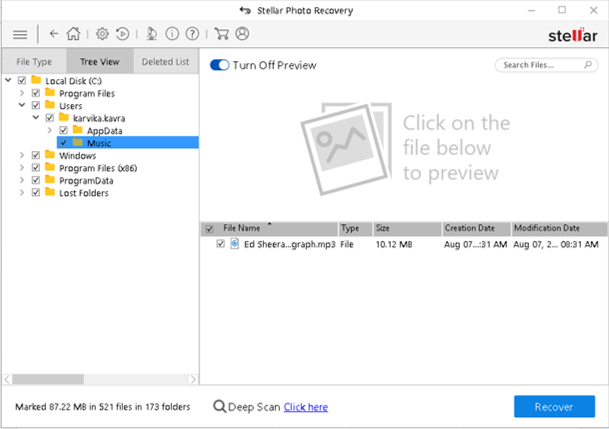 Note:
The software allows preview of audio files up to 20 MB. You can access the complete file after you save it.
If you don't see the required audio files, toggle Deep Scan option at the bottom for thorough search.
Step 5: Click Recover and Save the audio files at your chosen location



Note: Always save the recovered audio files in a different drive and not from where you deleted or lost them. Read more on how to Recover Deleted Playlists on Spotify
*The trial software scans the media and shows preview of all the recoverable audio files. Once you are able to ascertain the effectiveness, you can save the recoverable files by activating the software.
Conclusion
A professional audio recovery application is designed to recover lost or permanently deleted audio files on Windows or macOS in any loss situation.
Software like Stellar Photo Recovery can safely restore audio files of any format from any device and media. Since you regain the lost audio recordings with their original name and date timestamp, it is very convenient, when you have to recover hundreds and thousands of files in your music collection.