The Basics of Computer Data Recovery – Complete Guide
Summary : Data is one of the greatest assets for any individual or business. Here is the complete guide on how to avoid such data loss situations, solutions to keep your data safe and steps to recover lost or deleted data with the help of Stellar data recovery software. Get the software now!

"In computing, data recovery is a process of salvaging (retrieving) inaccessible, lost, corrupted, damaged or formatted data from secondary storage, removable media or files, when the data stored in them cannot be accessed in a normal way"

Wikipedia
With the advancement in technology, the world has gradually shifted from old hard copy files to electronic-based data. The word tangible has brought forth the virtual experience and owing to this you no longer need a physical presence at all times.
With time, data loss scenarios have also grown which means computer data recovery dependency rises. As per the study by StollzNow, in the last two years, 49% of data loss have been faced by businesses or enterprises alone.
Moving forward, another survey about "Data Loss Statistics Every Business Should Know'' reveals an alarming real life statistics about the Data Loss Relevance. The statistic is as follows: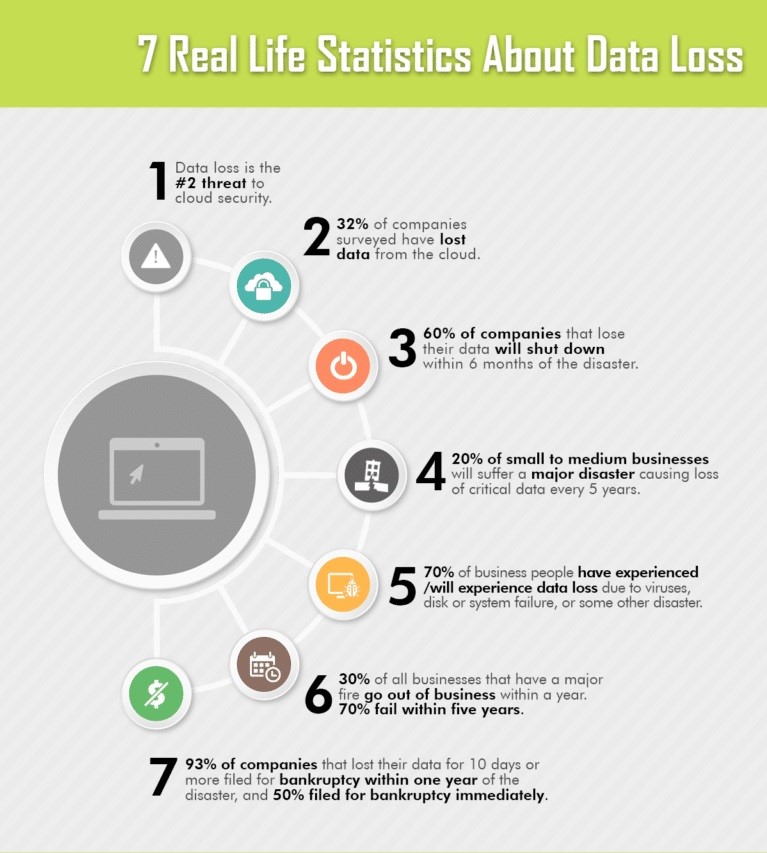 Based on these figures and records, it will not be erroneous to state that data loss is indeed an alarming situation!
What Should We Do to Avoid Data Loss?
When data loss strikes, there's an urgent need of PC/laptop users to regain their lost or deleted data. Often, deleted data can be restored from the Recycle Bin using simple commands such as Opening the Recycle Bin, Selecting the desired data, and choosing the Restore option.
But, does this inbuilt data recovery approach work in your favor when you lose data using Shift + Delete, Virus Intrusion, Corruption, Power Failure, Sabotage, Formatting, etc?
Indeed No!
Then, which practice should you incorporate to recover the lost or deleted data?
Backup!
But, is it fruitful?
No! But, Thanks to Windows Data Recovery Software, a sure-shot solution to recover your inaccessible data with ease!
Now first understand the basics of computer data recovery and how it takes place, what happens to the data when it bypasses the Recycle Bin or gets deleted from it, and how a data recovery module works?
What happens when you delete data?
When you delete Data, its pointer or index gets deleted. Above all, its space is marked as invisible, despite the fact that the data is still inside the system.
How is Data stored in the disks in reality?
Data is stored in disks in clusters and not in the way you see it. This is because the drives and partitions' visual alignment on Windows is different from the actual.
So, does it mean there is a probability of removed file restoration?
Yes!
And How is it possible?
It is possible because only the Operating system knows the exact location of file storage. When you delete the data, the OS simply removes it from the list instead of the hard disk. Therefore, the data is still in the Master File Table (MFT) or FAT that is known to maintain the hard disk files real tables. Thus, using MFT or FAT, data can be recovered.
Based on this theory, many data recovery programs have been developed to recover lost, deleted, or inaccessible data in such a scenario. Though all software assures to deliver efficient data recovery yet all software are not the same as anticipated. Thus, selection of the right data recovery program is a bit tricky task.
To make your recovery journey easier, convenient, and smooth, here is a recommendation from Technocrats — Stellar Data Recovery Professional for Windows. This Data Recovery software is a perfect choice among a multitude of options brought forth after several analysis, discussions, and reviews.
Why is Stellar Data Recovery Professional an Ideal option?
Simple and Easy to use GUI.
Efficient and fast scan engine.
Hard disk scanning support.
Pre-Recovery Preview support.
Raw Recovery support for files and HD-MOV.
Multiple file system simultaneous scan facility.
Multiple DPI and Unicode support.
Add New/ Edit Header support feature.
You can easily count on Stellar Data Recovery Professional in the below mentioned scenarios
Virus Attack
Power Surge or Outage
Sabotage
Accidental Deletion
Formatting
OS or File Corruption
Bad Sectors
From where can Stellar Data Recovery Professional Restore Data?
Formatted Volumes
Accidentally Deleted Volumes
Internal/External Hard Drives
All Types of Removable Storage Media Devices
Optical Media
Below are the working Steps of Stellar Data Recovery Professional Software
Download, Install & Launch the Stellar Data Recovery Professional software

Select the type of data (document, folder, emails) from the main interface "Select What to Recover" and Click Next.
Select the location from where you want to restore data and hit Scan.
The software displays the scanning process.
Next, is the preview option to list all the recoverable files
Lastly, save the files on your desired location.
What if this Do-It-Yourself Data Recovery Software doesn't help you?
No worries, in some cases computer hard drive may face a mechanical (physical) error, which can be best dealt with our Class 100 Clean Room Stellar Data Recovery Services.
Enjoy the free consultation from our experts followed by detailed media analysis of the storage media.
The Final Word!
For any type of business enterprise, Data is one of the greatest asset. All Enterprises depend entirely on it for business continuity and success. Backing up the data is, of course, imperative. However, in case you fail to do so, it will not serve as your anchor when you run the risk of data loss. Here, joining hands with trusted computer/PC data recovery software such as Stellar Data Recovery Professional would be the best bet!