Windows Update KB4556799 Cause Data Loss & Brings Several Bugs
Microsoft has recently released a new important Windows update KB4556799 for Windows 10 and it is wreaking havoc on PCs. There have been quite a few problematic Windows updates in the past, like the last month update that we reported caused data loss. But this time, it's more severe.
Users are reporting countless problems with the KB4556799 update, such as data loss, Blue Screen of Death (BSOD), system slowdown, browser crash, network connectivity, audio issues, and gaming-related problems like a drop in FPS, micro stuttering, etc.
What Users are Reporting on Microsoft Answer Forum & Reddit?
Several users have shared problems and issues that occurred after installing the Windows 10 KB4556799 update on Reddit, Microsoft Feedback HUB and answer forum.
We have briefly discussed some major issues that Windows 10 users are experiencing after this update.
1. Data Loss
Many users have reported data loss after installing this cumulative update. As Windows installs this cumulative update, it loads a temporary user profile. Thus, a user is unable to find their data stored in their user profile folder, such as Desktop, Downloads, Documents, Pictures, Music, and Videos.
However, most of these files can be recovered by using a data recovery software such as Stellar Data Recovery Professional. Get the software now!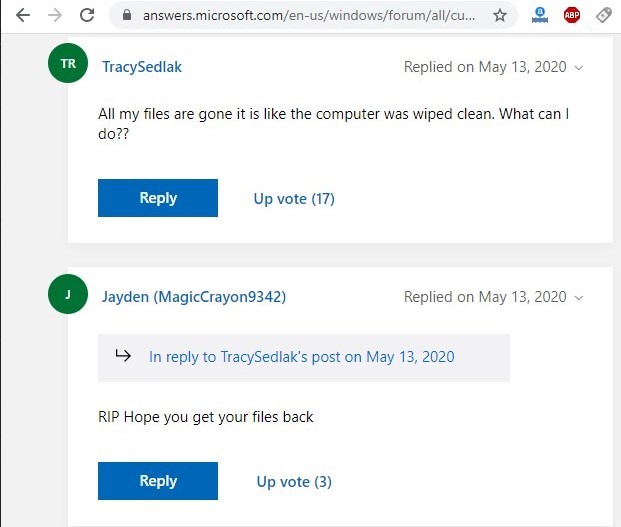 2. Update Won't Install
The most common issue being reported is that users are not able to install this update. While installing the update, system restarts but never finishes the update and displays error codes such as error 0x80073701.
The error is consistent and not fixed even after running the 'SFC /scannow', Windows Update Troubleshooter, or deleting the update and installing it manually by downloading standalone update package from Windows Update Catalogue.
"Getting the "undoing changes & reverting back" message upon restart everytime I attempt to install these two updates. Already tried running sfc /scannow
Tried ending the windows update service and deleting all files in C:\Windows\SoftwareDistribution\Download folder
Also tried downloading the updates from the Windows update catalog and installing manually."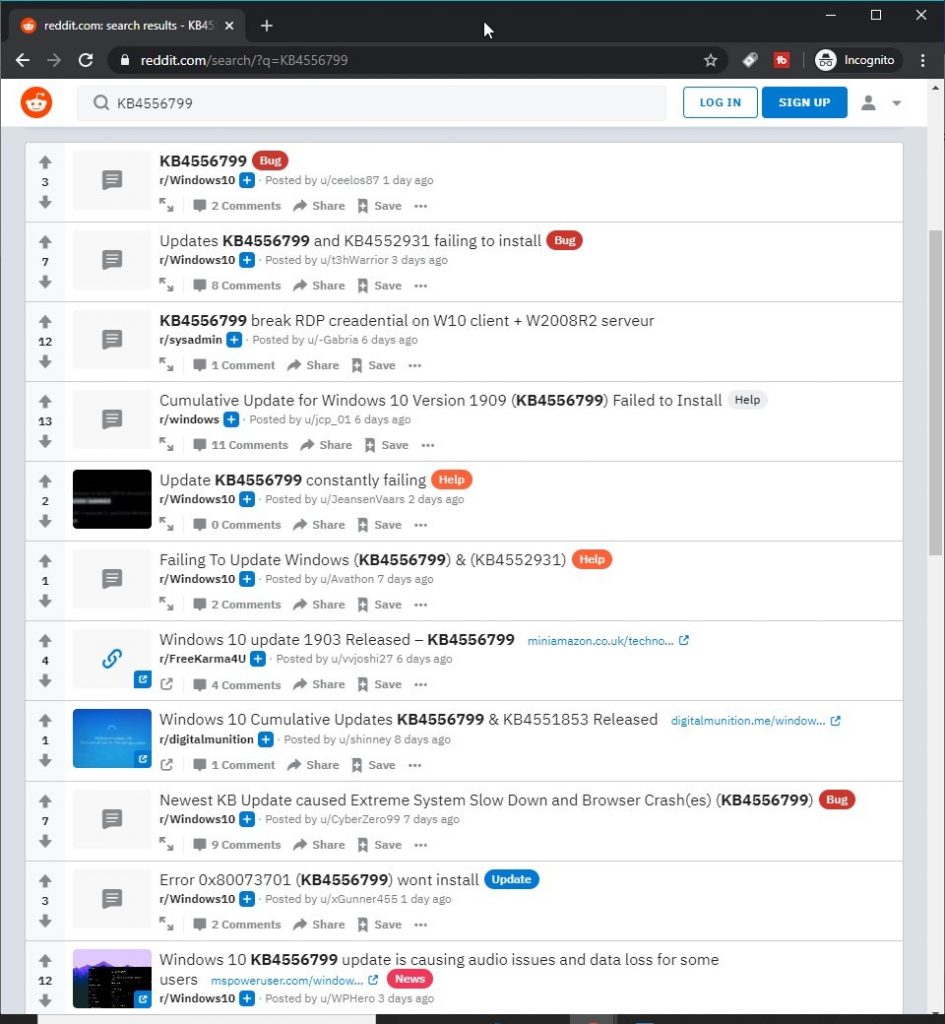 3. Audio Issues
Some users can't hear the audio or sound from their PC. While my system is unaffected by other issues, I also experienced audio issues on my system after installing the KB4556799 update.
However, the issue was fixed after reinstalling the audio drivers. A few users were also able to fix this by disabling the 'Enable audio enhancements' option in advanced Windows Sound properties.
a. Open 'Settings>System' and click on Sound.
b. Click 'Device properties' and then click 'Additional device properties'.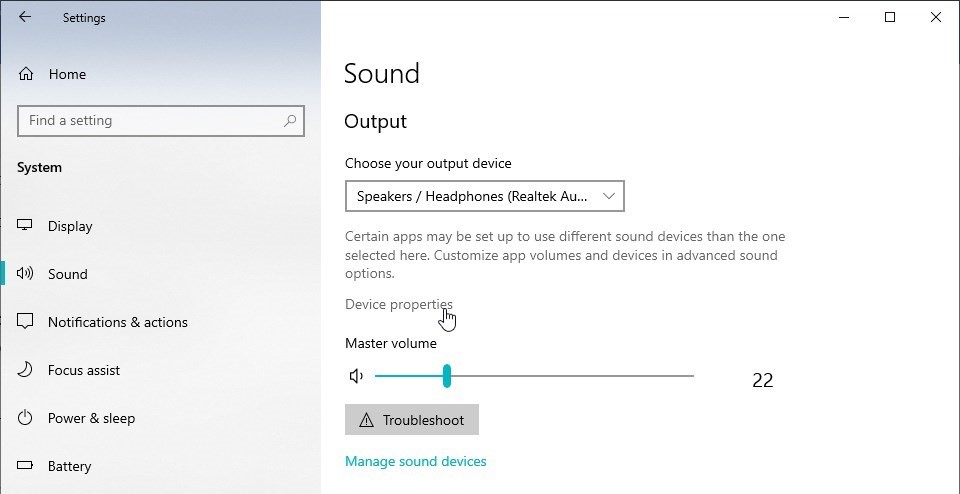 c. Uncheck the option 'Enable audio enhancements'.
4. Blue Screen of Death (BSOD)
This update has also led to extreme system slowdown in some cases and a few programs such as Paint3D, web browser, and Word are crashing after the update. BSOD is also reported but seems isolated and caused mainly by the driver conflicts.
But it's important to note that system and program crash can lead to data loss. So be warned.
5. Degraded Gaming and PC Performance
A user on Reddit reported a problem with gaming performance after this cumulative Windows 10 update.
"Not sure if anyone else has experienced this, but after installing this yesterday, I was experiencing significant problems with FPS in Destiny 2 in particular. Uninstalled the update, performance went back to normal."
How to Resolve Windows KB4556799 Update Errors
The best way to get rid of all these issues is to uninstall the update or avoid installing it, if you haven't installed it already, until a fix arrives. To uninstall Windows update, follow these steps,
a. In your Windows PC, go to Settings > Update & security and click on View Update History.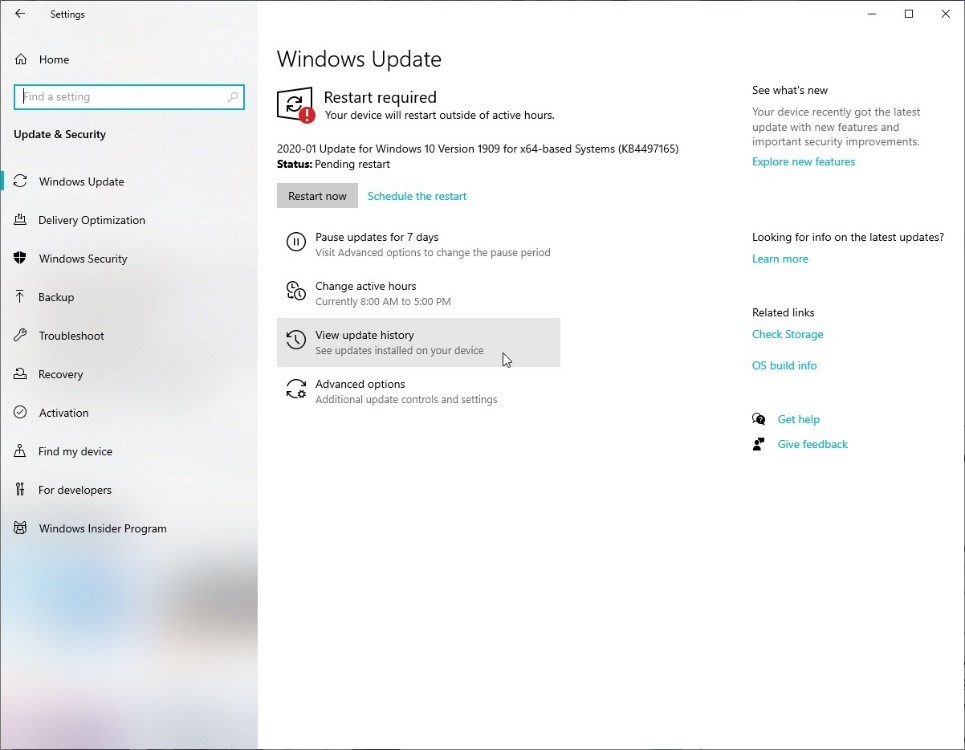 b. Click on 'Uninstall updates' and select the Update for Microsoft Windows (KB4556799). You can use the search box at the top-right to locate the update.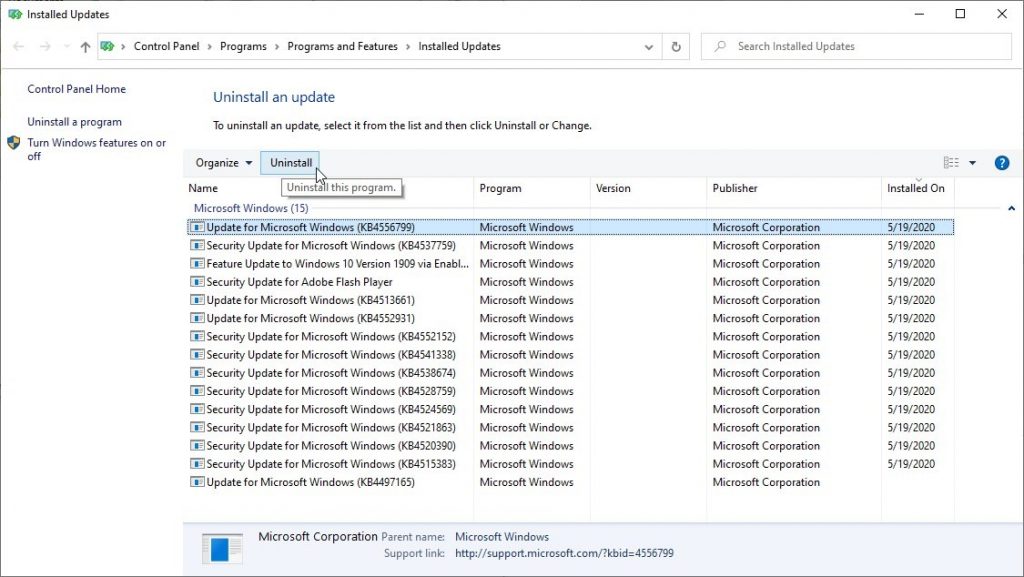 c. After selecting the update, click the "Uninstall" button.
d. Click "Yes" to confirm and then reboot your PC after uninstallation is finished.
And in case you can't find your files even after uninstalling the update. Do not use your system and use Stellar Data Recovery Professional software to get back files. Download it for free and scan your system for lost file. Activate the software and then save the recovered files to a different drive.
About KB4556799 Windows Update
KB4556799 is a Windows cumulative update that was initially released on May 12, 2020, for Windows 10 PC running on version 1903 and 1909, all editions. The update is still rolling out to Windows 10 PCs. So, if you haven't updated your Windows yet, avoid this update until the bug is resolved.
The KB4556799 update brings following improvements and fixes in Windows 10 version 1903 & 1909,
Security updates to Internet Explorer, Windows App Platform, Microsoft Graphics Component, Microsoft Scripting Engine and Frameworks, Windows Media, Windows Shell, Windows Authentication, Microsoft Xbox, Microsoft Edge, Windows Input and Composition, Windows Fundamentals, Windows Update Stack, Windows Network Security and Containers, Windows Kernel, Windows Linux, Microsoft HoloLens, Windows Active Directory, Microsoft JET Database Engine, Windows Storage and Filesystems, and Windows Cryptography.
Updates 2020 start date for daylight saving time (DST) in the Kingdom of Morocco.
Currently, Microsoft hasn't acknowledged the issues users are facing with this update on their KB4556799 update page. So, defer this update for a while if you want to avoid this error and wait for the next stable update to arrive. Also, always backup before updating Windows to avoid data loss.
For more updates on this and upcoming latest Windows updates and their fixes, follow us on Twitter.
Was this helpful?