This guide shares in-depth knowledge on failed or failing Mac hard drive recovery, including the native macOS techniques, third-party software method to restore Mac hard drive, AppleCare or AppleCare+ support from Genius Bar, and hard disk recovery service. The information covered in this guide applies to a modern chip-based storage drive such as an SSD, spinning component device like a hard-disk drive, and even an amalgamation of an HDD and SSD such as Fusion Drive®.
Note: Create Recovery Drive feature is only available in Stellar Data Recovery Version 10 & earlier! The latest version has eliminated the need of any other Mac or external device. User can directly use Stellar Data Recovery through an activated link.
1. INTRODUCTION
One of the dreadful things that can occur on MacBook Pro, MacBook Air, or iMac is when the internal hard drive begins to fail or dies downright. Mac refuses to load macOS. All system files, folders (such as Document, Desktop, Download, etc.), photographs, videos, and other files stored on the Mac turn inaccessible out of the blue.
There is a need for Mac hard drive restoration through a timely made Time Machine backup or with methods applied in the absence of a backup. The applied solutions presented here are relevant to Mac running on macOS Ventura, Monterey, Big Sur, Catalina & earlier. Plus, the solution supports Intel-based systems such as iMac, iMac Pro, MBP, MBA, Mac mini, and Mac Pro. And are also applicable for the latest Mac with Apple Silicon (M1 Chip).
Note: The guide is long but a must-read. The essential topics are hyperlinked for smooth navigation.
2. WHY MAC HARD DRIVE FAILS?
Mac hard drive, be it a hard disk drive (HDD), solid-state drive (SSD), or a fusion drive, fails or won't load macOS due to various reasons. The two broad categories of reasons for the failure of a hard drive are logical and physical.
Logical: A hard drive's logical failure occurs when macOS could not access the data stored on the drive due to damage to the drive's file system. The data remains in the storage medium in an isolated state, ready to be overwritten by other files.
Physical: Physical failure occurs when the Mac hard drive is damaged physically, which is foreseeable due to usage, aging, water, fire, drop, etc. For instance, when a hard drive acquires bad sectors or bad blocks, it won't let macOS access the damaged area's data. Besides, physical failure follows when HDD's vital component, like the head, platter, or spindle malfunctions, or SSD's electronic component fails.
Must Read Repair Bad Sectors on Mac Hard Drive
3. BEST PRACTICES FOR PREVENTING MAC HARD DRIVE FAILURE
Mac hard drive failure can be prevented or mitigated. To safeguard Mac hard drive and data, implement a few best practices such as:
Habitually monitor the S.M.A.R.T. status of the hard drive using Disk Utility, which would help take appropriate action when the drive is failing.
Run Disk Utility's First aid on Macintosh HD [Watch Video] in the event of Mac behaving oddly. Go to the Disk Utility's First-Aid section to know how to prevent hard drive failure.
Set up a Time Machine backup drive on MBP, MBA, or any Mac and use it to back up the entire storage drive at least once and incrementally to keep it up to date.
Follow a backup strategy for disaster management, thereby safeguarding the crucial data in any event of data loss. The best backup strategy is explained in the next section.
In the event of a Macintosh HD failure due to physical damage, replace the failed hard drive with a new one, and use the Time Machine backup to reinstall macOS without data loss.
4. BACKUP STRATEGY FOR DISASTER MANAGEMENT
Organizations need to have a disaster management plan for business continuity. And, backup strategy plays an essential role in disaster management. The crucial parameters of disaster recovery are Recovery Point Objective (RPO) and Recovery Time Objective (RTO) that organizations need to define. RPO states how much data an organization can afford to lose, which suggests the backup frequency. While RTO states how much time the organization can take to recover when a disaster strikes.
If data is crucial, implementing a backup strategy for disaster management is a no-brainer even for an individual Mac user. The strategy ensures data can be salvaged even when Mac hard drive suffers from a physical or logical failure, undergoes sabotage, or is affected by a natural disaster, say flood, fire, earthquake, etc.
THE 3-2-1 BACKUP STRATEGY
The 3-2-1 backup strategy requires the following:
Create 3 copies of data (one copy on Mac where it is produced and two backups).
The backup should be on 2 different storage media (hard disk drive and solid-state drive).
1 backup should be kept in an offsite location (say iCloud) for disaster recovery.
Knowledge of hard drive failure, why it occurs, and preventing it is a must. Maintaining 3 copies of essential files using the 3-2-1 backup plan ensures they are always available even when a disaster occurs. In the next section, know about a macOS tool that is quite useful in managing Mac hard drive.

5. WHAT IS DISK UTILITY?
Disk Utility is a native disk management application in macOS that helps manage internal or external hard drives and quickly resolves Mac's drive problems. Use Disk Utility to access First Aid, Partition, Erase, Restore, Mount/Unmount, or Info. To launch Disk Utility, navigate to Finder > Go > Utilities > Disk Utility.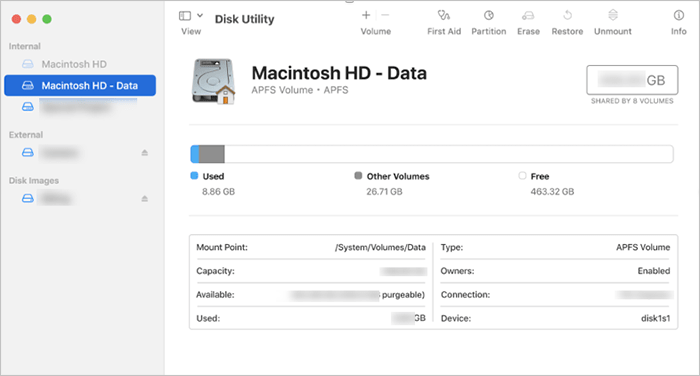 Disk Utility even shows Mac hard drive's status using Self-Monitoring, Analysis, and Reporting Technology (S.M.A.R.T.) present on the drive, which helps gauge the storage medium and diagnose issues beforehand. The S.M.A.R.T. status can be OK or failing, as per the current state of the drive. In the next section, learn how to resolve a Mac drive using Disk Utility.
6. REPAIR MAC HARD DRIVE BY USING FIRST AID IN DISK UTILITY
When Macintosh HD is corrupt, Mac may not boot. In that case, launch Disk Utility in macOS Recovery mode and repair the disk using First Aid.
The steps are as follows:
STEP 1: BOOT MAC INTO MACOS RECOVERY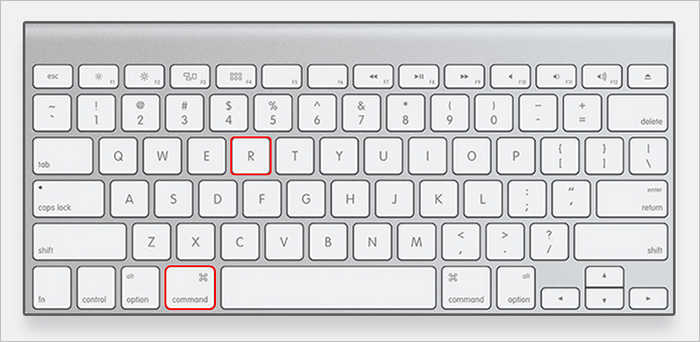 For an Intel-based Mac, power on the system and immediately press and hold Command + R keys. Release the keys when the Apple logo appears.
For an M1-based Mac, press and hold the power button to start it up. Release the button when "Loading startup options" appears. Select Options, then click Continue.
STEP 2: LAUNCH DISK UTILITY
Once Mac boots into macOS Recovery, go to the macOS Utilities window. Here, click Disk Utility and then click Continue. The Disk Utility window will appear.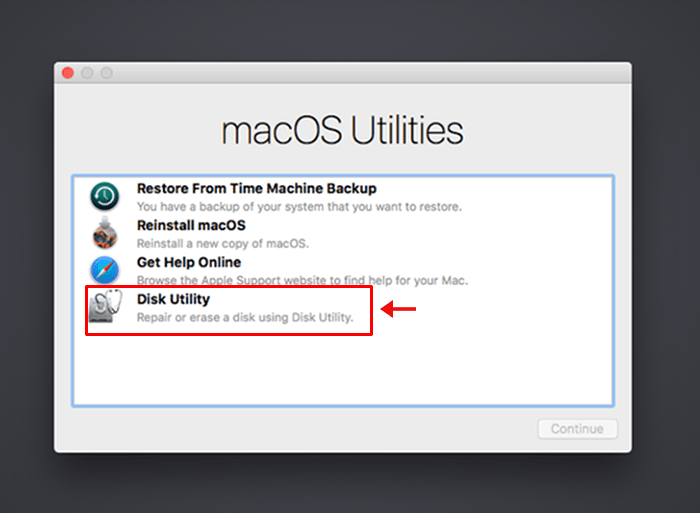 STEP 3: RUN FIRST AID
From the left panel of Disk Utility, select Macintosh HD, the startup disk. Click the First Aid tab from the top panel, then click Run.
STEP 4: BOOT MAC NORMALLY
If Disk Utility repaired the Mac startup disk, restart Mac, and normally boot into Desktop. In case the app fails to repair the drive, use the fsck command in single-user mode.
Limitation(s) with Disk Utility
Disk Utility can't repair a corrupt partition map. To get rid of a damaged partition map on a startup disk, erase the Mac storage drive with a new partition scheme. But this is a disastrous step since erasing the drive without backing it up will result in data loss. So, back up before erasing the Mac drive.
7. WHAT IS SINGLE USER MODE?
Single User mode is one of the startup modes that Mac can boot into. This mode is disabled in macOS Mojave or later, or when Mac has a firmware password. Single User Mode shows a UNIX-style command-line interface that is of great help to fix startup disk issues on MacBook, iMac, or Mac mini. In the next section, learn how to fix a Mac startup disk using Single User Mode.
8. REPAIR MAC HARD DRIVE BY USING FSCK IN SINGLE USER MODE
When Mac doesn't boot from its internal hard drive, and Disk Utility failed to repair the drive, use the file system consistency check (fsck) command in Single User mode to repair the startup drive.
Follow the given steps:
STEP 1: BOOT MAC INTO SINGLE USER MODE
Power on Mac, then press and hold Command + S keys. Release the keys when some text appears on a black background. Mac will load the Single User mode.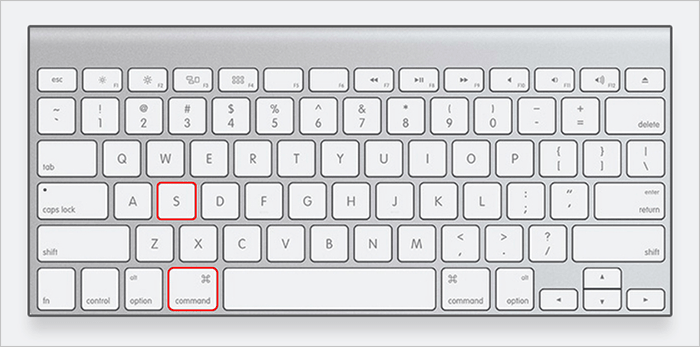 STEP 2: EXECUTE FSCK COMMAND
In the command prompt, type the command /sbin/fsck – fy, then press Return. If Macintosh HD is healthy, it will display the message: "The Volume (name) appears to be OK." Restart Mac normally.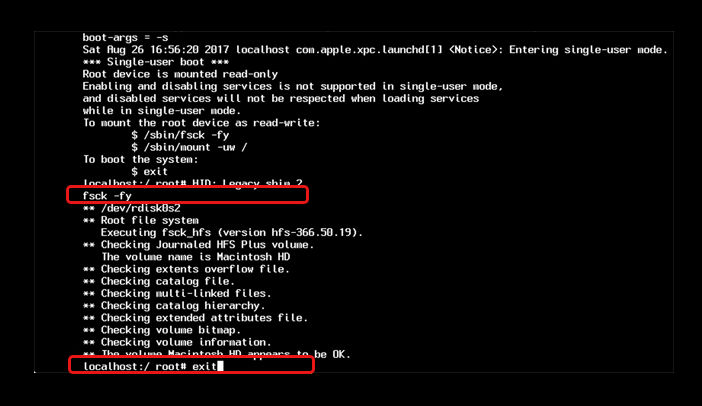 STEP 3: RERUN THE COMMAND
If fsck repaired the damaged hard drive, it shows the message: "File System Was Modified." Rerun the above fsck command till the OK message appears. Restart Mac normally.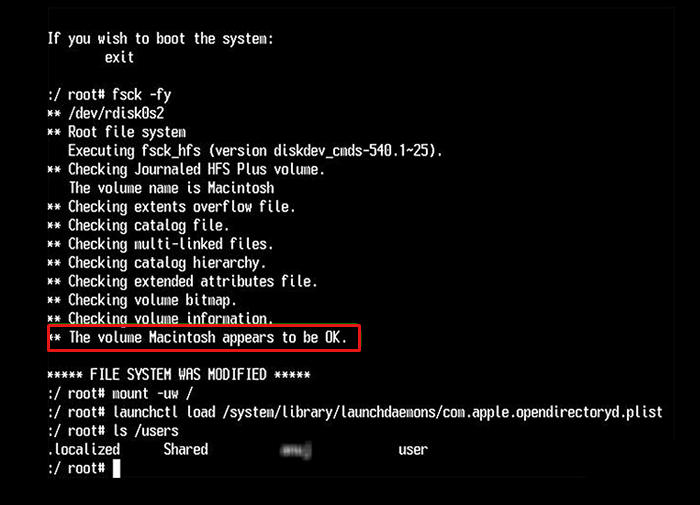 The fsck command quickly repairs disk errors in the Mac storage drive. But it may or may not fix the corrupt startup drive entirely. If the corruption is beyond the macOS's built-in repair capabilities, try to retrieve Mac hard drive data using target disk mode.
9.RESCUE A FAILING MAC FUSION DRIVE
Apple has introduced fusion drives in many iMacs and Mac mini models to unify a large capacity hard disk drive (1 TB or more) with a high-speed solid-state drive (24 GB or more). This unification has resulted in creating a better performing Mac at a low price.
The fusion drive can fail, just like a standalone HDD or SSD, due to any individual drive's failure. Also, SSD failure chances are high due to wearing because wear levelling cannot work effectively on a low capacity NAND flash storage.
If fusion-drive fails, all the stored data on the Mac goes unreachable. To rescue data from a failing or failed Mac fusion drive, try performing any one of the troubleshooting methods as per feasibility:
Use Target Disk mode to access data from the fusion drive. Learn more
Use a bootable external USB drive to start up Mac, then rescue data from the fusion drive.
If SSD or HDD has failed, replace it with a new one.
Replace the fusion drive with a large-sized SSD, as it is much more affordable nowadays.
If the failed storage drive replacement seems complex, book an appointment with an Apple Genius Bar.
10. APPLE GENIUS BAR | MAKE AN APPOINTMENT
Mac comes with AppleCare that offers a 1-year limited warranty and 90 days of technical support. And, AppleCare+ allows extending the warranty to a further 3 years. When Mac suffers hardware, software, or service-related trouble, Apple recommends paying a visit to their Genius Bar.
Apple Genius Bar is a technical support center present in Apple retail store that provides free service for Mac in the warranty period. The center's geniuses are trained and certified to repair hardware or software-related issues of Mac. To get Mac fixed, book an appointment in the Genius Bar. And depending on the turnaround time, either go for face-to-face onsite repair or ship the Mac to the nearest repair center.
Repairing Mac and data recovery from Genius Bar could be costly if the system is not in the warranty period—supposing AppleCare+ is not purchased to extend the warranty. So, if the budget permits, get support from the Genius Bar. Or else, try using a do-it-yourself Mac data recovery software to retrieve data from a failed or failing Mac hard drive. Using advanced software can save a lot of bucks. Jump to Mac hard drive recovery software.
The steps to make an appointment with Genius Bar are as follows:
a) Open support.apple.com in the Safari browser of a working Mac.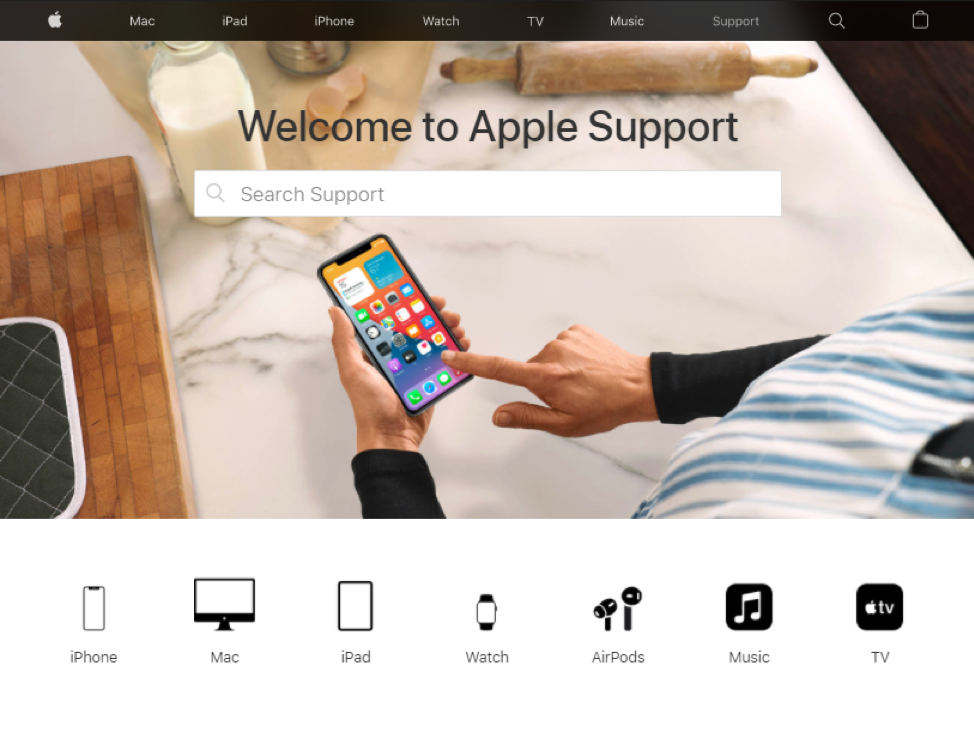 b) Select Mac from the list of Apple products. Then, select the Mac model.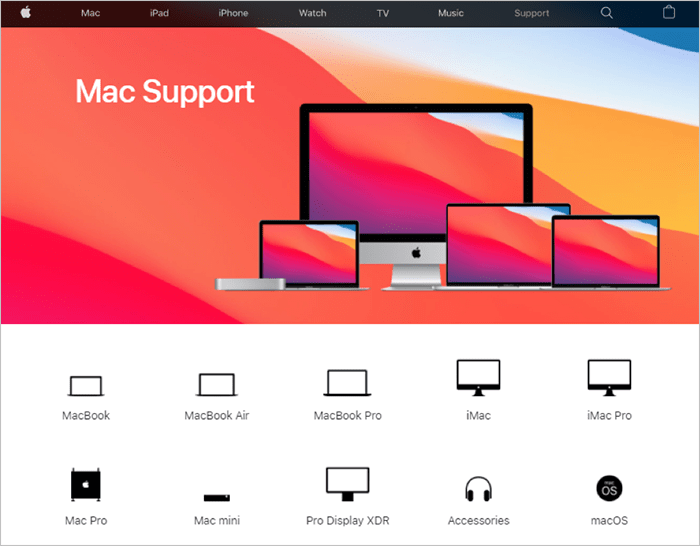 c) Scroll down to the Tell us how we can help section, then click Get Support.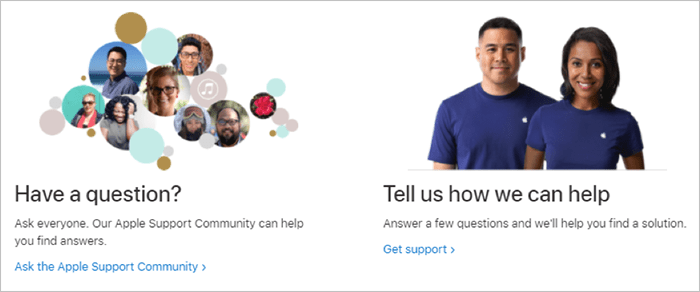 d) Select the topic and sub-topic for which issue occurred with the Mac.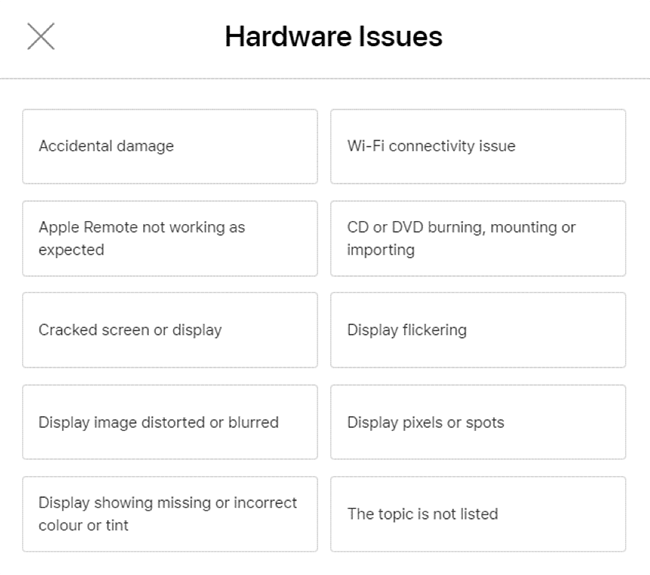 e) If the issue isn't listed, then select "The topic is not listed" and describe the issue, then click Continue.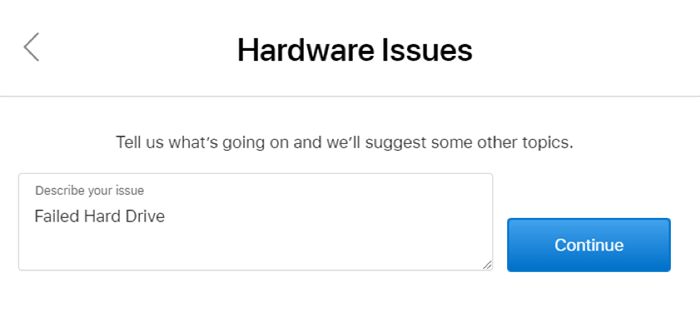 f) On the How would you like to get help page, select Bring In for Repair.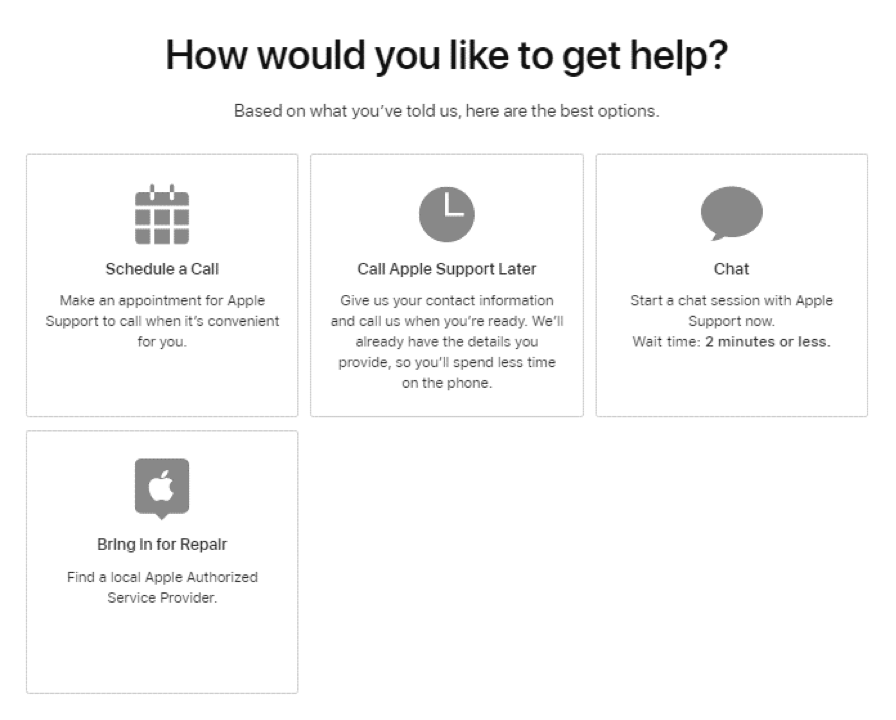 g) In the Sign in with your Apple ID section, enter the Apple ID, then click the arrow icon.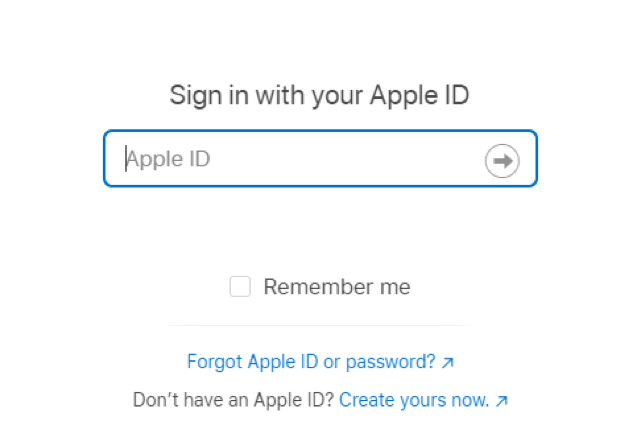 h) Search the nearest service provider by entering your address or search the current location, then click Continue.
i) Select the service center using Availability or Distance. Then, select an appointment date and time.
j) Click "Confirm Appointment" and wait for the confirmation page before closing the webpage.
Congratulations, an appointment with Apple Genius Bar is booked. On the appointment confirmation webpage, Reschedule or Cancel the appointment if required.
Before paying a visit to the Genius Bar, ensure a complete backup of the Mac hard drive is taken. If required, use a professional Mac data recovery software to access and recover data from a logically failed hard drive. The following section shares the role played by such third-party software.
11. IMPORTANT ROLE OF MAC HARD DRIVE RECOVERY SOFTWARE
A Mac hard drive recovery software is a third-party application that scans and recovers data from a logically failed storage drive. Use various software editions to perform specialized tasks. For instance,
Stellar Data Recovery Free Edition is helpful to retrieve files from an unmounted external hard drive. Visit the application webpage for a trial.
Stellar Data Recovery Professional helps create a recovery drive for data recovery from a crashed or non-booting MacBook, iMac, or Mac Pro device. Visit the application webpage for a trial.
12. SOFTWARE THUMB RULE OF HARD DRIVE RECOVERY
The thumb rule is that the troublesome Mac hard drive must appear (even in the greyed out state) in the Disk Utility to initiate the recovery task. If the drive is not visible in the Disk Utility's sidebar, click the View icon from the top and choose View all devices; the drive should appear. In case the drive isn't visible, it must have physical failure. In such a situation, Mac data recovery using software is inapplicable.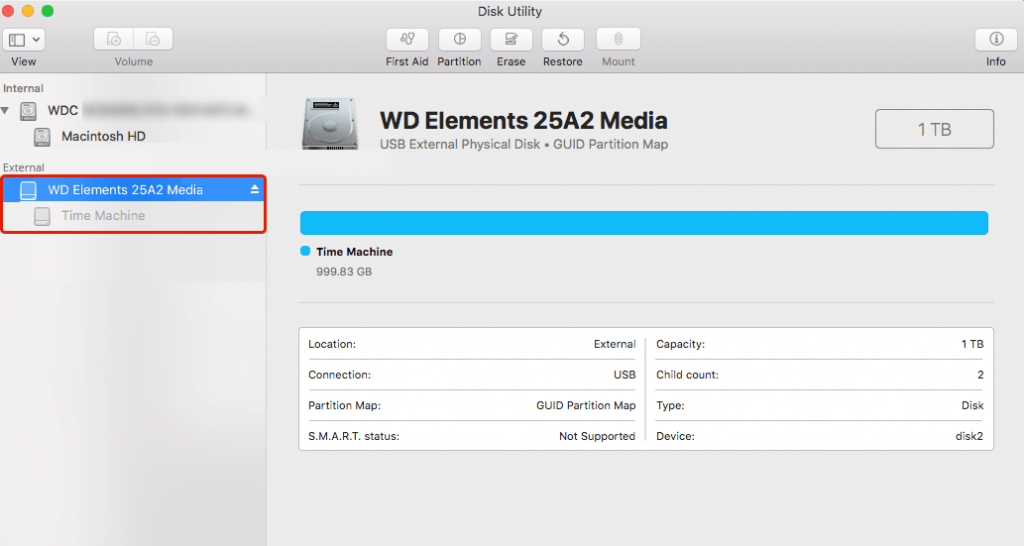 Try mounting the storage drive with Disk Utility through Target Disk mode using FireWire or Thunderbolt cable or transforming the failing drive to an external device. Check Resource section.
Data recovery through software works only in logical failure cases such as drive formatting, drive corruption, partition deletion, emptying of Trash, etc. Use software to recover data from the logically failed hard drive provided the thumb rule of hard drive recovery is satisfied.
13. RETRIEVe MAC HARD DRIVE DATA WITH SOFTWARE | WIN-WIN SITUATION
When a failed Mac hard drive is mounted on another working Mac by using Target Disk Mode, use Stellar Data Recovery Professional for Mac to scan and recover the lost, deleted, or inaccessible data from the hard drive. Steps are as follows:
STEP 1: INSTALL MAC DATA RECOVERY TOOL
Download and install Stellar Data Recovery Professional on a working iMac, Mac mini, or MacBook Pro/Air. The download file size is quite nominal, so don't worry. Also, the software's wizard instructs what to do during the installation process.
STEP 2: SELECT THE TYPES OF LOST FILES
Launch the software. From the "Select What To Recover" screen, go with Recover Everything or customize the scan by clicking the respective toggle switch—Documents, Emails, Videos, Audio, or Photos. Then, click Next. The "Select Location" screen appears.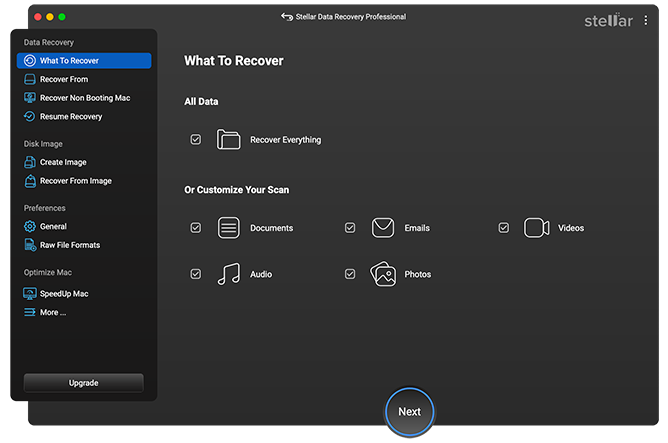 STEP 3: SELECT LOCATION
From the "Select Location" screen, choose Macintosh HD the startup disk. Click the Deep Scan toggle switch to turn it on, then click Scan. Deep Scan will take more time than the Quick Scan, but the scan result is comprehensive and complete. Wait till the scan finishes.
For macOS Ventura, Monterey, Big Sur or Catalina, load the Stellar Data Recovery extension. Once the extension is loaded, the software can access Macintosh HD with full rights to scan for the lost, deleted, or inaccessible data.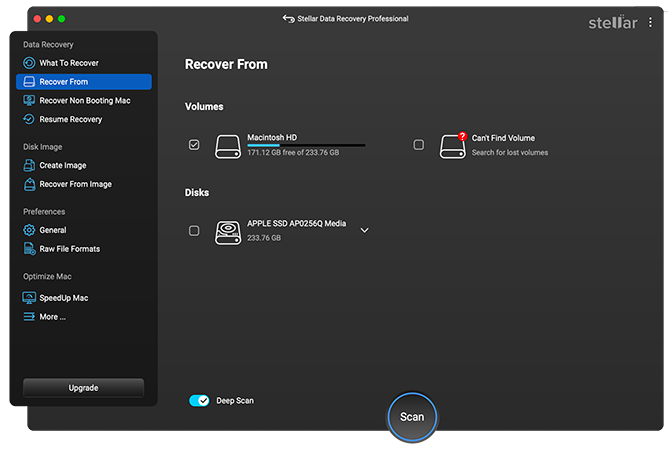 STEP 4: PREVIEW AND RECOVER THE REQUIRED FILES
The software lists the scan result in Classic List, File List, and Deleted List tab. Click a tab, expand the tree node from the left pane, and access the scanned files from the right. Double-click a file whose preview is available to open a Preview window. Select all the required files, then click Recover.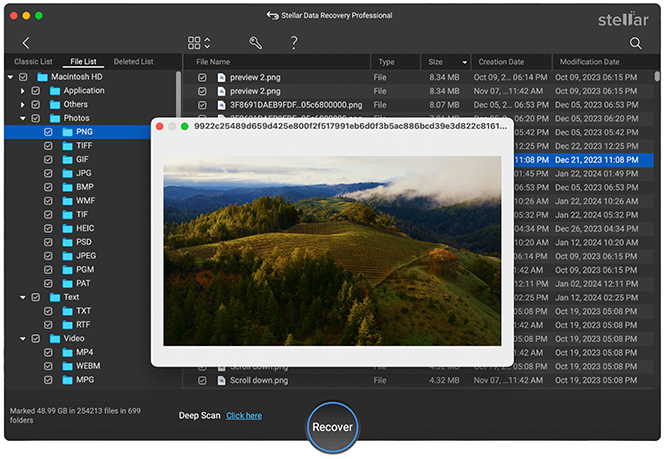 STEP 5: SAVE THE FILES
On the dialog window, click Browse to specify an external hard drive as the save destination (to avoid data overwriting on scan drive), then click Save. Wait till the software completes the save operation.
STEP 6: VERIFY THE RECOVERED FILES
After the recovered files are saved, navigate to the save location to view the recovered files and folders. Check if all files are intact.
Alternative to the Target Disk mode, a bootable USB recovery drive can help access the affected Mac and recover all the stored data. The following section describes a non-booting Mac drive recovery method in detail.
14. CREATE BOOTABLE RECOVERY DRIVE FOR DATA RECOVERY
When the Mac doesn't boot even after fixing the drive using Disk Utility or FSCK command in Single User mode, use a bootable Mac data recovery software to recover the lost data from the failed hard drive. The recovery steps are as follows:
Note: Stellar Data Recovery Professional or higher edition requires an activation key to unlock the bootable data recovery feature. Click here to compare features, subscription plans, and pricing.
STEP 1: LAUNCH THE SOFTWARE
Launch the Stellar Data Recovery Professional software on a working MacBook, iMac, or Mac mini. Plug in an external USB flash drive of a minimum of 8 GB to create a recovery drive.
STEP 2: ACCESS THE RECOVERY DRIVE FEATURE
From the software's home screen, click the Click here link present at the bottom-left corner or go to More Tools > Create Recovery Drive to create a bootable USB recovery drive.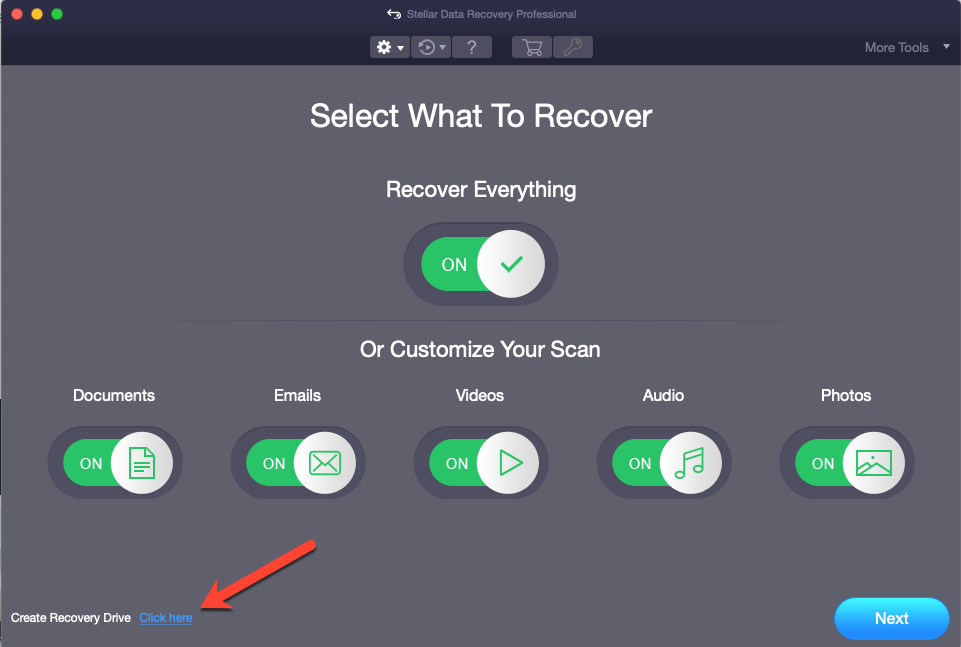 STEP 3: CREATE USB RECOVERY DRIVE
From the dialogue window, select the USB flash drive and then click the Create Recovery Drive button. Click OK on the confirmation message box. Let the tool create a recovery drive.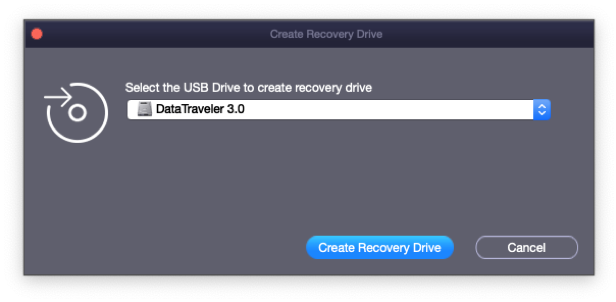 Warning: The drive will be formatted in the recovery drive creation process. So, make sure the flash drive is empty or back up the drive before clicking OK.
STEP 4: BOOT MAC INTO MACOS RECOVERY
Connect the USB recovery drive to the non-booting Mac. Next, boot the troubled Mac in macOS recovery mode by performing the following applicable method:
For Intel-based Mac, power on the system, then press-hold the Option key. Release the key once the Startup Manager opens. Select the USB Recovery Drive, then hit Return.
For Mac with Apple Silicon, press and hold the power button to start it up. Release the power button when "Loading startup options" appears. Select the USB Recovery Drive, then click Continue.
STEP 5: ACCESS THE USB RECOVERY DRIVE
From the macOS Utilities window, select Stellar Data Recovery.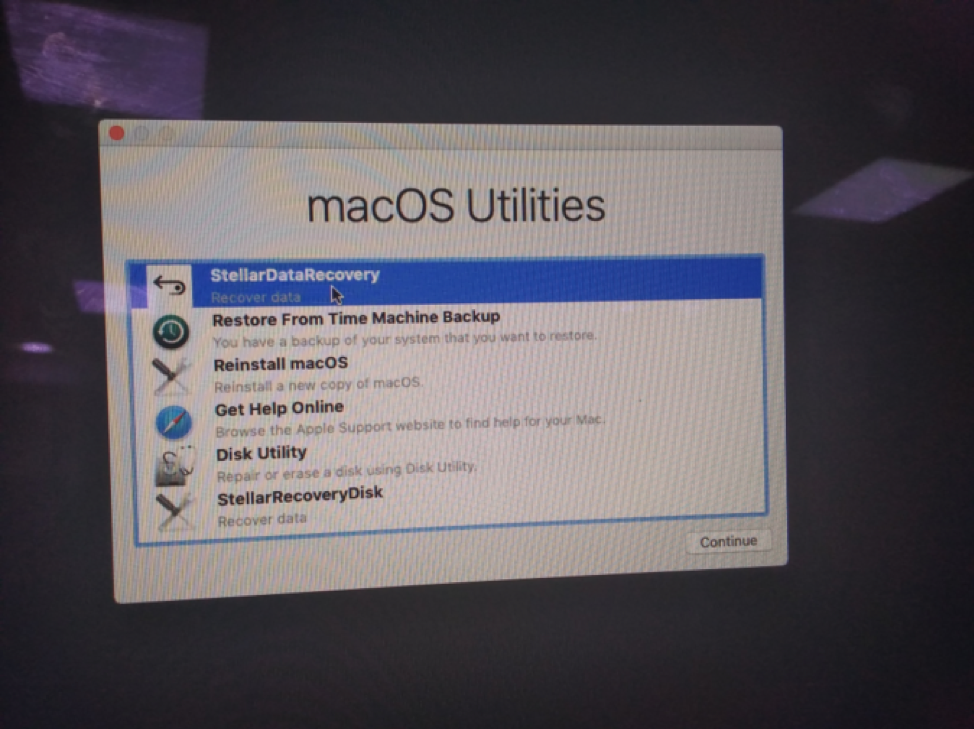 When it opens, customize the scan, then click Next. Select Macintosh HD for data recovery, then toggle on Deep Scan.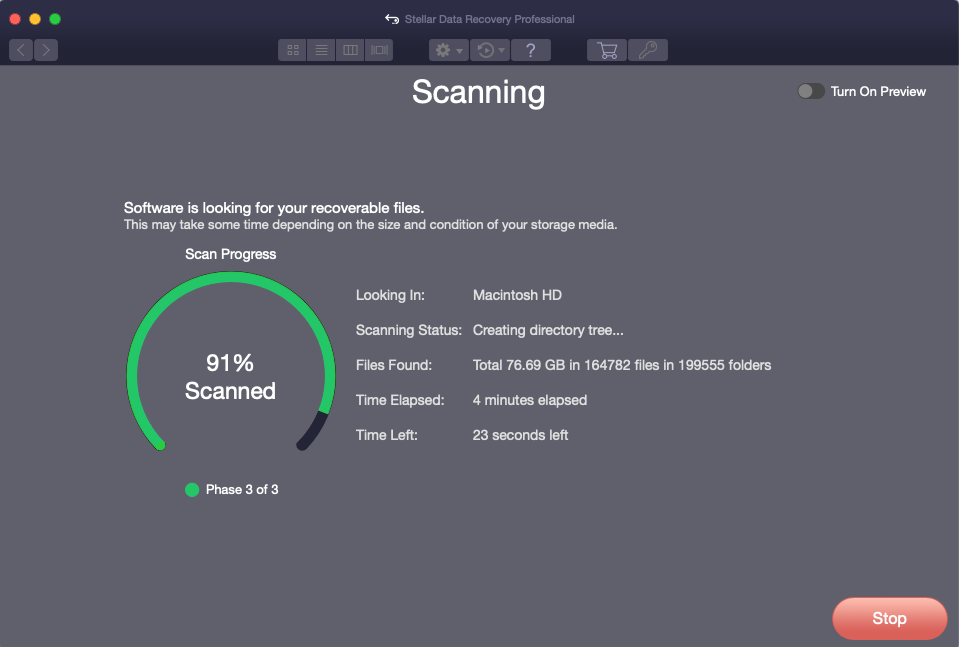 STEP 6: RECOVER DATA FROM THE AFFECTED MAC
After the scan, preview all the recoverable files from Macintosh HD. Click Recover and specify another external hard drive as a save destination. Then, click Save.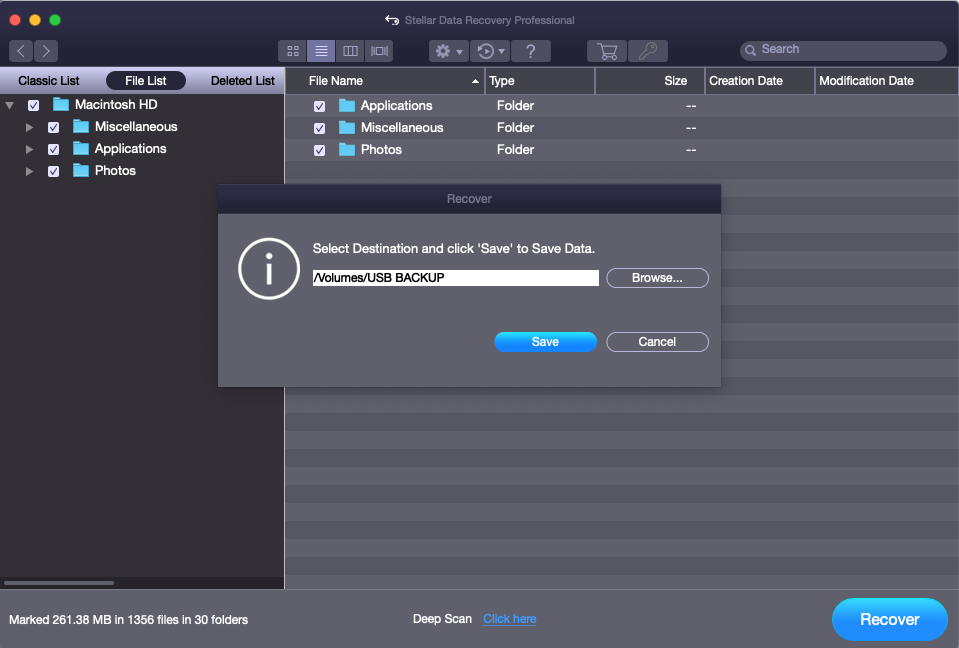 Once data recovery is performed successfully, erase Macintosh HD by using Disk Utility in macOS Recovery mode. Finally, reinstall macOS and restore the recovered data to the formatted drive.
15. ROLE OF DATA RECOVERY SERVICE
If the Mac storage drive is affected by a physical failure and data recovery is necessary, then avail the best data recovery service. Not just DIY data recovery software, but Stellar also offers the best in class data recovery services with its Class 100 clean room and advanced data recovery tools to salvage data from a dead hard drive or SSD. Avail the Mac hard drive recovery service in case of:
Clicking, ticking, or buzzing sound
Scratched platter
Electronic equipment damage
Burnt storage medium
A disaster like a flood, fire, etc.
16. ENDING NOTE
We hope the guide helped recover a failed Mac storage drive using the troubleshooting methods described before. As a best practice, do the following:
Back up the Mac by using Time Machine
Use Disk Utility, FSCK, or Target Disk mode whenever required
Replace failed Mac hard drive with SSD and restore Mac from backup
Leverage a professional Mac hard drive recovery software to recover lost data
Keep a USB recovery drive ready to salvage a non-booting Mac
Require more information regarding Software Help! Share your queries via the author's email or chatbox.
17. RESOURCES
Underneath is the curated list of blogs that are most useful for troubleshooting and recovering data from Mac.
| | |
| --- | --- |
| 15 Worst Mac Hard Drive Problems with Solutions | Click Here |
| Solved: MacBook Pro Booting Stuck Halfway | Click Here |
| Solved: Mac Can't Repair External Hard Drive | Click Here |
| Repair Gray Screen on MacBook, iMac, or Mac Pro | Click Here |
| How Do I Make My Mac Recognize External SSD? | Click Here |
| Quickly Compare Mac Data Recovery Editions | Click Here |