Microsoft Outlook is a professional mailing platform, which comes as one of the packages of Microsoft Office Suite. It's the designated (or, if you like, official) email platform designed for Microsoft users. And due to the streamlined nature of the platform, it serves as the ideal email hub on most Windows PC.
However, Outlook, unlike other MS Suite programs, is highly prone to errors and file damage, as its proprietary storage format - PST (Personal Storage Table) - is easily corrupted. Worse still, these corruptions are usually too severe to repair/recover in-house. Hence, an advanced repair and recovery tool is often required, and the leading tool, in this regard, is no other than Stellar Toolkit for Outlook.
Therefore, if you have an Outlook account, it'd be proactive to have Stellar Toolkit for Outlook installed on your PC, to repair the various degrees/forms of corruptions/damages that could affect your PST files and the entire Outlook program.
What is Stellar Toolkit for Outlook and What Does It Do?
Stellar Toolkit for Outlook is an all-round repair and recovery package, specially designed to help you resolve any issue that could affect the normal functioning of your Outlook program. Put aptly, this toolkit speeds up your workflow in Outlook, as it simplifies core functions, and resolves adverse issues that pop up, in a quick time.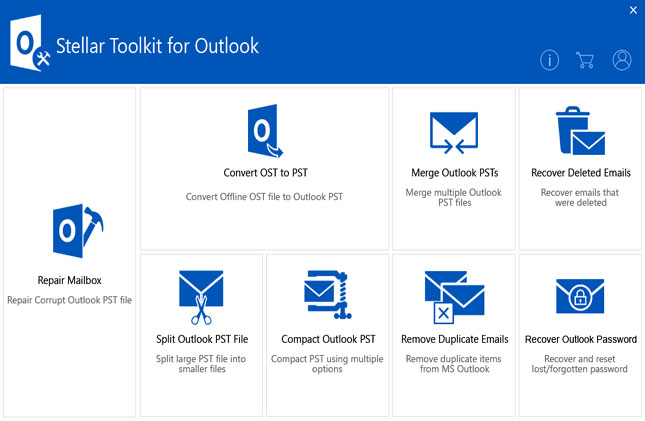 The basic function of this toolkit centers around the repair and recovery of corrupt PST file, conversion from OST to PST files in Outlook, recovery of deleted mailbox components, spilt and merge data files, etc. However, as a comprehensive program that incorporates a wide range of packages, its functions and benefits extend beyond file repair and recovery.
Explicitly, to further emphasize why you really need Stellar Toolkit for Outlook, let us take a closer look at the benefits of Stellar Toolkit for Outlook, one after the other.
To Repair Corrupt PST File
As pointed out earlier, this is probably the most significant function of Stellar Toolkit for Outlook, and the designated package for this repair is "Stellar Repair for Outlook".
This module is deployed when there is corruption in Outlook, particularly when the Personal Storage Table - PST - files become damaged, due to issues like stretched out storage, virus attack, and system glitch or malfunction among others.
Typically, when your Outlook files (PST) becomes corrupted, you lose access to your email account(s), and inherent contents like email messages, contacts, calendars, tasks, notes, journals and so on. Hence, to regain access, this module of Stellar Toolkit for Outlook got you covered.
By deploying the PST Repair tool, corrupt files are repaired and recovered in quick time. You can then access your account unhindered.
Below is a summary of what the Repair Mailbox module of Stellar Toolkit for Outlook can do:
Email and PST repair and recovery.
Recovery preview (before saving recovered files).
Support for Office 365 format (for saving repaired PST files).
Restoration of repaired PST into a new data file.
And more.
In a nutshell, the PST/Outlook Repair module stands out as the most important feature of the toolkit. And unsurprisingly, it's the most popular. So, with the toolkit installed on your PC, you can rest assured of an error-free Outlook.
To Convert OST to PST
OST serves as the local cache of an MS Exchange mailbox. It's to MS Exchange what PST is to MS Outlook, and oftentimes, when there is a mix up during file recovery on your PC/Outlook/Exchange, you may require a format converter such as this.
With the module- Convert OST to PST, Stellar Toolkit for Outlook affords you the flexibility of converting a single OST file (to PST) or you can simply convert multiple OST files in batches. All these are executed within few clicks in easy steps.
Below is an outline of the functions of this module:
Trial version supports 20 emails conversion (per folder)
Converts multiple OST files in batch
Compaction and splitting of PST files (as required)
Import OST to Office 365 support (for directly saving converted files)
Preview of OST file components after the scan (to ease up the process during conversion)
Supports OST to PST conversion in Outlook 2019, 2016, and earlier versions on Windows.
Do you want to migrate your mail data from profiles on MS Outlook and Microsoft Exchange? This module would help streamline and further speed up your workflow.
To Split Large Outlook PST
This is another highly important module of Stellar Toolkit for Outlook. Typically, when a PST becomes oversized, it often results in severe corruption. So, to prevent this, the toolkit hosts a module – Split Outlook PST File, which automatically splits up your PST into smaller fragments, and organises them as appropriate.
Basically, after splitting the PST, they are arranged/organized/sorted on the basis of their respective dates, sizes, IDs, folders, and so on (depending on your preference). This way, you are able to access the files with ease.
Below are the functions of this module
Splitting of multiple PSTs at the same time.
Splitting of a large (or oversized) PST into smaller "importable" PSTs.
Automatic splitting of PST through the creation of batch files.
Wide support for all Outlook 2019, 2016, 2013, 2010, 2007 & 2003 versions.
Overstretching the storage limit in PST is one of the most notorious causes of Outlook corruption. And this is what this module guard against. Hence, with Stellar Toolkit for Outlook, you can prevent your PST from becoming oversized. By so doing, you're able to eliminate the main cause of corruption in your Outlook.
To Recover Permanently Deleted or Lost Emails
Humans are prone to mistakes; hence, Stellar Toolkit for Outlook offers you a fail-safe option, to recover emails that were accidentally deleted, without damaging their integrity.
This module 'Recover Deleted Email' does not only recover emails; it also recovers other mailbox components like attachments, contacts, and so on. So, if you have Stellar Toolkit for Outlook installed on your computer, you're guaranteed an "accidental deletion fail-safe", which facilitates the recovery of deleted emails in a quick time.
Basically, the email recovery module:
Recovers deleted data from PST and OST files, including those deleted from encrypted or password-protected data files;
Recovers mailbox components that are permanently lost; and
Offers flexible options, to save recovered files in multiple formats.
If you've accidentally deleted any mail component from your Outlook file (.pst and .ost), do not worry; Stellar Toolkit for Outlook got you covered!
To Merge PST Files
This module facilitates the merging of multiple Outlook files into a single PST. This helps curb the menace of clutteredness and speeds up the organisation or sorting of your emails, attachments, calendars, and so on. All these are carried out without compromising the integrity of the merged files.
Also, this module filters out duplicate emails, and ensures no two similar emails or files are merged together.
To Compact PST Files
The 'Compact Outlook PST' module of Stellar Toolkit for Outlook compacts both a growing PST file and the OST file, thereby help you to avoid unexpected crash of your Microsoft Outlook profile.
Helps in scheduling automatic compaction
Extracts mail attachments in a new or separate folder
Compresses all attachments in a new PST File
Removes all attachments and saves in a new PST File
Option to exclude 'Deleted Items' and 'Junk Items' folder
Supports MS Outlook 2019, 2016, and earlier versions on Windows
To Remove Duplicate Components
By using the 'Remove Duplicate Emails' module of Microsoft Outlook Toolkit, you can easily exclude or filter out all the unwanted duplicate mail data and junk mails from your MS Outlook profile. Have a look at the advantages of using the module:
Shows marking on duplicate emails as 'Expired'
Scans and removes duplicate and junk mails
Option to copy or move the duplicate mail components to a separate folder
Supports Outlook 2019, 2016, 2013, 2010, 2007, and 2003
To Recover Lost or Forgotten Outlook Password
Last but not the least, Stellar Toolkit for Outlook has the module – 'Recover Outlook Password' that helps you to unlock the Microsoft Outlook account data file. So, forgetting or losing your Microsoft Outlook password is no more a hassle now. The module works with all encrypted and password-protected PST files in Outlook 2019, 2016 and previous versions.
Conclusion
Having emphasized the importance of Stellar Toolkit for Outlook, it's pertinent to point out how to get it. Is it available for trial? We'll probe into that in this section.
Well, the term "free trial" is relative! The toolkit hosts a total of eight standard tools, which provide the full preview of data to be repaired, converted etc. while running individual modules as stand-alone tools.
Undoubtedly, this 8-in-1 Toolkit is an essential software for any Microsoft Outlook user out there!