Summary: If you're a Thunderbird user and want to convert your MBOX file into PDF format, then read this post to learn different ways for converting Thunderbird MBOX file to PDF. For quick, easy, and safe MBOX to PDF conversion, you can use the professional MBOX converter tool.

Mozilla Thunderbird uses MBOX file to store the mailbox items, such as emails, contacts, tasks, etc. This file stores mailbox data in simple text format. On the other hand, PDF is a document file format that offers provision for password protection and is supportable on various platforms. Sometimes, Thunderbird users want to convert MBOX file into PDF format. In this blog, we will be mentioning some easy methods to convert MBOX to PDF.
Reasons to Convert MBOX File to PDF
There are various reasons to convert MBOX file to PDF. Let's take a look at them:
You can secure your critical data in PDF by protecting it with a password.
It maintains data integrity, such as hyperlinks, headers, fonts, images, etc.
PDF format has a platform-independent feature. Hence, it can be accessed from any Operating System.
PDF files occupy lesser storage space.
The file's originality is maintained even after conversion.
How to Convert MBOX File to PDF?
Below, we've mentioned two methods to perform the MBOX to PDF conversion task.
1. Use Add-on in Thunderbird to Convert MBOX to PDF
You can use add-on in your Thunderbird to export MBOX emails to PDF format. Here are the steps:
Step 1: Install Free Add-on
Download the Import Export Free Add-on in your Thunderbird.
Further, navigate to Tools > Add-ons.
Search for ImportExportTools Add-on in the Add-ons Manager window.
Now go to its saved location and click on the Import Export Add-on icon.
This will open a new wizard. Herein, click the Install Now button.
Reboot the PC when the installation is done.
Step 2: Save Emails in PDF Format
Launch your Thunderbird application and choose the emails you wish to convert.
Navigate to Tools > Import/Export Tools > Export all messages in the folder.
Choose the PDF Format from the list and click OK.
A warning prompt will display. Click OK to go further.
Now click Select Folder and browse to the destination where you wish to save your resultant PDF file.
To verify if the file is successfully converted, you may go to the location entered for the saved PDF file.
Limitations of the Above Method
The method is time-consuming.
The attachments are removed during the conversion process.
You need to have technical knowledge to perform the process.
You cannot convert multiple MBOX files into PDF.
2. Use Specialized Tool to Convert MBOX to PDF
You can use a specialized MBOX to PDF converter tool, such as Stellar Converter for MBOX for quick conversion of MBOX file to PDF. Using this outstanding tool, you can convert MBOX file into PDF without any data loss. The software is proficient in handling all types of MBOX files. You can also get the attachments in your PDF file after conversion.
How to Use the Tool to Convert MBOX File to PDF?
You need to download and install Stellar Converter for MBOX Technician. Since the converted file will be in PDF format, ensure that you have PDF reader on your system. Now, follow the steps as described below:

Launch the software.
The main interface shows a window having a dropdown list with the names of 17 MBOX email clients. Select Thunderbird from the list.
Click 'Select File' to select the MBOX file. Also, you can choose the 'Select Identity' button for selecting the identity folder having MBOX files. Then choose 'Convert' to begin the conversion process.
Note: There's also an option – 'Find File' that you can use to locate the MBOX files if you do not know their exact location.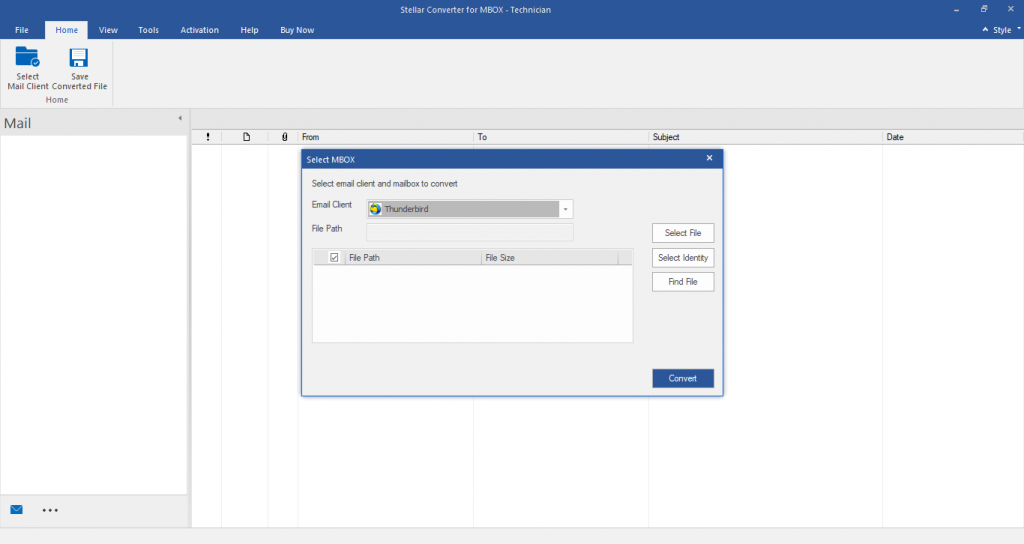 When the conversion process is complete, the software provides an enhanced preview of the mailbox items, like emails, reminders, notes, etc.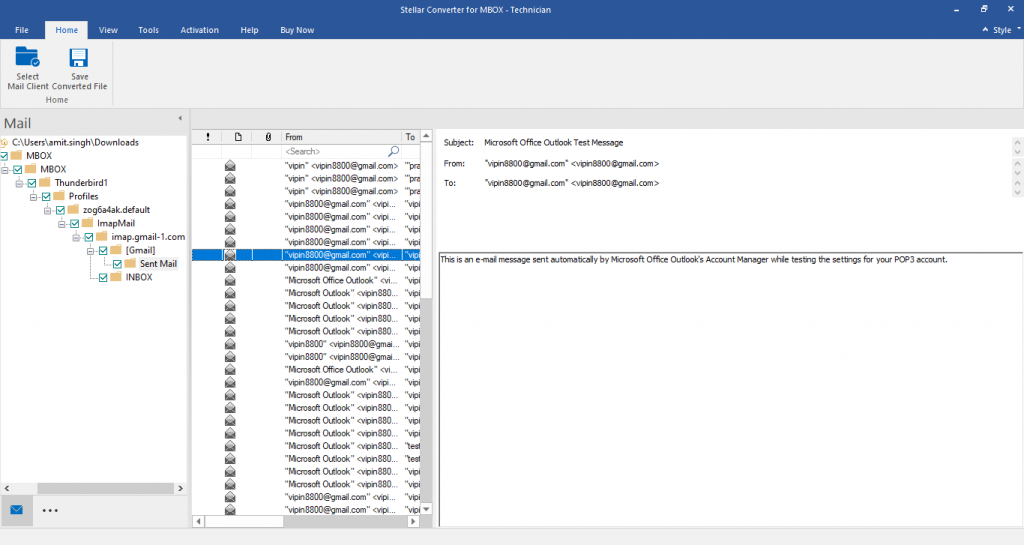 When you are satisfied with the converted data, you can select the 'Save Converted File' option. This will open the 'Save As' window with multiple options to save the file. Select the PDF radio button and then click 'Next.'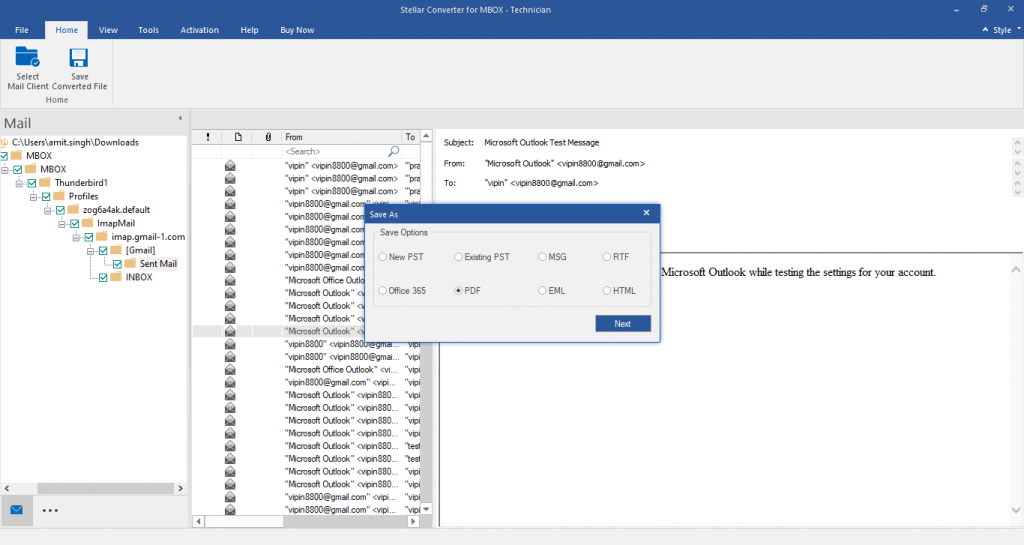 In the 'Choose Destination' window, click 'Browse' to select a location for saving the file on your system. Next, select 'Save'.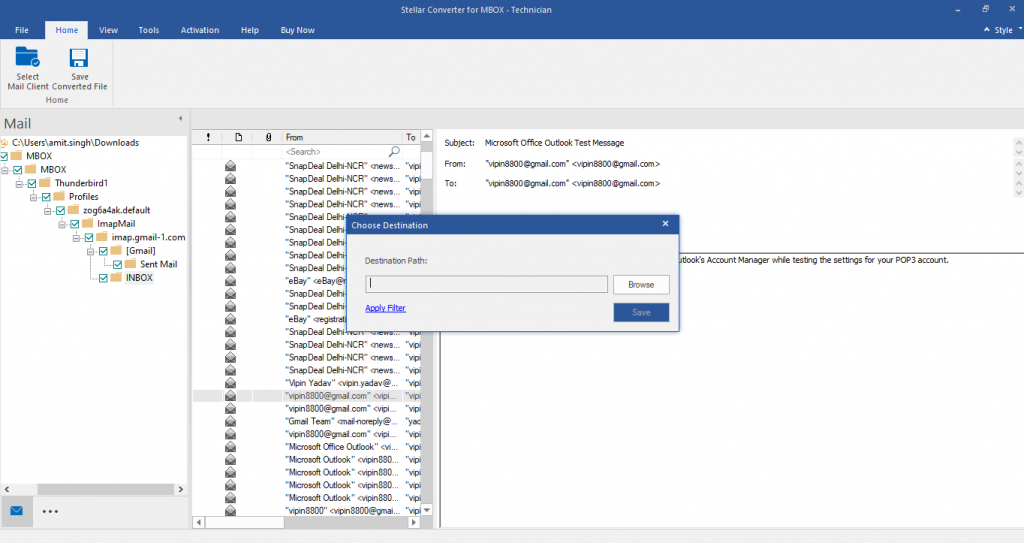 Once data gets successfully saved, the 'Data Saved Successfully' message is displayed.
When the process is finally complete, you can view the converted PDF file at the saved location.
To Wrap Up
You may require to convert MBOX file to PDF due to various reasons. Above, we've mentioned two methods to convert Thunderbird MBOX file to PDF. You can export the MBOX emails to PDF in Thunderbird by using an add-on. However, this method has certain limitations. So, to avoid such limitations and for quick and safe conversion, use a professional tool, such as Stellar Converter for MBOX. The software's user interface is extremely easy and helps perform MBOX to PDF conversion in a few simple steps.