Stellar Phoenix PDF Repair for Mac
Repairs corrupt Adobe Acrobat Files on your Mac
Professional tool for PDF repair Mac that fixes damaged PDF files to recover valuable information in the file and other PDF objects, such as forms, page format, header and footer, word art, clip art, shapes, charts, tables, etc.
Efficiently repairs and restores corrupt PDF files
Searches for PDF files in your system
Displays preview of the repaired PDF file
Retains previous formatting of the document
Lucid and comprehensible GUI
Supports PDF 1.3, PDF 1.4, PDF 1.5, PDF 1.6, and PDF 1.7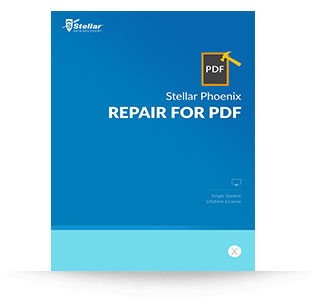 Let us have a quick-look at some salient features of this Repair PDF for Mac utility:

Complete PDF Repair for Mac Users
The software provides you a platform to safely repair your PDF files when they fail to open due to corruption or other similar reasons. This competent tool recovers complete content of the file along with fonts, metadata, file parameters, etc. It also keeps the structure of your document intact, i.e. page tree and cross-reference table.
Option to Find PDF Files in Selected Drive
The software rigorously searches for PDF files in the user-specified drive and enables you to choose the desired file for repair. It is worthwhile to perform the search operation when the location of the PDF file is not known.

Repairs PDF Files on CDs and Flash Memory Devices
The software performs smooth PDF repair for files stored on CDs/DVDs, USB drives, memory cards, etc. It supports all types of removable media that could be recognized by the host operating system of your Mac.

Shows Preview of Recovered PDF Files
The software fixes Mac PDF file corruption and shows the preview of repaired file with the exact components, as those were present in the original document. It allows you to view charts, header and footer, comments, images, shapes, tables, etc. contained in the PDF file

Saves Repaired PDF at User-specified Location
The software repairs damaged PDF file on Mac and gives you the choice to save the repaired file at any desired location. The repaired PDF file is saved at your specified location by the name 'Recovered_[file name]_ Date.pdf'.
* Download the Free Demo of this PDF Repair software for Mac. Using the Demo Version you can preview all the pages of the PDF file. However to save the repaired PDF file, you need to register the product.
FAQ's
Previous
Next
What is the difference between Demo and Full versions of Stellar Phoenix PDF Repair for Mac?

Answer:


The Demo version of the software only provides preview of the repaired PDF document. You can examine the file to verify your data. In order to save the repaired file to your desired location in the system, you need to purchase the Full version.

What are the different PDF versions supported by this Mac utility?

Answer:


The software supports almost all versions of PDF files including the latest PDF 1.7. The supported PDF versions along with their corresponding Acrobat Reader versions are listed below:

| | |
| --- | --- |
| PDF Version | Adobe Reader Version |
| PDF 1.3 | Adobe Reader 4.0 |
| PDF 1.4 | Adobe Reader 5.0 |
| PDF 1.5 | Adobe Reader 6.0 |
| PDF 1.6 | Adobe Reader 7.0 |
| PDF 1.7 | Adobe Reader 9.0 or later |

Can the software repair more than one PDF files simultaneously?

Answer:


No, Stellar Phoenix PDF Repair cannot repair multiple PDF files in a single operation.

I do not remember the location of my PDF file. How can I search the file using this software?

Answer:


Stellar Phoenix PDF Repair incorporates a feature that allows you to search and locate PDF files in the volumes of your Mac. You can search for files with '.PDF' extension in any of your local drives and all the files found will be displayed to you in a list. You can then select the desired file to be repaired from the list.

Can the software repair password-protected PDF files?

Answer:


No, Stellar Phoenix PDF repair cannot repair PDF files protected by a password or having any other type of restriction.
You May Be Interested in These Items