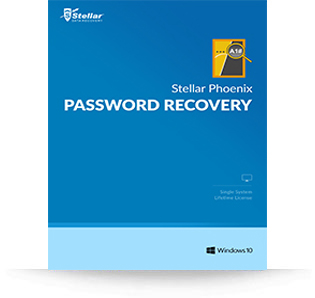 Stellar Phoenix Windows Password Recovery
Reset Windows login passwords and auto-complete passwords of web browsers
Professional Windows password recovery software that safely resets passwords of all administrator and user login accounts on Windows 8, 7, Vista, and XP. In addition, the software performs Windows password recovery for various email clients, FTP clients, web browsers, and chat messengers installed on your computer.
Resets Windows passwords for administrator and other user login accounts
Finds user name, domain name, and password for Network application- 'Remote Desktop'
Some remarkable features of this software are discussed below:

Resets Windows Administrator and User Password
Enables you to reset Windows administrator and other user account passwords by using the Stellar Phoenix Password Recovery Bootable Disk. You can boot the system using this bootable disk and regain access to your password-protected account by resetting the old Windows password to a blank password.

Finds Login Password of Web Browsers and FTP Clients
Performs smooth recovery of the auto-complete passwords of various web browsers that are installed in the system. The proficient tool also recovers Windows passwords for FTP clients and network application-'Remote Desktop', provided they have already been saved on the local machine.

Finds License Keys of Microsoft Applications
You can easily and quickly recover the license keys of all registered Microsoft applications installed on your computer. The software displays the license key along with other product related information and allows you to save this information in a separate text file at any desired location.
Supported FTP Client Applications
Cute FTP ( 8.x, 7.x ), Smart FTP ( 4.x ), FileZilla (3.x, 2.x ), FTP Voyager (15.x, 14.x ), Flash FXP ( 3.x ), FTP Navigator ( 7.x ), Auto FTP ( 2.x ), BulletProof ( 2010, 2009 ), 32-bit ( 9.x ), FTP Control ( 4.x ), FTP Commander Deluxe ( 9.x, 8.x )
Compatibility
The admin password recovery utility has compatibility with all the latest Windows versions, including Windows 7, Vista, XP, 2003, Server (2000-2008), and 2000..

Supported Microsoft Applications
Microsoft Windows OS, Internet Explorer, Microsoft Office Enterprise 2007, Microsoft Office Visio Professional 2007, Microsoft Office ( 2003, 2002 ), MS SQL Server ( 2000, 2005, 2008 ), MS Visual Studio ( 2008, 2005 )

Update Wizard
You can use the 'Live Update' feature to update your software version with the latest definitions available over the Internet. The simplified design of the Update wizard helps to save your valuable time and indeed make the process more facile. .
Supported Web Browsers
Internet Explorer ( 9.x, 8.x, 7.x, 6.x, 5.x, 4.x ), Mozilla Firefox ( 5.x, 4.x, 3.x, 2.x ), MSN Explorer ( 7.x ), Netscape Navigator ( 9.x )
FAQ's
Previous
Next
What do you mean by 'Windows Registry Limit' for password?

Answer:


Windows Registry Limit' for password signifies the maximum length of the password permitted by the Windows operating system.

Can I recover accidentally deleted 'user name', password' or 'license key' using Stellar Phoenix
Password Recovery?

Answer:


Stellar Phoenix Password Recovery resets Windows passwords of various user accounts, recovers auto-complete passwords and user names of various web browsers, and finds license keys of all registered software installed in your system. The software cannot be used to recover accidentally deleted passwords or the passwords that are not saved in the system.
You May Be Interested in These Items