Summary: This post shares the best possible methods to recover deleted or unsaved PSD files on your Mac computer in different situations.

Try Stellar Data Recovery Professional for Mac to salvage deleted Photoshop files.
D-I-Y data recovery on iMac and MacBook systems begins with a free trial.

Adobe Photoshop is limitless when it comes to showcasing your creativity. However, losing the hours of creative efforts due to human error or technical faults can be extremely disappointing.
'I accidentally deleted a project of Photoshop CS 6 on Mac. I can't find my file in the Trash folder. Please help!' 
'My hours of labour on design work in Photoshop CC is lost after the sudden shutdown of my Mac Pro. It's dreadful. I can't afford to lose this work. Can I recover the unsaved PSD files?'
Howsoever you are careful, accidental deletion or sudden application crash before you can even save the file can happen anytime with Photoshop.
How to Recover Unsaved Photoshop files on Mac
If Photoshop crashes, freezes or suddenly shuts down before you could even save your work, follow the below methods to recover the unsaved PSD files.
Recover with Photoshop Auto Save
Recover unsaved PSD files from Auto Recover
Recover from 'Recent' folder
Method 1: Recover with Photoshop Auto Save
Photoshop auto-saves your work. In Photoshop CS 6 and above, Adobe introduced the autosave feature to reduce annoying disruptions. Autosave ensures that you don't lose your creative assets due to the sudden crash of the application or system. The graphics editor autosaves PSD files while working at an interval of at least 5 minutes.
If you have not disabled Automatically Save Recovery Information Every option in the Preferences, you can easily recover the unsaved PSD files lost due to crash. It is also helpful when you forget to save the file before closing the application.
Steps to recover unsaved Photoshop file on Mac
Launch Photoshop on Mac
The last auto saved version would appear with 'recovered' added in the file name
Save the file
Method 2: Recover unsaved PSD files from Auto Recover
If you can't find your auto saved PSD file on launch of the app, no need to worry. The PSD files are still recoverable. The auto saved PSD files are located in the Library of your Mac.
Simply follow Library >Application Support> Adobe>Adobe Photoshop CC 2017> AutoRecover folder. In the folder, you will see the auto saved PSB files. Restore them at your desired location.

Method 3: Recover from 'Recent' folder
Another way to restore unsaved PSD files after sudden Photoshop crash or Mac shutdown is via 'Recent' folder. The program displays the files on which you had recently worked under the Files button.
Steps to recover unsaved PSD files from 'Recent' folder
Launch Photoshop
Go to File > Open Recent
Select the required PSD file
Save it at a desired location
How to Recover Deleted Photoshop Files on Mac
If you have deleted Photoshop files from your Mac, first place to look for them is in Trash. Other than Trash, you may find the lost files in the backup folder... Just in case, you follow the best practice!
If there's no backup and the files are also deleted from Trash, the only solution is a data recovery software for Mac that supports Photoshop files recovery.
Recover deleted PSD files by using Mac data recovery software
Permanently deleted PSD files on Mac are not easy to recover. You need a professional tool like Stellar Data Recovery Professional for Mac. The software restores Photoshop pictures without affecting their original quality. It keeps the layers, graphics, colors etc., intact in your Photoshop project.
Especially designed for macOS, the DIY application can retrieve the PSD files emptied from Trash. You can recover deleted Photoshop pictures from lost or deleted volumes, mounted or unmounted pen drives, SD cards, and other storage media on Mac. Stellar Data Recovery Professional for Mac works on formatted drives too.

Steps to Recover Deleted Photoshop Files Mac with Stellar Data Recovery Tool 
I. Install and launch Stellar Data Recovery Professional for Mac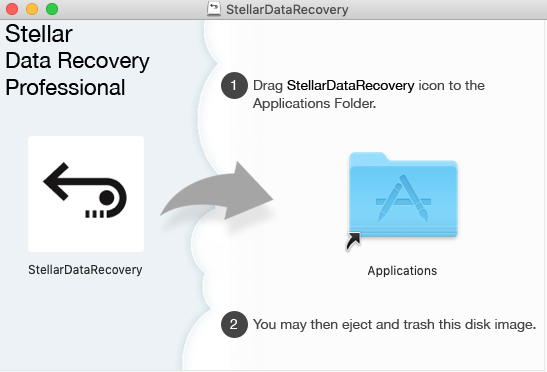 II. Select Photos from 'Select What to Recover' screen. Press Next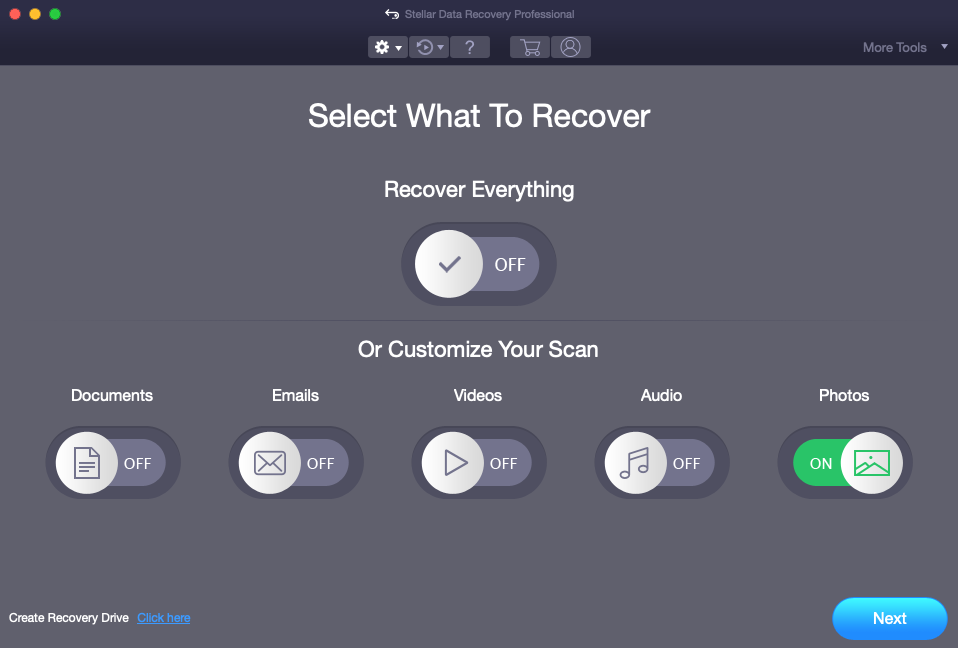 III. From the toolbar, select Settings icon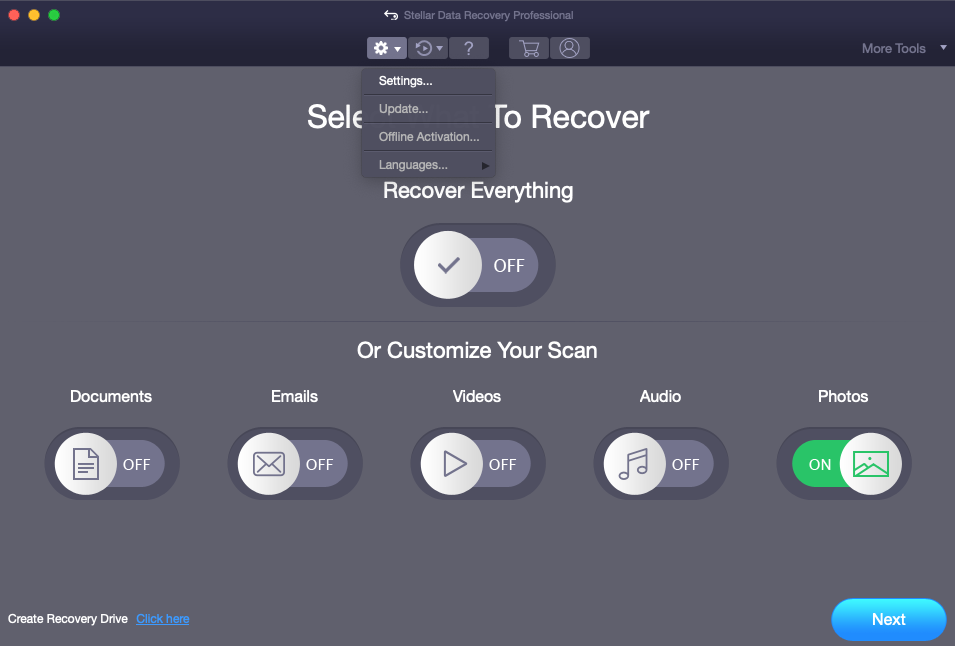 IV. Click Supported File Types in the Settings window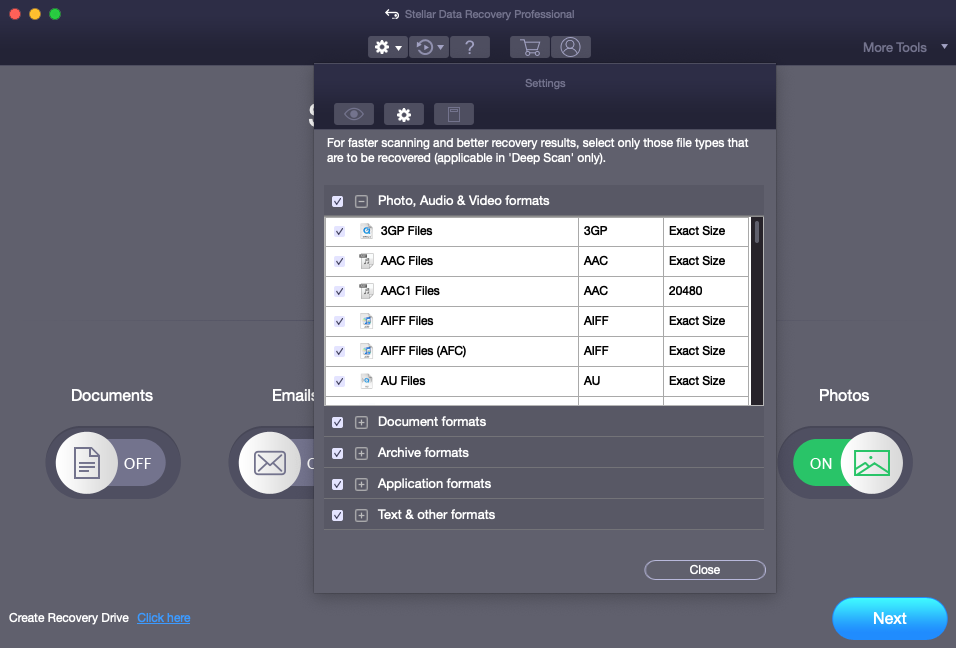 V. From the list of the supported formats select PSD file type only and unselect others. This way the software will recover only PSD files (time-saving tip). Close the window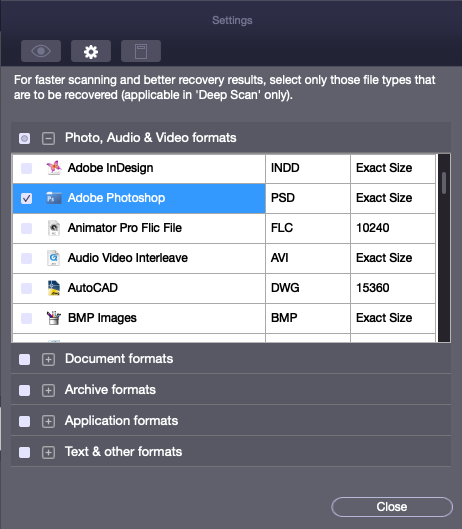 VI. Choose your preferable Mac storage drive, from which you lost the Photoshop file. Click Scan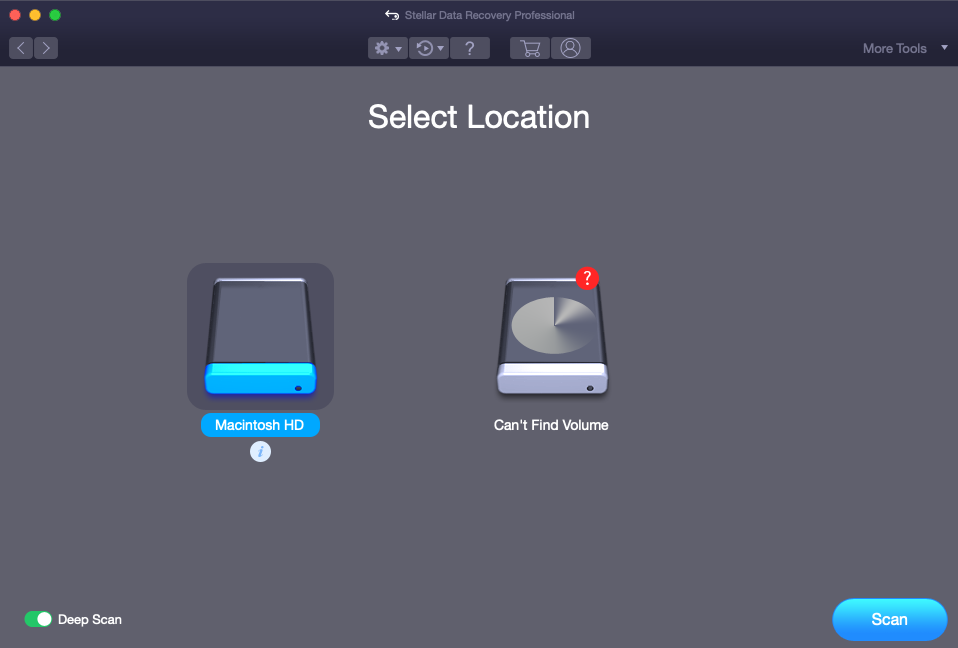 VII. Once the scanning completes, the found photos are listed. Select the desired PSD files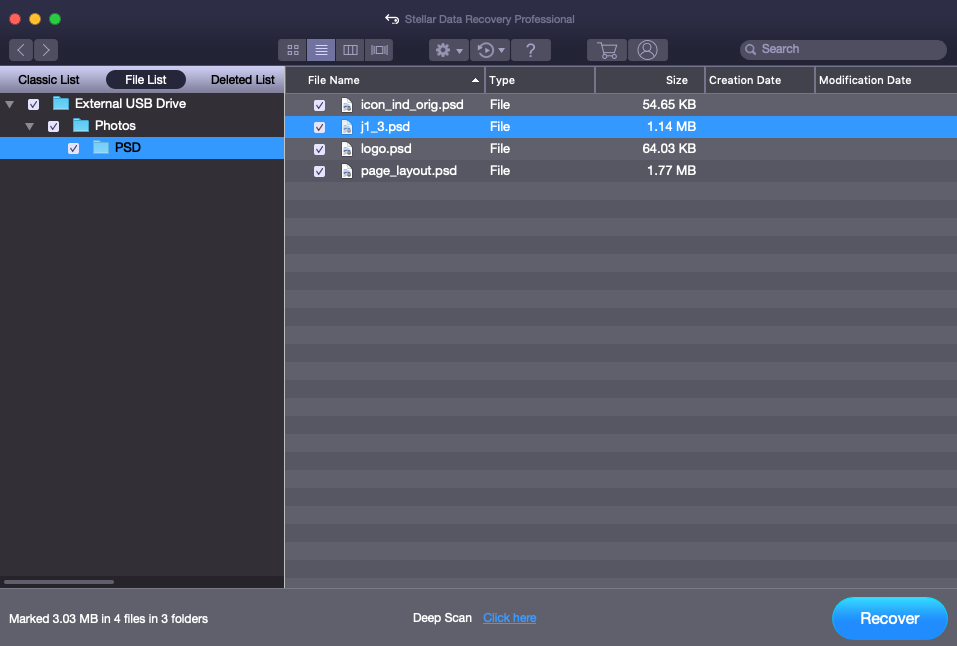 VIII. Click Recover and Select location and Save PSD files at your desired destination
Wrapping Up
Though Auto Save and Auto Recover features help Photoshop users recover lost PSD files in some cases, but they are not sufficient. Considering the many circumstances in which a file may get lost, it's better to go for a data recovery software such as Stellar Data Recovery Professional for Mac to get comprehensive coverage.
The software recovers permanently deleted PSD files on Mac and works effectively in other tough cases of data loss while maintaining the original quality and integrity of the recovered files.
To recover your deleted pictures from Photoshop, you can download Stellar Data Recovery Professional for Mac here.