'I record my family gatherings, vacations, parties etc. with Sony Handycam HDR CX430V and transfer the videos to PC. Recently, I was shocked to find many of my CX430V videos have turned corrupt! How can I repair them? Please help!'
Although Sony cameras such as HDR CX430V are known to capture remarkable videos, they may also face the video corruption problem. Due to susceptibility of the storage media, be it computer, memory card, SD card, the video files often get corrupt.
Here we bring the various methods to repair corrupt videos taken from Sony handycams.
How to Repair Sony CX430V videos
Since Sony Handycam HDR CX430V records MP4 or AVCHD full HD 60p H.264 videos, ensure the tool supports the format. Before going for a repair software or method, ascertain that it can deal with corrupt UHD videos.
Best methods to fix corrupted MP4 & AVCHD videos from Sony
Use Stellar Repair for Video software
Repair with VLC Media Player
Repair in FFmpeg
The given methods can repair corrupt videos taken from all Sony cameras including CX430V. You can fix issues such as pixelation, grains, choppiness, jerkiness, truncation, no sound, broken & out-of-sync videos, black screen, lags, playback issues, and other video problems.
Method 1: Use Stellar Repair for Video software
Stellar Repair for Video is an advanced application that fixes corruption in videos from Sony camcorders, DSLRS and handycams. The software supports repair of H.264 MP4 and AVCHD format of Sony cameras.
You can fix several audio and visual corruption like flickering, black screen, video lag, truncated, missing sound and much more using Stellar Repair for Video.
In case the video is severely corrupt and seems beyond repair, then too, the software detects the issue and recommends 'Advance repair'. The feature uses sample file, which is a working video of any size created from Sony Handycam HDR CX430V. It should be of the same format as of your corrupt video file. The information from the sample file is used to repair the corrupt video.
The software is easy-to-use. Simply – Add file, Repair and Save for the video repair task.
Key benefits
Easy to use
Preview before saving the repaired video
Fixes multiple corrupt videos in one go
'Advance repair' for severely damaged MP4 videos
Supports all Sony cameras and storage cards
You can also try the repair software free download version to experience its capabilities.
Step-by-step: How to fix corrupt videos from Sony Handycam HDR CX 430V
Download and launch Stellar Repair for Video on your PC or Mac
Click on Add File
Click Preview to watch the repaired videos. Click Save Repaired File
Method 2: Repair Sony video with VLC Media Player
Along with playing videos, VLC Player can fix minor video corruptions too. You can try the player, once for repairing H.264 Sony videos in VLC Media Player.
Steps to repair video files in VLC
Open your corrupt Sony video VLC
Click on Tools
Go to Preference
Click on Input & Codecs
Go to Damaged or incomplete AVI file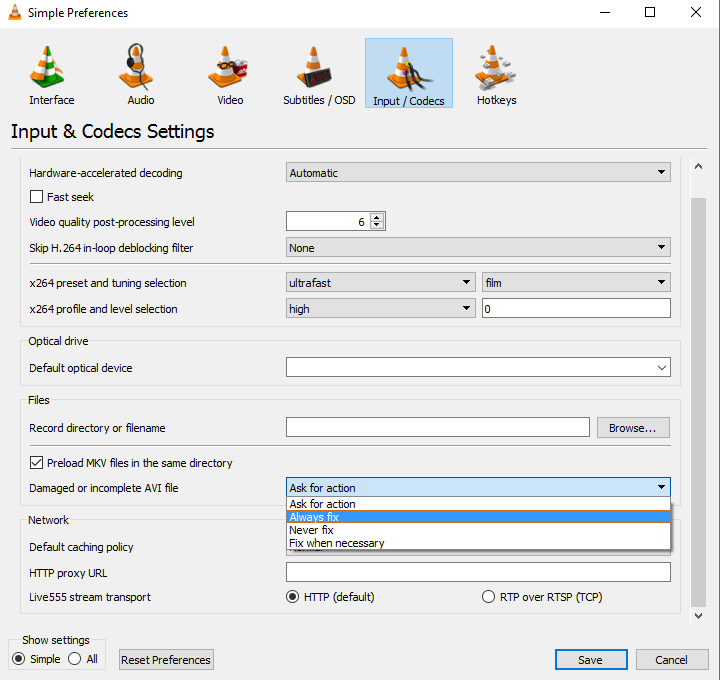 Select Always fix in the dropdown
Click Save
Method 3: Repair Sony video in FFmpeg
FFmpeg is a free software with several functionality to repair multimedia files, among which one is to repair corrupt videos.
The application uses various command lines to fix corruption like below:
Ex. 1- ffmpeg -i "video.ts" -force_key_frames "expr:gte(t,n_forced*3)" out.ts
Ex. 2 -ffmpeg –i corrupted_input.ts –map –ignore_unknown/-copy_unknown–c copy fixed.ts
You have to be well-versed with the program to use it effectively for repairing corrupt videos.
Hacks you may try to play the corrupt video
Play in another player
Convert to another video file format
Update or reinstall your PC drivers
Download/copy your video again from the source
Conclusion
A video repair application can fix audio lags, grains, stuttering, broken, etc. in the Sony MP4/AVCHD video files.
You can try VLC Player, though it doesn't guarantee repair of severely corrupt videos. For that a professional video repair software – Stellar Repair for Video is recommended. Other than these, FFmpeg program's repair function is also helpful. It is free, and uses specific command lines to repair corrupt videos. However, the tool demands technical proficiency unlike Stellar Repair for Video which anybody can use.
Also read:
Recover Photos after Sony DSC-W100 Camera Error 'cannot format memory card'
How to Recover Deleted 4K Videos from Sony FDR-AX100 Handycam