Summary: Data loss from a laptop can happen due to reasons such as file system damage, virus or malware infection, accidental deletion of the partition, sudden shutdown, etc. This blog post shares the steps to recover the data from a laptop hard drive by using Stellar data recovery tool. Download a free trial of the software and follow the steps to recover the lost data from laptop hard drive.

Irrespective of the make and model, the hard drives in laptops may turn corrupt due to various reasons. Foremost being its compact size. When a drive gets corrupt, all the files in it become inaccessible, thus resulting in data loss situations.
In a study by StorageCraft, 31% IT pros said data loss occurs due to hardware or software failure while 29% reported human errors as the cause of data loss. These errors include accidental formatting, partition deletion, abrupt system shutdown, force shutdown, and many more.
However, the data lost due to some hardware failure, human errors, and software failures can be recovered. Sometimes with basic troubleshooting or inbuilt Windows repair utilities and often with the help of a data recovery software.
With the help of this guide, you will be able to recover lost, deleted, formatted, and inaccessible data from severely corrupt, formatted, or missing partitions.
But First, Let's Look at Some Common Reasons Behind Hard Drive Corruption and Data Loss
1. File System Damage
It occurs when you remove the drive without ejecting it properly. That threatens not only the data that is being transferred but also the drive and other files contained in the drive. This could further lead to file system errors and drive corruption. Also, there are chances that data might get lost.
2. Virus/ Malware Infection
A malware or virus infection can damage the data, corrupt the file system, encrypt drive or data (ransomware), delete it, or send it to unauthorized servers, resulting in permanent data loss and data breach.
3. Accidental Partition/ Data Deletion
It may sound unusual but data loss due to accidental deletion is more common than malware or virus attacks. Human errors accounted for the second most common cause of data loss in 2020. Therefore keeping a backup of critical files is important.
4. Power Surge
A power surge can damage the hardware. For instance, it can fry the motherboard or internals of the drive. It can also lead to system crash or abrupt shutdown, leading to data loss. Use UPS power supply if power surge is an issue.
5. Unexpected Shutdown
Unexpected shutdown can occur due to malware infection, corrupt system files, damaged device drivers or registry files, etc. Sudden shutdown can lead to data corruption and data loss. Drive corruption is also a common outcome of an unexpected system shutdown.
Installing trusted software and OS updates along with a regular system scan by using Windows Defender will keep the system protected from such data loss events.
6. Damaged Device Drivers
Damaged or corrupt device drivers can cause system freeze, program not responding, and the dreaded Blue Screen of Death (BSOD), which may all ultimately lead to data corruption and permanent data loss.
Again, make sure to install device driver updates. You can check the OEM website to check for update and use OEM-supplied utilities to get notifications regarding driver updates. For example, SupportAssist by Dell notifies the user when a driver update is available.
7. Corrupt System Files
Corrupt system files can corrupt other data on the drive and lead to drive corruption. When a drive gets corrupt, the OS can't read the file system, and thus, data becomes inaccessible.
One way to recover data is to fix drive corruption by using CHKDSK or Error checking tool. However, those utilities can only fix minor drive corruption. For the severely corrupt drive, you need a specialized data recovery tool to retrieve the data or repair the partition.
Steps to Recover Data From a Laptop Hard Drive
The manual fixes and troubleshooting can help resolve logical errors and driver issues that may reinstate access to the data on inaccessible drives. However, to recover deleted or lost data from a severely corrupt and formatted drive, a reliable data recovery software like Stellar Data Recovery Professional for Windows is a must. That's the only solution that can help you get back your crucial data.
Therefore, the sooner you act, the better the chances of data recovery. Follow these steps to recover data from common data loss situations.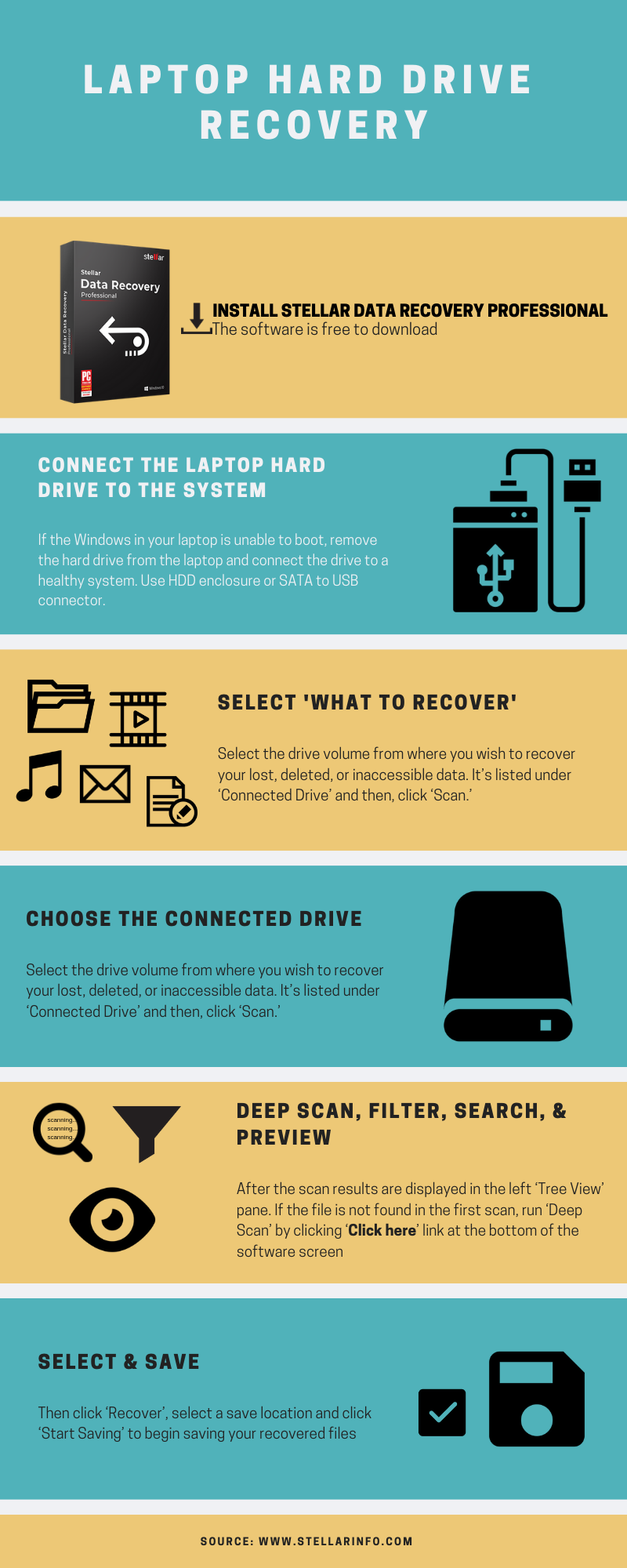 NOTE: There may be a case where the drive volume of partition is not visible. In that case, select 'Can't Find Drive' option in the software. Then click 'Scan' and continue to follow the steps.
The Bottom Line
Laptop hard drives are much more compact than those in the desktops. Therefore, the drives have limitations. They get heated up quickly and therefore need proper ventilation. Also, make sure a reliable antivirus and anti-malware protection is installed on the system. Besides, always keep a backup either on local storage or cloud. To ensure backup availability, create at least two backups—one local and another on the cloud, preferably.
However, a data recovery software such as Stellar Data Recovery Professional can help you get back your lost and deleted data. Also, the software recovers virtually any file type from all storage devices with NTFS, FAT (FAT16/32), and exFAT file systems.