Every day, you delete several files from your Mac system. In Mac, for every user account, there is a particular 'Trash' folder inside the home folder. You can delete a file either by dragging the file icon to the Trash on the Dock or by selecting the file and pressing 'Command+Delete'.

Once, you delete a file; it goes to the Trash folder. At any time, if you need a deleted file, you can restore the file by dragging the file out of Trash. However, sometimes, while deleting, if the size of the file is very big to be contained inside Trash folder or you have hit the set commands, like 'Command+Shift+Option+Delete', then the file gets completely deleted without going into the Trash. Apart from this, at times, you just clean your Trash completely by choosing the 'Empty Trash' option from the Finder menu.

In such cases, after emptying the Trash, Mac does not have any option to restore the deleted files. However, you can use powerful Stellar Phoenix Mac Data Recovery utility to recover deleted files even after emptying the Trash folder.

Steps to Recover data after emptying the trash using Stellar Phoenix:

Download the Stellar Phoenix Mac Data Recovery Software and install on your system.

Run Stellar Phoenix Macintosh Data Recovery software and from the main interface, click the 'Start New Scan' button.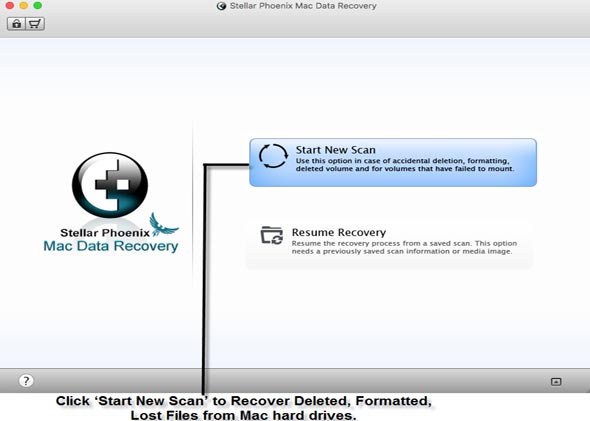 Another interface opens. Choose the hard drive, from which you need to recover the deleted files. Select 'Deleted Recovery' option and click on the 'Start Scan' button to initiate the scanning operation.
The software scans the selected volume and shows all the recoverable deleted files/folders in a tree view. (Only Preview of recoverable deleted files is available in the demo version of the software)
To recover the deleted files, you need to activate the software. After activating the software, Select the files, you want to recover and click the 'Recover' button.
Provide the location, when the software asks you to specify the location, where the recovered files will be saved. By default, all the recovered files get saved in a folder named 'Root' at the specified location.


Now you can see your recovered data on specified location.

Stellar Phoenix Mac Data Recovery is fully compatible with macOS Sierra 10.12 and below versions including OS X El Capitan 10.11, Yosemite 10.10, Mavericks 10.9, Mountain Lion 10.8, Lion 10.7 and Snow Leopard 10.6. Furthermore, the software also supports deleted file recovery from an external hard drive formatted with HFS, HFS+, NTFS, FAT and EXFAT file systems.