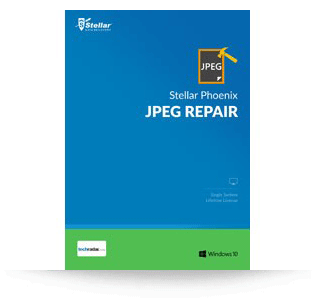 Stellar Phoenix JPEG Repair
Repairs corrupt JPEG image files stored in computers, camera memory, and memory cards
Stellar Phoenix JPEG Repair is a useful JPEG/JPG repair software that repairs corrupt or damaged photographs and image files, having JPEG or JPG file extension without modifying their original data. This powerful utility even repairs the images from the memory cards, which are completely unreadable.
Repairs JPEG/JPG files with original format intact
Repairs and extracts Thumbnails of the JPEG file
Shows preview of the repaired file after scan
Secure and read-only JPEG repair tool
Supports Windows 10, 8.1, 8, 7, Vista, XP, and Windows Server 2008
Stellar Phoenix JPEG Repair is a user-friendly tool that helps you to repair corrupt JPEG/JPG photos or image files. Below mentioned are major features of this advance JPEG/JPG recovery software:
JPG File Repair
Repairs corrupt or damaged JPEG/JPG image files and recovers them back from the flash memory cards, memory sticks, computer hard drives or any other secondary storage media. Stellar JPEG Repair recovers your completely unreadable JPEG/JPG files even under the situations of corrupt header, corrupt JPEG data, invalid JPEG file structure etc.
Extract Thumbnail of Severely Corrupt Files
The software can easily extract the embedded thumbnail image of severely corrupt JPEG files without compromising its visual fidelity. This feature is particularly important for all JPEG images, which have undergone damages or corruptions beyond repair. With Stellar Phoenix JPEG Repair, you can get the thumbnail images of those files.

Preview of Repaired Images
The software provides an option to preview repaired images after scan so that you can check for inconsistencies in your repaired images prior to perform saving. The tool has a knack of repairing all images intact. Once you find that there are no differences, you can choose to save them to your system.
Saving the Repaired JPEG File
Besides the ability to perform flawless repair, the software has the benefit of flexible saving options. You can save the repaired image at any location of your choice. The software saves all thumbnails of repaired JPEG files to a separate folder.
Faster, Improved Scanning Engine
The optimized scanning engine built with this tool can improve its repair performance many folds. The software can conveniently scan multiple JPEG files in a batch and give you precise results in less time than expected.

User-Friendly GUI
This JPEG repair tool offers ease of learning with its straightforward and intuitive GUI. You will find a progress bar that reveals the exact status of a scanning or saving process. After completion of a task, you are provided with appropriate messages to know if the task completed successfully.
Note: JPEG recovery software will only repair the corrupted jpeg files. Software will not recover any deleted jpeg files.
* Free Download is only for evaluation and provides preview of repaired jpeg files
FAQ's
Previous
Next
What is 'JPEG' file format? What exactly is the difference between JPEG and JPG format?

Answer:

The full form of JPEG is 'Joint Photographic Experts Group'. It is one of the common methods of lossy compression for digital photography. In other words, it is the standard method of compressing digital photographs. The file extensions used by JPEG format are .JPEG, .JPG, .JFIF, or .JPE.
Hope it is pretty much clear from the above paragraph that JPEG and JPG both are same. However, at times some programs only recognize three letters of extension so JPG is used there.

What is 'Thumbnail'?

Answer:


Compact or reduced size version of a picture is called its thumbnail. Through this small form of an image you get an idea how an image looks like.

I have compressed my large JPEG file and it got corrupt anyhow. Can I repair the file with Stellar Phoenix JPEG Repair?

Answer:

No, Stellar Phoenix JPEG Repair does not support repair of compressed JPEG files.

I ran this tool on my corrupt JPEG file and got the message 'Important marker missing'. What this
message means?

Answer:

The software shows this error when it does not find the marker in your JPEG file. In such situations, the software fails to do the repair.
You May Be Interested in These Items