Have you ever turned on your Windows PC and found that one of the partitions on your system is missing? What if the lost partition is the one with all important data? This can spell trouble for you, and you can't ignore such critical data loss.
To help you tackle such incidents, we have prepared a list of top partition recovery software available in the market. We have segregated these software based on the criterion discussed below to help you choose the best to restore your lost partition.
Important attributes of the best partition recovery software
You can easily choose the best partition recovery software if you are well-informed about the attributes you should look for.
Here's what to ask about the best partition recovery software:
Performance
Does it really work on partitions, or is it a simple data recovery tool? Are users happy with the data recovery results?
Cost
Is it worth the price quoted by the provider? Can you justify the cost to utility ratio of the tool? Is there a free or trial version available?
User Experience
Does it have a clean and simple User Interface? Is it complicated to use? What's the level of expertise it requires from the user?
Supported Data Type
Is the recovery limited to specific file types, or can it recover all file types used worldwide? Can you add a custom file type to the list of recoverable files?
Supported Devices
Is the software compatible with all the devices working with the same OS? Do you need to acquire multiple software versions for different devices?
Utility in various data loss scenarios
Is it only a partition recovery tool, or could it also recover data lost due to accidental deletion, corruption, etc.? Does it work on a non-booting or crashed Windows device?
Customer Support
Does it come with dedicated 24x7 customer support? Is there voice support available in multiple languages?
Why does a partition get lost/deleted?
The major reasons why a partition on Windows PC might get lost or deleted are as under:
Accidental deletion
Errors during creation of partition.
Interruption in power supply during data transfer to/from a partition
Partition loss due to major OS update
Corrupt partition table
Hardware failure due to lifecycle completion or exposure to extreme physical conditions
Fault in firmware due to a manufacturing error
Virus/Malware attack
You can eliminate your worries about recovering deleted partitions on Windows using the best software listed in this article.
10 Best Windows Partition Recovery Software of 2023
Now that we have detailed the parameters for a good partition recovery software, let's start with our list of best partition recovery software. The list elaborates on each software's features, pros and cons, and price.
1. Stellar Data Recovery Professional for Windows
On top of our list is the Stellar Data Recovery Professional for Windows. It is a powerful partition recovery solution with advanced recovery options.
It not only recovers the entire partition with utmost precision but can also recover a single file without going for an entire system scan.
The software comes with a bundle of recovery features perfect for any data loss situation on Windows 11/10/8/7. Moreover, it helps to securely recover data from a non-booting or crashed Windows device.
Pros:
Complete partition and RAW drive recovery
Encrypted and 4K drive support
Recovery from internal and external HDD, SSD, USB, SD card, and more.
Retrieves data from CD/DVD, HD DVD, and Blu-ray disks
Recovers lost and deleted data, including email files
Disk Imaging for faster and more secure recovery
It supports any file type or system used across the globe with an option to add file types and search files by name and type.
Preview data before recovery
S.M.A.R.T. drive monitor to keep an eye on your system's health
Free edition with up to 1 GB data recovery
Cons:
It doesn't automatically generate a preview of a file if the preview button is disabled.
Deep scan takes longer as it searches data based on file signatures.
Free recovery offers only 1 GB of data recovery.
Best Price: USD 89.99 - Buy Now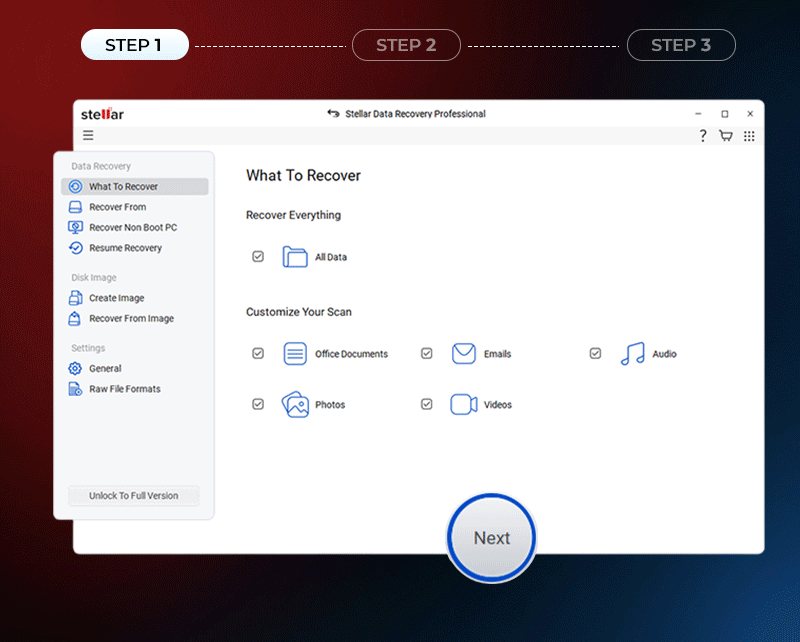 2. Disk Drill Partition Recovery
Disk Drill Partition Recovery for Windows is a robust tool to recover lost or deleted partitions on your PC.
The software can recover multiple file types from a deleted partition and ensure that your valuable data is fully recovered.
Moreover, it supports almost all storage devices compatible with Windows.
Pros:
Recovers most of the data from a lost partition and RAW devices
Simple UI with easy-to-use features
Allows file search by name
Generates preview of some specific file types
Equipped with a raw image scanner to detect raw file formats
Capable of recovering data from different file systems
Provides both quick scan and deep scan
Cons:
No voice support to resolve customer queries
Hard to understand scan results due to complex file format representation.
Very slow scan speed
No bootable recovery option
Free recovery of only up to 500 MB
Price: USD 89.00 Buy Now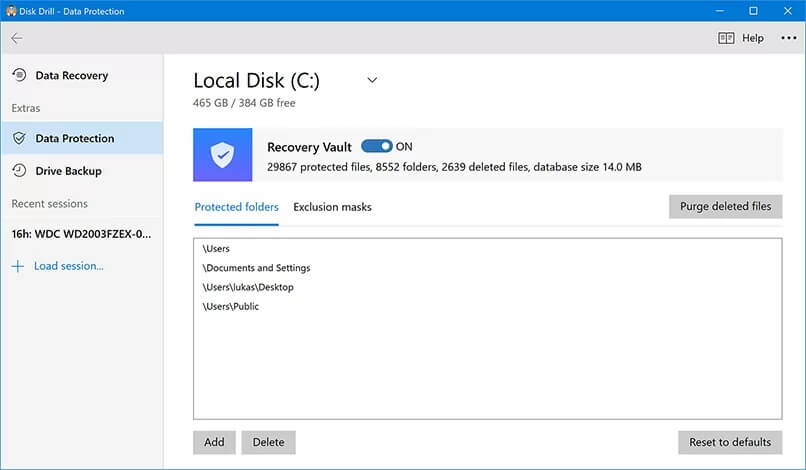 3. EaseUS Data Recovery Wizard Pro
EaseUS Data Recovery Wizard Pro is an effective recovery software capable of recovering RAW, deleted, or lost partitions on your Windows PC.
The software is ranked among the top data recovery solutions for its ability to retrieve most of lost data due to any mishap like deletion, formatting, corruption, virus attack, etc.
Pros:
Recovery of RAW, deleted, and corrupt partition on Windows
Easy to understand presentation of scanned data
Innovative and easy user interface
High accuracy in recovery results
Option to pause the scan and save the scan results to continue recovery later.
Bootable recovery option available.
Supports almost all digital storage devices.
Cons:
Only 500 MB recovery is offered in the free version.
No option to scan individual folders. You need to scan the complete drive.
Recovery scan speed is much less than other competitors.
No voice support, only chat and email support available.
High price with a subscription model.
Price: USD 99.95 Buy Now
4. Minitool Partition Wizard Pro 12.6
The Minitool Partition Wizard is a great partition recovery tool that works on Windows OS and Windows servers.
The tool flawlessly recovers lost or deleted partitions due to any glitch on your PC. It is one of the trusted tools with multiple useful features included in the pack.
Pros:
Apart from partition recovery, it also helps create, delete, and format partitions.
It provides an option to change the file format of your disk.
Includes a disk-monitoring tool
One of the best-in-class UI
It doesn't require rebooting the system to partition the hard drive.
Option to create a bootable disk
It also functions as a data recovery tool.
A basic free version is available for trial with up to 1 GB file-saving restriction.
Cons:
Difficult to handle the dynamic disks
As the package includes multiple software, its installation is not easy
No additional language option
Slower and complex recovery
Very costly
Price: USD 159.00 Buy Now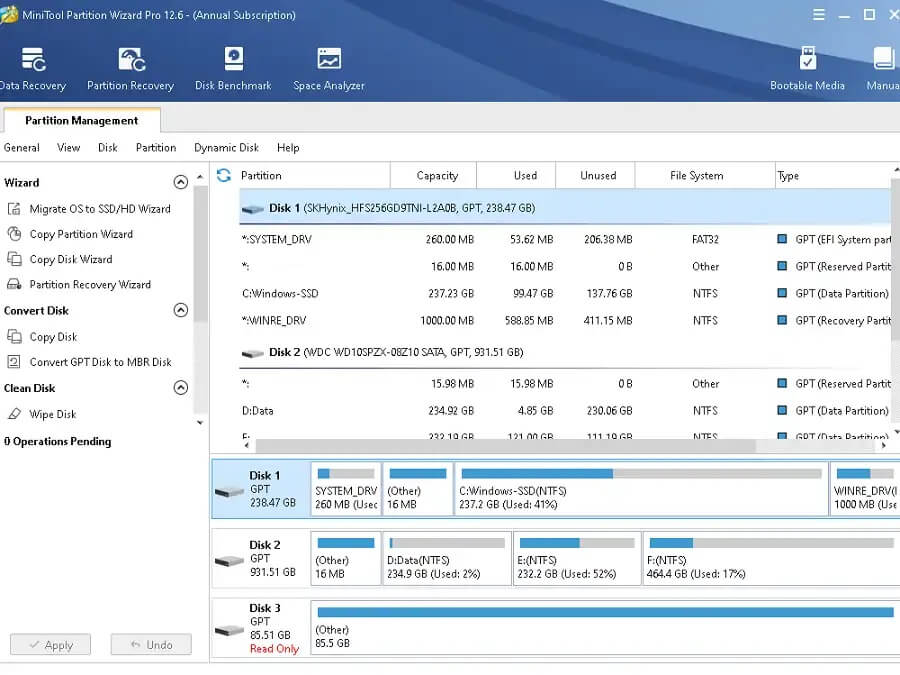 5. Recoverit Data Recovery Premium
Recoverit Data Recovery is a foolproof partition recovery software for home users and businesses.
With this professional data recovery tool, you can retrieve data from almost all devices or media with utmost precision.
Pros:
Retrieves deleted and formatted partitions effortlessly
Option to use the software in multiple languages
Supports multiple file systems
The greyish-white UI allows better readability and is easy to use
Equipped with an option to repair inaccessible or corrupt video files
Permits preview of scanned data before saving it
Voice support and other assistance are available in the U.S.
Cons:
Reduces the system performance and makes it slow.
The remaining time indicator reflects inaccurate time.
Doesn't support preview for all file types
The free version allows only scanning but no recovery
No voice support for other countries.
Price: USD 99.99 Buy Now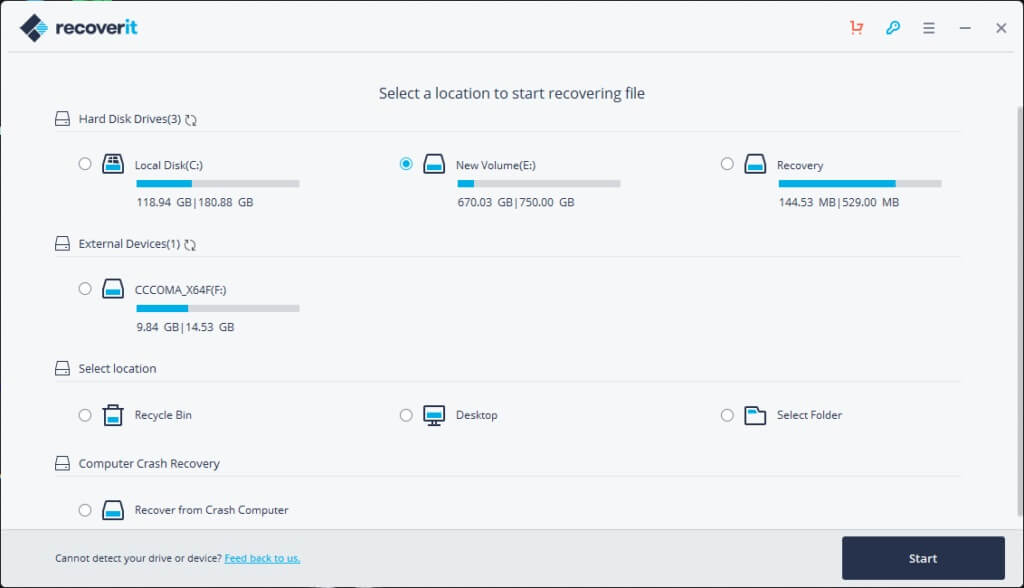 6. Hetman Partition Recovery Office version for Windows
Hetman is one of the best deleted partition recovery software designed to recover the folders and files included in their original form without damaging the file structure.
It further addresses some minor issues related to the storage device. A help wizard accompanies the software to assist new users.
Pros:
Recovers partitions with precision even if they are deleted or formatted
The simple step-by-step wizard allows even the newbies to recover data efficiently
Compatible with a range of Windows devices and file systems
Comprehensive customer support is available
Multiple recovery options to facilitate recovery in any data loss situation
Multi-lingual, simple, and intuitive UI
Allows recovery of files along with the directory structure
Cons:
No bootable recovery option is available
Scan speed is very slow, and a quick scan is less effective
The free version allows the recovery of only a limited number of files (around 10).
No partition manager option available
Price: USD 97.95 Buy Now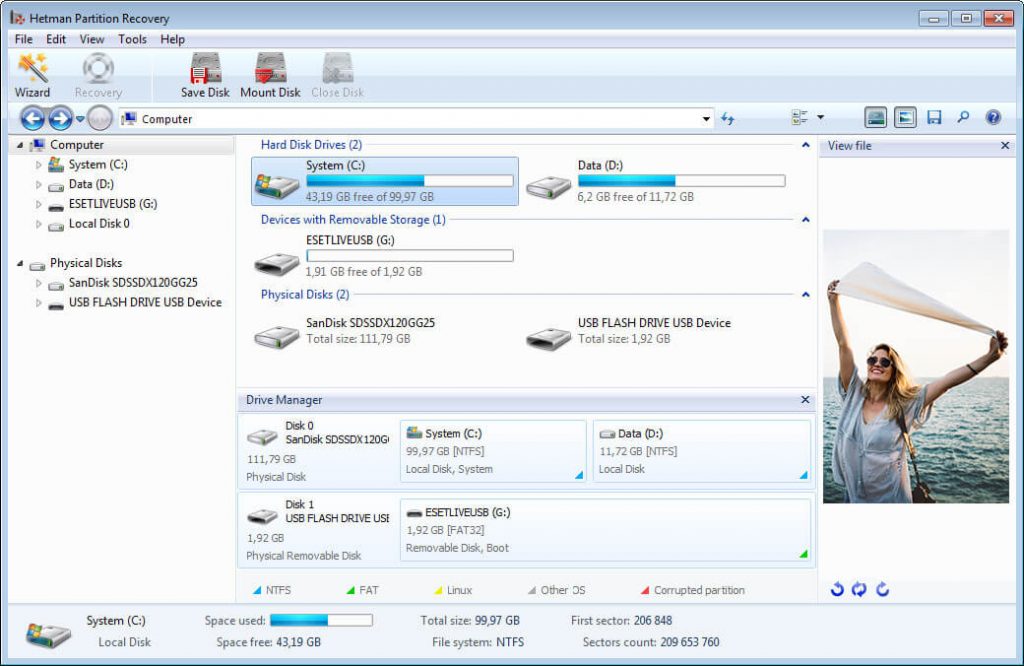 7. Acronis Disk Director Advanced Workstation for Windows
Acronis Disk Director is an effective partition manager and partition recovery tool capable of addressing most partition-related issues.
It also comes with a Volume management wizard to optimize the system volumes and enhance the performance of your Windows PC.
Pros:
Bootable partition recovery option
Efficient data recovery from lost and deleted partitions on Windows
Additional data management features included with the software
Automatic and manual recovery options are available
Easy to use UI with wizard assistance for various operations
Also includes other data recovery options apart from partition recovery
Free version with no expiry
Cons:
The free or trial version expires in 30 days.
No option to recover individual files.
Users report an error during the disk cloning operation.
The disk calculating algorithm is too slow.
Multiple features make the software bulky, which makes the system slow.
Free version can only manage volumes less than 10 GB in size.
Price: USD 94.39 Buy Now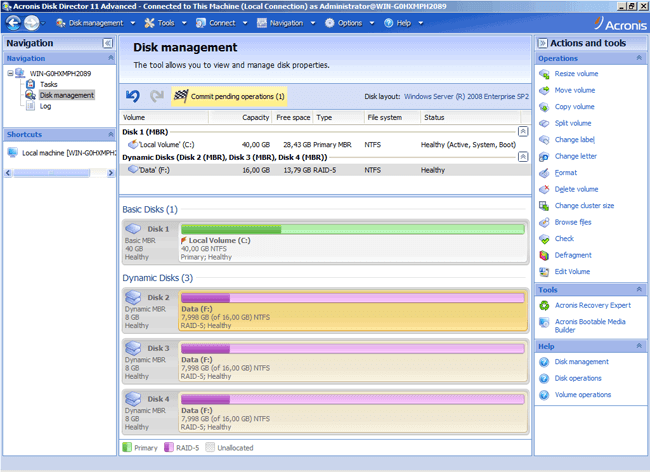 8. DiskGenius Professional for Windows
DiskGenius is a potent data recovery and partition management tool for Windows suitable for professional and casual users alike.
It helps you seamlessly recover, create, edit, and check the partitions on your Windows device and further assists in data management on your system.
Pros:
Comprehensive package of tools for recovering individual files and complete partitions.
Capable of cloning and deleting any existing partition.
The professional version includes BitLocker tools.
Easy to use software with clean UI.
Also conducts disk scanning, error checks, and repairs the existing minor errors.
Includes backup and restore option.
Cons:
No voice support is available.
While using it for individual file recovery, the command 'Copy To' confuses the user.
Free version allows the use of only basic check features.
Overrated concerning the available features and performance.
Price: USD 99.90 Buy Now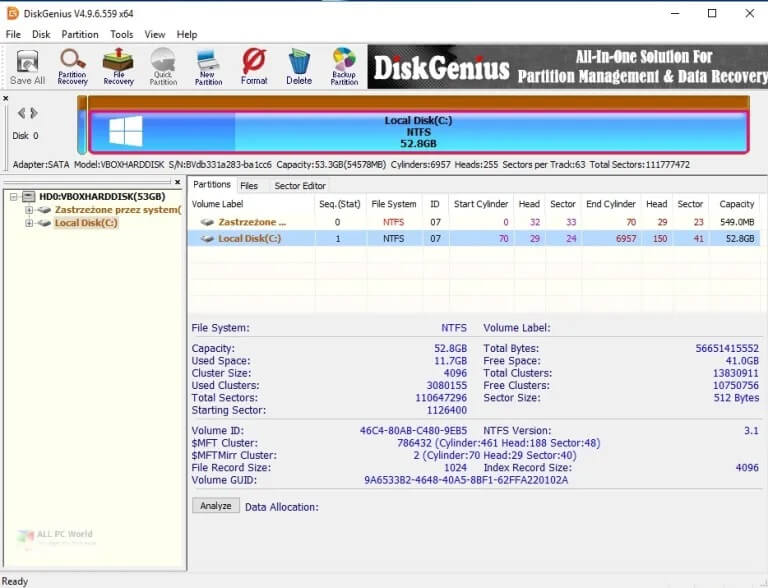 9. AOMEI Partition Assistant Professional for Windows
AOMEI Partition Assistant has earned a reputation as one of the best deleted partition recovery software among users. Its robust partition recovery algorithms help Windows users get back their lost or deleted partitions without any special efforts.
The software helps to perform multiple operations related to Windows partition without causing any alteration to the existing data.
Pros:
Equipped with a partition recovery wizard to ease the recovery process
Option to create bootable USB for Windows recovery
Additional tool for disk resources allocation
Dynamic and simple drag and drop UI
Command-line partitioning option available
Helps to rebuild MBR and convert it to GPT
Cons:
Complex menu with ungrouped features
Issue of conversion bugs faced during conversion of MBR to GPT
Errors appear while working with encrypted partitions
Less effective as compared to other professional software
The free version has very limited functionality
Price: USD 59.95 Buy Now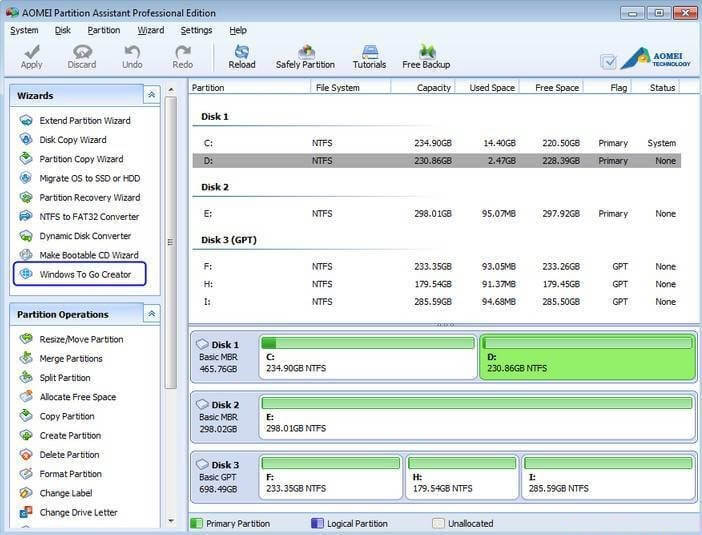 10. DiskInternals Partition Recovery Personal version for Windows
DiskInternals is a practical recovery software to retrieve data from a hard drive or its partitions, and it works smoothly on any storage device compatible with Windows.
The built-in partition recovery wizard makes it one of the best partition recovery software on the market. It helps the user quickly and easily recover lost or deleted partitions.
Pros:
Supports lost or deleted partition recovery.
Capable of retrieving data from a RAW partition.
Supports recovery on multiple Windows storage devices like HDD, SSD, Flash drives, etc.
Option to create a disk image and conduct recovery using the image.
Preview files with their names and other details.
Easy to use and simple recovery procedure.
Cons:
Requires additional purchase for final recovery even after getting the activated software.
Slower recovery and scan.
The UI design is a bit outdated.
The free version only provides the view of scanned files. No recovery is allowed.
Extremely costly
Price: USD 139.95 Buy Now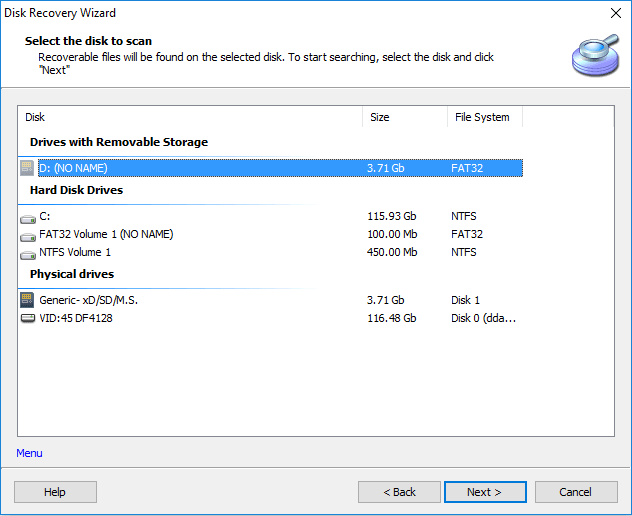 Conclusion
We have compiled the above list with caution and have avoided any software that lacks trust or is less secure. Moreover, the list is not exhaustive; it can be used to decide on the best partition recovery software options you can get. Each software has its advantages, and you can match them with your need to determine their suitability.
We hope you have found the perfect Windows partition recovery software for your PC. Which one did you pick? Please share with us in the comment section below.