Physical photographs are much more prone to damage, but digital photos too, can experience deterioration. Physical photos often get torn, scratched, creases, or stains with time due to exposure to heat or sunlight, water damage, etc., while digital photos can get damaged due to corruption, virus infection, incomplete file transfer, or bad sectors in storage drives.
Luckily, both these situations are very much fixable with the use of right tricks & techniques. There are easily available photo restoration tools that can restore corrupt or damaged photos, be it physical or digital.
For your ease, we have divided this post into two sections. If you're looking for the right tool to restore a physically damaged photo, read section 1. And if you want to repair a corrupt or broken digital image, you'll find the right tools in section 2.
Let's go to section 1 for a comprehensive list of tools you can use to restore physical (hard copy) photographs.
Here are the best photo restoration software to restore physical photos and photo repair software to repair corrupted digital photos on a PC or Mac. You can choose the one you think is best to restore your physical or digital photos.
Important: To restore a physical photo, the very first thing you need to do is –scan and digitize the old photo and save it in your Mac or Windows PC. Then upload this file in a suitable photo restoration tool to edit or fix it.
Top 5 Best Photo Restoration Software for Physically Damaged Photos
This section mainly demonstrates the top five best photo restoration software for Mac or Windows PC to effortlessly restore your old physical photos. These tools will be able to remove crimped corners, dust specks, faded colors, tears, and spills from scanned copy of your old photos and bring them back to life.
Adobe Photoshop CC is an ideal photo restoration tool that can do everything from removing stains, scuffs, and scratches to improving color cast, enhancing color, and reducing noise from an old photo. This professional photo editing software has a wide range of tools that can be used to adjust color temperature, enhance detail, correct uneven color, and remove excess grain in photos.
Its Clone Stamp tool can be used to copy pixels from the surrounding areas of the damaged image, while the Object Aware Refine Mode can delete distracting details from the photos. Moreover, the Photo Restoration Neural Filter, a downloadable add-on tool of Photoshop, can restore your old photos automatically.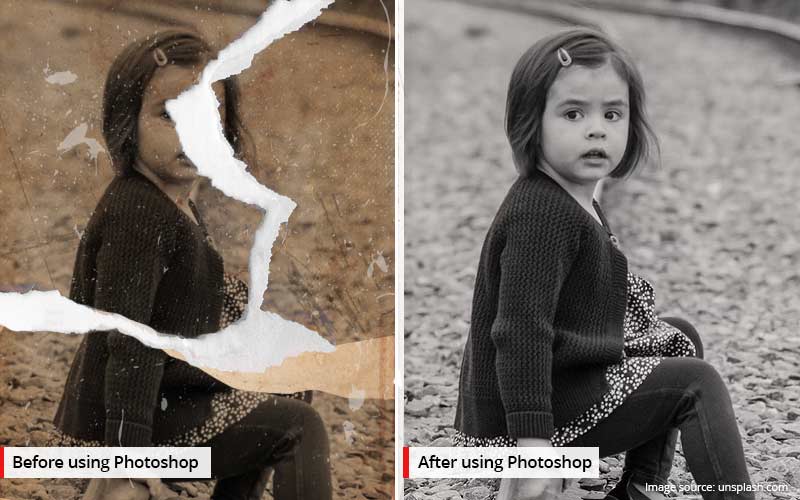 Pros:
Available for both Windows and Mac, and iPads too
Works with images of all formats
Lets you change the format of your media files and make them compatible with your desired applications.
Creates, views, edits, or modify images
Comes with various filters, masks, layers, and an advanced selection tool for image editing
Allows fixing saturation, brightness, contrast, sharpness, and more
Cons:
Expensive subscription-based editing tool
Not easy to use for beginners or novices
Needs a high-end PC
Price:
Free trial available for first 7 days and afterward $19.99 per month
It is an AI tool designed to restore old photos using deep learning. This means, it analyzes and understands your old image and then intelligently removes or reduces various types of image degradations like scratches, stains, fractures, etc. Its Photo Colorizer feature can be used to add hues or color to each item in your old black-and-white photographs.
You can also use VanceAI Photo Restorer to enhance image quality, reduce noise, and improve the sharpness of old photos. Moreover, this AI photo editor can increase a picture's resolution by 800% without degrading its quality.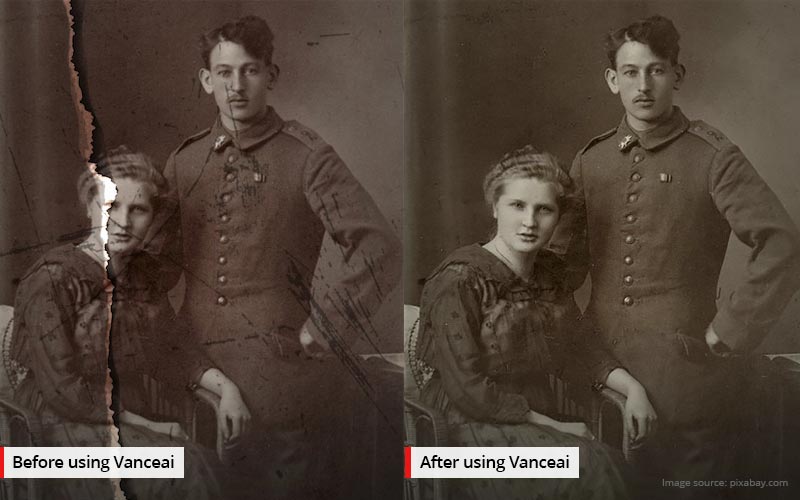 Pros:
No need to download the tool
A Pay-as-you go option, which is good for one-time restoration needs
Uses AI algorithms to analyze and restore old photos automatically, saving time and effort
Easily colorizes black-and-white photos
Cons:
No user control over edits
Subscription-based tool that could get expensive over time.
 Price:
Basic Package: $9.90/month for 200 credits/month ($0.05/credit)
Pro Package: $19.90/month for 500 credits/month ($0.04/credit)
It is photo-editing software specifically designed for restoring old photos by removing scratches, stains, tears, and other defects from damaged images. The software can even remove the date stamp, distracting elements, logos, and even big objects like cars in the background, etc. from photos. AKVIS Retoucher tool can be used to reconstruct the missing parts of a photo by analyzing the information of the surrounding areas.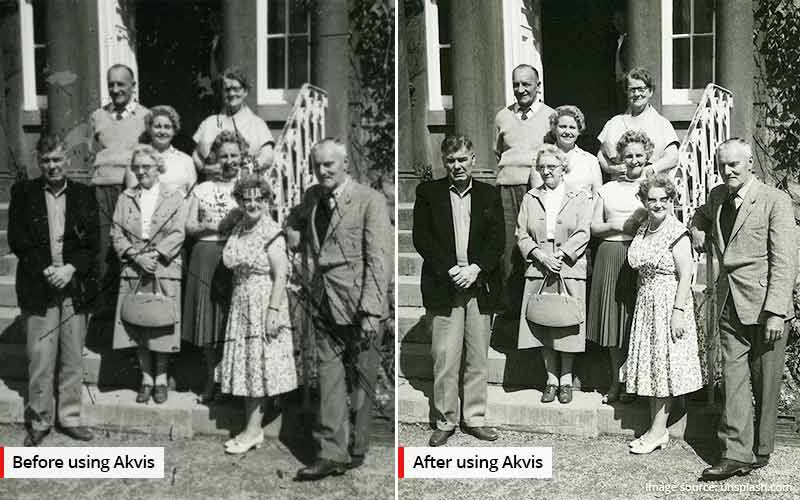 Pros:
Two UI modes: Express and Advanced
Available for both Windows and Mac
Removes large objects from images using Linear Retouch or Patch tool
User-friendly interface
Supports batch processing, i.e., enabling users to apply edits to multiple images simultaneously
Cons:
Only designed for object removal or old image restoration
No automatic image coloring tool is available
Price:
Home license - $39
Home Deluxe license - $49
Business License - $72
It is a photo editing tool that can be used for image restoration. It has an automated picture restoration tool to fix your old damaged photos. You can even fix the contrast, color, and exposure issue of your washed-out old photos. Moreover, you can add borders and text, apply filters, textures or presets to improve the visual appeal of your photos.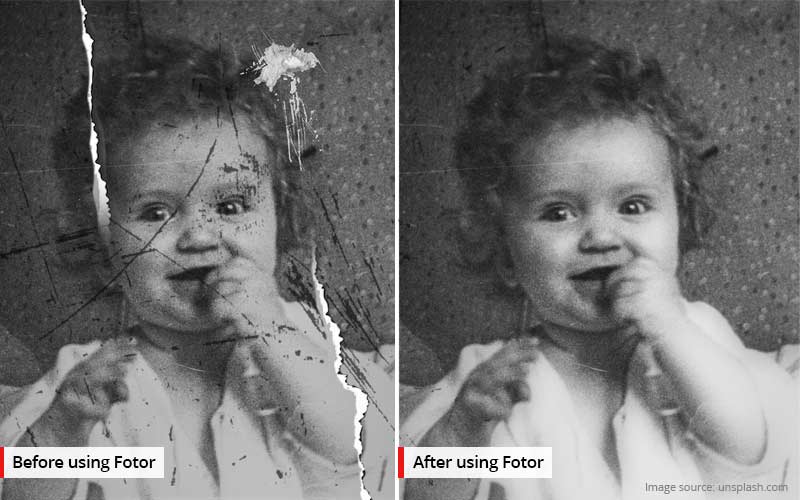 Pros:
Available for Windows, Mac, mobile, and online (Web App).
Supports all popular graphic file formats and even RAW images.
One-tap skin retouch feature to instantly remove blemishes and improve skin tones in an image.
Saves time and effort with the batch processing feature.
100+ photo collage templates.
Cons:
Limited advanced editing features as professional software like Photoshop
Sluggish at times
Doesn't do deep image retouching
Prices:
Fotor basic plan - Free.
Fotor Pro - $8.99/month
Fotor Pro+ - $19.99/month.
GIMP or GNU Image Manipulation Program is a free and open-source photo editing tool that can be used to restore old photos. It has a vast array of editing tools that can be used for basic photo restoration. For example, the Clone and Heal tools can be used to remove stains and cracks from old photographs, while the Color menu is a handy tool for fixing colors in old photos. Moreover, use Curve or Brightness-Contrast to enhance the contrast of old photos.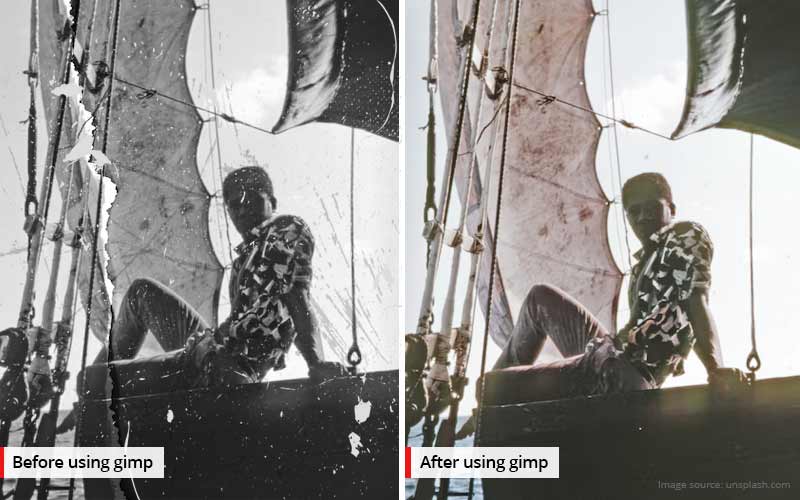 Pros:
Available for Linux, Windows, and Mac
Supports multiple plugins
Comprehensive editing features, including Noise, Color correction, gradients, etc.
Allows users to customize its interface to suit their workflow and preferences
Comes with file management and optimization modes
Cons:
No or limited CMYK support compared to other professional software
Some features have plugin dependency
Fewer tools compared to Photoshop (navigation and measurement tools, type and drawing tools, etc. missing)
Doesn't support editing large-sized pictures with lots of layers
 Price: Entirely free to use
Top 5 Best Photo Repair Tools for Digital Photos
This section demonstrates the top five best photo repair software for to effortlessly restore your corrupted digital photos. These tools will be able to repair blurry, grainy, or distorted photos caused due to corruption.
This photo restoration tool lets you enjoy the benefit of photo, audio, and video recovery as well as photo and video repair. It can easily repair damaged, distorted, and corrupt photos of any file format, including JPEG, PNG, RAW, etc.
This premium tool can extract thumbnails of severely corrupt photos without compromising their visual fidelity. It can even repair images with corrupt headers, invalid file structures, missing SOS markers, and unknown or invalid markers. The software even offers an Advanced Repair option to repair severely corrupt photos using a sample file – a working file created using the same device as your corrupt image files.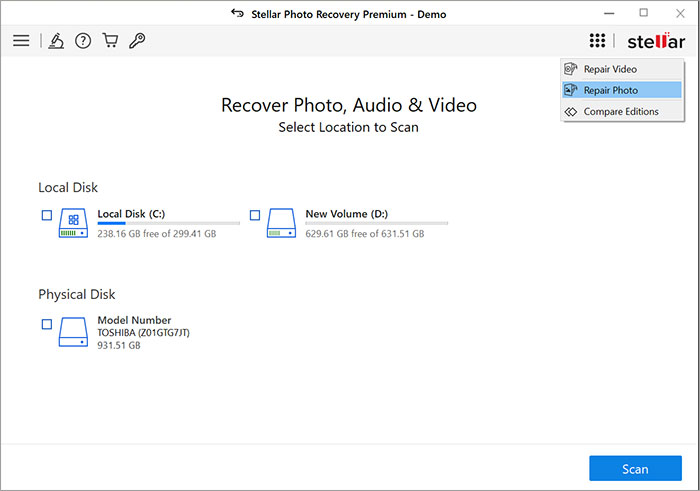 Pros:
Available for both Windows and Mac
Recovers lost or deleted photos, audio, and videos of all major file formats
Supports all popular cameras, security cameras, and other storage devices
Supports recovery and repair of RAW image file formats
Repairs videos and photos of any file format
Offers preview of repaired or recovered photos and other media files
Cons
The free trial version doesn't let you save the repaired photo
Price: $69.99
It is a comprehensive repair tool that fixes corrupted photos of various file formats like JPEG, JPG, PSD, TIFF, RAW, etc. The File Repair has simplified the repair process with its two-step process: It allows you to fix corrupted pictures from your computer iPhone, Android smartphone, or SD cards. This tool saved the repaired photos in BMP format and doesn't support batch processing of photos.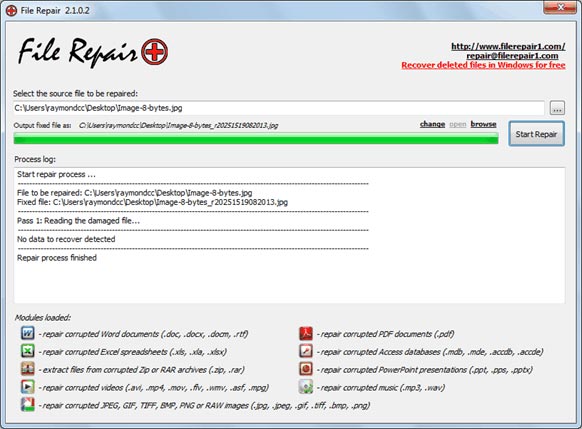 Pros:
Available for Windows 10, 8, 7, and other versions
Supports restoration of the image of multiple file formats, such as GIF, TIFF, etc. as well as RAW images
Repairs corrupted archives, documents, videos, and PDFs
Cons
Not available for Mac
The preview option is missing
Repairs one image file at a time
Price: Free
It is one of the best photo repair tools used for fixing truncated or corrupted JPEG photos and PSD files. It uses a 3-step process to repair damaged pictures: add corrupt files, choose the location to save the repaired file, and click the Rescue button. The repaired photos are saved in the BMP file format with their original dimensions.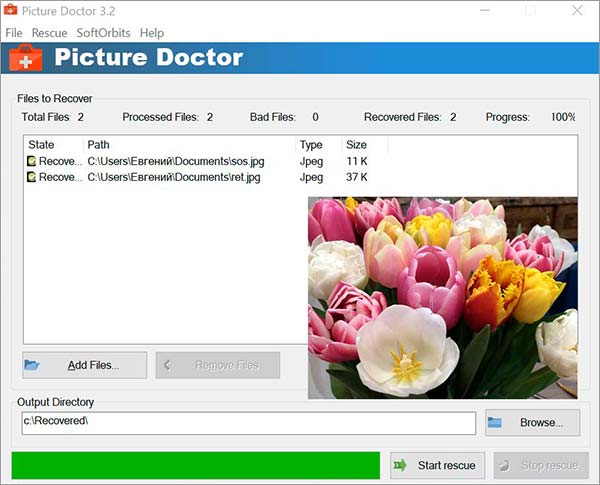 Pros:
Batch repairs photos
Saves the repaired image in BMP format
Cons
Not available for Mac
Free demo version saves the repaired image with watermark.
Doesn't support RAW file formats
Price: $29.99
It is an easy-to-use photo repair software that can repair corrupt photos of various formats like JPG/JPEG, GIF, PNG, etc. It can even repair corrupt or damaged RAW image files from Nikon, Canon, Panasonic, Sony, Lecia, Epson, Minolta, and other popular camera brands.
Moreover, you can repair corrupted photos online using the free PixRecovery cloud service.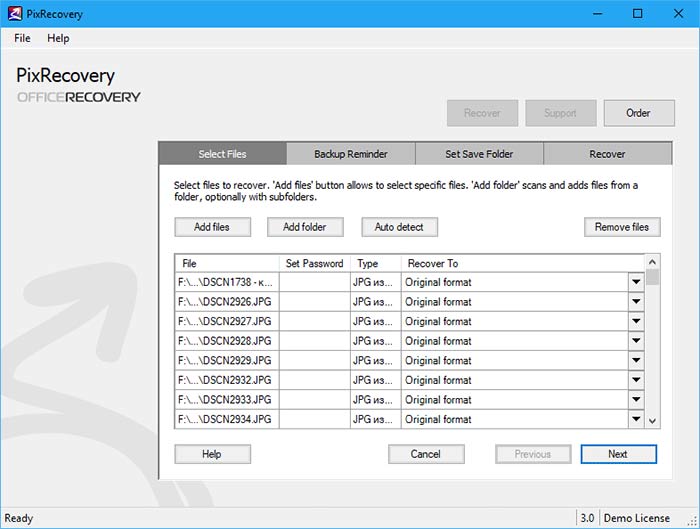 Pros:
Saves the repaired photos in BMP or original file format depending on your requirements
Supports repairing RAW photos shot from different camera brands
Recovers the original color palette of the photos
Cons
Not available for Mac
You cannot preview repaired photos before saving them
The demo version saves repaired photos with a black square mark
Price: $49
This file repair tool can easily repair damaged photos that don't open or show error messages. It can even repair corruption in the image file header and offer limited support for RAW camera files. Hetman File Repair provides a HEX editor to review and repair corrupt image files in binary mode.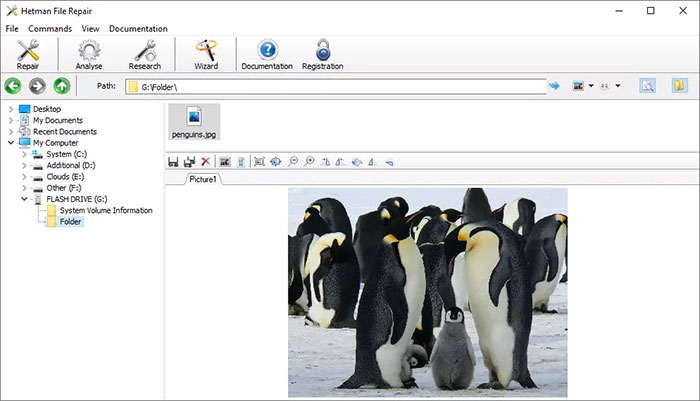 Pros:
Batch repairs photos
Repairs Canon and Nikon RAW images
Cons
Doesn't support Windows 10 and macOS
The free demo version cannot repair corrupt images
Limited support for RAW camera file repair
Price: $14.95
Finally
I hope you found our picks — 10 Best Photo Restoration Software for PC and Mac helpful! Each of the above software has been chosen with utmost care to fulfill your photo restoration and repair needs. You can compare the tools based on their features and choose the one that suits your specific requirements.
FAQ
1. What features should you look for in a free photo editing tool?
You should look for the following features while looking for the best free photo editor: User-Friendly, Layer editing, Color and light effects, Organizational tools, Photo Animation, Content-aware editing, Color correction, and filters.
2. What is the best-paid photo editing software for Windows PC?
Adobe Photoshop, Skylum Luminar 4, DxO PhotoLab, Adobe Lightroom, and Paintshop Pro.
3. What is the best photo restoration software?
The best photo restoration software for restoring old photos in 2023 are Adobe Photoshop, Inpaint, Image Mender, SoftOrbits Photo Retoucher, Corel Paintshop Pro, and AKVIS Retoucher.
4. Can corrupted photos be restored?
Yes, you can use third-party photo repair tools like Stellar Repair for Photo to fix corrupted images.